Creating great customer experiences, growing your business, and selling more — do those goals sound familiar to you?
For many designers, finding the time to implement new strategies that will help achieve those goals — without taking too much valuable time away from clients — can mean that "find more time" ends up as yet another to-do item on their list.
So here's one strategy that you can put into action today: use Artistic Effects to create a work of art that will convert your clients.
What are Artistic Effects?
Usually, when you create a 3D scene, you create for your clients a realistic view of their future outdoor living space. The pool, the deck, the landscaping. All of the big pieces, plus the details that you know your clients will appreciate most.
Awesome as those vividly realistic 3D scenes are, what about when you want to offer your client something different?
When you use Artistic Effects, you can transform your design instantly. One click, and you'll create an oil painting, a chalk drawing, and more.
Whether you choose a crisp black-and-white drawing or a warm sepia-toned photograph — Artistic Effects are even better than the image filters you might be familiar with from social media posts.
And your clients will enjoy them more, because you'll be creating for them a personal, unique piece of artwork that they can enjoy and share.
Give these four strategies a try and see what you can create for your clients with Artistic Effects in Vip3D.
---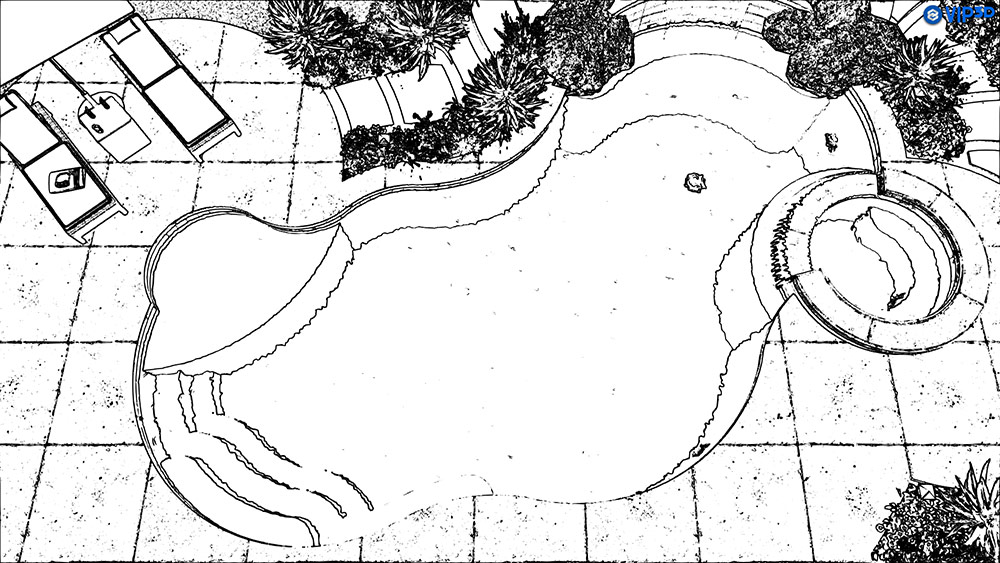 1. Surprise Your Clients — And Entertain their Kids
Often, meeting with clients can become routine: meet the clients, design the project, present your design.
If your client has kids, the kids can be an unknown factor during the sales meeting. Excited as the kids may be at the prospective of getting a new pool, they're often far less interested in the practical details that need to be discussed.
Try this tip: create a black-and-white coloring book of your design for the kids.
Several pool designers have shared this idea with us, and — frankly — it's one of the coolest ways to use Artistic Effects that we've seen yet.
Creating a coloring book is easy in Vip3D: go to Photo Mode, change the artistic fills to black/white/color drawing, and then print it off, choosing a few scenes that you know the kids will enjoy.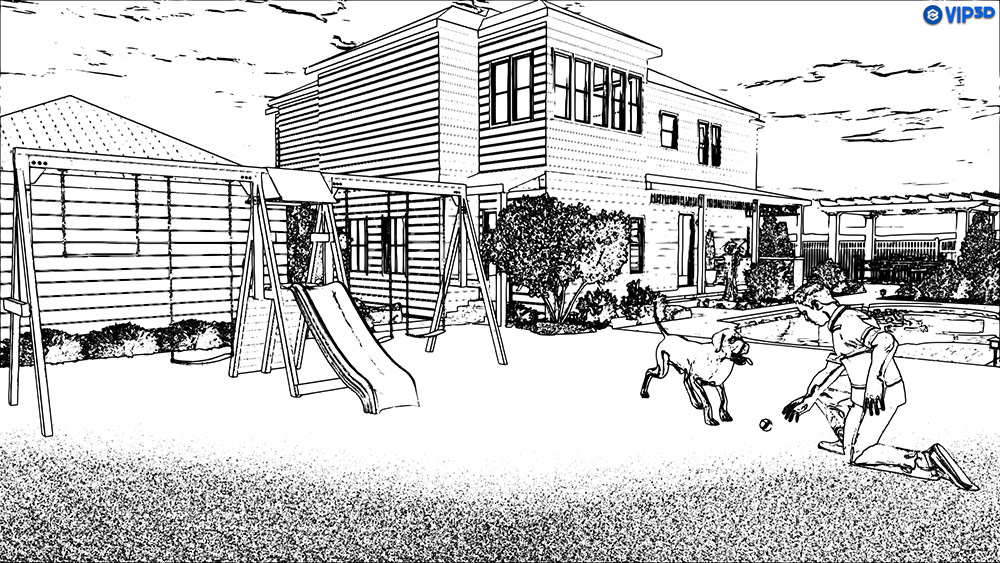 Then just hand them a few crayons at the meeting, and let them create their own take on their future outdoor living space: they can color their future pool or yard, making it their own, complete with their family — and maybe even the family dog!
The kids will feel special that they were included, their parents will feel emotionally more connected to the project as they see their kids connect with it, and you'll have shown your clients that you pay attention to their family — while giving them a great piece of family artwork to hang on the fridge, or even share on social media.
---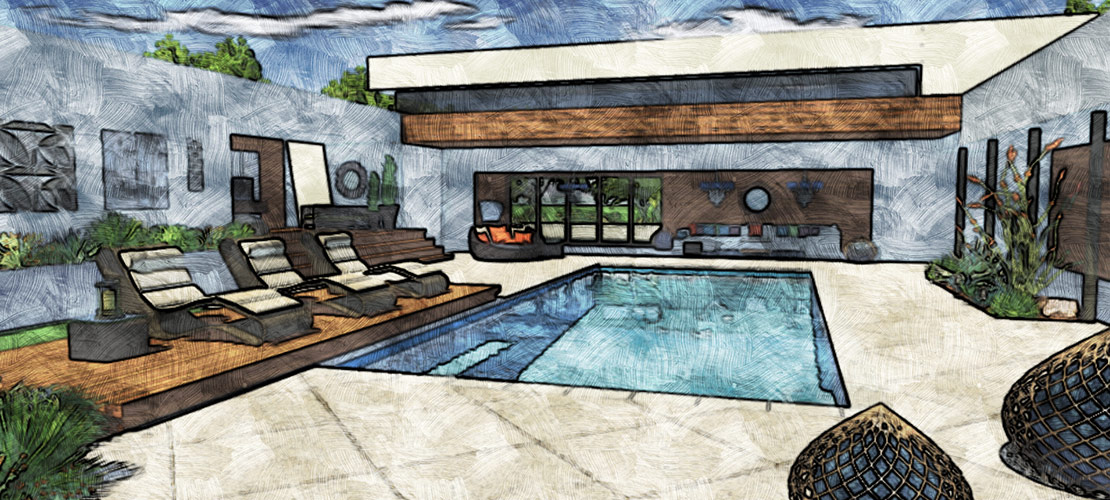 2. Set a Higher Perceived Value
Sometimes, in the computer age, people undervalue things generated by a computer. They might think that, because a computer was used, the design must not have taken much skill or much time.
By applying Artistic Effects to your design, you can make your presentations feel more "artistic" to clients who undervalue computer renderings, reducing the risk that your client will devalue your work.
With Artistic Effects, a client sees their house and future yard as something more than a pool or landscape — it's artwork, created just for them.
As a bonus, when you offer your clients a new way of seeing their outdoor living space, you're also giving them new and interesting works of art to share with their friends. As Google's Abigail Posner points out, when we share things, we "aren't necessarily attracted to the allure of the new, as much as we like to see things we're already familiar with in a new way."
So give your clients new and intriguing shareable images — when you show them how you can transform their familiar space, you'll spark their fascination and encourage them to connect with your work.
---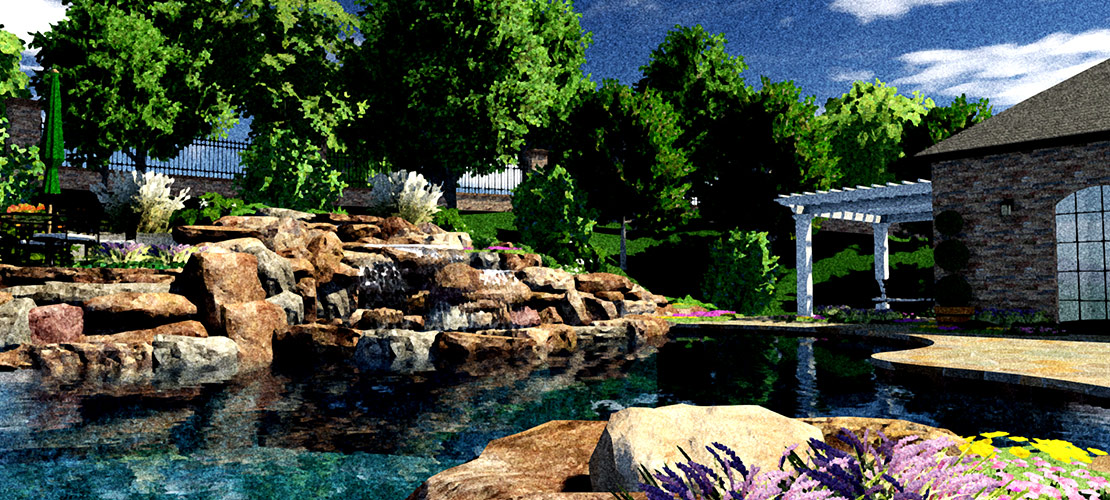 3. Make Yourself Memorable
A lot of companies design in 3D today — and when you check out our case studies, you can see the wide variety of strategies designers use to achieve success with 3D design.
What's your strategy to set yourself apart?
With 3D design software, you have near-limitless options to set your work apart — without needing to reinvent the wheel each and every time you create something new.
Using Vip3D's Artistic Effects means you can highlight the unique details, custom features, and special options in your project with an equally unique design presentation.
Use pencil fills, markers, and charcoal. Adjust the colors to make them more vibrant. You'll give your clients a completely new and interesting take on what a design can be — and that will help make you memorable.
---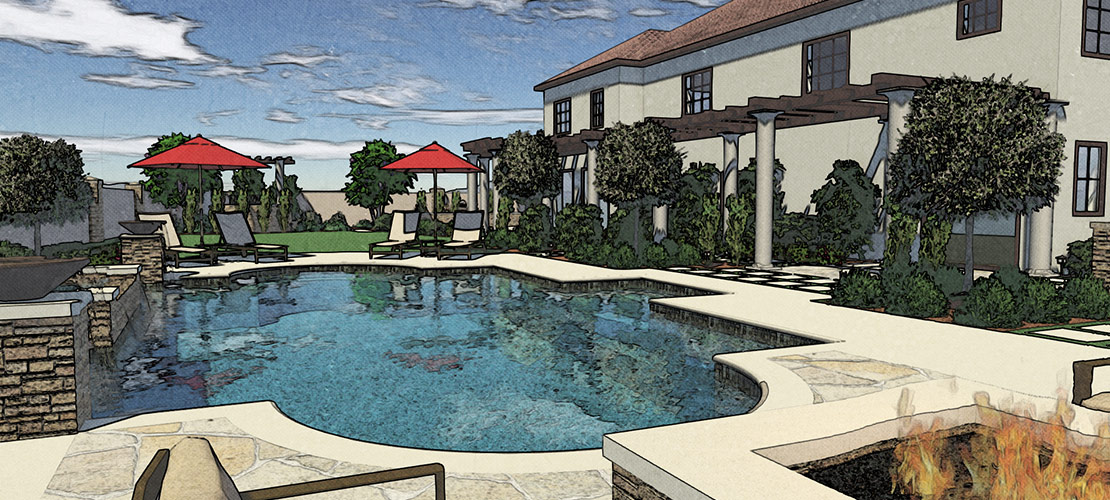 4. Create a Higher Perceived Time Investment
One major benefit to designers and builders is that 3D design software significantly cuts the time it takes to create designs. That doesn't mean the work itself is any less valuable — it just means that you're taking advantage of the best tools available to create stunning work.
Some homeowners, however, perceive projects that look like architectural drawings to be "high end" — more "professional," and, therefore, more worth their money.
You can up the perceived time investment and value of even simple, straightforward projects by using Artistic Effects to give your clients that "professional" look.
Highlight different angles, feature different views — with Artistic Effects, all projects, from the most complex to the most straightforward, can be transformed into elegant architectural renderings.
Because you can apply different Artistic Effects to your project in just a click of the mouse, creating a unique look adds value for your clients without taking up any more of your time.
---
Ready to See Artistic Effects in Action?
Transform basic drawings:
Hand-rendered drawings are often at their most effective when they highlight the fundamental elements: the pool, the deck, the spa. Open yard, outdoor kitchen. Raise the perceived time (and thought!) value of those "basic" drawings by transforming them into a unique work of art.
Highlight features in a video:
Making a video of your project is a great way to take your clients on a guided tour of their future space, complete with the sound effects and special effects that will show your design at its best. You'll make your work stand out even more when you highlight the best elements in your video with Artistic Effects.
Offer social-media-ready images and videos:
When it's time to give your client final pieces for them to share with their friends and family, boost the likelihood that they'll actually want to share your images online by offering them unique and interesting images. It's a great way to connect them to your project — and to boost your reputation as a great designer!
---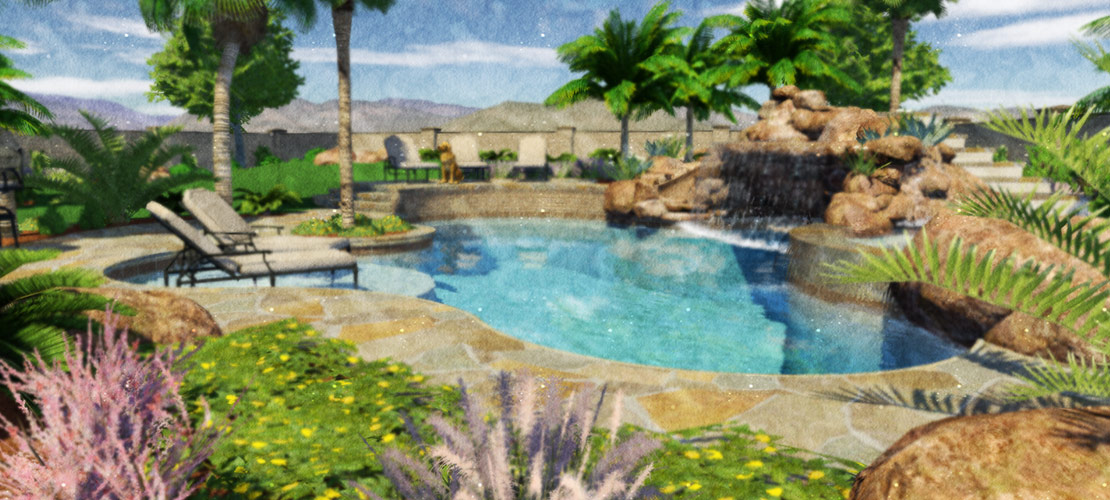 See Artistic Effects for Yourself
From keeping the kids entertained to building your online reputation — Artistic Effects are one of the features included in the complete outdoor living package, Vip3D, that you can use to create and showcase your best work. Give it a try and see what you can do with Artistic Effects in your next project.