We like to share tips, ideas, and strategies that will help you grow your business and convert your clients. Best practices and research-based tips because we don't want to waste your time — we know you're busy.
Now let's talk about what happens when you skip best practices and wing it.
Sometimes, you hit gold. Going with your gut can lead to fantastic results. (Take a look at our own JR Rapp's explanation of how he figures out a client's budget for one example of how going on instinct can work.)
But that's only because going with your gut works when you've got the chops to back up your instincts.
Once in awhile, we hear from designers who just want to skip it and do the bare minimum.
What happens when you ignore best practices? Here are seven (regrettably) common things we hear from designers who aren't exactly going for gold.
Do you ever catch yourself saying any of these things? (No worries if you do: read on for what to do to fix it.)
---
1. "I don't draw the customer's house."
One of our members — Sherman Kellow, who regularly does $400-500k projects — recently shared with us that one of the first things client often say, when they see their 3D presentation, is: "OMG that's my house!"
Showing your design with a generic house — or, worse, no house at all — means you're throwing away that first immediate opportunity to link your client to their new space.
Fix it: Take the time to include your customer's house. With services like Google Street View, Google Earth, and GIS Images readily available to you, there's no reason not to draw at least an approximate outline of your customer's house.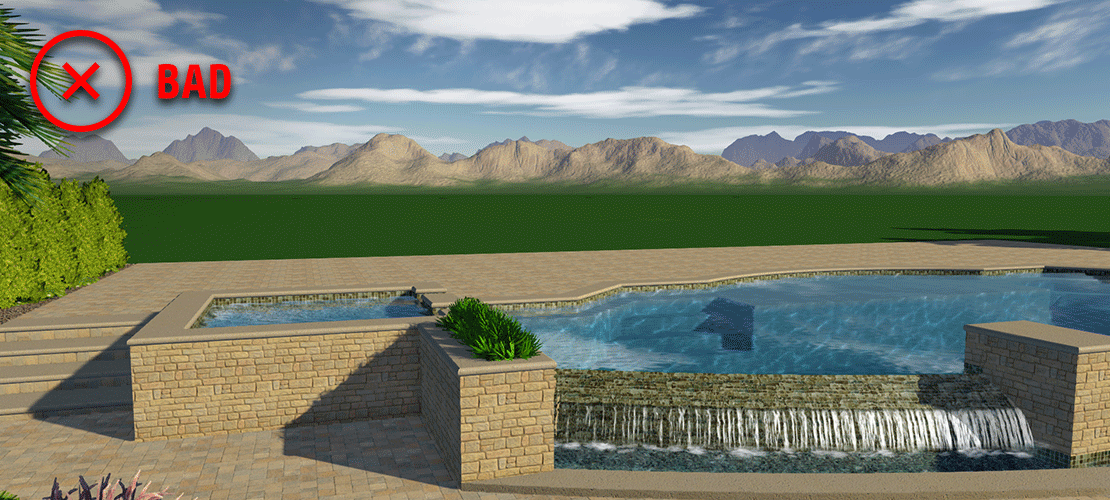 Bonus tip: if you use 3D design software, you can just drop a photo right into your design and create your space around it.
---
2. "I don't have time to use furniture."
Maybe your design's spectacular enough that your prospects won't even notice that the deck's empty and their space is uninhabited.
At the most basic level, including people in your design is an easy way to show scale. Just how big is that waterfall or how wide is that patio? Strategically placed human figures make it easy for viewers to understand the scale.
More importantly: people, furniture, beloved family pets, all work together to set the mood.
What can you reveal with 3D people and furniture? That you get their lifestyle.
Are you talking to a retired couple that wants to stay active with a lap pool and do some gardening? A young family whose house has become the neighborhood Kid Play Place? Then include elements that show your design meets their needs. Go beyond the pool and the deck. Match the outdoor dining furniture to their lifestyle — if their home incorporates Southwest-inspired accessories, a sleek modern look might not be meaningful to them.
Fix it: Avoid unnaturally empty spaces. Include people, furniture, pets to help link your client to your personalized design.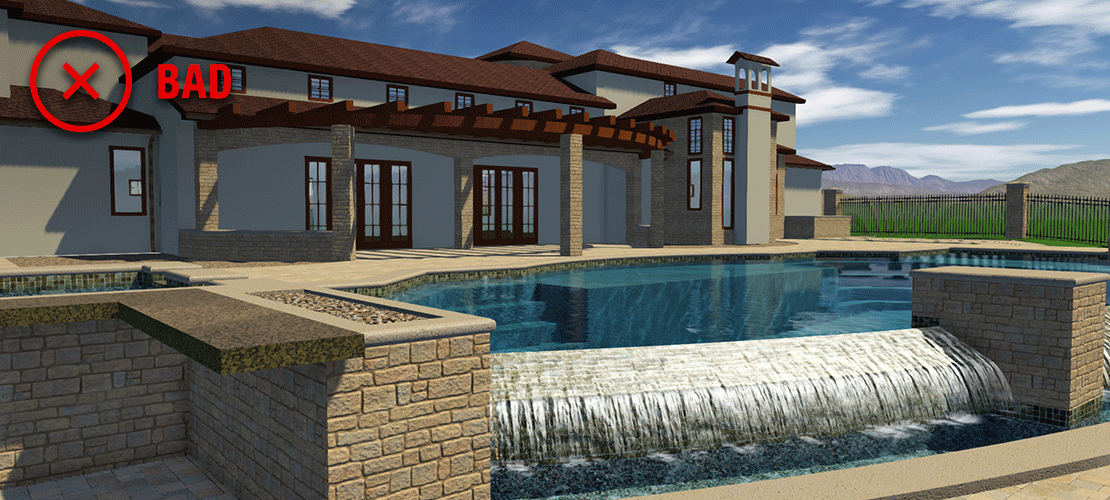 Bonus tip: Use more than just the manufacturer products and materials in your 3D design software's library. Vip3D members have access to the full 3D SketchUp Warehouse — include your client's sports car, single-engine plane, vintage bike, statues they'd love to own, anything that will show just how well you get them.
---
3. "I don't have time to make my design look pretty."
If you're aiming for efficiency and expediency above all else — well, maybe that's what your customers like about you.
But many homeowners are looking for clues that tell them they're making the right choice. An outdoor space is a major undertaking, and homeowners want to feel certain they're going to get their money's worth.
Did you know pool designers used more than 55,000 virtual umbrellas in their designs in 2015? 20,000 of the umbrellas used in designs were red.
Dedicated minimalists aside, most people enjoy flowers, colorful accessories, maybe even a throw pillow or two to make relaxing by that fire pit or pool a more comfortable experience.
Fix it: Unless your client wants only an Iron Throne replica on their deck, there's probably room for a few eye-catching flowers and thoughtful accessories. You'll reassure your clients that even the most elegantly austere space still can be usable and comfortable.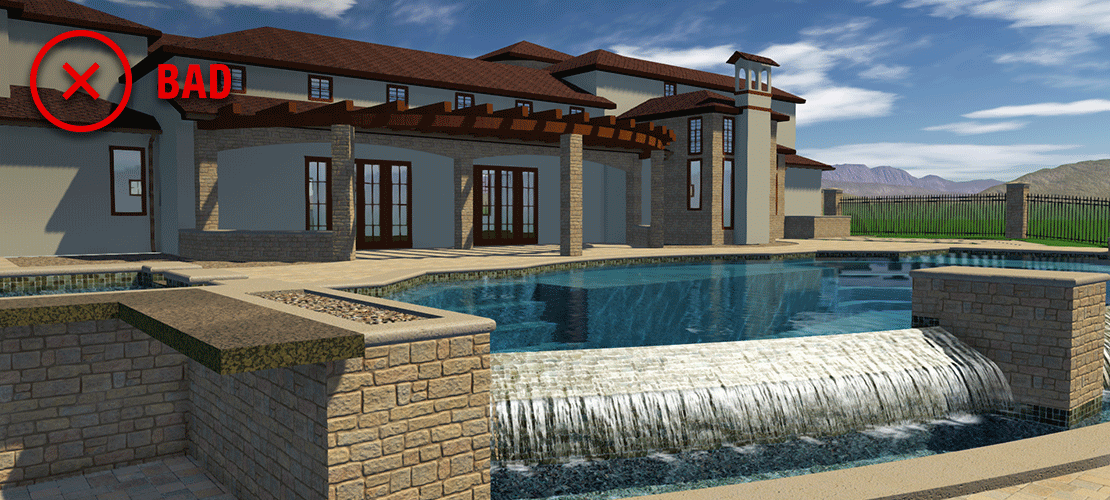 ---
4. "I don't place trees because I don't sell landscaping."
Head back up to #1 on this list for a refresher. Trees, plants, shrubs, flowers — whether or not you're the one to plant them, a home without any landscaping looks unnatural and bare.
You've probably heard the advice to avoid the Uncanny Valley — that's the term for strange, not-quite-right renderings that researchers have found actually bring up feelings of revulsion in viewers. Don't risk your customers feeling revolted when they look at your design — take advantage of the features your software offers you. Incorporate not just people and accessories but also trees and some basic landscaping.
You want your customer to feel like they're looking at their home, not an unnatural replica.
Fix it: Look at your design as a whole. Is your pool floating in the middle of a big empty space? Give your project life by situating it in a welcoming natural environment. And if your client really doesn't have any landscaping in their yard yet, take the opportunity to connect them with a landscaper in your network.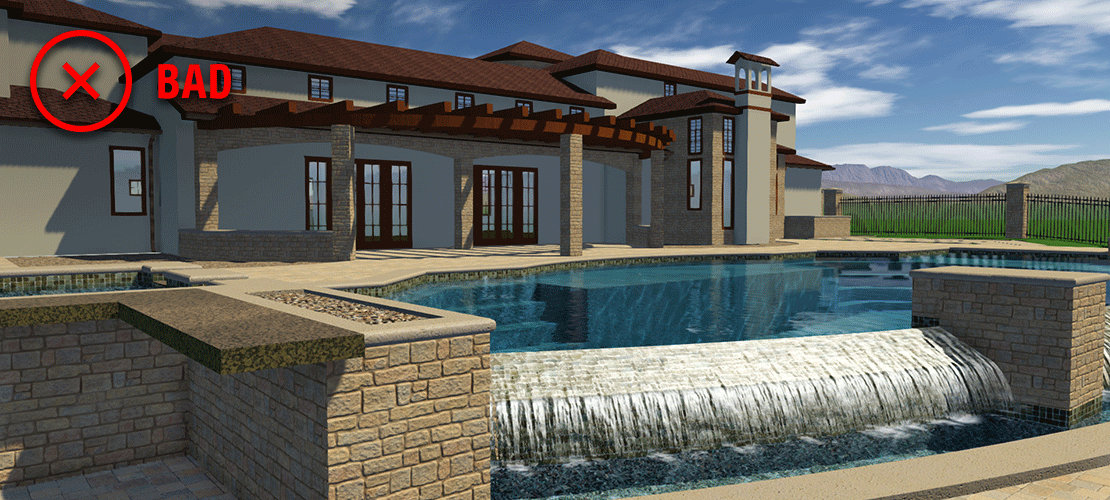 ---
5. "I only design things my customer asked for."
You're not just leaving money on the negotiating table — you're avoiding even checking to see if there might be any money on the table. Your customer will be less happy, and refer you less, too.
Why is this a mistake? Because you're the expert. While your customers might know they want a pool with a deck, you're the one who can show them what else is achievable in their space.
Even the smallest, most awkwardly shaped yards have been transformed by expert designers into truly spectacular spaces — usable spaces, that is, that the homeowners didn't even know they could have.
Fix it: Be the expert and show your customer options that reveal what you can do to improve their space.
---
6. "I don't use videos."
Embrace your inner cinematographer. There are fully one billion users on YouTube, and the amount of time spent watching videos online is only increasing.
Fix it: Videos don't need to be Oscar-worthy. Use the video tools in your 3D design software to make a basic walk-through video. Our new video tool takes only 5 seconds to make a video! You'll probably be surprised by how painless it is to edit your video with sound, text captions, and special effects into something YouTube-worthy.
---
7. "Interactive? ... I Only Send Pictures."
What you might as well be saying: "Negotiating? . . . I only do what the client says they want."
Don't leave money on the table. Just sending a few pictures means you miss the full opportunity to share your expertise and explore with your client the great additions to their space that you can make.
Fix it: Give your customer the personal care they deserve and walk around the project in interactive 3D. If they are too busy, or too far away, at LEAST use the video feature. The new media viewer makes it virtually painless to save, share, and update interactive views of your work. And it adds no time at all to your workflow.
---
Bonus #8: "I'm not interested in selling more on every project."
As crazy as it sounds, some designers actually say this. But, if you really don't want to sell more, then feel free to continue as you are — these mistakes aren't going to torpedo your career overnight.
Fix it: If you are, however, interested in seeing how much you can grow your own business — bumping up your closing ratio, converting more clients, and, yes, selling more — then check out our 10 Step Checklist. Compare notes to see if there are any areas where you can improve your design process as you create more spectacular designs. And hit subscribe to get notified the next time we share tips.