What would you do if you were asked to design a swimming pool on a yacht being built for a prince?
The answer for Master Pool Designer Alvin Crosby was he went after the project, and it paid off big time.
Crosby recently designed and built a three-level swimming pool for President of the United Arab Emirates and Crown Prince of Abu Dhabi Mohommad bin Zayed Al Nahyan. Fit for royalty, the custom pool features three tiers and can hold a crew of 120, plus 60 guests. The yacht was primarily built for entertaining the royal family.
When the royal family came calling, Crosby wasn't expecting the call.
"It came as a surprise to me," says Crosby.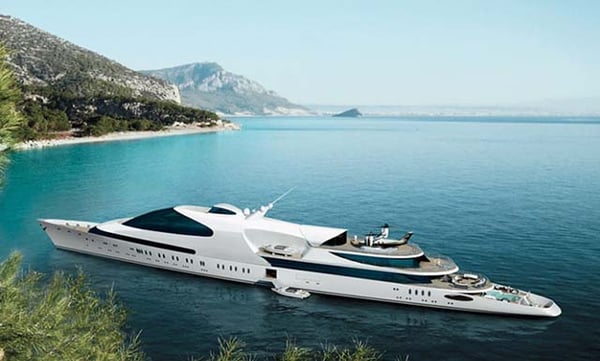 The Pool Design Process
"When someone told me the magnitude of the project, I just couldn't believe it. I suppose it's like getting a call from Hollywood and someone asking if you'd like to be in the next movie," says Crosby. "I treated it with a 'yeah, right' attitude, but it soon became apparent that it was quite serious. I was dealing with the Crown Prince of Abu Dhabi. It was bit of a dream."
A dream that came true because of Crosby's dedication to excellence. When it came time to meet with the prince's representatives, Crosby asked why they chose him. They explained they had been following Crosby's work on the Internet and around New Zealand.
Crosby says this pool project took six years from initial conceptualization to completion. While the yacht was being built in Abu Dhabi, the pool was built at Marine Field in New Zealand.
Initially, the price came in at under $67,000 USD. But over time, the price quickly escalated.
"They wanted a vanishing edge pool on a ship," Crosby says, chuckling. "Can you imagine? Nobody in their right mind would do that---Ships roll around!"
But where there's a will, there's a way. Crosby put a scupper about 40mm around the whole pool, which acted like a weir. This manipulation gave the effect of a vanishing edge, which his clients liked. The price went up to $200,000 USD.
PROJECT BY NUMBERS
$1.5 billion Estimated cost of Yacht

$1.4 million Estimated cost of the pool

46,000 # of liters the pool holds

3 # of tiers in the pool

700 # of man hours spent on the pool

800,000 # of mother-of-pearl tiles in the pool

159 # of yards the boat measures
Crosby then had to design marine specifications for the pool, which turned into a 50-page document.
"I hadn't done that before, so I did my research," says Crosby, who luckily had marine experience. Even so, the specifications took six months to write.
Landing the Pool Design Project
Six months after he sent off the pool specs, Crosby received an email from representatives of the royal family asking him to build the pool. No other company seemed to come close to what Crosby had suggested.
If You Build It, They Will Swim
Two years after that email, Crosby and his team started construction on the pool. By that time, the custom specs and details meant the price had tripled again to $600,000.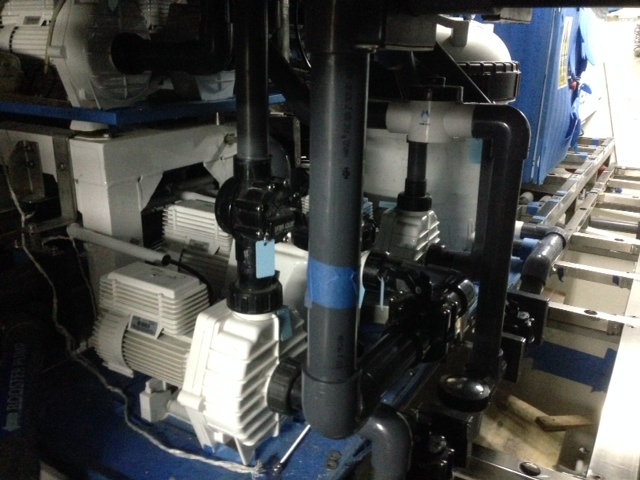 Once Crosby started initial construction, all the systems for the pool were custom designed and manufactured in New Zealand as well as Toronto, Los Angeles and France. The top-of-the-line systems were an additional $300,000.
The custom designs set a standard of engineering that exceeded military regulations.
"That's the level I worked in. Imagine putting a swimming pool on a naval vessel. That's essentially what I did," says Crosby.
Crosby also took countless trips to Abu Dhabi for installation, where the old Dutch frigate was dry docked for a complete makeover.
All in all, it took 700 man hours to build and install the pool.
Pool Construction and Formation
Four skilled tile tradesmen worked for two months straight just to lay the 800,000 tiles in the pool.
An Italian factory was shut down for six weeks while these one-of-a-kind glass and mother-of-pearl tiles were made.
"Keep in mind, all these materials had to be used in a special way because we're talking about expansion and contraction coefficients here," says Crosby.
Taking this under consideration, each material had to have land certifications to allow for cure times and the maximum strength. Each material expanded and contracted with a tolerance factor.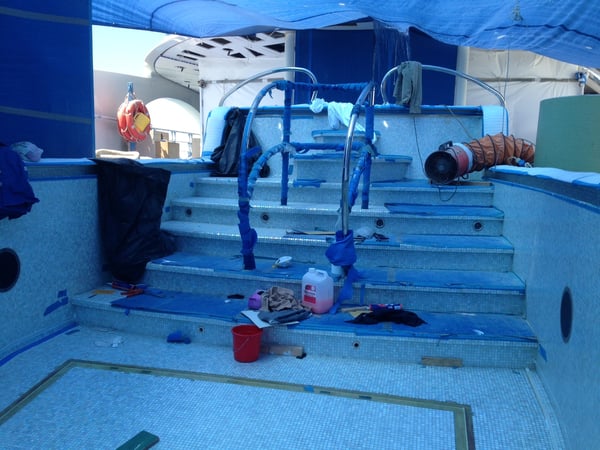 The end result, a three tiered designer pool measuring 15 meters by 3.4 meters, with four levels of water. The pool features a dummy waterfall that spills over into the pool and a glass rear door in the pool that was custom designed to create optical illusions.
"The best compliment I've gotten was the royal family telling me it's the best pool they've ever seen!" says Crosby.
The total cost of the project was $1.4 million USD.
Reflections on Pool Project Particulars
"It's just a dream come true. Where else in the world would you get an experience like that? It's not the value of the thing; it's the experience. It's all those hours of work and working at such a high level," says Crosby.
No doubt, Crosby's manufacturing and engineering background helped him land the job. In the '70s, he worked on the technology, which turns water into a fuel. In 1995, Crosby transitioned into the pool business. That background gave him the expertise he needed as a swimming pool contractor to lead a worldwide team of engineers and to challenge them to create something extraordinary.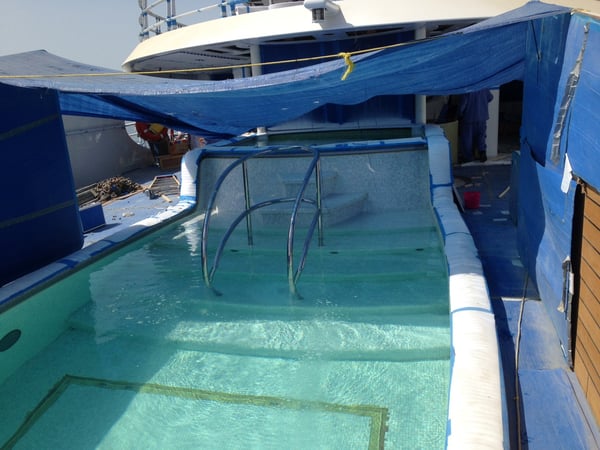 The swimming pool contractor used his expertise to constantly challenge engineers working on the yacht, all around the world.
"Eventually, I got the permission I needed to create this thing. It wasn't easy. It was an uphill battle all the way, but the challenge was priceless. That experience was unforgettable and truly priceless," says Crosby.
Pool Studio and Others Get a Nod
Crosby credits companies and individuals that helped him with the massive pool project, including Joe Downey, Advanced Electrical Systems in Auckland, Astral Pool of Australia, Novozone, Croatian tilers, Hot Water Heat Pumps, Zodiac, Thomson Tec, Ray Donald and one company that hits close to home.
"I'd like to thank you guys because I did my initial drafts in Pool Studio," says Crosby.
Celebrate Good Times, C'mon!
When the pool was completed, the first thing Crosby did was jump in.
"I cannot describe the feeling of swimming in this thing after all those years. It was an unbelievable feeling!"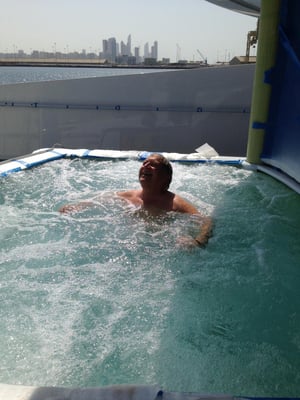 "For the sportsman, it's the wow factor---the buzz and the adrenaline that hits you---the finale. You can't describe it---that smile when you're in the water and you look at that thing you've created. You can't put it into words. It's something I'll never forget."
When he's not building pools, Crosby stays on the water and goes sailing, windsurfing and skiing.
While he should be taking a well-deserved vacation, Crosby is currently working on a number of new projects and is the Vice President of the New Zealand Master Pool Builder's Guild.
Want to know what our members are up to?
If your interested in learning more about Pool Studio Pool Design Software, the program that helped draft this amazing project, get a live demo by CLICKING HERE