---
Spring is in the air: flowers are blooming and birds are singing. It's that time of year when people get inspired to start coming up with summer pool design ideas. To get you in the designing mood, we've gathered five amazing projects by some of the top Pool and Landscape design firms on Houzz.com
---
1. Work an Angle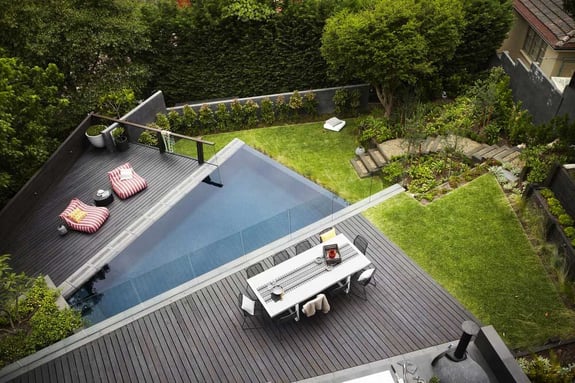 This geometric wonder hails from the land Down Under (Sydney's North Shore, to be exact). As you've probably guessed from admiring the design's modern layout, nothing in the plan is square or parallel. Instead the deck, pool and garden all follow the fan shape of the opposite stairs. Designed & built by Harrison's Landscape of Sydney, Australia, more photos of this Aussie beauty are right here for you to admire.
2. Reflect on Your Surroundings

Some pool designs yell, "Look at me!" This pool on the other hand yells, "Look where I am!" With a seemingly formless shape and a dramatic infinity edge, this understated waterscape sets the tone for the vivid backdrop of nature behind it. Like what you see? Check out all the other amazing landscapes and waterscapes dreamed up by Lewis Aquatech.
3. Think Outside (or Next to) the Box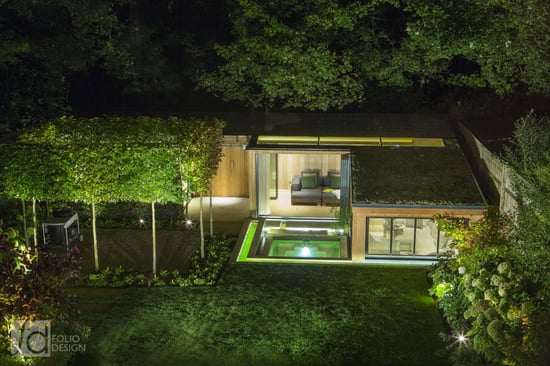 Coffee tables are overrated, right? Why decorate the living room with a boring wooden table, when you can have a crystal clear bubbling spa by day and a mysterious interdimensional portal stunning water feature by night? Folio Design created this amazing "outdoor spa and relaxation" nirvana complex for a client in London who wanted to take advantage of the preexisting garden and landscaping of their 1920's home.
4. Make Your Own Path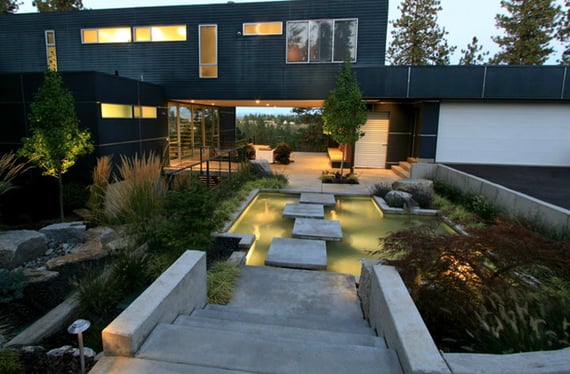 Standard rock path? Or a stunning water feature and personal moat as well? Besides the fact that getting a couch or new TV delivered would be a nail-biting spectacle, everything about this design is amazing. Alderwood Landscape Architecture and Construction created this Asian-inspired water (and fire!) project for a client in rainy beautiful Seattle.
5. Sit Back & Enjoy Your Creation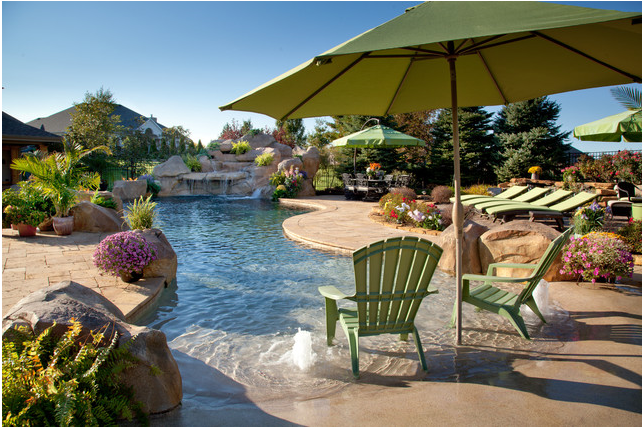 Now that you've been sufficiently inspired by all of the Houzz landscaping and pool design ideas, it's time to get out there and start designing the backyard of your (clients') dreams with VizTerra & Pool Studio. After you're done with that, pull up a chair and take in this tropical-inspired lagoon with a geyser (!) by Shehan Pools.
---
We want to hear from you! What do you do to get inspired when you design Landscapes and Pools? Let us know on Facebook and Twitter.
---