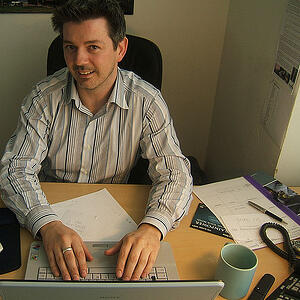 More than 13 million people visit Houzz every month looking for ways to improve their homes, making it a great selling and marketing tool for landscape designers like you.
However, there are also millions of other professionals on the site that you will be competing with for views and, more importantly, sales, so you need to make your Houzz profile stand out from the crowd.
To help you do just that, we've put together a guide on how to use Houzz to promote your landscape business. We also scoured the site to find the best landscape designer profiles on Houzz that have put these best practices into action — and to give you a model on which you can build your own profile. Check them out.
Paradise Restored Landscaping & Exterior Design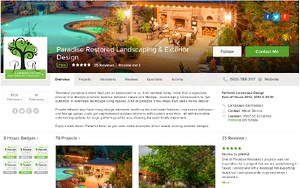 This Portland-based landscaping firm has won multiple Best Of Houzz awards, and it's easy to see why.
What Makes This A Great Houzz Profile?
Paradise Restored understands that, in order to create a great looking Houzz profile, you have to use great looking photos — and they do an awesome job of it. All of their projects have at least nine photos, while some have more than 100.
With such detailed photos, you can literally picture yourself sitting down for a barbecue or getting ready to relax in your private spa. These photos not only make you want to be there, they make you want to buy the services.
Green Planet Landscaping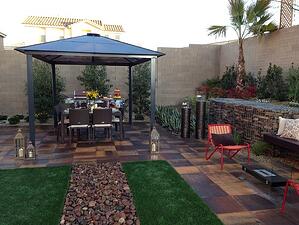 Located in Structure Studios' hometown of Las Vegas, Green Planet Landscaping delivers great designs to the desert community, including landscaping, hardscape, pools and spas.
What Makes This A Great Houzz Profile?
Just like you wouldn't stop growing your landscaping company, you shouldn't stop growing your landscaping profile on Houzz. Keeping your content fresh and current is essential to establishing yourself as a leader in your field and a viable option for customers.
Green Planet Landscaping is constantly adding new content to their profile: They have 23 unique landscape design projects, and counting.
Studio H Landscape Architecture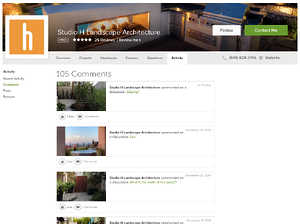 Headquartered in Newport Beach, Calif., Studio H serves homeowners throughout Southern California.
What Makes This A Great Houzz Profile?
Studio H may be local to California, but they have done their best to establish themselves as a global expert in landscape design by being extremely active and responsive on Houzz.
They answer questions — from potential customers and general users alike — promptly, offering helpful insight and information. Engaging users online is a great way to enhance your reputation as a knowledgeable, trustworthy and capable landscape design professional, and Studio H has taken full advantage of the opportunity — you should too.
Amber Freda NYC Garden Design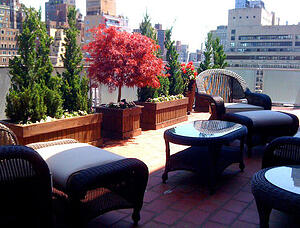 Many don't think of Manhattan as a place for great landscapes, but Amber Freda is changing that perception — one landscape design at a time.
What Makes This A Great Houzz Profile?
Generating hits on Houzz is the first step toward generating sales, and the key to getting found is to use great keywords. Amber Freda captions every single photo with unique descriptions, each with language as lush as the greenery depicted in the photos.
Make Your Houzz Profile Even Better!
Taking a page out of the Houzz playbooks of these landscape designers will help make you — and your profile — among the best. But we can give you something on your page that none of these designer have: beautiful 3D designs.
VizTerra software is as powerful as it is simple, allowing you to easily and quickly create stunning, highly customized 3D designs that you can use to keep your profile fresh, respond to questions and inspire detailed descriptions that can drive customers to your profile. To learn more, request a live demo today!
Image credits: man at computer, landscape with gazebo, rooftop garden