The beginning of the year has traditionally been a time when many of us take a moment to take stock: what worked, what didn't, and what new goals we should set for ourselves.
So we recognize that you might already be awash in tips on how to make resolutions that'll help you do more, sell more, and make this year Your Year.
As ready as we are to share with you all of the most intriguing new research, tips, and ideas, we also recognize that sometimes you just want immediate answers that solve your most pressing needs.
Let's take aim at one of those needs: how to create customer experiences so compelling that your clients just can't wait to get started.
Strategies that Work
We're here to help you create the most engaging, the most extraordinary, and the most irresistible experiences for your clients — not just this month, or this year, but for the long term.
Ever since we shared our own big goal with you — improving lives through 3D experiences — we've heard some spectacular stories about how our members are creating 3D customer experiences so engaging that clients have been known to spontaneously burst into tears.
If you want to inspire similarly enthusiastic responses from your own clients, give these three winning strategies a try:
---
1. Create Professional-Quality Videos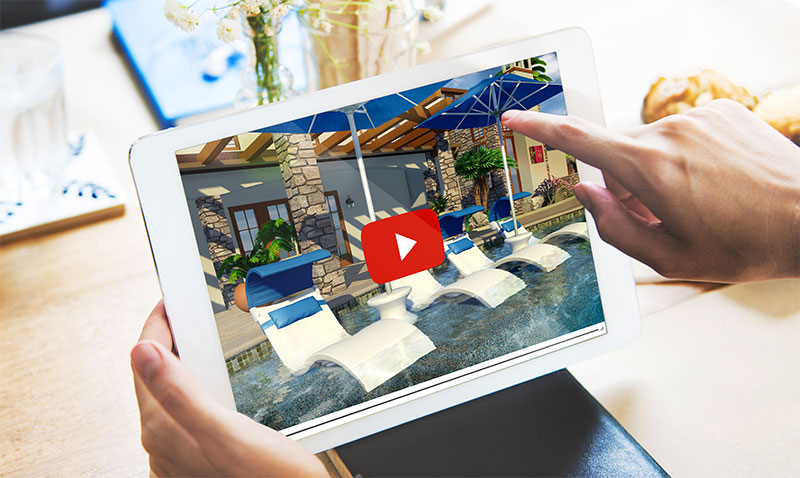 In a little more than a decade, YouTube has grown to achieve more than a billion users who watch hundreds of millions of hours of video daily.
The fact is, if you're not already using video to engage your clients, you're risking lagging behind your competitors: "87% of online marketers use video content," and analysts have found that "marketers using video on their websites enjoy 41% more web traffic from search than marketers without video."
The numbers only go up if you include social media networks like Instagram (where users "share an average of 95 million photos and videos per day").
How can you create (or create even more impressive) professional-quality videos that capture your client's interest?
- Use Video Mode:
It's now so simple to create a professional video, directly within your 3D landscape design software, that you can create, edit, and share a stunning video in just a few clicks of your mouse. That means you can instantly reach your clients where they spend quite a bit of their time: online, on social media, where they are ready to share with their friends and family.
- Add Sound Effects:
Video editing tools have become so easy to use that immersing your clients in richly layered sound no longer requires any sound-mixing experience. From narrating a tour to showcasing the well-chosen water feature, you can create a beautifully detailed soundscape for your clients — while also demonstrating features of your design, including ideal speaker placement and noise-pollution blocking.
- Highlight Important Details:
Sound effects are just one way to draw your client's attention to what you're offering them. You can also easily edit the pacing of your video to encourage your clients to pay attention to unique ways you've solved their problems.
For example, when you use a video to take your clients for a virtual dip in their new pool, you can show them not just how fun the pool will be but also how perfectly you've situated it so that they enjoy the best view from their property.
That's an especially important tactic when you consider just how important video pacing can be. Researchers have found that viewing a clip in slow motion, for example, can significantly influence just how "intentional" what's being shown appears to be. Make sure your clients actually see everything you're offering them, and edit your video to feature the most important and most compelling details.
---
2. Get Ready for Micro-Moments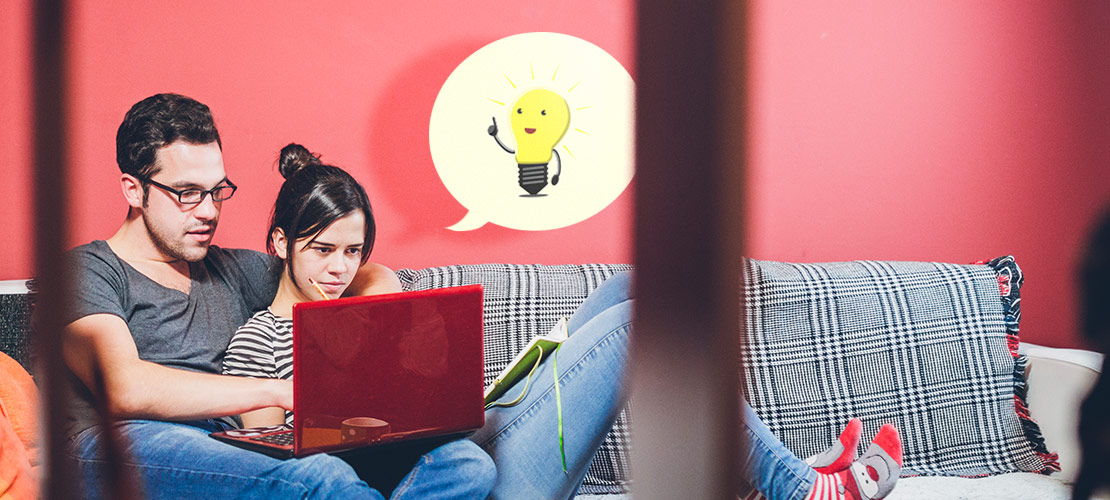 What are "micro-moments"? They're not just one of 2016's biggest trends (according to Google).
Micro-moments are a key way you can reach your potential clients when they're at their most curious: the "I-want-to-know, I-want-to-go, I-want-to-buy, and I-want-to-do moments" that Google has found "are big opportunities for your brand to win people over and influence their purchases and preferences."
- Make yourself easy to find:
If your potential clients can't find you, when they're looking for a landscaper or when they're interested in a new pool, then it doesn't matter how amazing your videos for them would be. Whether that means polishing your website, updating your social media profiles, or even learning how to add yourself to the map — make sure that your clients can find you when they need you.
- Answer questions:
One key finding? Clients want answers, and they want them right now. Instead of letting your clients get their information from your competitors, offer them the information they want directly.
That might mean making sure your contact information is up to date, or it might mean making sure your gallery is easy to view on mobile — after all, "91% use mobile for inspiration," so you want to be absolutely certain that your clients can enjoy your inspirational (and aspirational) portfolio.
- Demonstrate your expertise:
Offering clients answers is about more than just satisfying their need-to-know curiosity. You're also building their trust in you as the expert they can turn to — and that's especially important today, Google has emphasized: "Marketers must find ways to reassure consumers and position their brands as trustworthy."
How can you reassure your clients?
Consider, for example, Rory Sutherland's popular TED talk, which pointed out one big problem with many otherwise-excellent "solutions": they don't address the client's most fundamental needs.
Sutherland gave the example of how engineers "solved" the problem of how to improve the long train trip from London and Paris. While they did come up with a solution — a six billion pound answer, shaving 40 minutes off the trip — their solution simply made the trip a bit shorter, not genuinely better.
As he notes: "most problems are actually problems of perception."
When you establish yourself as the expert, you can help guide your clients' perception — and that gives you the opportunity to solve their biggest and most challenging problems.
---
3. Remember the Tried and True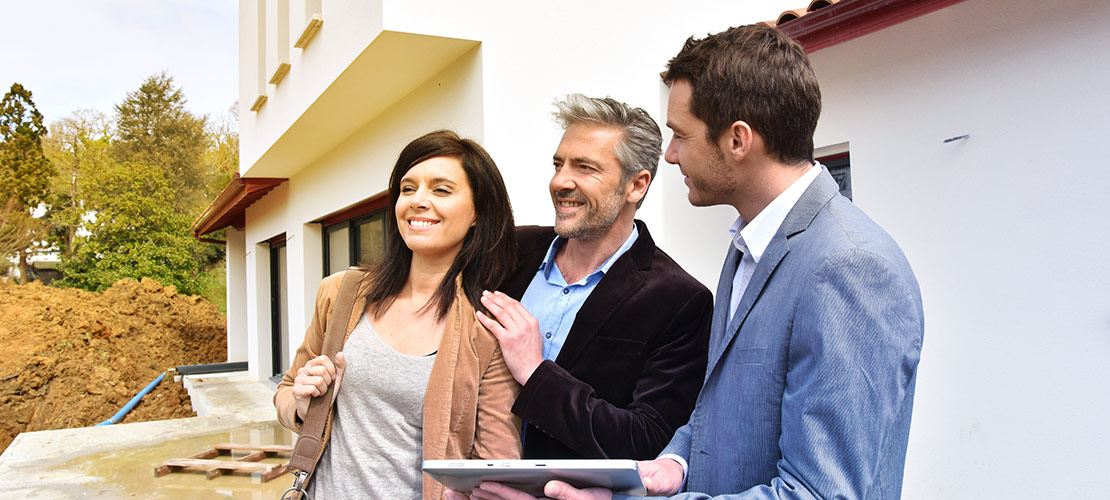 Often, sales and marketing tips emphasize the value of sharing new things with your market to excite your potential clients and engage their interest.
However, researchers have found that people can feel overwhelmed by just how much is on offer. It can be exhausting to be asked to weigh what feel like too many choices and make too many decisions.
How can you make decisions easy for your clients, even when what you're sharing is completely new to them?
— Avoid overwhelming your clients:
Although many assume that more is always "more," that turns out not to be the case.
Not only have researchers found that "excessive choice can produce 'choice paralysis;'" they've also found that "it can reduce people's satisfaction with their decisions, even if they made good ones."
And that's true for a very wide variety of decisions: "increased choice decreases satisfaction with matters as trivial as ice cream flavors and as significant as jobs."
Even small outdoor living projects can involve far more options than clients perhaps expect. By carefully selecting a couple of great options to offer, and taking the lead as you explain what's possible, you can make sure your clients don't get overwhelmed when they first realize just how many potential decisions they'll need to make.
— Tell your clients exactly how you're solving their problems:
When you're presenting your next design to your clients, you might consider Ikea's recent very direct approach to showing how they solve their customers' problems.
With 545,000,000 customers in 41 countries, Ikea is already pretty familiar to most people. In one of their recent campaigns, they took the direct approach to being ready to reach customers at those "micro-moments" when they turned to the internet for answers to their problems.
How direct? Ikea renamed their most familiar products to explain exactly how those popular products solved the problems their customers were searching for online: "How to live with bonus children?" Ikea offers an extendable table. "Son eats all our food"? A new shelving unit. "My partner snores"? A daybed. No matter the relationship problem, "Ikea can come to the rescue."
— Make options feel familiar:
According to research, "Customers, it turns out, make most purchase decisions almost automatically. They look for what's familiar and easy to buy."
If you're not yet quite as big as Ikea, you might not be able to assume your customers are familiar with what you're offering them. In order to help them feel comfortable and familiar, remember that "artful communication may backfire": too many new details, or too complicated a story, can confuse clients and oblige them "to ramp up attention to absorb a message with a high level of complexity."
How can you make your design feel both new and familiar to your clients?
Situate your design within their already-familiar outdoor space.
With 3D design software, it's trivially easy to add not just your client's home but also other familiar details from their neighborhood. You can import a photo of their home to use, for example, and you can even incorporate the interior of their home so that you start the 3D tour of their new outdoor living space from inside their kitchen or den.
You can take this a step further with Virtual Reality.
When you show your client their new design with VR, you're fully immersing them in a richly layered tour. You can let them walk around their new design in their already-familiar backyard space, bringing all of your new features and benefit vividly to life, showcasing them in context so that your client gets excited by what you have to offer — without feeling overwhelmed by too many changes.
Bonus Round:
Feeling inspired to set some new goals for the new year? If you're ready to tackle the second most popular resolution — "Getting Organized" — check out our most recent Winter Update. You'll discover new ways to organize your 3D library, pick your own keyboard shortcuts, and make your designs even more orderly with an all-new guide.
Or just click subscribe and get first look at all of the upcoming tried-and-tested tips and strategies we'll be sharing to help you create spectacular experiences for your clients.