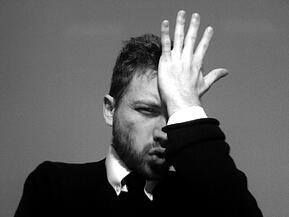 Deciding to change the way you present your landscape designs to your potential customers is a big decision. From the first moment you consider switching from 2D to 3D designs, the task can seem like one of the biggest challenges you've faced―as insurmountable as your initial change from hand-drawn to 2D designs.
Do you remember the days when asking the right questions and introducing a detailed (or even simplified) paper drawing was enough to turn a prospect into a customer?
You took the drawing back to your office, wrote out the details, and created a project plan without ever touching a computer. The drawing, and your knowledge, provided everything you needed to sell and get the project rolling. Everyone was happy.
But in the age of technology, it's just not working anymore.
Either your competitors have shown your prospects a realistic 3D landscape design that totally transforms their average backyard right before their eyes, or they've watched some reality TV show where the hosts present a fantastic interior design or landscape design within a single 30-minute episode. (And they're wondering why you can't do the same.)
The move to 3D landscape designs may feel inevitable — but it might also feel like learning to use these tools will take months or even years, like learning a new trade…in a foreign language.
So, what are the biggest challenges with learning landscape design software? Here at Structure Studios, we've been training and supporting VizTerra and Pool Studio users for 10 years.
Here's a look at some of the concerns we've heard time and again from them and others around the industry.
Challenges With Learning 3D Landscape Design Software: It Can Take Ages To Learn
With most software, the buying process consists of a sales rep walking you through the options and watching a screen share of him using the software on his own computer (It looked so easy).
He assured you that you weren't too late in the season to buy it, and March was as good a time as any since most of their customers master it in no time at all. You'll be a pro before you need to design your first project in a few weeks.
Now that you've paid for the software, installed it on your computer, and started what you think is your first test project, you have no idea where to start.
The problem is, they didn't give you access to the software before you purchased it.
That's why most companies have limited "Try-Before-You-Buy" options — they know the software isn't easy to use, and they don't want to scare you out of buying it.
Sure, it can do all the things you want it to (you watched the sales guy draw some basic designs and he told you it was capable of making the lines, curves and grades you need), but you didn't actually use the tools, and you were so impressed by the results that you didn't listen to the techno-jargon he was using.
Therefore, you have no choice but to order the 90-hour, in-person training you opted out of (because the 500 page manual is not worth the paper it's printed on).
Now, your schedule is full of site visits and presentations, and you still have an overwhelming amount of learning to do before you are even comfortable talking about the software — let alone using it.
Your learning curve may vary, but with some 3D landscape design software, the training process can be a lot more than users bargain for.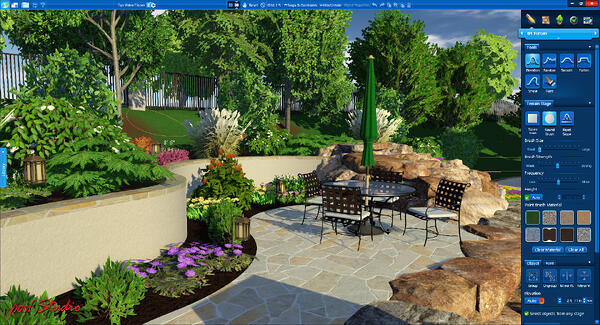 Some 3D Landscape Design Software Is Too Complicated and Technical
The majority of landscape design software packages available are built on top of another software product (such as AutoCAD) which was designed for a different industry. So if you are planning to follow the same step-by-step process you use in your designs, these tools are not laid out well for landscape designers. They are much harder to learn, and more time consuming to use.
Most of the tools, functions and layouts in a 3D landscape software were established by designers of CAD software. Unless you are familiar with these these terms and how the tools are used together to create simple shapes, you are going to spend a lot of time re-designing your work.
Other software companies have tried to eliminate the need to use CAD terms and tools, but some of these tools still require a lot of technical design knowledge: Curves and grades require complicated calculations, building structures with textures seems impossible, and even something as simple as creating shadows on individual objects could take all day.
Once you've tried one of these programs, it doesn't take long to realize your 3D design lacks any real wow-factor.
After all of the training, experimenting, setting up special shapes and brushes, creating actions, you still might end up with a 3D design that looks nothing like a carefully designed landscape for your customers.
Once you realize the limitations, your newest presentation might only include an imported Google Map covered in a badly-drawn wireframes to represent significant structures in your landscape: Everything is rounded or squared, and nothing shows any detail. And 3D textures may look like you've plastic-wrapped all the tress and shrubs with blurry overlays.
In the end, sometimes the design you end up with doesn't match your own vision of the project — and leaves your customers with questions about how your design will translate into the oasis they've always dreamed of.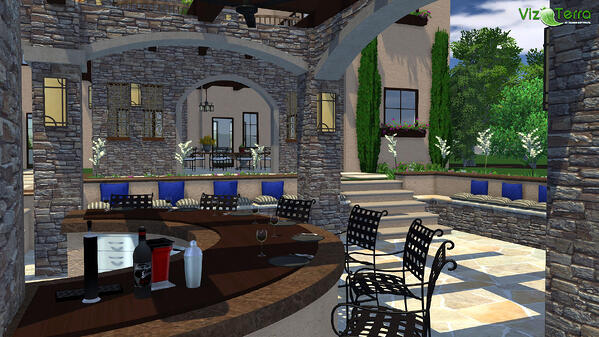 The Software Offers Limited Design Flexibility
When you purchased the software, you had this scenario in your mind:
You're sitting with your client in their living room as they stare dreamily into their back yard. They really love the idea of a hardscape patio, but the stone color they originally picked just seems to overpowering. They can't really envision how it will look when it's finished.
No problem. You fire up your laptop, draw out a few simple lines, curves, and shapes in your software and apply the color of stone they choose. They now have the option to stay with the original color or choose a new one from your library of manufacturers' products.
Now, the new stone is great, but they hate the straight lines.
No problem. With the swish of finger you just add a slight curve, move the trees around, drop in a water feature, add a pergola, and pick some bright colored foliage.
Perfect. The client wants it all!
You've made the sale. You just need to export the product list and book the project into your schedule. Everyone is happy.
Here's the reality: With some software, you have to settle for closing your laptop and telling them you'll get back to them in a week with some simple changes. And you've probably already lost the sale.
A good question to ask when choosing a landscape design tool is what CAN'T it do? For example, Sketchup is an incredible tool for designing everything from airplane engines to oil rigs. Do you think it's easier to learn a software tool that can create anything? Or a tool that's build specifically for your purpose? Your landscape design software only needs to be good at one thing: designing complete landscape designs.
This means it will be easier to learn, faster to use, and updates will help (never hinder) your workflow.
The Company Hasn't Invested The Right Resources Into User Support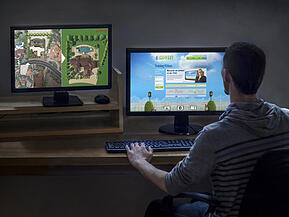 With pay-one-price software, user support can be limited to the package you purchased. Often, you need to buy the biggest package to get comprehensive support.
These are the complaints we've heard about support for userswhile learning landscape design software:
No telephone support

No basic tutorials and knowledge base

No member community or forum

Lack of formal one-on-one or group training

Time-consuming issue ticket submission process

Expensive in-person training

Nowhere to submit requests for changes to the software
When you are running out of time to complete a design and can't communicate with the software company to answer even basic questions, these shortcomings can be fatal.
The best landscape design software companies will invest time and resources into all different types of customer support, because they understand that their customers all have different learning styles, and different experiences with integrating technology into their landscape businesses.
How Do You Choose the Right Landscape Design Software?
Choosing the right landscape design software is tough. You may think you are comparing apples to apples, but it's not necessarily the case. With so many software packages and add-ons on the market, narrowing down the right solution for your specific needs may be more difficult than you thought.
If you are going to invest time and money into 3D software, you should make sure it was created to mimic your approach to designing a landscape. Free demos are a great way to ensure the product speaks your language and uses terms you understand.
What is the point of purchasing the software if you are just going to end up printing out a generic design to hand-draw the details in it?
That's why we built VizTerra: It gives you everything you need to create stunning 3D designs for your clients. And, we don't promise anything that we can't deliver on.
You not only get our program, but you get access to the software, training, insight, and advice you need to make the most out of it. We provide more than 25 free on-demand training videos that you can check out on our website right now. We don't want to hide anything from you — we want to be your partner in successful landscape design sales.
Schedule a live demo of VizTerra or Pool Studio from our staff!
Image credits: frustrated guy learning landscape design software