Did you know that 35 million people use Apple Maps, while only 6 million use Google Maps on an iPhone? Today, 85% of people feel that mobile devices are a central part of their everyday life. When they want to know something, they ask their phone.
So when a homeowner asks Apple Maps where to find a "Landscaping Designer" or a "Swimming Pool Company," will they find you?
If you haven't added your landscaping or swimming pool business to Apple Maps, it's doubtful. You're missing out on a free landscaping advertising opportunity!
You need to be more visible than your competitors so that your landscaping business will be the one homeowners choose. For experienced contractors as well as new designers, after you've answered the question, how do I start my landscaping business? The next question is, how do I advertise so that homeowners in my market pick my business?
Here's one way: get your landscaping or pool business listed on the mobile maps your customers use most. Right now is a great time to make sure that you are easy for homeowners to find. You can create your business listing in just a few quick steps.
How to Get Free Landscaping Advertising with Apple Maps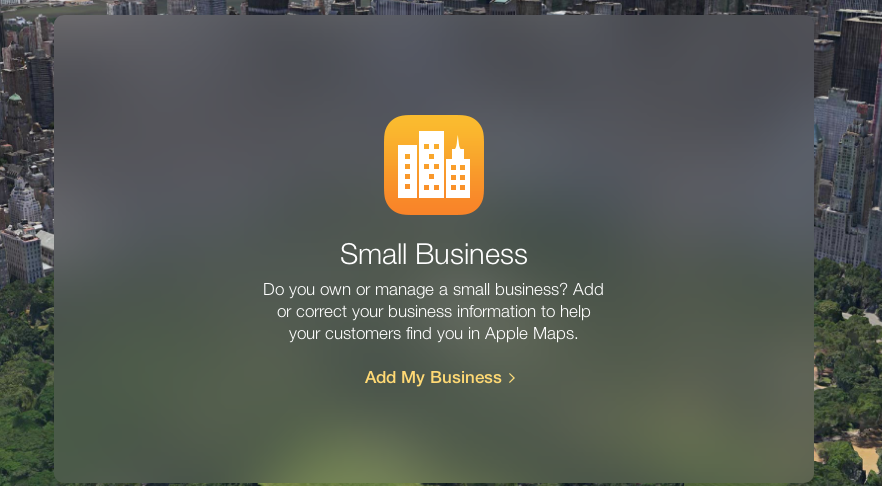 1. Go to mapsconnect.apple.com

Click Here, and log in with your Apple ID and password. If you don't have an Apple ID, simply create one.
2. Enter your basic business information
Select how you are related to the pool or landscaping business, and enter your details. Double check your primary business phone number and address.
3. Verify your pool or landscaping business phone number
Apple will ask if its Apple Robot can give you a call. The call will give you a verification code to make sure that you really own the phone number.
4. Confirm your business location and category
Make sure that Apple Maps has placed the pin identifying your business in the right location. If your business is located in a large building, place the pin near the best entrance to the building. You'll also want to choose the best categories to help people find you. You can choose up to three categories. If you are a landscape designer or swimming pool builder, you'll find options like "Landscaping" and "Pool Cleaners" under the "Home Services" category.
5. Confirm your hours of business
Make sure to put in accurate hours of business. Homeowners rely on this information when they want to reach you.
6. Add your company website and social media accounts
Don't underestimate this step: it's a valuable opportunity to make a good first impression. At minimum, share your website address. If you're just starting your landscaping business, it's especially important to offer homeowners compelling reasons to choose your business instead of your competitor's. You should include your Yelp address and any social media accounts as well.
Related: Does your Houzz listing attract customers?
7. Review your business information
Double check your information and edit anything that needs to be updated. In about a week, homeowners will be able to find you in Apple Maps!


You're done!
It doesn't take long to make it easier for homeowners to find you. Whether you've been in business for decades or you're just starting your own landscaping company, it's always a good idea to take advantage of the free landscape marketing opportunities available to you.
Want to learn more ways to market your landscaping or swimming pool business for free?

---