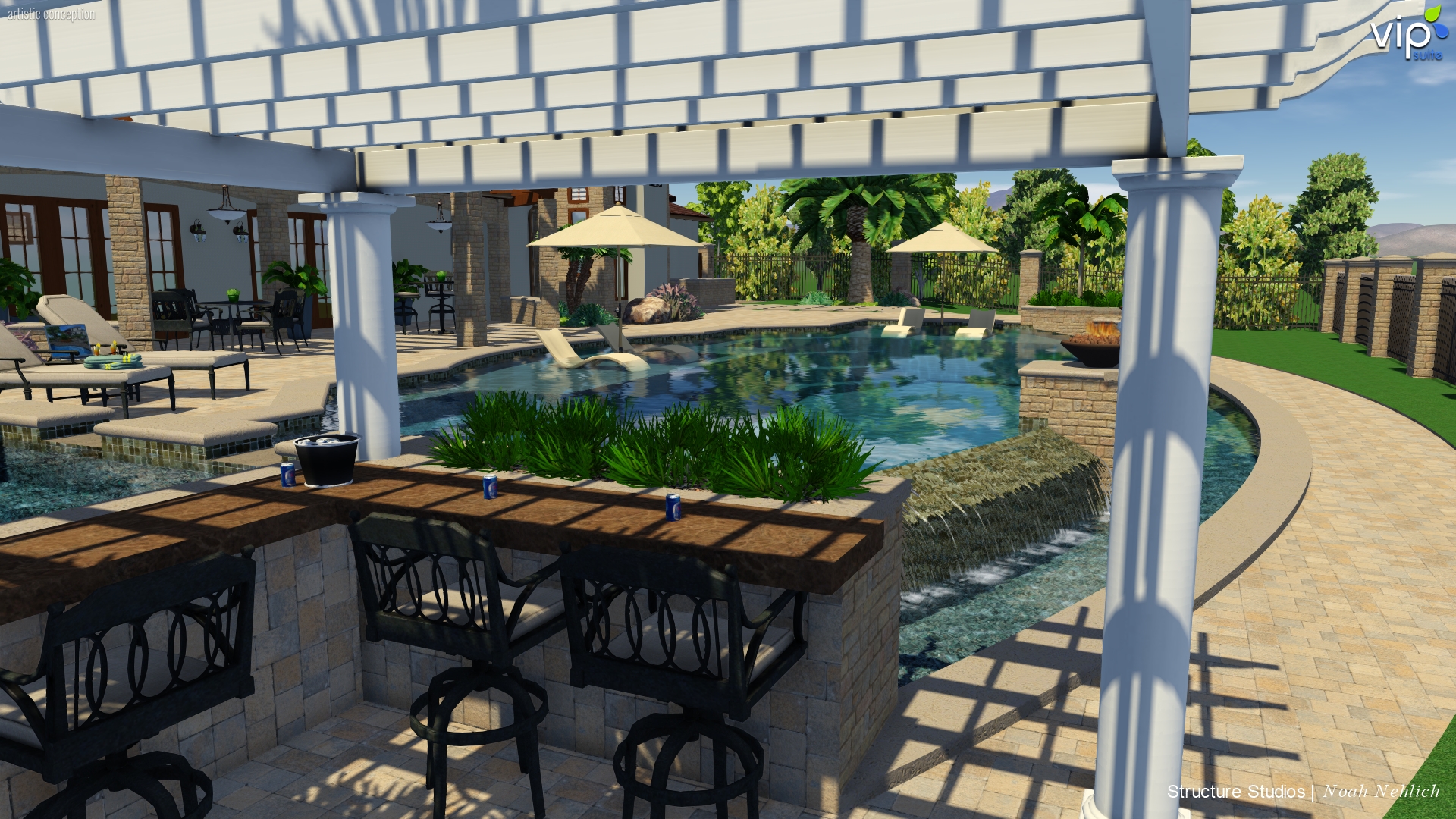 New customers often come to us at Structure Studios and ask us the same question: How do I upsell features in my proposals so I can make the most of every site visit? It's a great question, and an important one for any landscape designer who is looking to increase their sales. Typically, our existing customers sell and average of 20% more on each installation, so today we're going to discuss how to upsell — and the 5 most important features every landscape design should offer.
Your potential client may not give you an opening to upsell add-on features in your initial site visit, so you should Ask plenty of questions: How would they like their outdoor space to function? Do they envision holding outdoor dinner parties on a hardscaped patio on warm summer nights? Or some much needed family time in their new garden? Do they see themselves spending a quiet night sipping wine while sitting under the stars?
Listen to them and make a list of the activities your clients would like enjoy in the space. Use the list as a guide to determine what type of add-ons would work well in their space.
Create an Emotional Connection
Emotion is the key element in upselling a product to your clients — especially a residential project. People aren't buying pavers and plants; they are buying an anticipated experience with their home and family. The decision to invest in a landscape design has less to do with adding property value and more to do with acquiring a lifestyle.
So take this opportunity to sell a complete vision and put your clients inside the landscape. Whether you are talking them through the design and products you offer, or showing them a 3D design with all of the add-ons, let your potential clients enjoy every aspect of their landscape before you even break ground.
Furniture
If your clients are going to invest in an outdoor living area, they are definitely going to need outdoor furniture. As in real estate, furnished spaces sell much faster and for more money than unfurnished spaces when they are staged properly. Adding furniture allows your clients to picture themselves inside the staged areas and fully enjoying the landscape design you've presented.
With so many materials — from cast aluminum and stainless steel to wicker, cedar and teak — you are guaranteed to find the perfect shape, color and style of furniture to add comfort, functionality and extra appeal to your design, showing clients you really understand their design style. Throw in pillows, urns, side tables and other accents to pull the space together with color and patterns. You can even add plates, utensils and condiments, as featured in the image below: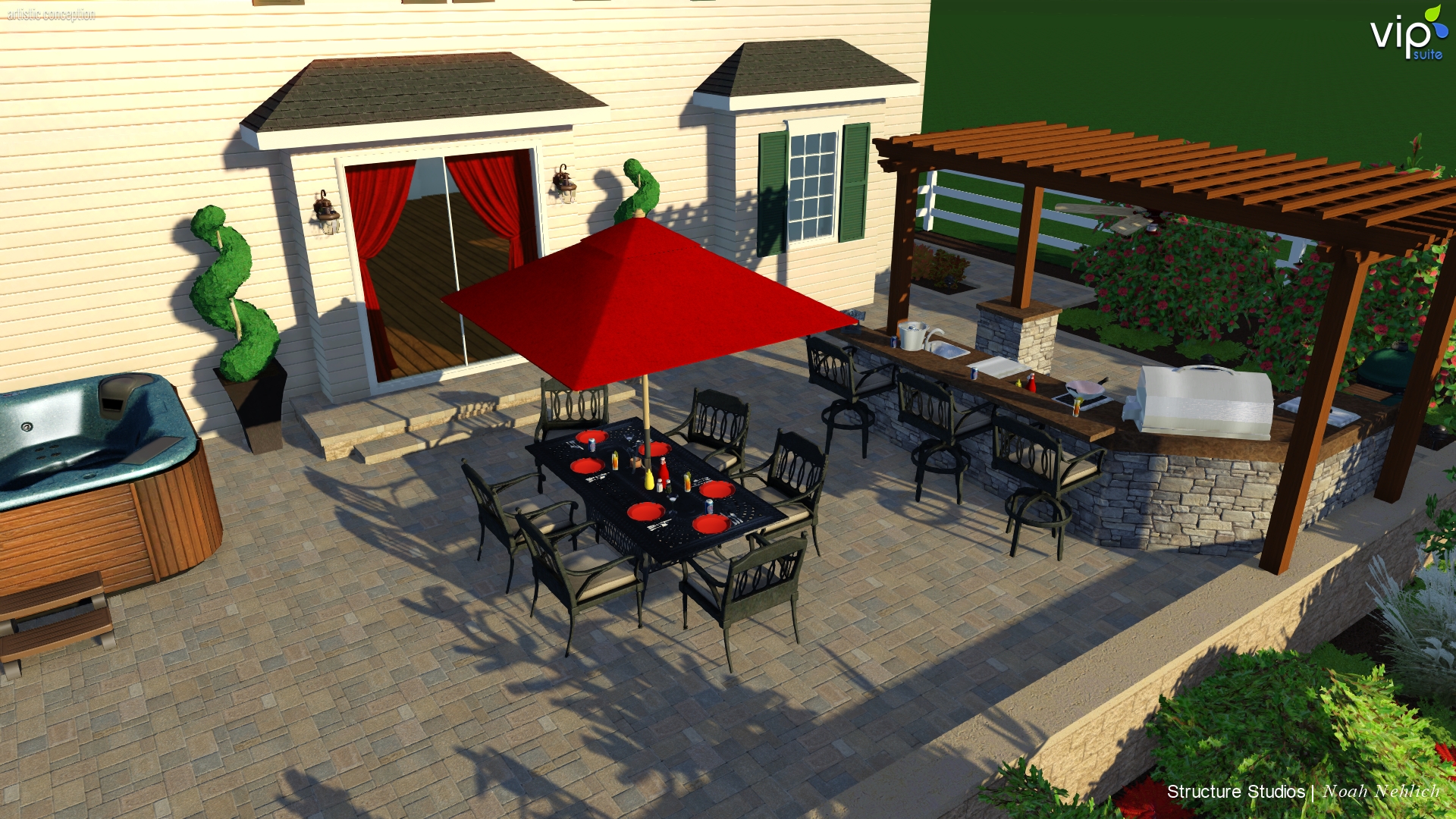 The presentation phase is perfect time to fill the design with furniture that adds perspective and proportion to the space. The right size and shape of furniture in a space will help clients to visualize the actual dimensions of a patio or hardscape surface. If you have the ability to move furniture pieces in real-time — like pulling chairs away from tables — you can easily show clients that they need more square footage or more walking space around outdoor kitchen spaces for better safety.
This is your opportunity to specify furniture and other accents in the landscape design to show clients how their selection of outdoor pieces can actually help them to enjoy the space more — add dining and lounging furniture in hard and softscaped areas for entertaining, string a hammock by a water feature for afternoon reading or add benches to pathways and natural accents for quiet sitting areas.
Outdoor Structures: Pergolas and Gazebos
Pergola and gazebos are perfect for adding the "home away from home" feeling in even the smallest backyard. No landscape design is complete without a permanent structure to provide shade, protection from the elements, or even a place to entertain — they can also provide another area for you to present furniture options, lighting and other features to complete the design.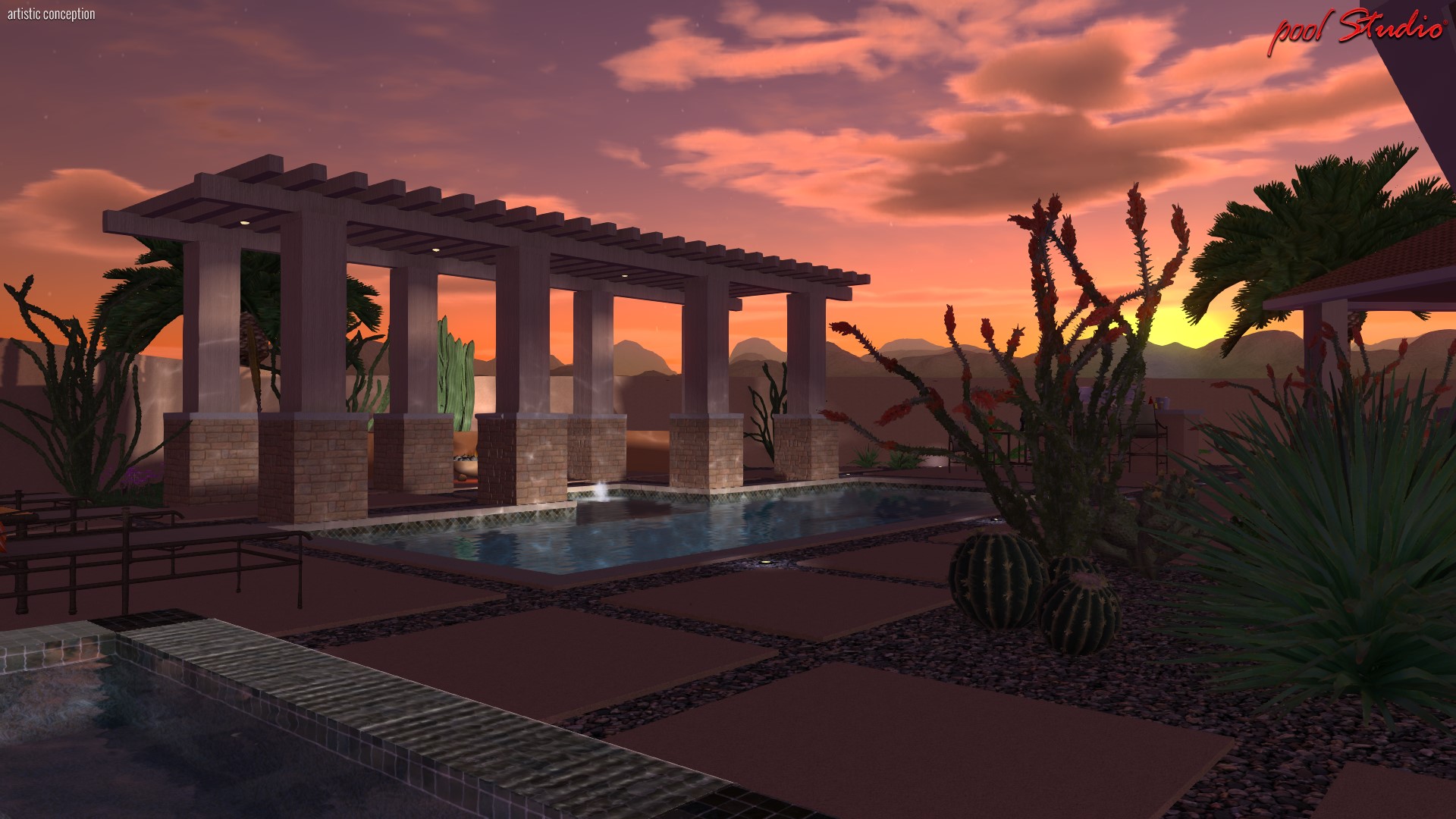 Outdoor structures provide shelter and create a peaceful sense of intimacy, and are perfect for closing in a small area while still providing an open feel to the space. They can be constructed close to the house and mimic the architectural elements to create an extension of the home, or they can be designed as a contrasting focal point.
With the right landscape design software, you can physically move the structures around the space and change the architecture during your sales presentation to show clients how each placement will be affected by sun and shade, and even how the structure will affect their view of the landscape.
Whether the backyard is fully exposed to sun or dappled with tall shade trees, adding these structures can create a sense of privacy and refuge from outside intrusions.
Fire Features
From simple inground fire pits to complex fireplace designs, fire features are the number one upsell item that should be included in every landscape design — whether your client requested it or not. A fire feature adds a natural element and invites homeowners to imagine extending their enjoyment of the new landscape design into the evening hours — from throwing parties to roasting marshmallows. The image below shows the fireplace surrounded by furniture, accents and even the family pet: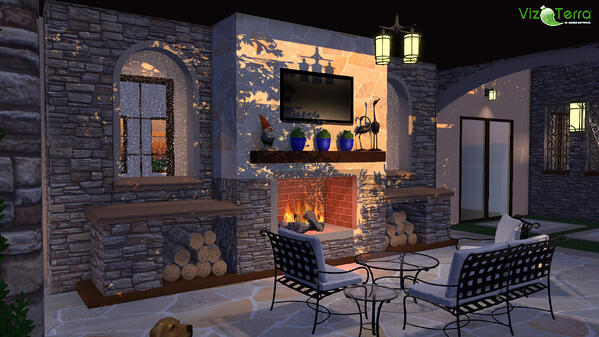 Fire pits and bowls can also add a natural light element to your overall design as the dancing flames draw attention and create a completely different look and feel to the landscape — making any space seem more rustic, personal and intimate. Add a fire feature encircled by chairs to any small space and an open fire will look dazzling in your design.
As you present your design to the client, show them how the firelight will perfectly light their space for entertaining guests, enjoying a romantic evening or even spending quiet nights with the family. Don't leave your clients with no choice but to retreat into the house after hours — give them an accent piece that provides heat and comfort and creates an intimate experience with their landscape.
Water Features
Now that you've heated up your client's space, it's time to cool it down with another earth element: water. Whether you add a fountain, pond or a pondless water feature, nothing compares to the sound of cascading water to drown out external neighborhood noises and add to the sense of intimacy you have created in their landscape design, as illustrated in the image below: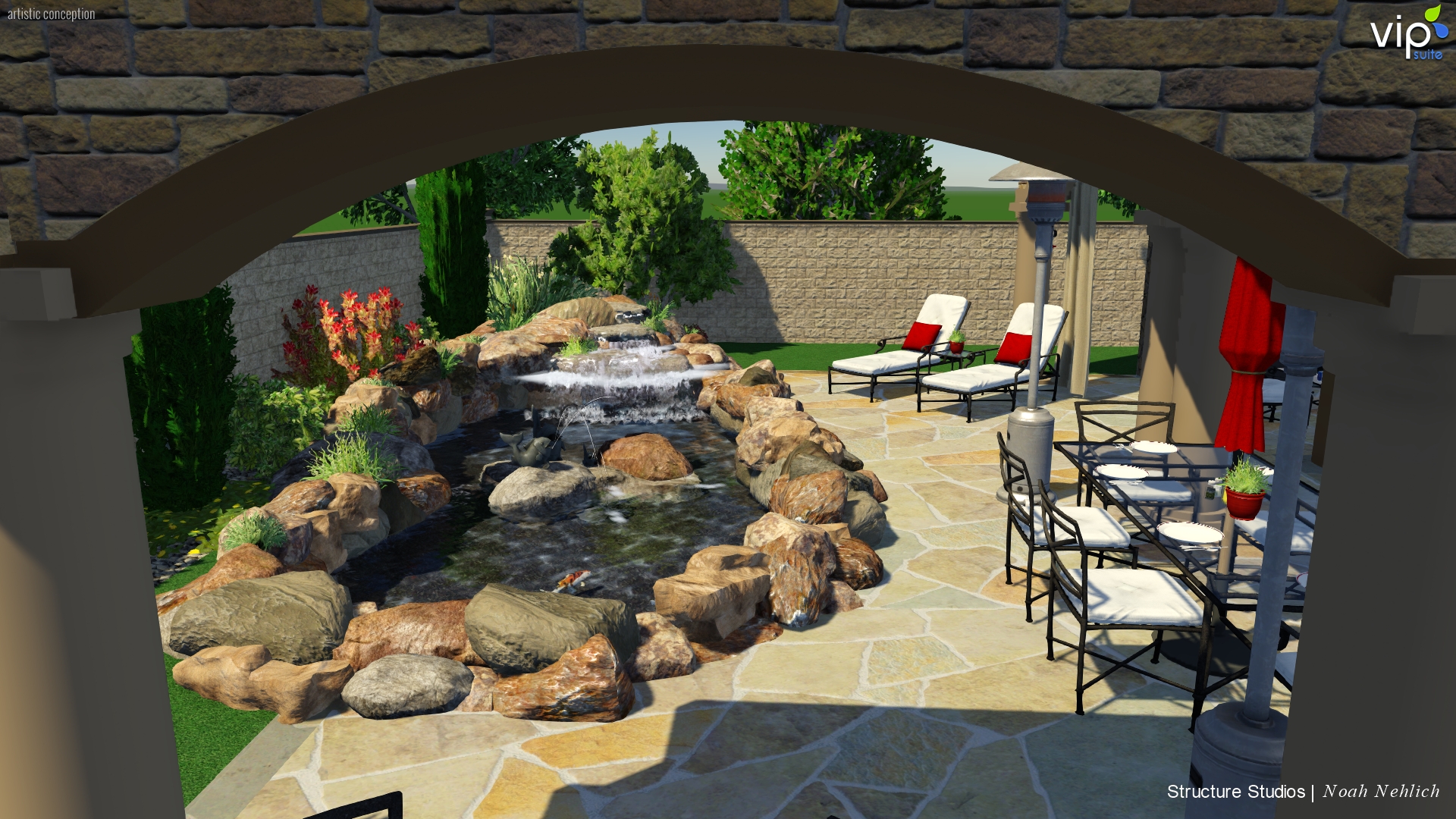 Unlike fire features, water features can be designed in a multitude of shapes, textures, sizes, and functions. And the only limit in your design is your imagination. From bubbling accent pieces, to cascading hardscapes, to garden ponds teeming with koi, and even water walls — there's really no limit to what you can offer.
Water features can be included in sitting areas, or tucked away into the smallest corners of the space — adding interest, but not taking up valuable space. As an extension of other elements you've added to the space, pondless water features can be designed in rock and concrete accents to give your clients a one-of-of-a-kind item to enjoy and show off to their guests.
Add submersible or overhead lights to highlight the rushing water and you've created another dazzling add-on to the nightscape as well.
Landscape Lighting
Landscape lighting is the ultimate add-on feature for any landscape design. The right intensity and color temperatures can highlight and soften all the other add-on features in your newly designed landscape. As you walk your clients through the property, talk about how light will affect their favorite accent pieces and enhance aesthetic appeal of their property at night, as pictured below: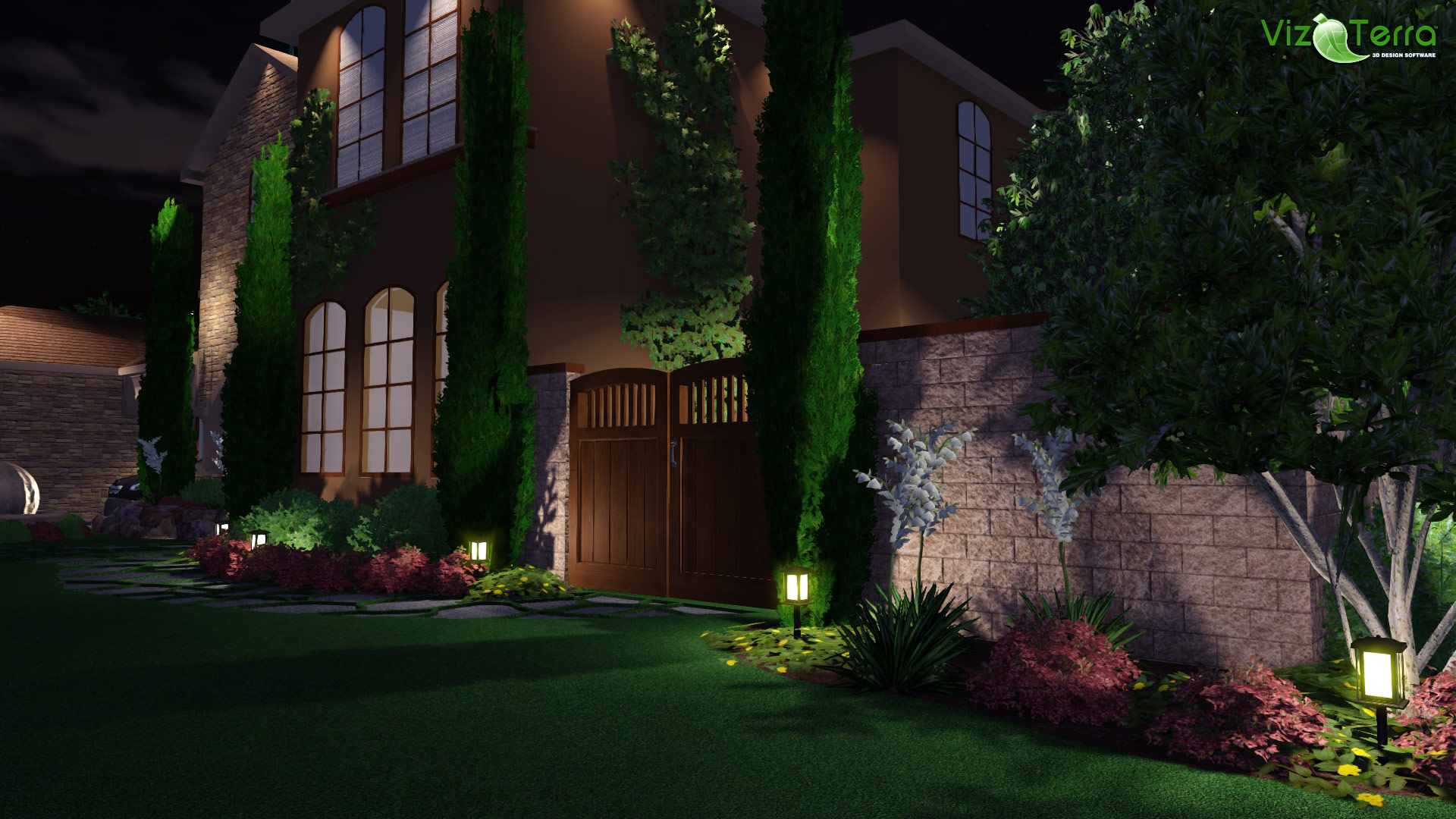 Take your clients inside the house to illustrate how lighted trees and other accents will be visible through the windows at night allowing them to enjoy the landscape lighting both inside and outside of their home. Outdoor lighting provides a feeling of safety and security by allowing your clients to have a full view of their property and prevent possible break-ins or vandalism, while giving them the enough task lighting to traverse over walkways, stairways, and changes in grade, without fear of slips and falls.
Add moonlighting, wall washes, pathlights, uplights and their yard can be a festive and inviting extension of their home once the sun goes down. They can stroll through the garden, admiring all the details that are hidden in the daylight while enjoy the illumination from an overhead treelight mimicking the bluish moonlight and casting a shadow of dancing leaves on the ground in front of them.
Landscape lighting adds layers, depth and shadows to a well-designed landscape. It creates a completely different view of the property by turning textures and shapes into interesting and dramatic accent pieces.
How to Upsell The Complete Package
The true key to upselling is doing your homework. When you have completed the initial design and return for your presentation, take your list of questions and answers with you so you can reiterate their dream of a perfect landscape, answer questions about your choices and tackle objections as they arise.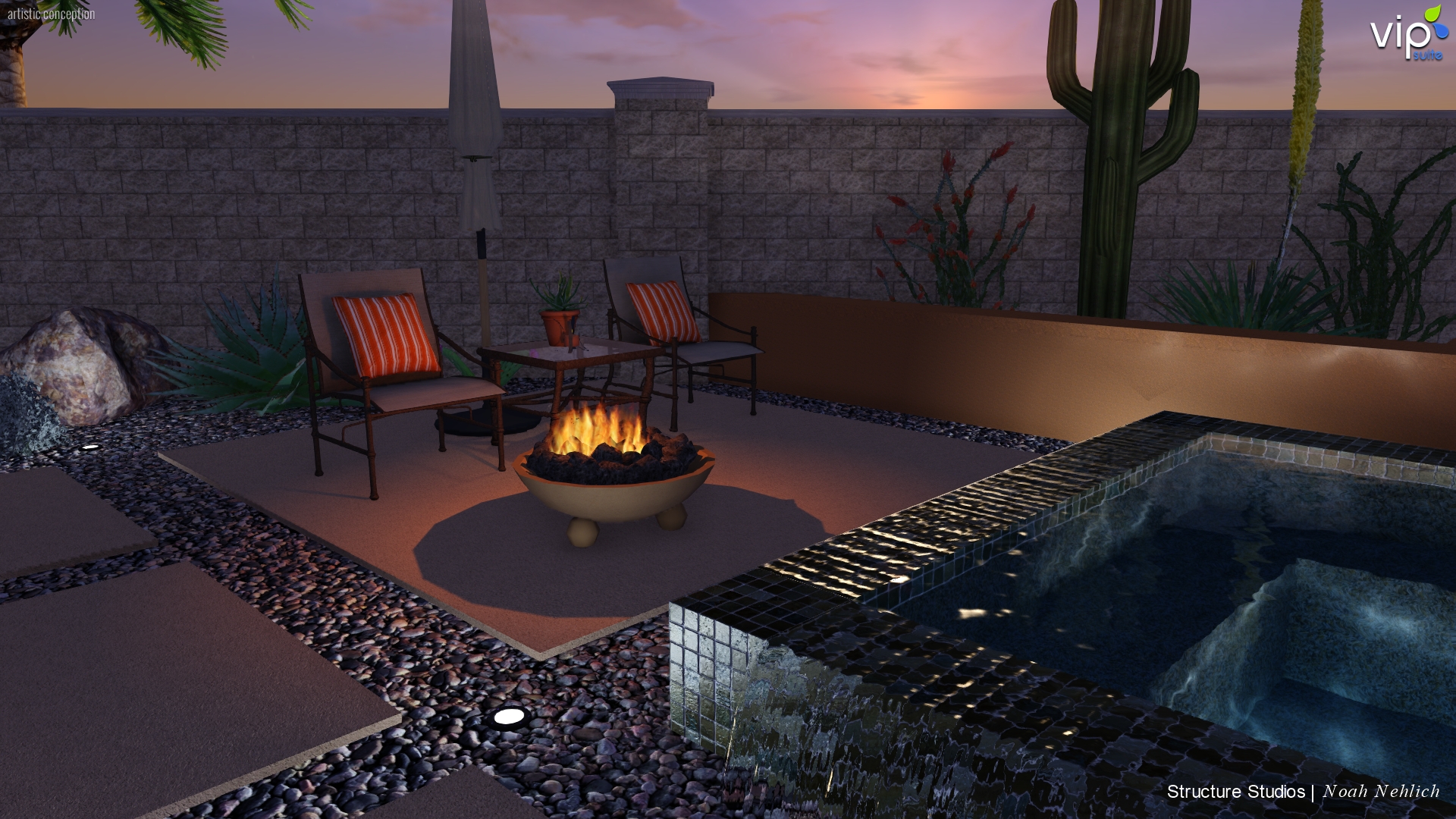 Knowing exactly how your potential clients plan to use the space is your first priority. Once you've won them over with the vision of their design, it will be much easier to tackle questions about added costs. And always be specific — know your numbers to keep the momentum of the sale and refer back to their list of needs when they are uncertain about the importance of a feature in the overall landscape design.
In our experience, once you've shown a client the true potential of their landscape full of unexpected surprises, they rarely opt out of purchasing at least a few add-on features. And many of our customers close up to 30 percent more contracts and increase their sales by 20 percent per project after building a complete vision of their client's landscape design into their presentation.
Using VizTerra, our powerful 3D landscape design software, can set you apart from your competition while boosting your bottom line, no matter how you choose to charge for your design services. With tens of thousands of options — from plants and hardscape options to outdoor kitchens and structures — and an intuitive interface, you can create stunning 3D designs quickly, helping you win new customers and sell more work.
To learn more, register for a live demo.