In part one of our conversation, JR Rapp, our very own 30-year pool-industry veteran and Director of Business Development at Structure Studios, gave insider tips to industry professionals on how to effectively communicate with clients.
In part two, find out what JR thinks about the evolving pool design industry — including the future of the pool industry, how software for landscape design and pool design has improved the design process, and what keeps him on his feet all day.
JR's Insights
Now that you've been in the industry for more than 30 years, what's changed the most in designing a pool or outdoor living space?
It's much more complex than when I started. There are far more options available. There are more controls, water features and lighting choices available. The designs are much more complex.
Why is that?
People are now surrounded by so many examples of great design that a great design is not a luxury — it's the norm.
Homeowners have always been inspired by things they might have seen in resorts while traveling, but now they are also watching HGTV, or following blogs, or creating their own inspiration boards on sites like Pinterest. So you need to keep up with what's new, with what's trending.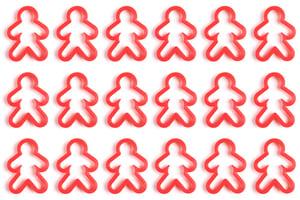 Also, in the '80s and '90s, there was a lot of disposable income. People developed an appetite for more — and that's remained true today. People don't want cookie-cutter pools or the same landscaping as their neighbors. They want something spectacular, and you've got to be the one who can design that for them.
Just how much does using 3D software benefit a landscape architect or pool designer? How much of a competitive edge does it give a company?
It's very difficult to communicate design ideas verbally or through a drawing. Even if you have phenomenal sales skills, most clients still cannot fully see or understand a flat rendering.
By having pool design tools that give homeowners a 3D experience, you can communicate to the homeowner so much more than just a drawing or a conversation can. You're walking them through what you're going to do, making that design really theirs. It's not just a pool anymore. It's their custom pool in their landscaped yard, designed around their own house.
You're really offering a much more dynamic experience — and making changes is painless. If your customer wants to move things around, you can show them the changes instantly in a way that makes sense to them.
And now the process of printing scaled drawings is so much faster than it used to be. No vellum paper or scale rulers required. You save so much time when you use professional software to print your plans. You get the accurate measurements and the scale drawings — and that means, especially with the help of hardscape software, that you can move through the approval process much faster.
What do you see as the current trend in pool design?
The current trend is blurring the line between outdoors and indoors. We see this not only in pool design but in everything. Flooring, furniture, seating areas — it's bringing the indoors out and bringing the outdoors in, creating more living space all around.

Photo Courtesy of Studio G Architecture
You can start your design inside their home, and then walk them through — here's how the deck flows from the living room, or here's how everything will work together if they throw open the sliding doors and host a party that invites guests to mingle.
Where do you think pool design is headed in the next five years?
People go to the Bellagio and see the fountains with the music and want it in their house. Well, now they can have that! You can do that now. These types of options are going to continue to increase in demand.
The blurring of the line between the outdoor environment and the indoor environment is going to continue to blur. People want to make their outdoor living spaces more functional and more livable.
And this is where you can really see the difference 3D software makes, because now you can actually walk your client through their unified space. You're not just promising that you're going to match up their outdoor living space with their interior's style. You're really showing them what's possible, and how you're going to give them what they want.
How do you see software helping designers stay current?
To stay on the cutting edge, we do a major update on our landscaping software every three months. We add features designers ask for — like the easy new way to share your photos and videos on social media — and we have a lot of features in the pipeline that I personally find really exciting. This is an exciting time to be in the pool industry. It's great to hear back from our members just how much they love the updates.
We also have a much more extensive product program now. We work with manufacturers to get their products in the 3D library. Each time we add a new vendor partner, we include them in the next update. It is a great time saver to be able to just click and add what you want to your design. Everything's there, from really beautiful tiles to really unique deck furniture.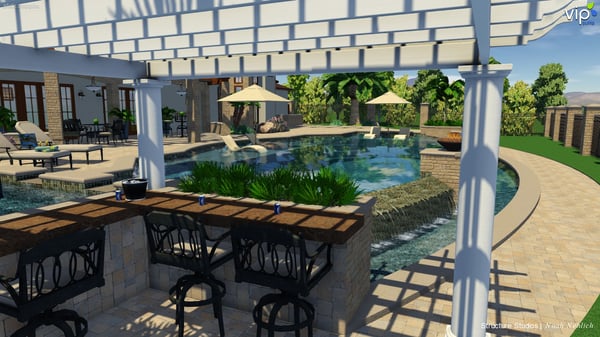 Lightning Round
What's your favorite part of working at Structure Studios?
Working with the members. I love the pool industry. It's been good to me. It means a lot to me, and I think to everyone here, when designers get in touch and let us know how they're using the software. We improve lives through 3D experiences. I really do believe that the environment is such a big, important part of life for everyone. So if we can help make your environment or your client's environment better, then that's a great day.
What's your favorite place for lunch?
On Fridays, when they cater lunch here in the office, the departments get to catch up and shoot pool together. I enjoy our Friday lunches.
One thing you can't live without on your desk besides your computer?
I stand up; I don't sit down. I can't live without a stand-up desk, so I guess it would be my desk itself!
To read part one of JR's interview, CLICK HERE
Any Questions?
Have a question or tips of your own to share? Let us know! You can keep up with future rounds by subscribing to our blog — where we're sharing insider tips on how to take your business to the next level.