One of the easiest ways to brighten clients' faces and close more deals is by adding lighting to your pool designs — and that's not going to change anytime soon.
In a February 2015 survey from the American Society of Landscape Architects (ASLA), 72 percent of landscape architects ranked lighting in the Top 10 features they predict will be popular this year.
But not only do homeowners want their pools and landscapes well lit, they are also interested in sustainability and energy-efficiency, leading to the popularity of LED pool lighting.
Well-designed LEDs are more durable, efficient and longer lasting than incandescent lights. While incandescent bulbs might last about 1,000 hours, according to Design Recycle Inc., LEDs can go for 50,000 hours or more — making them a great option for pools.
The type and style of swimming pool lighting you use will depend on what's popular with your clients, says Don Gwiz, head of sales for Lewis Aquatech. The company uses Pool Studio 3D swimming pool design software and offers services like pool installation, landscaping, hardscaping, spas, night lighting and décor.
In areas like Florida and Las Vegas, for example, color-changing lights and vibrant designs are trending. But in places like Virginia, where Gwiz is located, customers are mainly interested in elegant, white lights.
To get an idea of how the different lights compare, here are four of the top 12V LED pool lighting options.
1. Floods of Color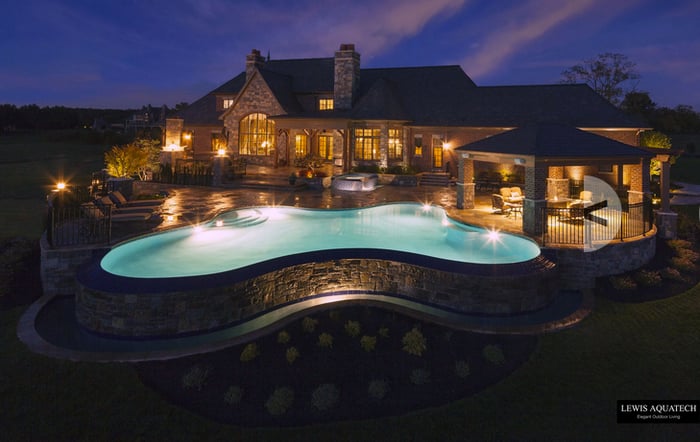 Give clients a light show with the Hayward Universal ColorLogic color LED lighting. The lights have 10 fixed colors and seven color-changing shows.
They have an all-plastic, low-voltage design, so they don't need bonding, grounding or GFCI. The lights come with smooth white and silver luster starburst trim rings, but they are also available in faux chrome, black, blue, beige, gray and white starburst.
The Universal ColorLogic lights can be programmed to match ColorLogic or Pentair SAm light shows.
These lights are fairly easy to install. But they have a tendency to start flickering and burning out within a year — which could put them out of warranty. While the light show is impressive, the lifetime for these lights isn't.
2. Sophisticated Style
Light up your clients' pools with an elegant Pentair AmerBrite LED lamp. Its intricate design helps set it apart from other lighting fixtures.
The light doesn't have an internal filament, and it's the only UL and cUL Certified LED replacement lamp for Amerlite's incandescent fixtures. It has a stainless steel shell and face ring. The lens can be rotated 180 degrees, so clients can adjust it to widen or narrow the beam pattern.
This lamp gives off plenty of light to illuminate the client's pool without causing much glare. The AmerBrite white LED lamps have also earned the Eco Select brand distinction as one of the greenest and most efficient choices from Pentair. So that means extra cost-savings for your clients.
Pentair also offers color-changing versions of the light. These do not come with controllers (although they can be purchased separately), so clients will have to toggle through the options to get the colors they want — which can be a bit frustrating.
3. Cool Down
Available in 3- and 6-inch options, Paramount's Paraglo LED lights transition between eight colors, including shades of blue, green, purple, red and white. The lights have a ceramic light engine.
The ceramic light engines are available in blue, white or multi-color. The fixtures have a direct connect electrical connection to prevent water from getting inside.
There's also a slotted rim to allow water to circulate behind the light, which helps with cooling and keeping water from becoming stagnant.
Paraglo is compatible with Pentair and Zodiac and has a 3-year limited warranty, which is longer than some of the other lights. While not as well-known as some of the other pool lighting products, they are a real contender and worth checking out.
4. Phone Control
Create vivid illumination for clients with the Jandy Pro Series WaterColors LED lights, a division of Zodiac. You can choose from five color shows or let the light transition through continuously changing colors.
The lights have a wide-angle lens design that saturates the water with a variety of primary and blended colors. They are available in plastic and stainless steel niches.
If the project already uses other Jandy products, homeowners can connect and control all of the functions from their mobile devices using iAquaLink app.
So the lights are good for mobile-savvy customers who like the idea of controlling the features remotely. It allows them do things like change the light colors, adjust the spa or pool temperatures and turn the pumps on. The lights have a one-year warranty.
Close More Deals with Pool Lights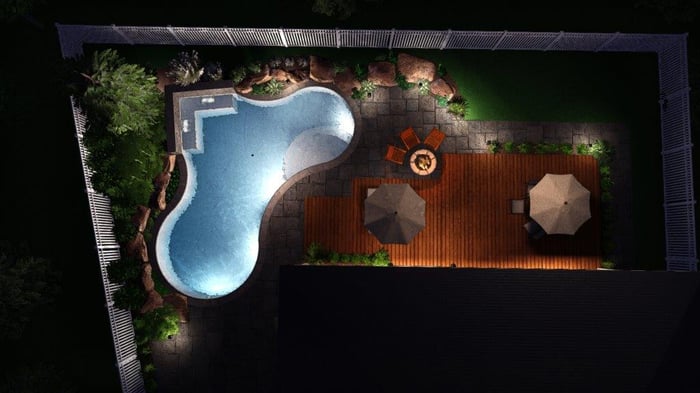 Adding pool lights to your 3D landscape design will introduce an eye-catching element to help your presentations stand out from the rest. Plus, they are fairly inexpensive, so they can be a great add-on to a poolscape project.
To really make clients shine, use landscape design software that has a night view option so they get the full effect.
In addition to a night view, Pool Studio also lets you create a video design to show clients what the pool lights will look like with the rippling water.
BONUS: Add Pool Deck Lighting
You can also add landscape lighting around the pool to give the whole area a wow factor.
Installing downlighting on pool decks, uplighting on trees or lights around seating areas in the poolscape can help make the space pop even more, says Keith Rosser, owner of Landscape Lighting Pro of Utah.
So, get creative with the space.
"A lot of times, contractors are using RGB color-changing LED lights near the pool," Rosser says. "They can do several different things."
Pool Studio helps designers show the client how many lights are needed in — and around — a pool as the light spread, distance and cone shape are represented in 3D. The pool software can show color-changing lights, as well.