I started consulting with pool companies in 2001. At the beginning, helping pool companies create 3D pool templates was all we did at Structure Studios. That gave us a lot of insight into what pool builders needed: a better way to design the unique, custom pools that customers want most.
Building on what we learned working with pool companies, we developed Pool Studio, 3D Pool Design Software. Released in 2005, Pool Studio gave pool designers the power to design — quickly and easily — custom pool shapes that were limited only by their imagination (and their client's budget!).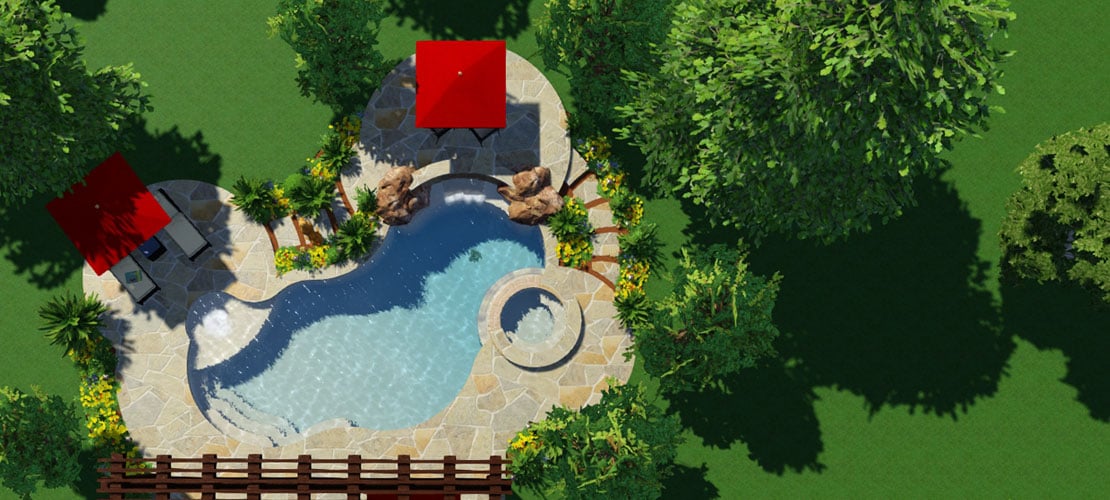 Since then, the pool industry has grown in amazing ways as great designers continue to push the industry forward. These days, there's more emphasis on creating spectacular designs than on building cookie-cutter pools — homeowners want their outdoor living spaces to be unique and exciting, not a copy of their neighbor's place.
More than ever, as homeowners want custom pools that fit their personal lifestyle, progressive designers in the pool industry are shifting how they work to meet that need — instead of trying to protect, hoard, and copyright their pool designs, they now openly share and exchange ideas.
We love seeing what designers create as they push the industry forward. Now, 14 years after we started helping pool companies design those spectacular 3D pools, the top designers in the industry are leading the way to a new focus — gradually shifting from templates to focus on the custom-designed swimming pools that customers want.

The interest for pool templates is starting to trend down.

If you talk to other great pool designers, you might notice there is less of an emphasis on building from design templates. But does this mean that templates have less value? Absolutely not! In fact, templates now are a great way to kickstart your design consultations and help your customers get exactly what they want — custom pool included. Here's how:
2 Ways You Can Use Swimming Pool Templates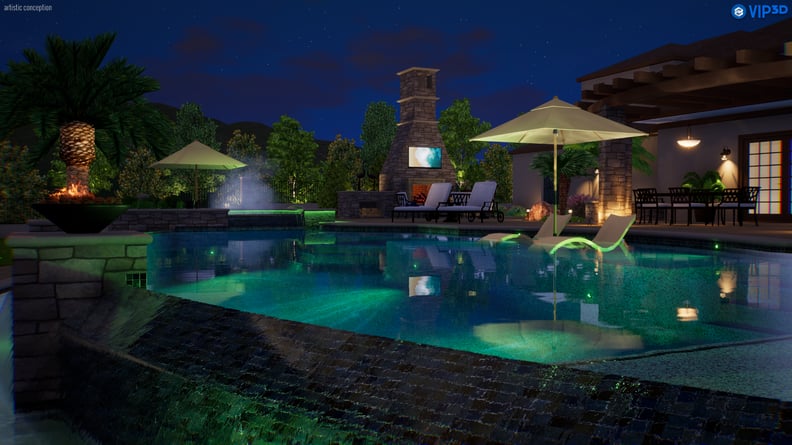 Get an Idea of What Your Customer Wants
Instead of giving your customer a set of old projects to flip through, add templates to a 3D design of their backyard. What helps a client to sign a contract is the emotional connection to a personalized project — the research on what makes for a great sales presentation has proven that (and so have the members who've shared their stories with us).
When you're talking options with a customer, it can be hard for them to connect their own outdoor living space to sketches or flat 2D photos of other people's yards. By using templates in a design, you can show them exactly how various pool shapes will fit their lifestyle. It's a great way to point out the pros and cons of different features and styles — exactly as they'll experience them in their own space.
In fact, we've seen many designers use design templates in a 3D scene as part of their initial consultation strategy — it's a great way to trigger a client's interest in a custom pool. Then they follow up by offering a full custom 3D design for a fee.
Inspire Yourself and Save Time
Sometimes it's just hard to get started — we've all faced down a blank page and too many deadlines before. When you need a nudge to get moving, try this tip: use a template to kickstart your design. Then maximize the space by customizing it to meet your client's needs. The power of using 3D pool and landscape design software means making changes is fast and easy. Once you start, you have the power to customize, personalize, and update your design as much as you like.
20 Free Swimming Pool Templates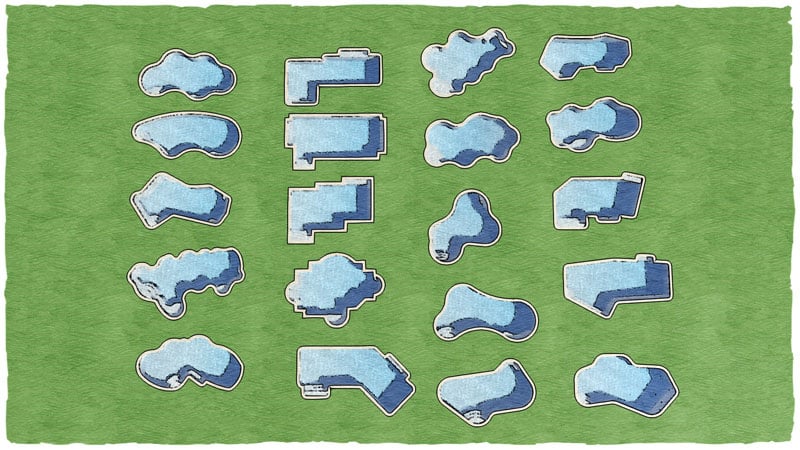 Without further ado, and in the spirit of helping improve lives through 3D experiences . . . here are 20 free swimming pool templates. Download them today to use in your next Pool Studio (.sav and .pkg files) or AutoCAD (.dxf files) design.