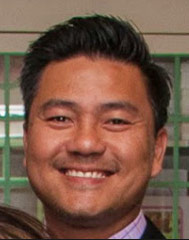 From Video Games to Modern Pools: 3D Artist Thai Tran uses his video game development background to create ingenious 3D landscapes for his clients.
After nearly 20 years in the video game industry, designer Thai Tran decided to take aim at something new: turning his conceptual illustrations into tangible reality.
Following his studies at the Laguna College of Art and Design, Tran built a successful career in video game development. That work in 3D environment development, focusing on creating interesting and playable spaces, interested Tran in looking for new ways to build on his experience as an illustrator and artist.
Building on His Success
With building a second career that would be as successful as his first as his goal, Tran sought out ways not just to continue honing his skills but also to explore what else he could design in 3D.
In order to see his concepts built, Tran joined Pure Water Pools as a designer in 2013 and also began working freelance through his own company, Premier Tsquared3d.
His skill as an environment artist meant that designing for the great outdoors was a natural transition. Tran wanted to approach outdoor living design with the same inventive style and rich details that had come to characterize his work — and to do so, he needed to find the right design software to move forward in his new career.
Discovering New Ways to Approach Design
In order to begin designing outdoor spaces ready to be built for his clients, Tran wanted 3D design software that didn't just help him design beautiful spaces. What he really needed was software that didn't slow him down.
He found that software with Vip3D.
Tran says, "I could render much more real environments in, say, 3ds Max or Maya, but it would take much longer. Building in Vip3D is much quicker, giving me more time to be a designer and not a technician. This is more tangible."
For Tran, used to designing lighting schemes and building environments in video games, one of the most important features he needed was software that gave him the freedom to design everything he could imagine while also helping him make sure those designs were precisely accurate and ready to build.
Taking Chances on Innovative Ideas
Creating realistic environments in video games had taught Tran that finding the sweet spot between "too much" and "exactly right" for each client was a challenge worth tackling.
As part of a video game development team, Tran could trade ideas with fellow designers as they moved from design to launch. With clients, however, the time between Tran's first meeting and the build was much shorter.
That speed, combined with his willingness to take chances on innovative ideas, is one of the things that helps differentiate Tran from his competition.
Says Tran, "Getting designs out fast is key. . . . I try to be very detail oriented — a by-product of [designing video] games, I guess!"
So much so in fact, that Tran admits his focus on details occasionally can come as a surprise to his clients: "I think [I'm detail oriented] to the point I may drive some of them nuts. I think I come at designs from a different ideal, too. I'm not the traditional landscape designer. I try to read the client, their appreciation of what I do or can do for them. And because I do things quicker, I gamble a little."
Those fast-paced gambles have paid off: Tran's clients are thrilled with his work.
Building Ingenious Outdoor Spaces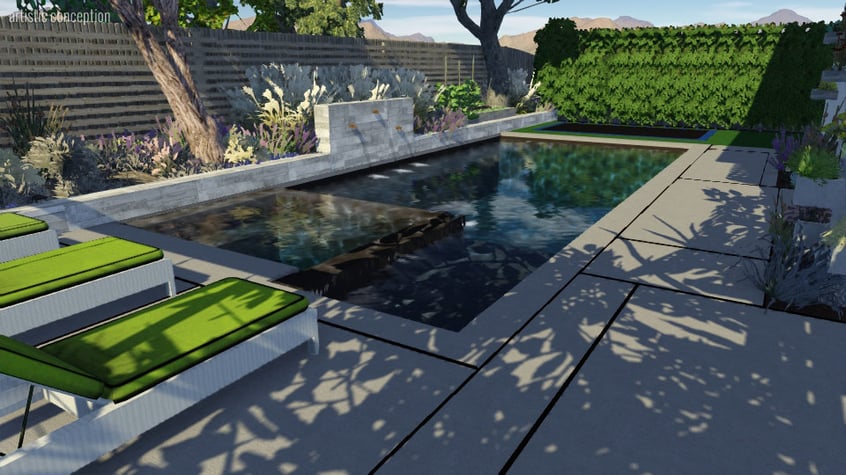 As he moved from video game development to outdoor living design, Tran's interest in seeing his artistic visions become real meant that he quickly embraced the software that made building his designs quickly as easy as possible. "In video games you never get to walk through your designs or touch things. This is more tangible."
An early adopter of Vip3D, Tran found that the outdoor living design software made it easy for him to accomplish the designs that differentiate him from his competition: "Vip3D does make life very easy."
He found, as he began offering clients outdoor living designs, that Vip3D offered him the flexibility he needed: "Vip3D has a much easier learning curve, and is perfect [when you're working at a] fast pace gathering clients."
Because his ingenious designs are so detail-rich, Tran relies on both construction-ready 2D plans as well as printed 3D renderings to make sure his team builds the job precisely for his clients. "Working with the old-school contractors who still think a 2D plan gets the job done, I would never think to replace a plan set in construction, because they are important. Many of my renderings are used during our construction phases to help the crew get a better understanding of how to build."
By using his 3D renderings not just as a sales tool but also as a means to improving communication with his entire team, Tran ensures that the visually rich details that draw his clients to his designs aren't lost in construction.
Looking to the Future of Design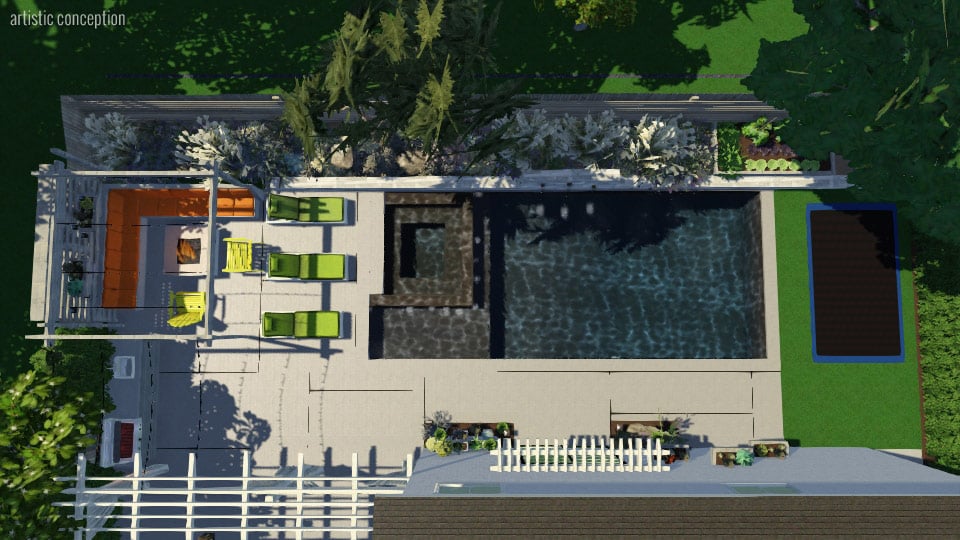 Moving into outdoor living design has not taken Tran entirely away from video games: "I like to do both landscape design and video games. There is something mature about landscape design. It's real life, which I love, but I'm also a kid at heart, so I'll always want to make video games."
Instead, that enthusiasm for innovative conceptual design is one of the reasons why Tran especially enjoys surprising his clients with interactive 3D presentations and videos.
In his designs, which often combine sleek modern style with luxurious details, Tran offers his clients ideas that solve their outdoor living space needs while also featuring the beautiful details that make them want to build. And he has found that 3D renderings and videos are one of the best ways to reveal to his clients the features and details that will transform their space.
"Mostly clients that have no appreciation of what 3D designing can offer. They simply don't see the advantages of it." When Tran reveals his plans to his clients, the experience of exploring all of the multifunctional details of their new space — like built-in cushioned seating that introduces bright pops of color while offering space suitable for relaxing as well as hosting a crowd, or outdoor drapes that serve to offer both shade and style to complement the linear lines of the pool and patio — is just as exciting as learning how his design will give them everything they want.
Thai Tran has built his successful second career on the belief that 3D design and 3D renderings are the future of all architectural development — not just to create intricately detailed, beautiful spaces, but also as one of the best ways to attract clients to a design.
See what Vip3D can do for your career: try a demo today.
Featured image credit: Original design by Ryan Hughes Design Build - 3D rendering by Thai Tran