This past year, our team has focused on developing new tools that help make it easier for you to get work done on your schedule, no matter when (or where) you're working. Whether you're making changes on the spot while you help your client create a "staycation"-ready outdoor retreat or you're making headway on your to-do list in the office, having the right timesaving tools is key.
That's why our team's especially excited to share with you one incredible timesaving new tool: the Knowledge Base.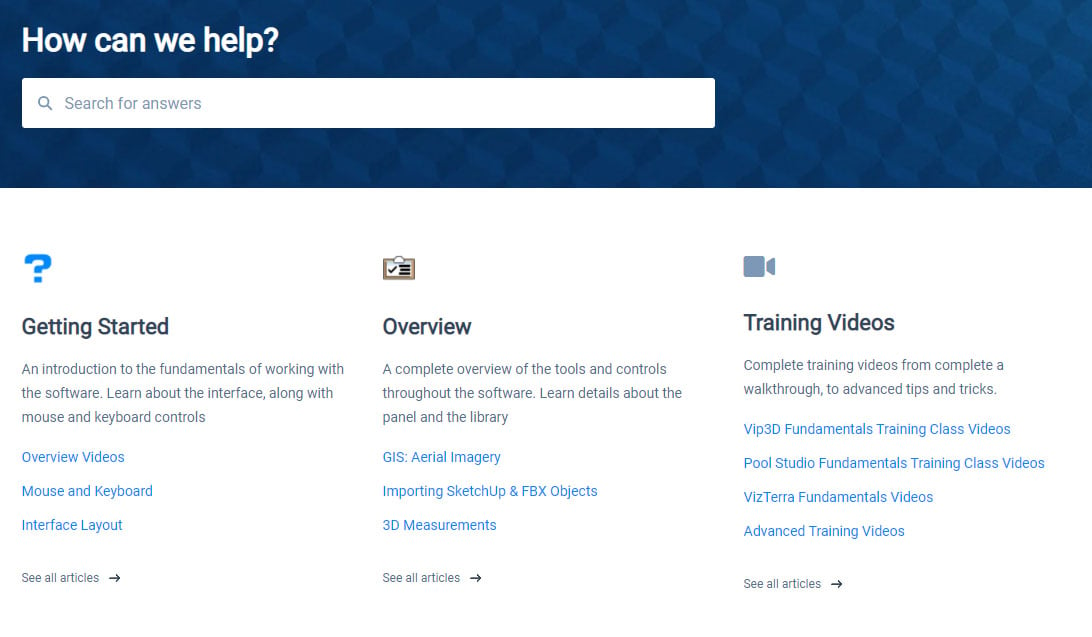 Find Answers, Fast
The Help Center offers you quick access to the information you need through the new Knowledge Base.
Complete with tutorial videos and explanatory images, the Help Center's Knowledge Base includes many new tips and tricks (like how to create beach entries) as well as detailed guides (like how to create the most engaging videos). And we regularly add new guides and articles to make sure we cover everything you need.
Simply click the blue Help Center button on the Support website or visit directly:
Click Here to check out the new Knowledge Base
Get Access, Instantly
The quick and responsive Knowledge Base makes it easy to find tips, tricks, and guides—all in one easy-to-access spot. Simply type what you're looking for into the search bar and options will instantly begin to appear! Then just click on one of the suggested topics:
Search bar: Start typing what you're looking for (try, "

add a gate

") and click through to learn more.
Quick links: Want to brush up on using

Smart Data

or

printing

your

build-ready plans

? The Knowledge Base covers it all—and, right below the search bar, you'll find quick links that make it easy to head to the stage you need.
Tutorial Videos: Get instant access to our entire series of

online videos

—it's an easy way to brush up on a skill or pick up a new one!
Discover New Tips and Tricks
Whether you're looking for help with a specific design question, you're ready to pick up a few new tips, or you just want a quick refresher, the Knowledge Base has the answers you need.
Want to learn how to email images to your client right away? It's easy to send images directly through the software.
Would you like to assess a client's property you visit—or even get tips on how to design a project without stepping foot onto the property? The Knowledge Base will show you how to import high-resolution aerial GIS imagery and generate 3D terrain automatically.
Or perhaps you have a client whose house has a decidedly complex roof? Getting tips on designing a unique roofline has never been easier.
With the full Knowledge Base at your fingertips, it's easy to discover new tips and tricks that will help you solve your client's design challenges faster than ever. How-to guides combine step-by-step instructions with detailed screenshots and videos, key tips and notes are highlighted, and the panel to the left of each article provides easy access to information about each phase.
We're Here to Help
The Knowledge Base is just one of many timesaving tools our team is developing for you. Soon, we'll be releasing the all-new Version 3, which will help you design projects faster than ever. We can't wait to share it with you.
Anytime you have questions, give us a call, send us an email, or drop a comment on our blog. Our team's on hand to help you create the most incredible 3D projects for your clients.