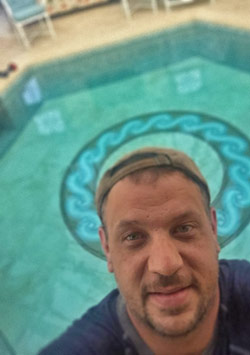 Custom Pool Designer Chris Adamczyk uses Pool Studio to Create Designs Featured on TV and in Multimillion-Dollar Homes
When award-winning designer Chris Adamczyk of Watercolors Custom Pools in Atlanta decided to make the switch from digging pools to selling them, he set out to find the right tools that would make his designs stand out amongst the competition.
After eight years digging pools as a heavy equipment operator, Chris Adamczyk had ideas for designs of his own that he wanted to see built. Those designs have not just featured on TV six times, they've also won him multiple awards and earned him clients all over the Atlanta area, from suburban homes to multimillion dollar estates.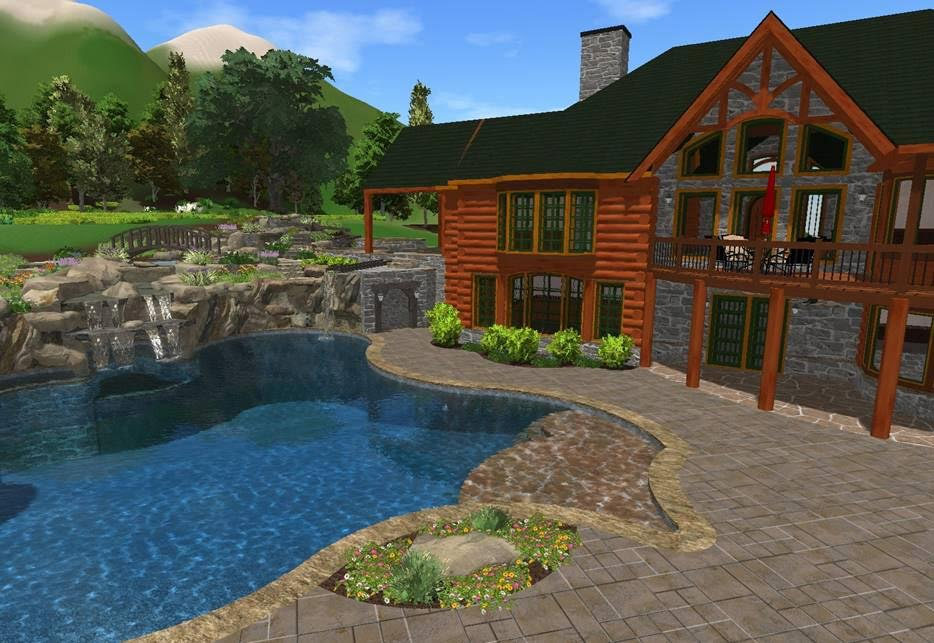 Trading Heavy Equipment for Design Software
Before he began designing pools, Adamczyk worked as a heavy equipment operator. That experience made clear to him the importance of making sure everyone on the team fully understood every detail of a project: the custom pools he was ready to design featured intricate details that Adamczyk needed to be sure would be built to his and his clients' specifications.
Creating those award-winning designs required Adamczyk to take a new approach to design.
When the company he worked for in Atlanta invited him to share his ideas, they wanted him to use AutoCAD, which they saw then as "the wave of the future."
But Adamczyk knew there were other options available that could help him create the visionary pools he wanted to see built.
When the pool company he worked for offered him the opportunity begin designing pools in 2006, Adamczyk began researching new ways to design pools. He flew to Las Vegas to learn more about Pool Studio — and then presented his first design to his company using the new software he'd learnt.
---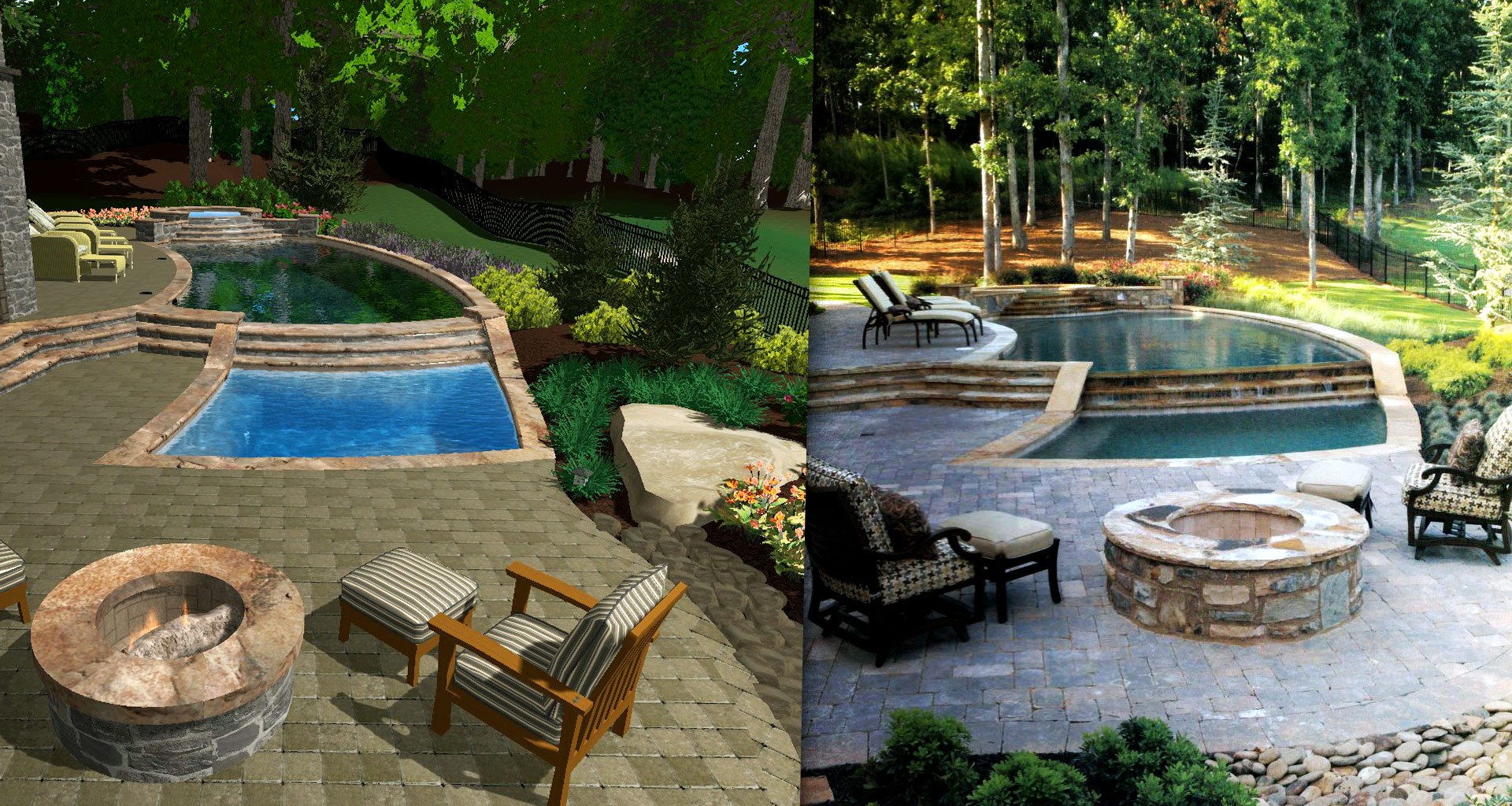 Focusing on Details
Adamczyk's first design was so well received that he began using Pool Studio to design all of his custom pools.
As a designer, Adamczyk's goal is to create pools for his customers that go beyond what they might have imagined possible. With the right software at his disposal, that means he can create unique custom pools that his clients love.
His approach is crafted to amaze his clients: "Typically I show up and listen. . . . I let them do most of the talking. When they ask me what my thoughts are I usually respond, 'I don't know until I fire up the program.' That is when the magic happens."
In order to create that magic, Adamczyk uses Pool Studio to fully recreate his client's home: "I will take about 20-40 pictures of the house and property and, when I sit down to design, I spend a good bit of time on the drawing of the house. To me, that is where you learn what your clients tastes are. . . . [I]f they have spent a million or more on the house, then obviously they like it!"
That understanding is an important key to his success: "When you take the time to recreate the house and yard as it is today, you can learn in detail what the client is going to appreciate." Adamczyk uses what he learns by listening during the meeting and then by analyzing their home to create innovative projects his clients love.
---

The Hydrofloor: Adamczyk's Most Intricately Designed Project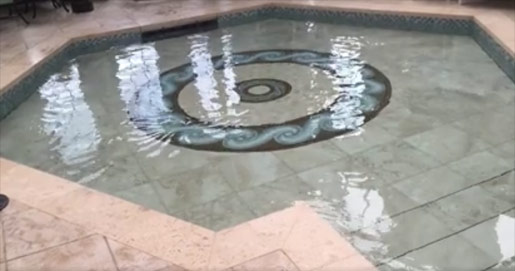 One such project: The Hydrofloor.
Taking three years to complete, the Hydrofloor cost $240,000 - $250,000.
A unique indoor swimming pool that can be filled in just seven minutes, the Hydrofloor features unique tile and a challenging hexagonal shape. Designed for clients in the process of constructing their home, the Hydrofloor was Adamczyk's suggestion when the clients couldn't decide on what type of pool they wanted.
"It just so happens that I was in the right place at the right time and that project fell into our lap. The shape was already predetermined by the house architect but the addition of the hydrofloor was my idea."
What does Hydrofloor cost? The project was a massive undertaking: the Hydrofloor price itself cost $150,000. The pool, another $40,000. And the unique client-approved tile cost $50,000 - $60,000.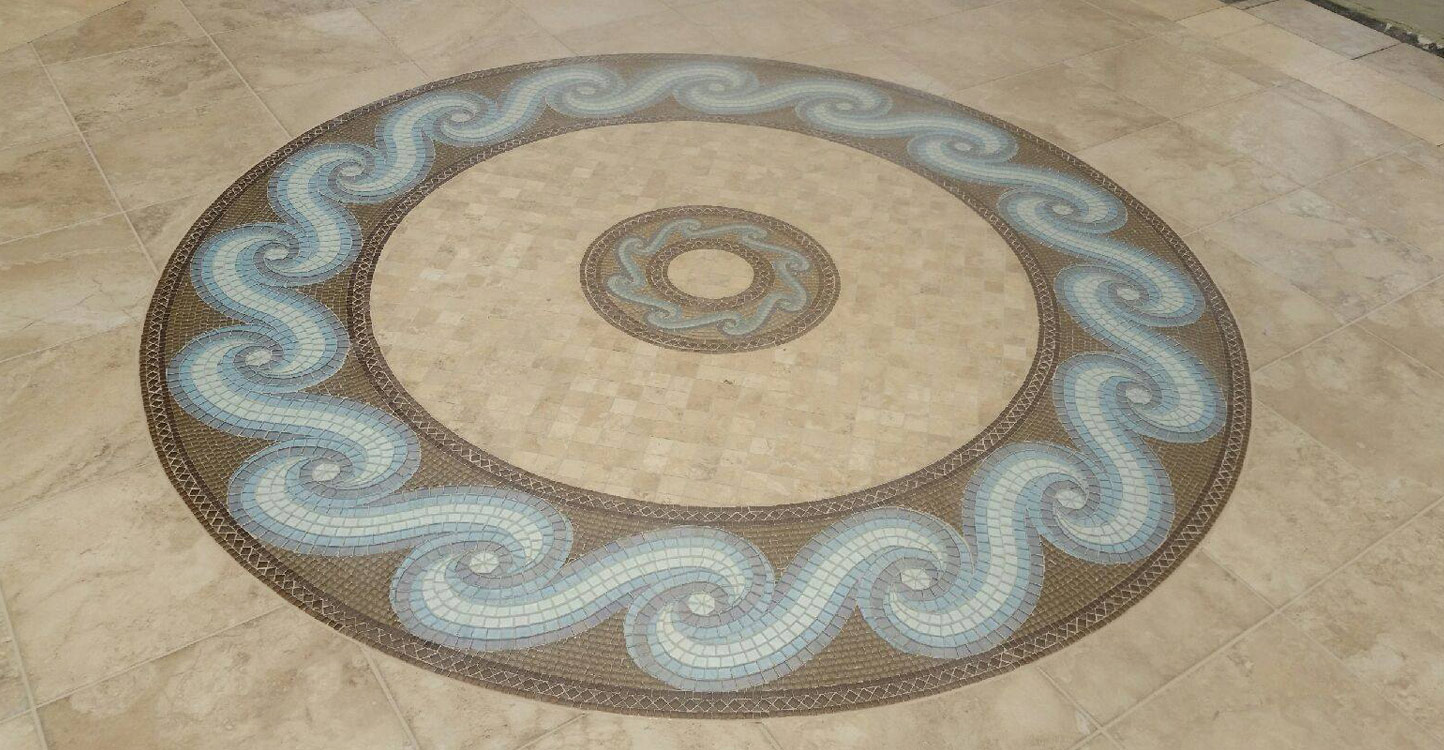 It was more than just a showstopper of a pool: building it required a lot of cooperation between a lot of different teams: "I first saw the concept in a magazine and said to myself, 'I will know I have made it when I get the chance to build one of these!' We started doing some research and found Hydrofloors in Belgium and [learned] they had planned to be in New Orleans that year for the pool show."
Designing the pool in Pool Studio made it easy for Adamczyk to explain the unique and intricate design to everyone on the team, making sure that the finished results would suit the client's taste.
Because the Hydrofloor was being built at the same time the client's home was being constructed, getting every detail right meant making sure everyone on the project could refer back to Adamczyk's designs to stay on target. Over the course of three years, building the floor itself took three months in man hours. Another six to nine months in man hours were required to fabricate custom products and install intricate tile.
It's to that teamwork that Adamczyk credits his ability to create such an amazing pool for his clients: "I surrounded myself with some really awesome contractors in Atlanta and with all that knowledge we built a piece of artwork."
---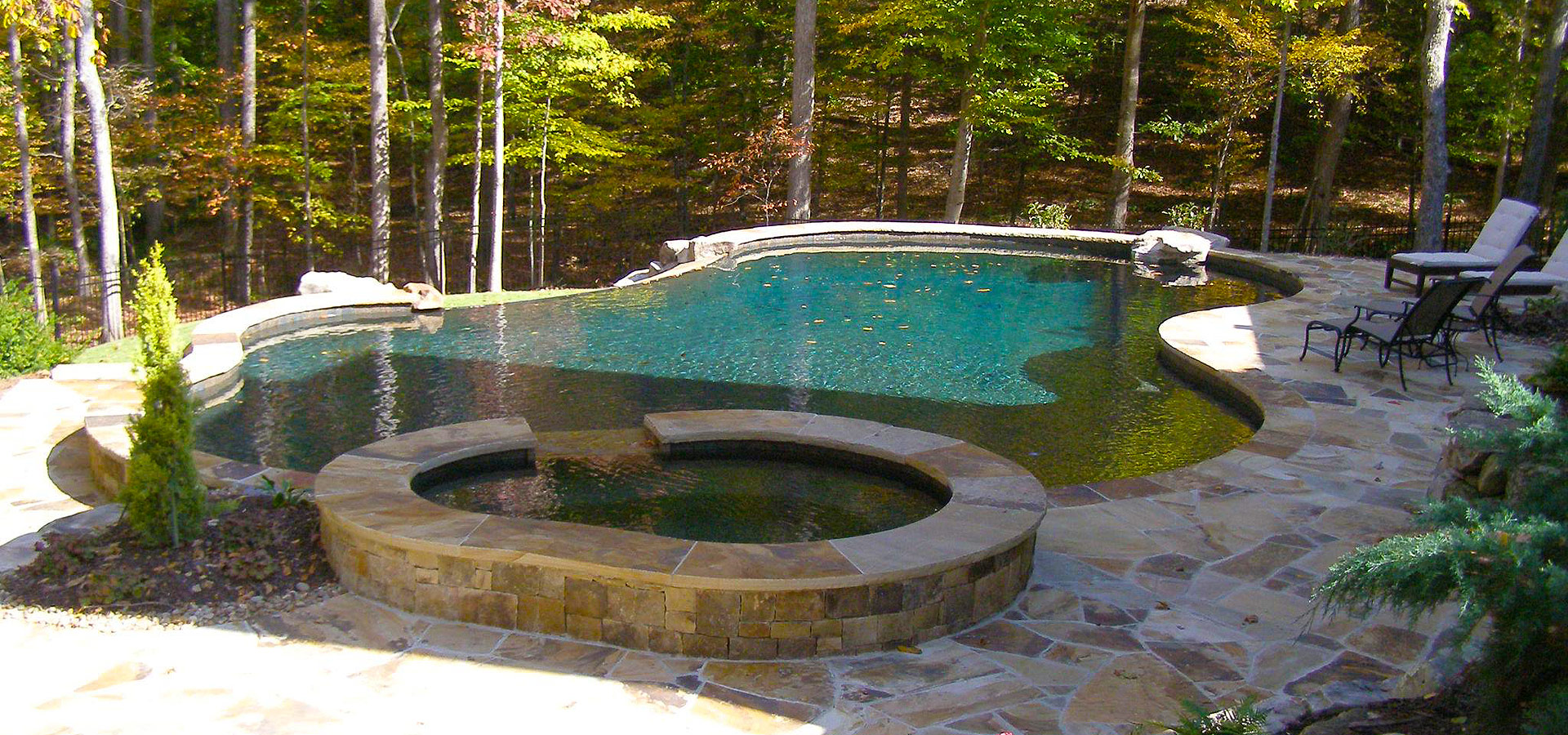 Tailoring Presentations to Clients
For many of Adamczyk's clients, deciding on the custom look they want can be a time-consuming process. In order to reassure his prospective clients, early in his career Adamczyk often would offer his designs for free.
He found, however, that offering designs for free did not always lead to the best results.
Not only would clients sometimes shop his design to other contractors. But sometimes they were not ultimately ready to build a pool at all.
In order to help clients make a decision to build their pool sooner, and to prevent them from shopping his custom designs around, Adamczyk chose a new strategy.
Because Pool Studio makes it easy for him to design in both 2D and 3D, Adamczyk began offering quick 2D sketches for free. For more detailed 3D renderings, he began to charge a design fee.
Before he decided on that pricing scheme for his 3D renderings, Adamczyk found that clients sometimes were requesting designs that they didn't actually plan to build with his company. In one year, he presented 80 pools — half of those potential clients didn't build pools at all. Of the other half, only 16 signed a contract with him. The other 24 took his designs to other contractors.
Dissatisfied with those closing stats, Adamczyk decided instead to charge for his renderings.
The real value, Adamczyk has found, is in offering those custom 3D designs. While a 2D sketch might catch a client's eye, it is the 3D design that encourages them to move forward with the project.
In fact, Adamczyk has found this method so successful that he charges on average from $600 to $1000 for a 3D rendering — it's not just how he sells his talent to his clients but also how he avoids having his custom designs stolen to be built by other companies.
---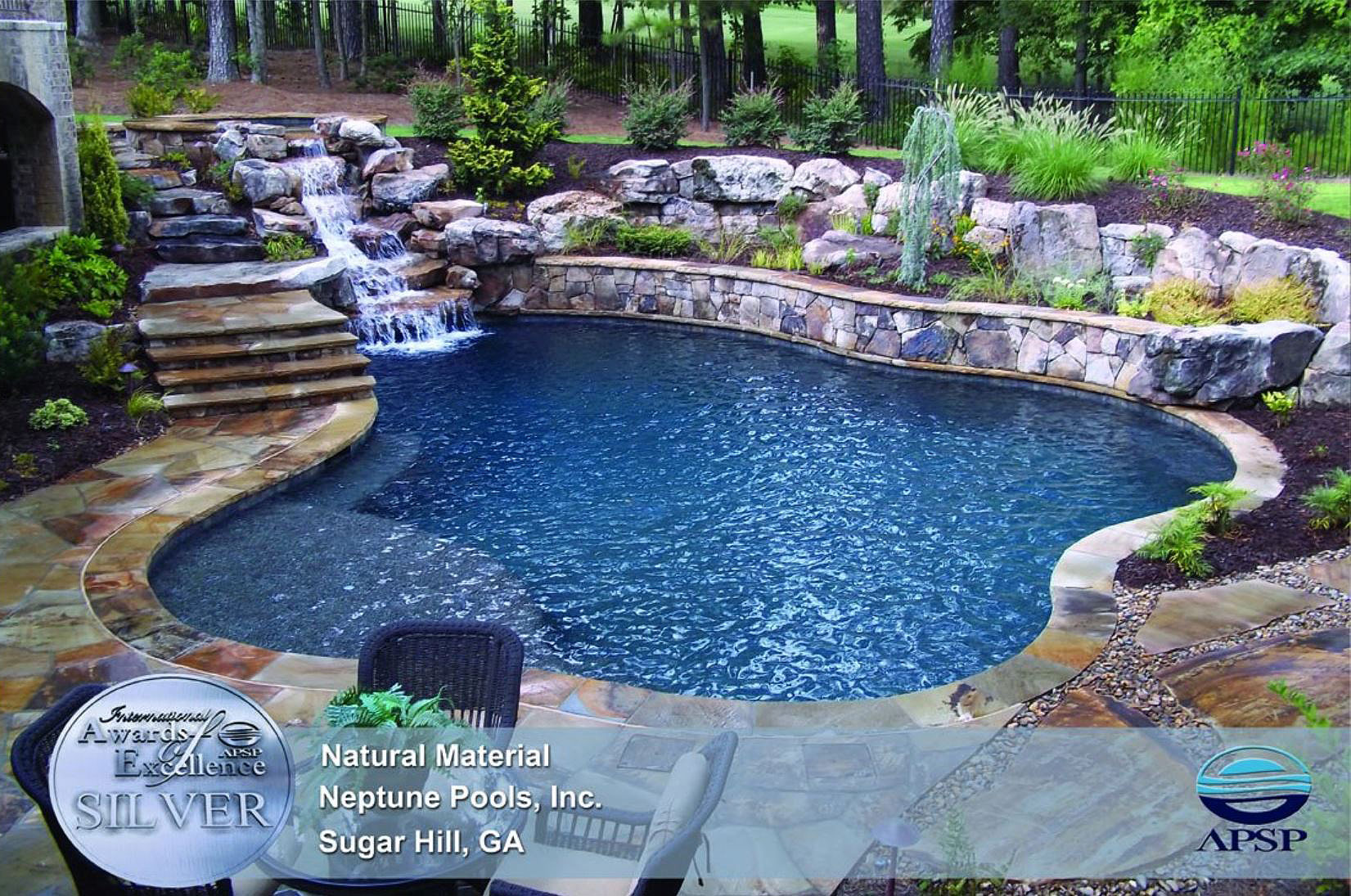 Choosing the Right Tools for the Job
As Adamczyk has used his chosen software to delight his clients with stunning 3D renderings, he has found that taking advantage of the full features and benefits of 3D design software makes it easy for him to create the cutting-edge custom pools that his clients want.
Achieve results in your market: try Pool Studio for yourself and see how easily you can design unique custom pools for your clients.