Few things are more relaxing than enjoying a beautiful day in a beautiful backyard. And when you've crafted every detail of your design to give your clients a spectacular outdoor living retreat that you know they'll love, you need your sales presentation to be as great as your design.
Now, you can offer your clients a complete outdoor living experience by including 3D sounds in your design.
Help your clients see exactly how their backyard will be transformed into the perfect retreat. Use soundscape design to immerse your clients in their new space, complete with the sound of chirping birds, gentle breezes, and splashing water.
Get ready to bring your presentations to the next level. Here are six ways to incorporate sound into your next design:
1. Create a Relaxing Retreat
Does your client talk about needing a space to kick back and unwind? Start with the basics: add forest birds, meadow birds, and gentle water to your design. Then pick some relaxing music, set the ideal sun, and let your client begin to imagine themselves enjoying their new, relaxing backyard with their friends and family.
Take a look at this example of how to set up your design with the new sound feature. Each blue bubble is a different sound, placed to trigger as you move through the design: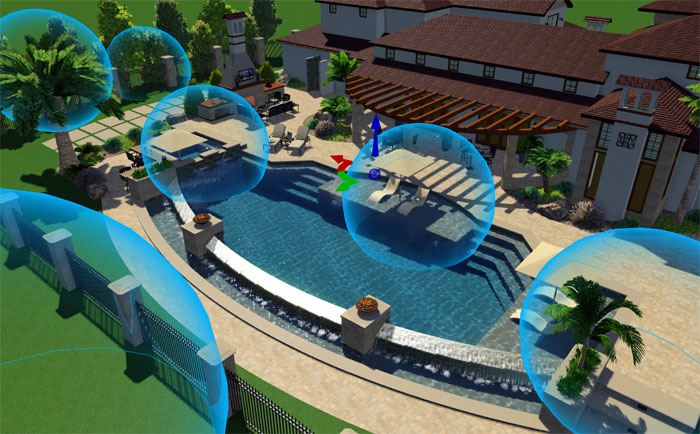 If you have a presentation room set up in your office, add these sounds to one of your designs. Then sit back and watch your soundscape design. It's unbelievably relaxing.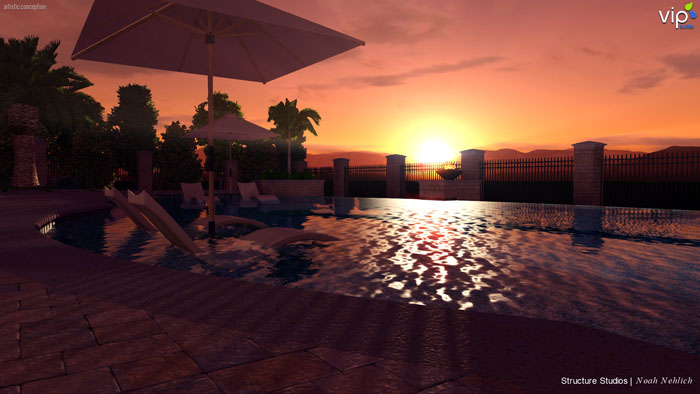 2. Demonstrate the Ideal Speaker Placement
Relaxing as they are, landscape sounds aren't enough to transform a backyard. Soundscape your design by including outdoor speakers. This is a great way to both create a truly phenomenal space and upsell your clients on your fantastic design. Show them just how they'll benefit from multiple speakers in their outdoor living space. And then give them a preview by setting up smaller-radius music around their new backyard to demonstrate the best speaker placement.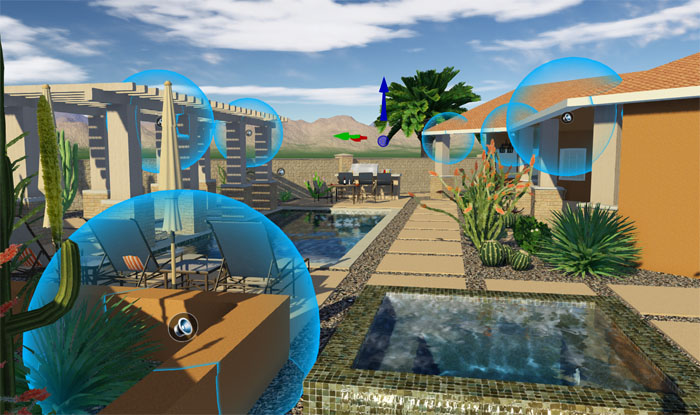 TIP: The edge of the sound "bubble" is at 100% volume, so scale your sound objects to control how far the sounds are heard.
3. Add Music to Your Videos
Set the mood and choose your favorite song (better yet, add your client's favorite song!). Dramatic, relaxing, or uplifting — use sound objects to set just the right tone for your clients. It's easy to do: before recording your video, just add the song of your choice and scale up the sound object so that it encases the entire property.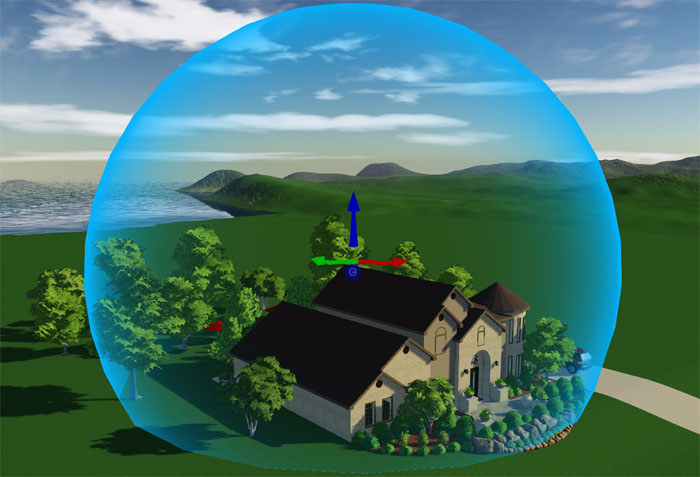 REMEMBER: If you upload copyrighted music to Youtube, advertisements will be added to your video (yuck!).
4. Drown Out Noise Pollution
Using sound in your video makes it easy to demonstrate how the outdoor living space you're building will be a true retreat — one that will help your client escape neighborhood noise.
You can make this very clear to your client when you create a soundscape. Sure, you can talk about the health benefits of nature or the pleasure of escaping a noisy neighborhood. With the right soundscape design, though, you can actually walk your client through their new space and demonstrate exactly how your design will make that happen.
So how do you create the right soundscape for your clients?
Step 1: Add neighborhood noise, and make that sound object large — just like real neighborhood sounds would be in your client's yard.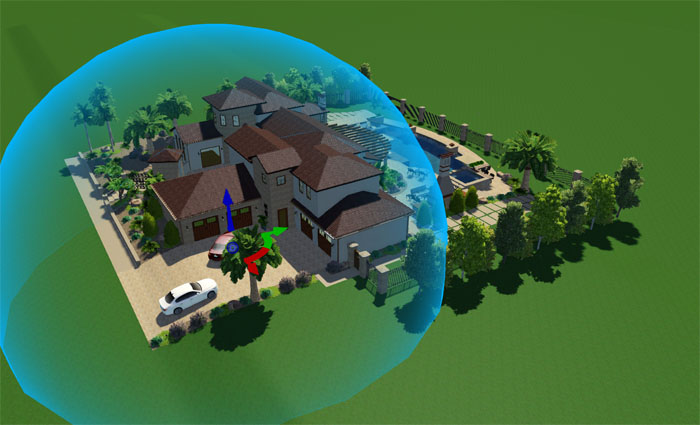 Step 2: Feature the sounds their new outdoor living space will have — you can include everything from gently bubbling water features to sweetly chirping birds.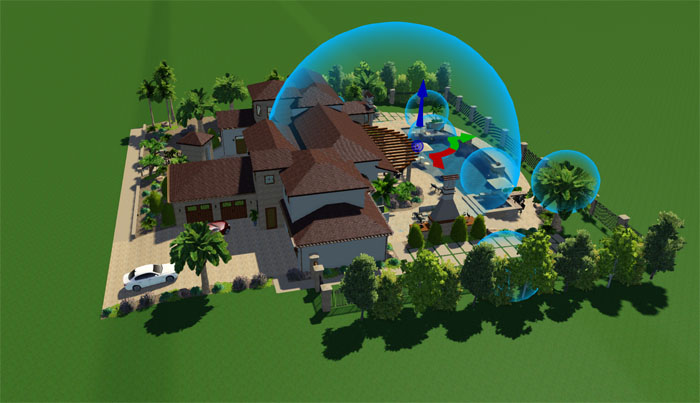 Step 3: Then demonstrate the difference in sound by walking from the front of the property to the new backyard, transitioning from the noisy neighborhood to their now-relaxing outdoor living space.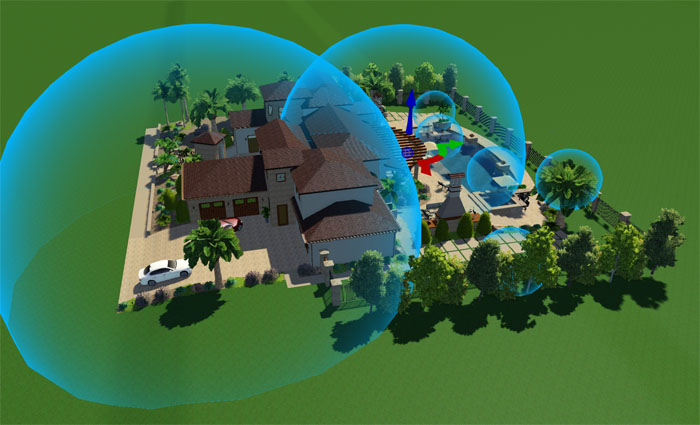 Congratulations! You just showed your client the power of landscape sounds.
5. Use Sound Triggers to Add Texture
Want to make your videos really awesome? As you direct your tour, choose the sounds your client hears as you lead them through their new space. You can direct the sound to immerse your client in the design, highlighting the best features and adding texture to your presentation.
Take a look at how we used a water splash in our Southern Example Project: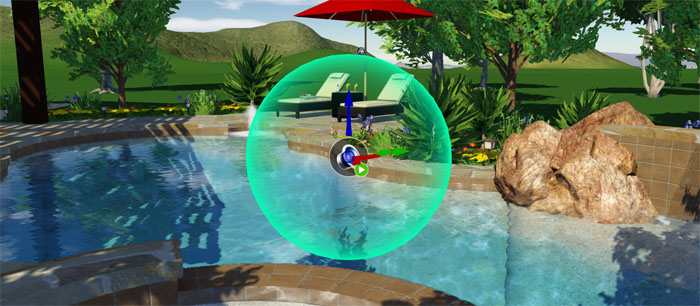 Now, listen for the splash as the view touches the sound trigger.
6. Narrate Your Videos
Can't be there to walk your client through the design in person? Don't leave what your client notices to chance — record a tour, and point out the special features and important details in your narration. You can record yourself with Windows Sound Recorder and then insert your recording into a sound trigger. Once the camera moves through the green sound zone in your video, your voice will lead your client through their new space.
Bonus Tip: Add Sound to Equipment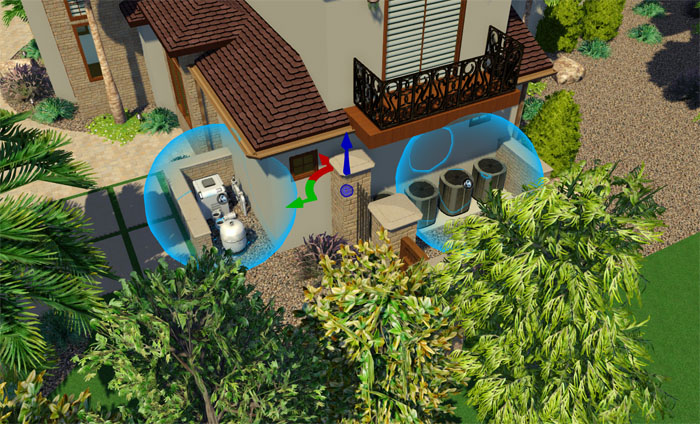 Landscape sound design is not just about revealing to clients what they will hear — it's also about figuring out what they shouldn't hear. Help your clients understand the importance of equipment placement by adding sounds to noisy-but-necessary equipment, and then demonstrating how you've made that equipment as unobtrusive as possible. Your clients will appreciate the thoughtfulness of your design when they can actually hear just how carefully you've planned every detail.
Stay up to date on the latest software tips, tricks and updates. Subscribe to our software blog.