When clients ask for custom landscape designs that transform their outdoor living space, designing even the most innovative elements of your client's new backyard is easy with 3D design software.
Until now, however, taking the measurements so your installers can build those intricate pools, multi-level decks, and unique pergolas has still been one of the more time-consuming tasks to complete.
So we're here to help.
Now, sharing even the most intricate and precise details of your design is completely effortless. Two brand-new measurement tools, both seamlessly integrated into your chosen pool and landscape design software, mean you no longer need to take measurements manually.
In just one click, layout pools, hardscapes, pergolas, and more. Get the measurements your installers need with the Triangulation and Centerline Rulers.
Save time, print build-ready measurements, and give your installers the information they need — faster than ever before.
---
Get Measurements Instantly
Getting your team the precise, accurate measurements they need to layout pools and install the unique custom features you've designed is a vital step in making certain your design is built to your exacting specifications — and making sure the build goes smoothly.
Even the most intricate, innovative, and creative shapes are now effortlessly easy to measure with the Triangulation and Centerline tools. Anything you want to build — pools, hardscapes, planter beds, water features — can be measured in literally one click.
Instead of painstakingly measuring your custom shape manually, you can now use the Triangulation and Centerline rulers to get all of the measurements your installers need.
All measurements are calculated instantly and update automatically. The software keeps up with you as you make adjustments — whether you want to shift your client's pergola just a few feet or you want to rotate their custom pool completely.
Now, you can quickly and easily provide your installers with the details they need as they build your design to your precise specifications — all calculated automatically, instantly ready to print on one easy page. Just click, print, and build.
Generate Measurement Lines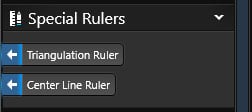 The new Triangulation and Centerline tools, located in the Construction Markup Stage, save you time by generating measurement lines that you can easily edit and customize. Whether you want to share the precise details of your custom freeform pools or plot innovate geometric hardscaping, both tools will automatically reveal the measurements of the shape you've designed.
To measure an object like a freeform pool, for example, simply select the pool and click the Triangulation Ruler or the Centerline Ruler button. A new Markup Layer will be generated instantly — complete with your measurement lines and a green border outlining your selected shape — ready for you to edit, adjust, and print.
Adjust the Anchors
Anchor lines, which connect radius points with fixed points (like the corners of the house), are used to plot the distance to those points. You can adjust the endpoints of the lines, and even pick new radius points. Or, you can choose to start somewhere else entirely: a new part of the house or another structure on the property (like a property fence or existing hardscape).
A second set of lines connect each of the radius points around the shape. You can select, move, and delete these lines as needed. If you want to display additional measurements, simply draw additional lines.
The Centerline Ruler gives you a centerline, which will appear as a single line down the center of your selected shape. You can easily click and drag it to adjust where it appears inside your custom shape. As you move the line (or as you move your anchors), your measurements will update accordingly.
For example, if you want to move the centerline so that the majority of the shape measures an even 8 feet in both directions, you can simply click and move it until the measurements reflect the spacing that you need. You can also use the rotate tool to reposition the centerline.
When you measure the Centerline, you can adjust the increments to create a perfect site plan every time, in just one click. Simply update the spacing in the panel, and you can choose exactly how often measurements appear on the centerline — it's easy to add as many (or as few!) as you need.
Adjust the Line Styles and Colors
When you select an anchor or a radius point line, you can quickly adjust the line settings for all of the anchor lines or all of the radius point lines. Because all matching line types update at the same time, it's easy to adjust the line styles and colors — instantly.
Print and Share Measurements
Printing measurements is now just as effortless as taking them.
Because the Triangulation and Centerline rulers are seamlessly integrated into your pool and landscape design software, you can simply click to print a page that includes all of the measurements and details your installers need. Layout pools and pergolas, decks and dining areas, with unprecedented ease.
To print just the triangulation and a few shapes on one page for your installers, simply go to Page Layout and click on Object Settings. You can adjust the page or you can add a new page and hide the additional layers (such as plants and yard accessories), printing only the layers you want.
Making sure that the pool your installers build is exactly right is easier than ever before.
---
Ready to Simplify Your Measurement Process?
Give the new Triangulation and Centerlines Rulers a try and see how just how incredibly quickly you can now measure your custom pools, decks, pergolas, and other unique shapes.
These automatic measurement tools are fully integrated into Pool Studio, VizTerra, and Vip3D so that you can reveal and share all of the most important details of your design — instantly, automatically, and incredibly easily.
If you have any questions, leave us a comment, call 800-778-8996, or send us an email at support@structurestudios.com — we're always here to help.