Starting today, you can now manage your Pool Studio or VizTerra account online.
Much as we love hearing from you, we wanted to make it easy for you to manage your account online anytime, day or night. (We were especially thinking about our fellow night owls who like to finish up To Do lists after business hours!)
So, what can you now get done online?
Structure Studios Account Management
View current Memberships
See which designer is using each license (as account owner)
Update your billing information and view your billing history
View GIS purchase history
Upgrade your Memberships
Purchase additional Memberships without a setup fee
Re-download Pool Studio or VizTerra on a new computer
Two Ways to Login
There are two ways to login to your account: you can access your account directly from within Pool Studio or VizTerra and you can also sign in on our website.
Access your account directly from Pool Studio or VizTerra: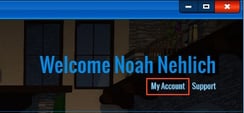 Access your account from structurestudios.com:
See how easy that is? Just click the link, sign in with your username and passowrd, and you'll be able to view and update your account.
We always enjoy hearing from you when you email and call us. But we understand logging into your account yourself can be much easier and faster for you . . . so maybe just call to say "hi" every once and awhile?
What's Next?
Now that we've made managing your account online easy, how else can we make life easier for you? Stay tuned to see the (exciting!) new features we have in the pipeline.
And if you want another time-saving, productivity-increasing tip right now . . . how about checking out our most popular blog posts?
Our Most Shared Blog Post