Poolscape Inc.: An International Award-Winning, High-End Pool Designer Elevates His Efficiency And His Revenues With Pool Studio's 3D Pool Designs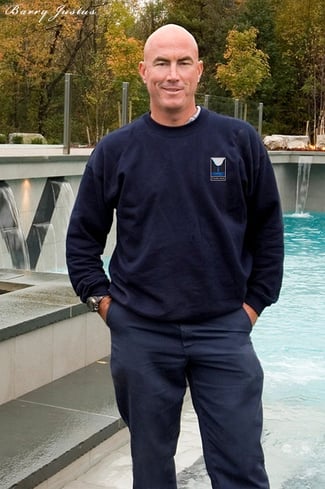 Barry Justus founded Poolscape Inc. in 1991 with the goal of building one-of-a-kind concrete pools for homes and estates in the Toronto area. Today, he is one of the most accomplished and recognized pool designers in all of Canada and North America.
His eye for design and commitment to quality have earned him numerous industry awards — the Best Family Recreation Centre Gold Award, the Technical Achievement Gold Award, and the Swimpsa/Current Pools Gold award, among many others. In fact, 90 percent of all Poolscape projects from the last decade have won international or national awards.
But Justus doesn't design to win awards. He designs to wow his customers.
However, while he was winning many of his bids and proposals, his manual approach to designing and drafting proved to be extremely inefficient and frustrating. He knew he needed a better way to showcase his great pool designs, and he found it in the pool design software, Pool Studio.
Saving Time. Winning Clients.
Prior to 2005, Justus would draft all of his designs the old-fashioned way: on a big drafting table with markers and paper. Then his designer would have to convert his designs into a computer-aided design (CAD) program. All told, the process took days, and by the time the prospect finally saw the design, Justus had little time — and little inclination — to make any changes.
"It was very inefficient," Justus explained. "The problem with manual design is that when there are changes to be made, it is really time intensive. There's a tendency and a desire not to change the design because there's too much time and too much work already invested."
Then he saw Pool Studio in action at a trade show, and he put his drafting table away for good.
Now, instead of spending several days completing manual designs, he is able to produce stunning 3D designs in a matter of hours. Even better, when clients request changes, he can make them on the spot, right in front of them.
"I sit down with the client and, right there, I can tweak it, modify it and make all the changes they want," he said.
"They become invested in the pool because they are adding their input," Justus explained. "Once they add their input, it's their pool; it's not my pool anymore."Not only does this make the design process more efficient, it also makes the customer more engaged in the project which makes them more likely to say yes to Poolscape's proposal.
No Surprises, Just Satisfaction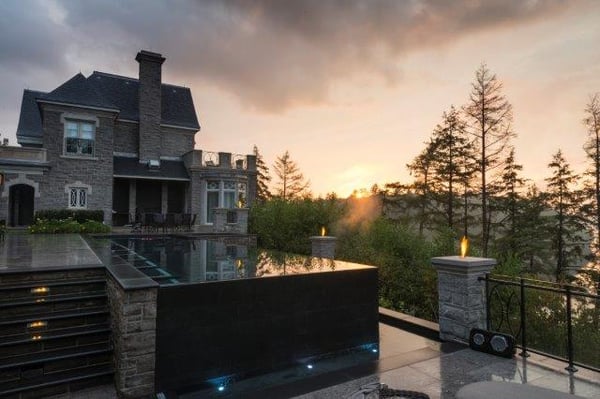 Justus works on a lot of highly complex and intricate pool projects. One such project, which he worked on before he discovered Pool Studio, involved a multi-level pool installation with varying elevations. After finishing his manual drafting and design process and winning the bid, he got to work. Unfortunately, the client didn't get what they expected.
"I could picture it, but the client couldn't," Justus said. "After I finished pouring the concrete, I found out the client didn't like it, and I actually had to jackhammer out a whole wall."
One of the biggest benefits of using Pool Studio, according to Justus, is that it ensures that both he and the client are on the same page.
"The client truly understands exactly what they are getting," he said. "It doesn't leave any wiggle room. It becomes less of a process of me telling them what they need and instead becomes [a matter of] us working together to ensure they get exactly what they want."
Designs That Are As Inspired And Detailed As The Designers Themselves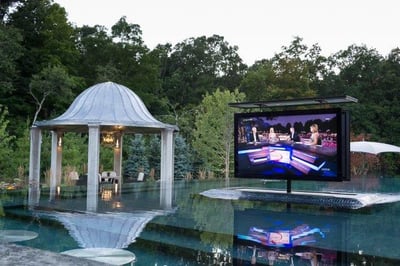 Justus has been impressed with the extensive array of customization options in Pool Studio, and he takes full advantage of them to deliver the best designs possible.
"Every riser, every bench, every detail can be manipulated," he said.
Unlike other less flexible pool design software programs, Pool Studio doesn't limit Justus's creativity; in fact, it actually enhances it.
"It improves your level of design ability because you can do more interesting things," he said. "And if your clients can see it, can visualize it, can understand it, they are more likely to buy it."
This heightened level of understanding cuts down on Justus's time-to-sell while improving each client's understanding of the project. That's because, instead of trying to explain the difference between things like knife edge, perimeter overflow and vanishing edge designs, he can now "walk them under the water and show them exactly how the water flows over the edge. This detail just can't be captured in 2D; it just looks like square blobs."
The Support To Succeed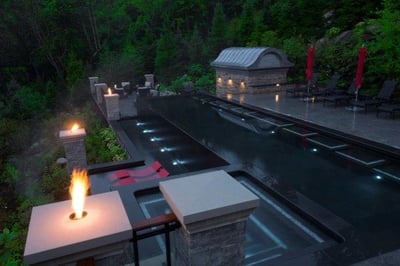 When Justus first started using Pool Studio, he said it took a few months to master the product. However, he credits the software's development team with significantly shortening its learning curve. Today, he actually trains others on how to use the program and says, "You can go from zero to hero in two days. It's very intuitive."
Not only is Pool Studio easy to use, it is getting better all the time, thanks to the input and feedback of customers like Justus.
"I like that [the Pool Studio developers] put in an effort to listen to their users," he said. "I also know that, if I have a problem, I can call up the tech help line and they will walk me through it."
For example, Justus couldn't figure out how to show a sunken dry area in the center of a pool. Within minutes of speaking to a Pool Studio customer support representative, he received an email with step-by-step instructions.
"They provide very personal attention, and I appreciate that," Justus said.
3D Isn't A Luxury When You Are Selling Luxury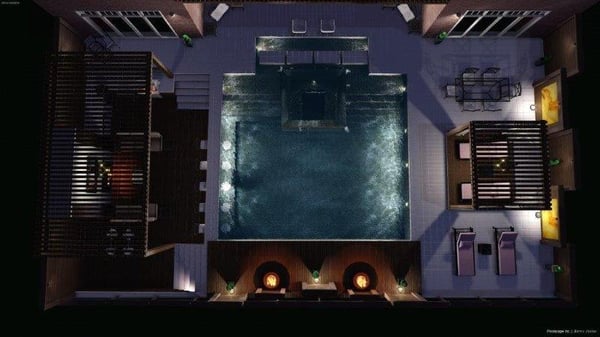 Poolscape has traditionally catered to high-end residential clients with projects in the seven-figure range. For these discerning buyers, a pool is an investment, and they want to make sure they are getting the right return for their money. Thus, they are expecting to see intricate, 3D designs — and Pool Studio helps Justus meet these expectations.
"It's virtually impossible to sell at the high end without some type of 3D design," Justus said. "The clients are demanding it, and the designs are so detailed that we need to be able to explain it in such a way that they understand exactly where their money is going and what it is going toward."
New Opportunities And New Business Models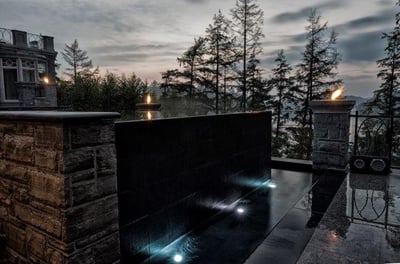 Thanks to Pool Studio, Justus is able to do a lot more designing in a lot less time. As a result, he has extra room in his schedule, and he takes advantage of it to make extra revenue.
Poolscape recently began targeting the "affordable luxury" market, with pool projects in the $150,000 - $300,000 range. Using Pool Studio has served as a distinct competitive advantage in persuading buyers.
"At that level, you are competing against companies that are typically just doing plan views, and their projects look cookie-cutter and simplistic," he said. "With Pool Studio, you can show more details, and the clients will really grasp it and understand it. It helps the design stand out."
While Justus has already cornered Toronto's luxury pool market and is in the process of cornering this new segment as well, Justus is also taking his talents to all corners of the world. He started an international consulting firm that produces designs for clients around the globe, and Pool Studio is the tool that makes it possible. Even though he may be thousands of miles away, he can use the program to ensure that anyone, anywhere, is getting the very best pool designs for their budgets, a prospect that Justus finds extremely rewarding.
"I just really enjoy it," he said. "I like doing design work; I like seeing a project come to life. It's very satisfying."
Justus has some advice for pool designers thinking about taking the plunge into 3D design with Pool Studio: "They should start using it, right now, from day one," he said.
Take Justus's advice, and take a detailed look at Pool Studio to see how it can help you create stunning 3D designs in less time while creating new opportunities for you to grow your business.