The first day of summer is here! Summer update 2.210 brings to you brand-new tools that make creating super-spectacular projects a breeze. Want to show your clients exactly where you've created a perfect sunny spot or the perfect shady nook for relaxing? Now, you can with True Shadows. Want to take the headache out of punching numbers into a calculator — and let Vip3D, Pool Studio, and VizTerra do the number crunching for you? From concrete yardage to dirt displacement, plumbing to rebar, the brand-new Smart Data can handle it all — and today, you can try it for yourself.
Check out today's video and see what you'll be able to do with the latest Update, including the all-new Smart Data and more than 50 new enhancements:
---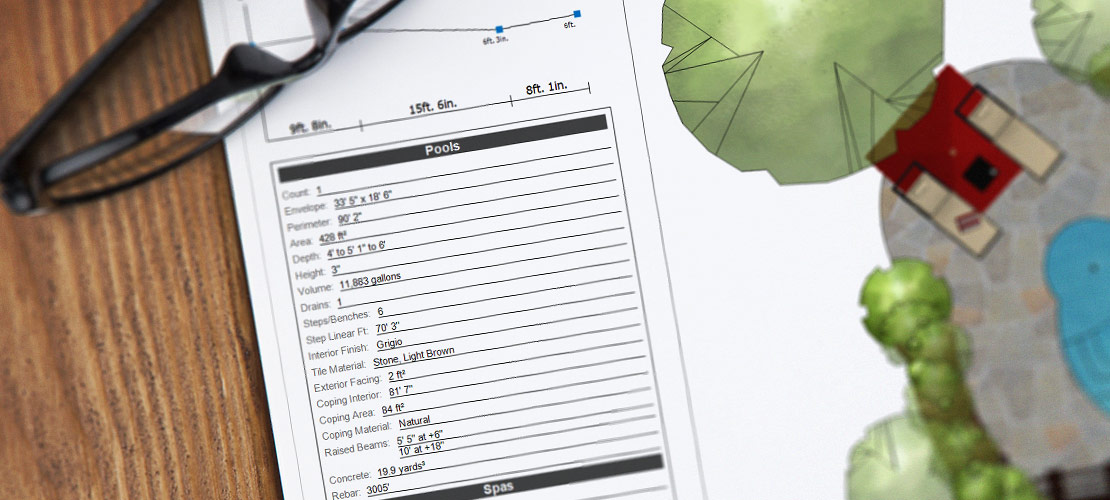 Smart Data
Automatically crunch the numbers, in real time. As you create and make changes to your project, Smart Data works right alongside you, giving you the detailed data that you need -- and in Vip3D, Smart Data will even add and update your construction plans spec sheet for you. You'll see data from object properties, and you'll get an easy-to-read, easy-to-use breakdown of complex calculations. That includes Turn Downs, Step Risers, Dirt Displacement, Concrete Yardage, Rebar, and more.
How does it work?
Smart Data in Pool Studio and VizTerra
Simply click on the object(s) you'd like to see calculated and expand the Smart Data tab. Then, as you click on objects, they'll appear automatically in your new Selected Data, showing you all the calculations Pool Studio and VizTerra do for you. In both 2D and 3D, your selection will be highlighted in green, making it easy to see which areas of your selected object are included in the displayed calculation.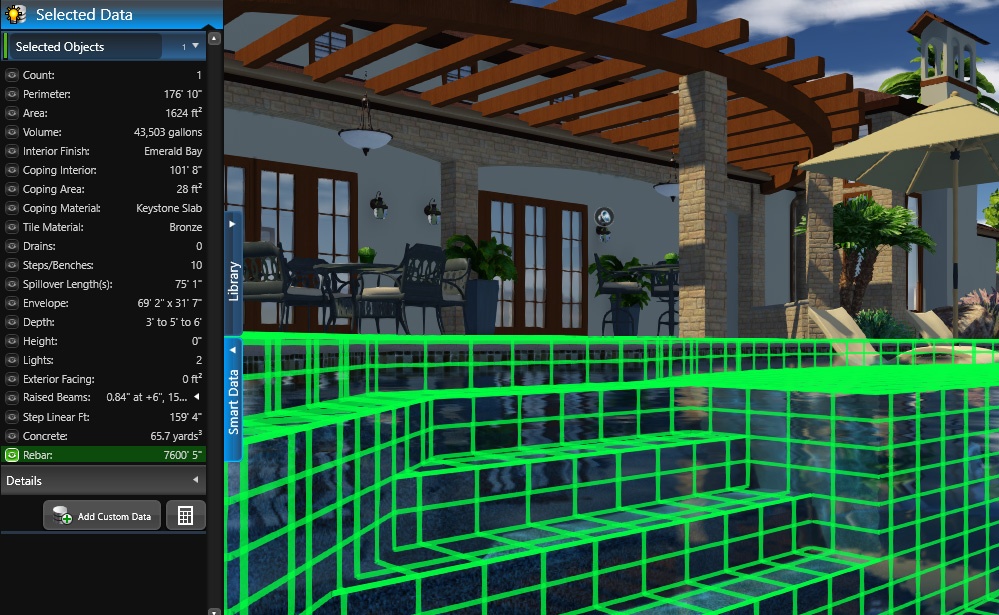 Swimming Pool with Rebar Selected in 3D.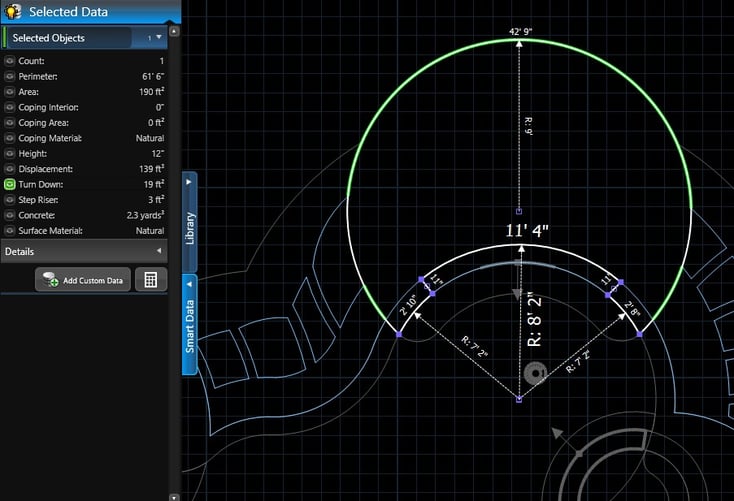 Raised Hardscape with Turn Down Selected in 2D.
It's easy to add your own regional-specific settings -- in the configuration panel, you can change your settings at any time to include the right rebar spacing, concrete thickness, and more.
IMPORTANT NOTE: Smart Data is only as accurate as your drawings. Casual sketches or messy drawings will give you casual estimates or messy calculations. For detailed information on what is and what is not considered in each calculation, consult the Help page.
Supercharged Smart Data in Vip3D
Supercharged and endlessly customizable, Smart Data for Vip3D ties directly into the construction stage, giving you unprecedented control over every detail of your project plans.
When you use Smart Data with Vip3D, you'll see not just calculations from Selected Data -- you'll also see Automatic Data. With this new section, similar object types are automatically categorized and added into sets: Pools, Spas, Decks, Planters, Walls and Fences, Pool Equipment, Water Features, Plumbing, Electrical, and Gas. And if you don't want to include any given shape (like an existing sidewalk or patio) in an automatic data set, it's easy to remove (or add!) shapes: simply select the object and click the plus or minus button.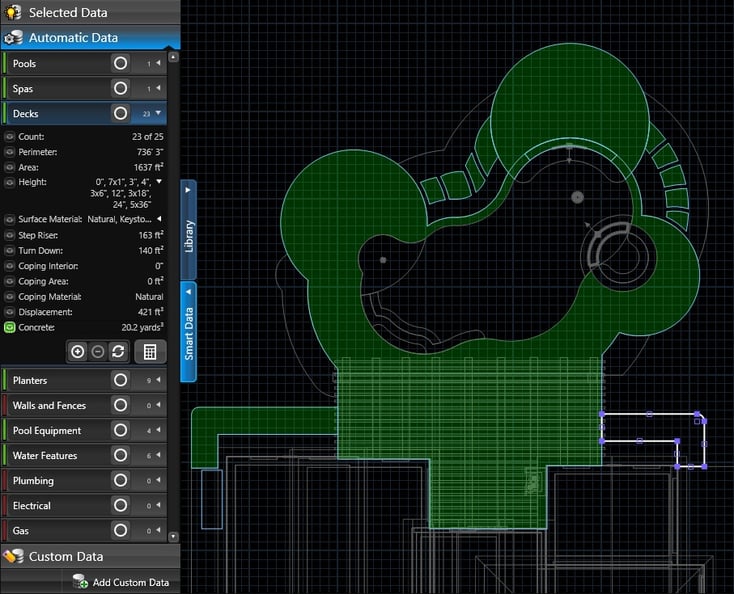 Alternatively, you can select objects you want included in a specific calculation and create your own "Custom Data" Set.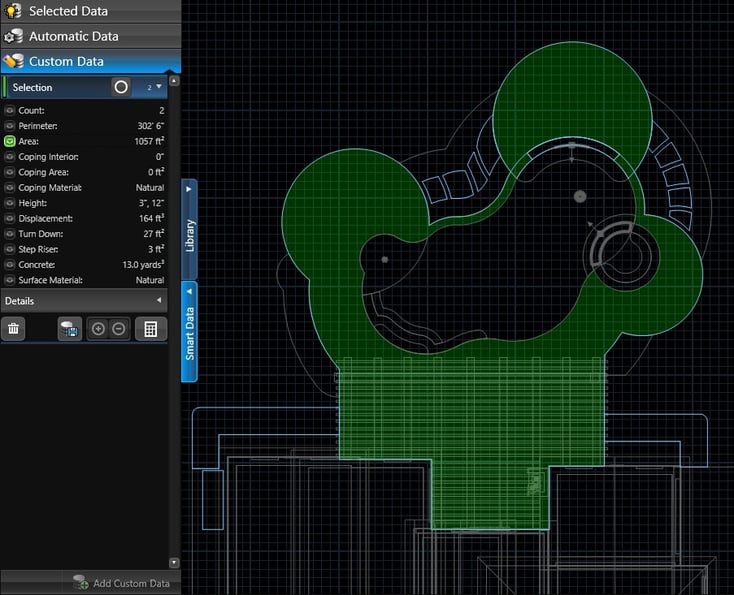 You can also choose the data you'd like to display on your construction page: Vip3D will add it for you. Just go to Page Layout in Vip3D and add a new "Smart Data Block." Unlike manual construction spec sheets, these are dynamic. If you need to change the size of a deck or pool in your project, simply make the change in design mode. Your data will automatically be updated. You can even create new page templates with smart data blocks, making it simple to add your data to future projects automatically.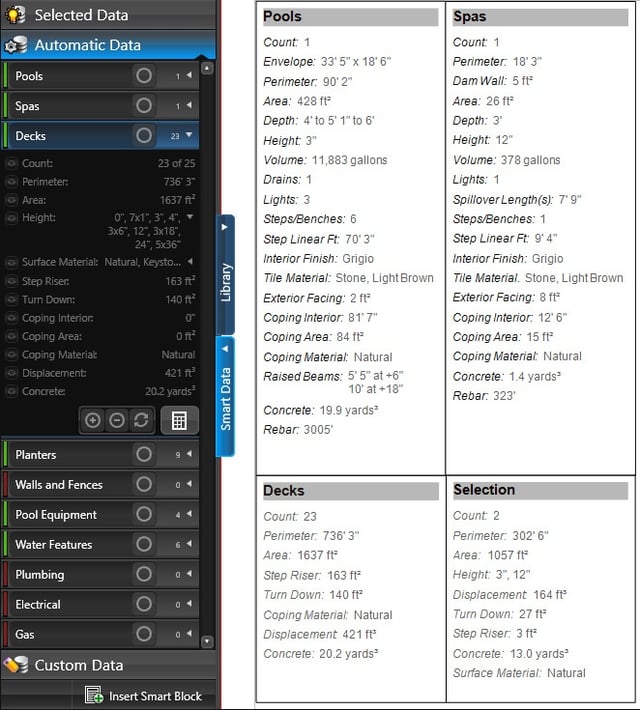 Watch the Update Video and get a more detailed look at exactly how this new feature will help you create stunning custom projects -- accurately, precisely, and faster than ever. The help video will give you even more details, and the help page show you with exactly what is and what isn't considered in Smart Calculations.
---
True Shadows (Vip3D Exclusive)
Quick: your client, at 3300 St. Rose Pkwy, Henderson, NV 89052, is having a pool party at 3pm on July 4th, 2017 — will their new pool be sunny or in the shade?
Now you can show them exactly where the sun and shadows will be — any time, any date, anywhere.
Smart Data gives you a detailed, behind-the-scenes look at your project info — and True Shadows lets you take that precision and use it to create client-amazing results.
Now you can show them the projected sun path for their next 4th of July pool party — and show them how enjoyable their new pool will be with the perfect amount of sun. No matter where your client is, you can flip through to show True Shadows — every time, every day, every month, everywhere.
Plus, you'll be able to reassure your clients that the plants, trees, swimming pools, and spas you're designing get exactly the right amount of sun — you can easily illustrate this by showing them True Shadows.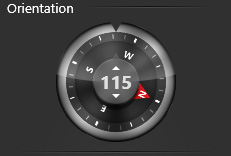 To show True Shadows, just set the North position of every project in Stage 1: Project Information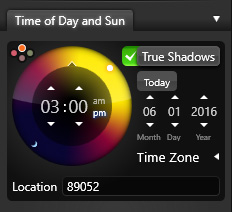 Then set the time, day, and year when you want to see shadows on your client's property in Stage 14: Create Presentation.
---
Shared GIS Credits
Managing a team of designers who all use GIS images? Account managers can now buy shared GIS credits for their entire team on the newly redesigned account management page.
---
New Yard Accessories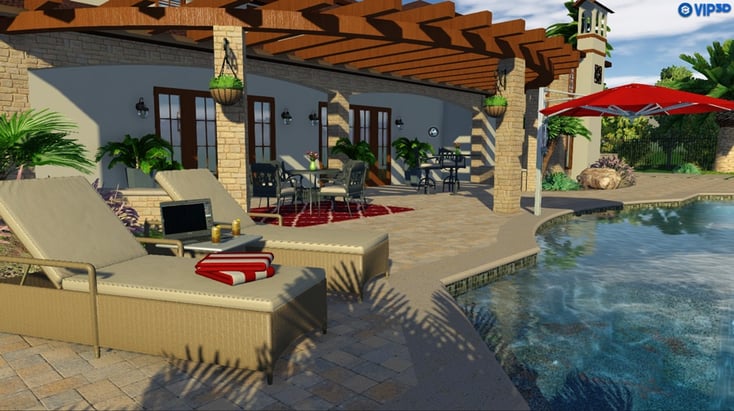 Our Members told us that the outdoor kitchens just weren't complete without bar centers, so we've added two variations to the Library.
Seven new cantilever umbrellas have been added to the furniture category.
Loom Furniture and the Iron Furniture set have been refreshed.
Accessories have been updated with new options, including new food, beverages and dinnerware, updated wind chimes and planters and pots, and towels, laptop and TV.
Stacked Stones in the Materials stage have been given a higher resolution makeover.
---
New Vendor Partner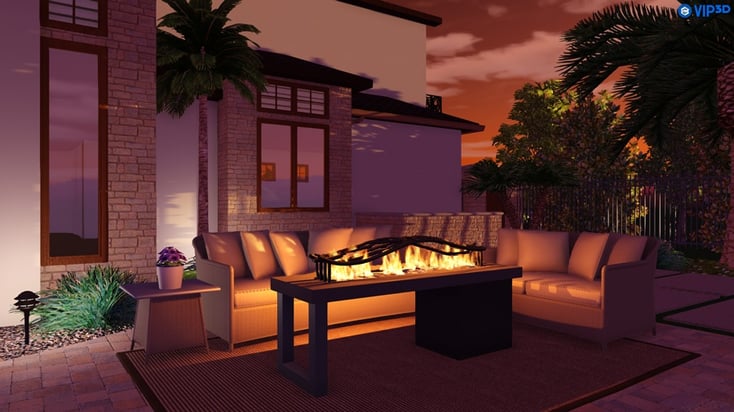 New Vendor Partner Outdoor Greatroom introduces 10 warm and cozy fire pits options to the Library.
Vendor Partner Latham introduces new Canadian Steel and Canadian Polymer pool shapes, and updates their Blue Hawaiian, Liberty Composite, Trilogy, and Viking packages as well.
---
What else will you see?
Arrow keys now move the camera
CTRL+ Arrow keys now move the sun
Page Layout paper orientation button
Page Layout Grid to help line up blocks and text
Text now snaps to Grid
Account pages are easier to use
Upscaling option for 4K resolutions
Spillovers now can snap to mid-points
Just how many bugs have we eliminated?
Animated lights don't animate in Videos
House templates insert with wrong Elevations
Walls drawn with Arc don't appear in 3D
Cannot continue broken lines in Page Layout once stage is left
Grouped House shapes display Roof in Construction
Clicking Zoom button doesn't disable it
Cancelling 2x prompt renames new file after
Selecting Fence in Markup breaks Object Properties
Cannot drag select hidden objects when shown
Max height value negative 83'3"
Grouping Legend makes it vanish
Resizing 2D View too small causes issues
Inserting Spillover from Currently Used/Favorites places in grid center
Can access websites from Twitter login
Improved email checking in Media Viewer
Remove "All Measurements"
Better highlights for Materials Quick Selection
Popped out Library/Smart Data covers Proj Inf Overlay
PNGs black in Page Layout
Callout Arrows don't fade when hidden
Scale sliders broken when switching to/from Metric
Crash when Grid set to 10+ in Metric
Fill Patterns could be saved pretty much anywhere
Light bloom at start of Video Mode
Item saved with scaled/rotated Material shows default in panel in Materials
Cannot resize Page Layout Object with Pan selected
Change default Interior Wall to 6"
Text Border shows color in all stages
Deleting shape removes Text options
Change Default Page Layout Scale to 1/8
Thumbnails overlap after adjusting slider
Deck Jets vanish when set to 0s
House/House Decor don't scale/rotate with Obj Properties
VizTerra layer names appear in PS/VT in shared files
More buttons grey out/disappear when not usable
Auto Elevation turns off when inserting template with Pool/Spa/Planter
Auto Elevating some groups would make content separate
Cannot insert Object if actively editing text
Cannot select some measurements with Change Label
Change Label tool doesn't highlight measurements when moused over
Inserting from Library before previews load can cause crash
Cannot save Refrigerator
Measurements to not appear on Design shapes in Groups
Updated Embed Text Font GUI
If you move a Callout arrow, moves back in Page Layout
Saving Item to Library in Materials causes bad template and crash
Windows and doors detach from house inserted in 3D
New button to remove Underline from Label text
What's coming up next?
We can't wait to see how you use Smart Data and True Shadows in your next project -- click subscribe to get the first look at our next update, where we'll be sharing even more tools for you to use as you create incredibly gorgeous, precisely detailed projects for your clients.