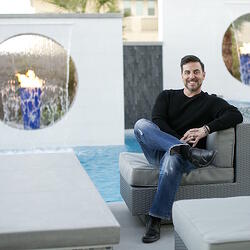 Damon Lang is the owner of Green Planet Landscaping, an award-winning landscape design and construction firm headquartered in Las Vegas, Nevada. Since founding his company 16 years ago, Lang has established himself as one of the country's leading landscape design experts.
He's appeared on multiple TV shows, including Yard Crashers on the DIY Network, HGTV's Desperate Landscapers and Food Network's All-Star Kitchen Makeover. He's also the author of three highly regarded landscaping books: New Ideas For Living Outdoors, Sustainable Landscaping and Outdoor Spaces In The Southwest.
A decade ago, Green Planet Landscaping had already established itself as one of Las Vegas' best landscaping companies. However, Lang wanted to grow his business beyond the limits of both the city and the traditional landscaping business model. He realized that he could make more money performing paid design consultations for clients around the globe than he could designing and bidding for local prospects that may or may not end up selecting his firm.
The only thing standing in his way was the fact that, because he was using AutoCAD, he couldn't quickly and effectively communicate with these remote customers. That all changed when he saw a demo of VizTerra for the first time.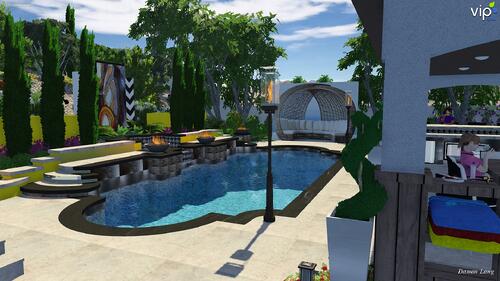 Doing More — In Less Time
Using VizTerra has allowed Lang to produce superior designs without a substantial time commitment, and its 3D renderings have communicated his vision to customers in ways that AutoCAD simply can't.
With AutoCAD, Lang explains, everything took longer: "It took so much more time to plan; it took so much more time to design; and it took so much more time to coordinate with my team what the vision of the project actually was."
With VizTerra, Lang saves anywhere from three to five hours per design, allowing him to produce several designs in a single day as opposed to one a day with AutoCAD.
"It was so one dimensional," Lang says of AutoCAD. "I had to provide plan views and fill in with color to convey the materials and texture. VizTerra does that all in one step."
VizTerra is not only faster; it's also extremely user friendly compared to AutoCAD. Lang mastered the program within a week. The software has greatly enhanced his efficiency and productivity, particularly the ability to save designs and create templates that can be reused for future clients.
"This feature is a tremendous advantage," Lang says. "I don't have to start from scratch; I can tweak existing templates and customize them for new clients."
Lang's also been impressed by the extensive customization options within VizTerra: plants, furniture and especially hardscapes.
"The materials options are incredible," he says. "You can input new materials into it — for example, I can take a picture of a tile that my client picked out and import it into the software to show them exactly what it would look like in their project."
Creating The 'Wow' Factor For Clients
Lang is a big fan of VizTerra, but even more importantly, his customers are big fans of the designs it can produce.
"With a normal CAD program, you have to take the time to try and explain the design to clients — these two dimensional plans just don't speak to the customer." Lang says. People think and visualize in 3D, and VizTerra allows talented designers to accurately portray what the design will look like in reality. 2D plans leave too much room for interpretation, which can leave prospects disappointed.
"But my clients reaction to VizTerra is 'jaw dropping,'" Lang says. "They are blown away that I was able to create their yard in this virtual environment and show them exactly what their project is going to look like before we even get started… They can't believe what they're seeing."
"When a customer can virtually walk through their new outdoor space, it's a game changer in closing a sale."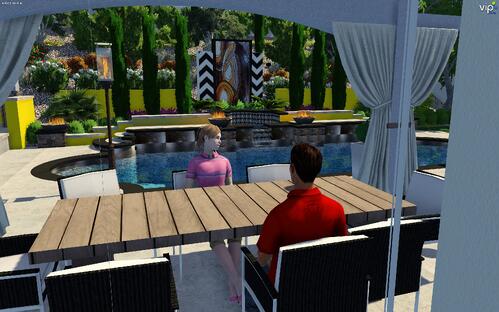 Boosting Close Rates, Globally
Of course, the best designs are the ones that generate sales, and with VizTerra, Lang has created a lot of them.
With AutoCAD, Lang was winning one out of every two proposals. Since he started using VizTerra, his close rate has improved to 85 percent — on more than 1,000 designs. That translates to $1 million more in annual sales versus when he was using AutoCAD.
Not only is Lang able to close more deals with VizTerra, he's also able to reach more customers in more locations. He's been able to attract higher-end jobs by producing designs that appeal to higher-end clientele, and he can quickly produce detailed designs for anyone, regardless of their location.
"It's really opened things up to new opportunities, to be able to deliver my designs anywhere in the world. All I need are measurements and photos, and I can deliver what they are looking for," he says. "Even though I'm in Vegas, I can design for anyone around the world."
Constantly Improving
Since he first started using the program, landscape design has evolved. So has VizTerra.
"They're always continuing to improve the program, which is a must," he says. "Every year there are two or three updates that are pretty significant and that really improve how the software communicates to my customers."
One of those recent updates introduced Video Mode, which allows designers to create professional videos that showcase details and features of the design using custom camera angles. It brings the customer inside their future landscape, and it brings exciting new possibilities to 3D landscaping design.
"It's like now I'm producing my own movie," he says. "I can make sure the video gives the proper perspective that I want the client to see and add in photos and my logo to really customize it."
Lang is extremely satisfied with VizTerra, and while he would like to be the only one in the market using it, he knows that other landscape designers can use it to grow their businesses.
"They are missing the boat if they haven't tried this out yet," he says.