Since our Summer Update we've been hard at work on incredible new tools for VizTerra and Pool Studio. We're really excited to release our latest update. Take a look:
Walls, Fences, and Railing Tools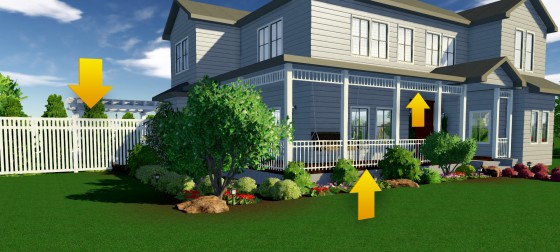 Totally new tools empower you to draw 3D walls, fences, and railings that automatically step up sloping hills, follow staircases, and border balconies. You can create almost any type of fence or railing you need. To make it even easier for you, we've included customizable presets of many popular styles in the library. Balcony railings, retaining walls, pool safety fences, and pier caps have never been easier to add to your pool or landscape software design project.
A (Really Cool) New Video Mode
The all-new Video Mode will help you capture your outdoor living projects in seconds. These new tools will ensure your videos are professional, smooth, and captivating. Simply choose which features of your outdoor living project you would like to showcase and Video Mode will take care of the rest.
Invisible "Staging Lights" Can Light Up Your Design
Ever feel like you need to add more lights to enhance the colors in your scene? Now you can add new Staging Lights to your pool or landscape project. These invisible lights will help create the perfect lighting in your presentation, screenshots, and videos.
More Choices from Our Vendor Partners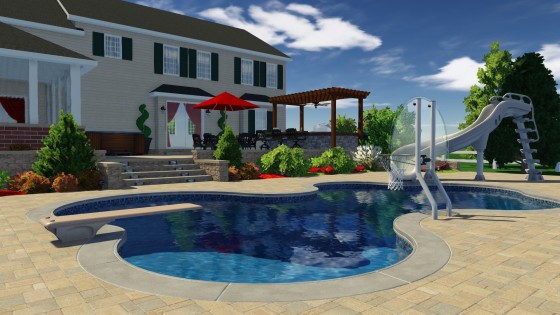 We welcome two new vendors to the software: Eco Finish and Thursday Pools (say hello!)
In the library you will find 10 Aqua Bright pool interiors from Eco Finish as well as 15 pool shapes, spa shapes, and five pool finishes from Thursday Pools
SR Smith adds LED lights and accessories
Interfab adds new slides, diving boards, a basketball hoop, and pool lifestyle tables
More Great Enhancements
Now you can
Tab through text fields in construction (hooray!)
Add multiple callout arrows
Save your HD screenshots in .PNG format to enhance the colors
Press "delete" on the keyboard to clear a location in Photo Mode
Use the Change Label tool to move Height Labels
In Photo Mode, double click a Location to set it as the starting point in Presentation. (By default, your first location is the starting point.)
And you'll see
Swimming pool Steps/Benches will automatically link to the pool or spa
Multiple planter shapes that touch in 2D will remain separate in 3D (at this time, if the arcs of two planters touch, they will merge in 3D)
The new Automated Pool Light will rotate through colors (try these with the new video mode!)
Pool and Spa Lights now cast a 150-degree light angle
Additional Helpful Fixes
Grouped windows can be placed on house shapes
While you have a window on your cursor, right clicking will no longer cause a crash in 3D
You can now re-size the Application
Objects off the paper in Page Layout are now visible - "Oh... that's where it went!"
Call-out text arrows scale accurately
Visual Features will appear in exported PDF files
You can pan while editing Text
A space at the end of a file name no longer prevents Windows from saving the file
The glow effect on some lights has been enhanced
You can now resize text over fill patterns
Searching the library for the term 'water' or 'light' no longer causes a crash
In Page Layout, locking a layer no longer causes the 2D-View to be hidden
Drains now appear correctly in template previews
Stability Fixes
2D Performance Enhancements
Minor Update 2.101 - More Additionally Additional Helpful(er) Fixes!
Preview Video no longer can cause plants to vanish (sorry, the magic trick is over)
Inserting a Plant Legend won't cause crash
Fill patterns now visible in Construction Markup after file is re-opened
Text in Page Layout can now be selected with marquee tool
Double click to open .SAV file works again!
Rail offset value works now
Shadowbox boards now displaying correctly on fences
Multiple Pool Slope lines are now visible after re-opening a file
Generate Railing now disabled in 3D (it didn't work anyhow)
New rail selected by default when added (that's easier!)
New rail uses material of current fence
Presentation overlay (logo, designer info) now appears in correct location
I saved $200 on my car insurance!!!
What's Next?