Finding creative uses for our landscape design software tools is one of our favorite things to do. We're just as excited when our members share their favorite shortcuts with us as when our team discovers a new use of a familiar feature.

The reason why we love finding new ways to use familiar tools is simple: making the most of powerful features is what sets great designs apart. And time-saving shortcuts are an easy way to take advantage of the most powerful tools and features in your own designs.

Haven't used many shortcuts before? Read on! We're sharing a few quick ways that the new tools in the recently updated Walls, Fences and Railings Stage will help you add stunning details to your projects.

Here are three ways you can use the new tools:

Create Hardscape Accent Bands
When you want to add decorative accents and borders to hardscapes, including outdoor kitchens and driveways, you can now add those accent bands in the Walls, Fences and Railings Stage. A single rail can be moved and modified to create the look you want.

How To:
Select Fence > Fence Style Parallel > Turn Off everything except 1 Rail > Auto Elevation Off > Move the Rail into Place
Change the height and width of the rail to create just what you need
Tip: Use copy/paste to add multiple bands, which you can then set to the correct elevation
Create Swim Lanes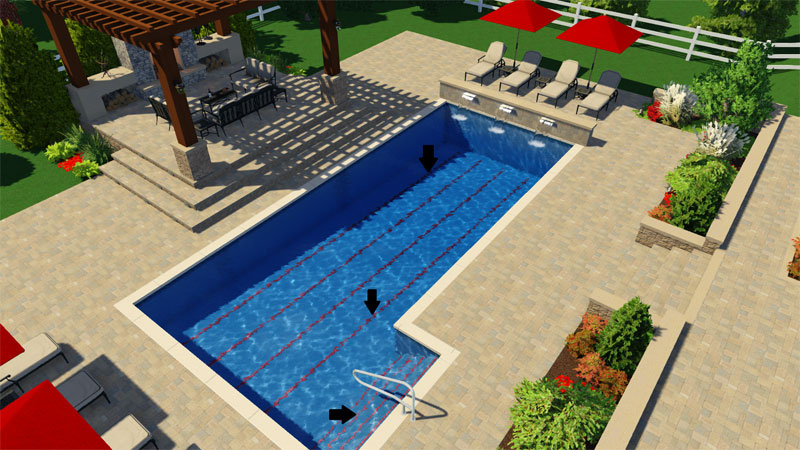 A single rail is also a great way to create straight tile swim lanes. Because the rail will automatically follow the slope of the pool, it takes just one step to create perfect, parallel lanes.

How To:

Select Fence > Fence Style Parallel > Turn Off everything except 1 Rail > Auto Elevation On
Create Curved Ledges and Step Trim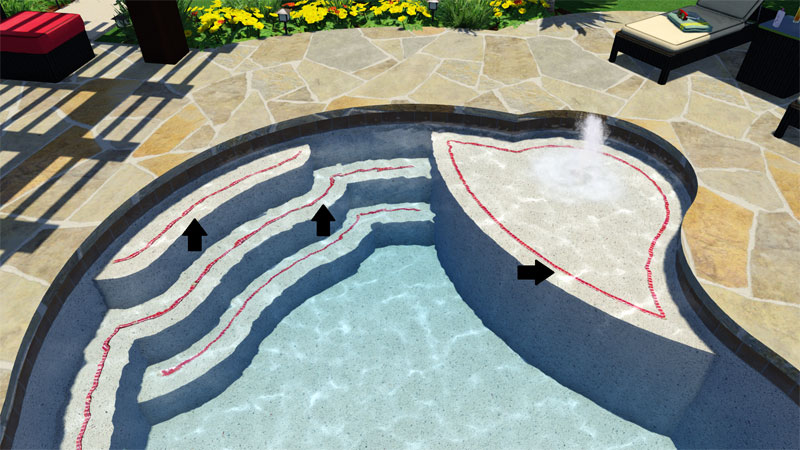 With the wall tool, curved ledges and step trim are easy to add. Just outline your ledge or step with the Outline Tool.

How To:
Select Wall > Set Wall Height, Thickness and Pillars to 1 inch > Set Pillar Spacing to 10 feet
For a thicker trim, set the wall thickness and pillar width to a larger size
Note: If the wall doesn't display sharp arcs, we use the line tool instead
Stay Ahead with New Tips
Get time-saving tips directly when you subscribe. You'll learn the best and fastest ways to add exciting new design elements to your projects — without wasting time. And check out our video catalog to get access to other great tips, shortcuts, and design strategies.

Have you found any shortcuts that you think are particularly helpful? Please share your great ideas with us at support@structureustudios.com or sign up for one of our workshops!