Achieving the perfect balance of sunshine and shade in an outdoor living space is a skill that sometimes goes overlooked by clients — even though creating just the right balance is one of the key ways that designers transform a yard from something mundane into their client's dream space.
Creating that dream space for a client is about more than just curb appeal. As important as it might be to create a visually interesting space, or to frame the house to create a welcoming approach, giving a client the outdoor space they've always wanted often means creating a beautiful and usable space that clients will be able to enjoy all year long.
Already, landscape design software makes it easy to show a client how their yard will look during the day or at night, or in spring versus winter.
Now, you can go one step further:
Show your clients exactly how their pool and landscaping will look — any time of day, any time of year, anywhere in the world.
With the new True Shadows tool, you can reveal to your clients just how beautiful their future space will look, with the perfect balance of sunshine and shade, with real shadows rendered in precise, accurate 3D.
Whether you're building a pergola, adding new landscaping, or planning where to position the pool — now you can show your clients just how much sunshine and shade they'll enjoy in their new outdoor living space. Show them how the sunset will look from their pool on a summer evening, or how you've framed the view so they can enjoy the sunrise with their morning coffee on the deck.
It's easy to do: just enter your client's location, set North in your project, and let the software do the work of calculating exactly how the real shadows will appear.
Take advantage of True Shadows and try these seven ways to show your client how you've achieved the perfect balance of sun and shade in their outdoor living space.
---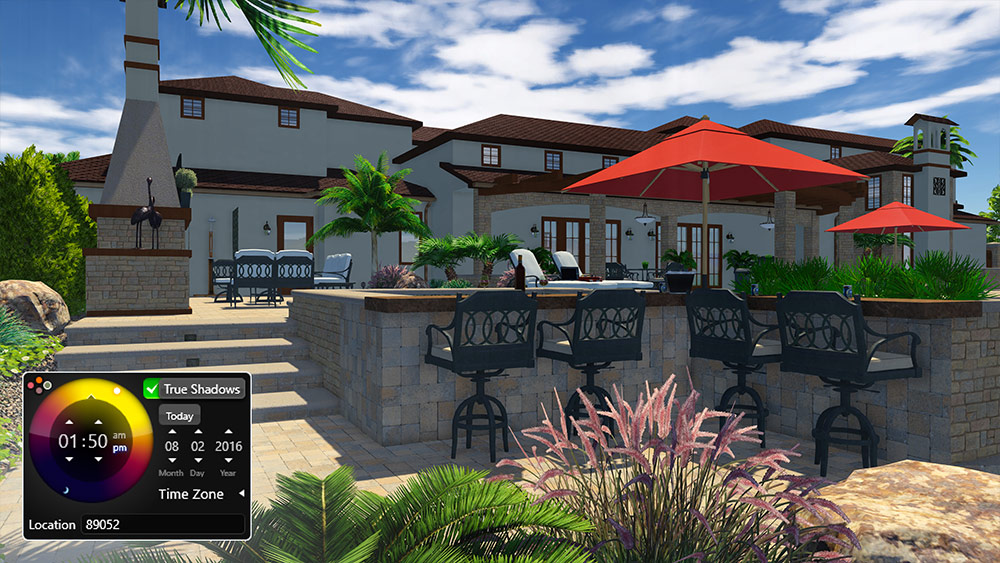 1. Balance Sunshine with Shade, in Every Season
Whether you're building a pool for a self-described sun worshipper or for a sunshine-averse client, you can use True Shadows to create for your client the ideal outdoor space.

In summer, most clients prefer that their pool gets as much sun as possible. Some clients, however, also appreciate careful placement of landscaping or hardscaping elements to add shady nooks. Others want the reassurance that their mature trees won't create too much of a barrier around their pool.

With True Shadows, it's easy to line up the pool, the deck, and every other feature in your client's outdoor space to create the perfect balance of sunshine and real shadows.

Whether you want to explore with your client how careful positioning can offer some cooling shade for lounging near the pool, or reveal to them how their new pergola will offer the ideal amount of shade for a dinner party without blocking the pool, setting True Shadows in your project makes it easy to show your client how you've balanced their needs and given them a space that works seamlessly throughout the day.
---
2. Integrate Solar Heating — and Extend the Pool Season
While solar panels have become a familiar sight, especially with eco-conscious consumers, solar pool heaters are a little less well-known. Many homeowners, in fact, don't even realize that cost-effective solar heating options are available.

For many clients, a solar pool heater can offer significant benefits — keeping energy costs down, making it easy to heat up the pool quickly, and even extending the swimming season, sometimes by a couple of months on each end of summer.

However, if you're offering a system that circulates water through collectors on the client's roof to heat up before being pumped into the pool, the prospect of installing black tubing on the roof, for example, can be a turnoff for some homeowners.

With True Shadows, you can demonstrate that you've planned the right setup for your client's space. You can show them not just how efficiently you've placed the heating system on the sunny side of their house, but also how elegantly you've incorporated the system to make it an unobtrusive, and even beautiful, part of their outdoor living space.
---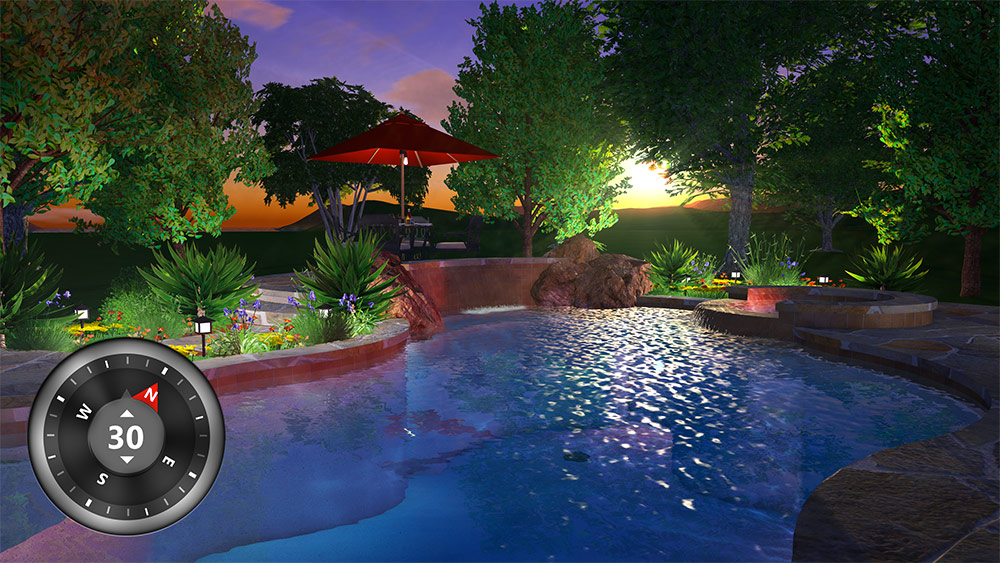 3. Plan the Ideal Landscaping
Sun, partial sun, partial shade, full shade: many homeowners who aren't avid gardeners find these labels unclear, even confusing.

Whether it's because they've suffered through trying to coax plants to thrive that just aren't well-suited for their space or because they want to explore unique options that will make their lawn stand out in their neighborhood, many homeowners appreciate being able to explore in detail how their future landscaping will look both when it's first planted, and as it continues to grow.

By turning on True Shadows, you can share with your client precise and accurate predictions of the real shadows that they'll see, showing them how their plants and trees will benefit from the correct amount of sun and shade in their future outdoor space.

Whether you're adding colorful plants that thrive without sun to brighten up a shaded corner of the lawn, or you're showing your client how their mature trees will fit around their sunny new pool, you can use True Shadows to help your client see just how lush and beautiful the space you're creating for them will be.
---
4. Capture the Best View
Exactly how a homeowner defines the "perfect" view can vary significantly — and often different members of the family have very different goals for the same space.

Perhaps their lawn faces a lake, which they'd like to enjoy while lounging on their deck. Or perhaps they want their garden to be the perfect backdrop to their evening dinner parties. They might want to be sure their pool will receive as much direct sunlight as possible during the late afternoon.

Show your clients, in detail, how you've achieved all of their goals.

Flip through the time of day, and let them follow the sun's progress over their yard. You can show them how you've positioned the pool for the best sunlight during the afternoon, while shaded areas offer the parents a relaxing space to keep an eye on the kids. You can reveal how perfectly the deck is situated, so that the outdoor dining table overlooks the best panoramic view.

By letting the software calculate the sun's path, you can help your client see exactly how they'll be able to enjoy their entire yard throughout the day, all year long, using the real shadows to their best benefit.
---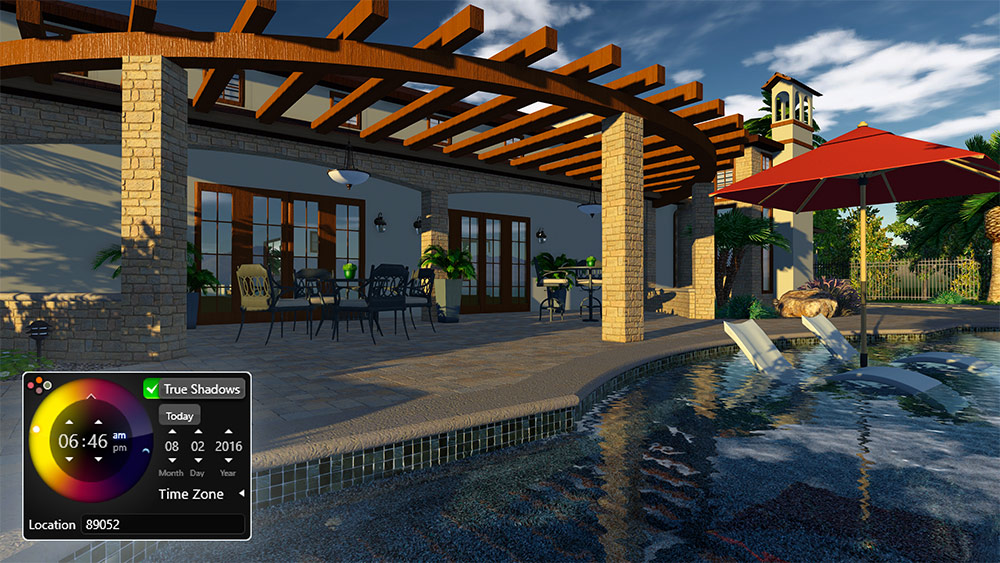 5. Create the Perfect Pergola
For clients interested in adding more shade to their yard, the details of how a pergola or patio cover should be positioned are often not the most interesting part of the project.

However, how high the pergola is built, or exactly where the patio cover is placed, will have a big impact on just how much shade is created, and just how open or airy the space feels.

Help a client understand why you've placed the pergola where you have, and show them how details like the placement of the slats or the height of the structure will help to create the best shade for them, by using True Shadows.

Do they want to use their pergola mid-day? Early in the morning, or late in the afternoon? By flipping through the True Shadows, you can show your client how changing the orientation of the slats (north-south or east-west) will change the amount of shade created and reveal how their new pergola will look at any time of day.
---
6. Bring the Indoors Out, and the Outdoors In
Integrating the indoors with the outdoors is a trend that has remained popular.

Making sure the client's outdoor living space complements their indoor space and style is just one piece of the puzzle — it's also key to reassure your client that their perfect outdoor living space won't negatively impact their view from the indoors.

When you recreate your client's home in your design — a task quickly completed with your design software — you can take them on a tour that shows them the view they'll enjoy from inside their house.
Starting your client's interactive tour from the kitchen or living room, and moving through to the new pool deck or outdoor kitchen, is an easy way to show how the space you've designed will flow seamlessly together.
Flip through True Shadows, and let the real shadows reveal how the new pergola will offer the ideal shade outdoors, without blocking the light inside their house. Or highlight the view from the windows, to show how the new landscaping will benefit from the right amount of sunshine and create a beautiful, colorful display.
---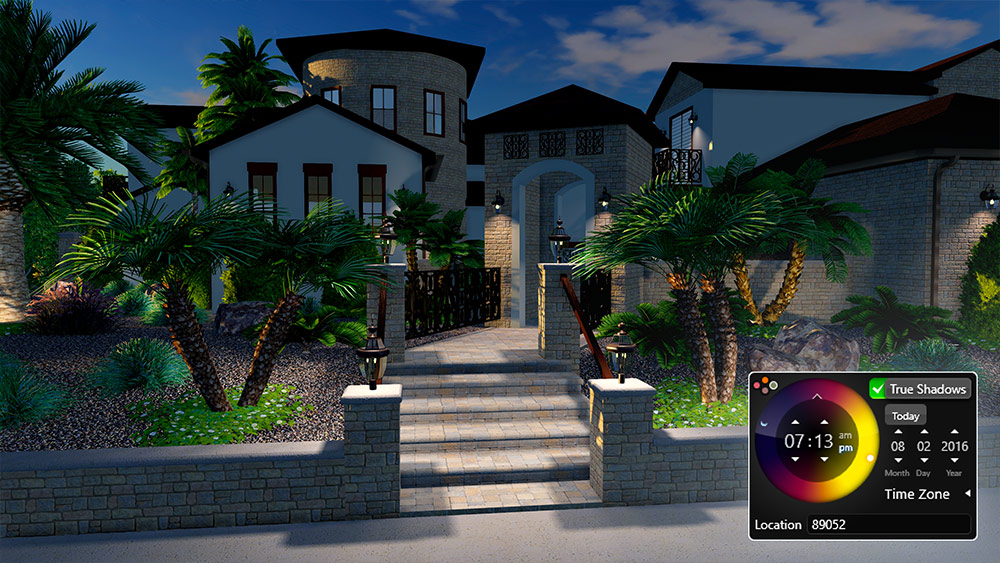 7. Make the Most of Your Client's Space
Whether designing for a tiny urban lot, a yard with challenging terrain, or even a sprawling rural lawn, explaining how the various elements of a plan can work together to give your client the space they really want can be challenging.

With 3D software tools, it's much easier to help your client see exactly how the chosen details and features will transform even the most complicated or cramped yard into a beautiful, multi-use space.

Whether you're highlighting different options for the placement of the pergola, the orientation of the swimming pool (along with the necessary equipment), even the direction of the wood-burning oven — you can use True Shadows to explore in 3D how they'll be able to enjoy elements throughout the day, and throughout the year.
By flipping through True Shadows, you can show your clients, in vivid 3D, how your design works to make the most of their space.

Show them how modifying the placement of the pool will offer them the perfect amount of sunshine early in the day, when their kids are home for the summer, while also serving as a beautiful part of their panoramic view in the evenings. Show them how the sunny patio will be a perfect place for the kids to play, while the pergola creates just the right amount of shade over the dining table.
Featuring the real shadows created in your design means you'll be able to show your clients exactly how your design makes the most of the sun's path over their outdoor living space to give them exactly what they want.
---
Show Your Clients Exactly What You Can Create for Them
Take advantage of the vivid 3D details that True Shadows reveal and show your clients how your designs will help them make the most of their outdoor living space this summer.

Give it a try today: True Shadows is now available in the latest update — free for Vip3D members to start using immediately, and free for new users to try out.