Welcome to the Fantastic Freehand Fall Update 2.220!
When Pool Studio was released in 2005, the common pencil became obsolete for pool designers all over the world.
Today, we've reinvented the pencil.
With today's update, we merge the best of the "old" with the best of the new: you'll get to experience the everyday pencil, now improved with the brand-new Freehand Tool. And you'll see how to transform the average trip through the backyard into an incredibly awesome experience with new Virtual Reality tools.
That's just the beginning: today's update also includes new pool shape customizations, faster loading, more Smart Data, better construction, and, yes, full virtual reality support!
Check out our update video and see what else you'll discover in the Fall 2016 update, including the new Freehand Tool and more than 80 other awesome improvements:
---
Freehand Tool
Now that we've made the basic pencil obsolete for pool and landscape designers all over the world, it's time to bring it back — better than ever!
The new Freehand Tool makes it easy for you to create freeform shapes, just as though you were drawing with a pencil. What makes the new and improved pencil so much more exciting is that Smart Data will effortlessly calculate anything — and everything — you draw, sketch, or even doodle.
With the Freehand tool selected, just press and hold the left mouse button. As you move the mouse while holding left click, a continuous shape will be created following the mouse cursor. You can let go at any time to end the Freehand segment.
The Freehand tool works great for freeform planters, freeform pool shapes, topographic lines, and fish ponds — draw absolutely anything you want, and then let Smart Data calculate the results for you.
Try the Freehand tool with a freeform shape loaded as a background image, or use a drawing tablet or touchscreen to add another level of precision — we think you'll be pleased by just how easy it is to draw Freehand.
We can't wait to see what you discover.
---
Adjustable Hardscape Lip Size and Edge Trim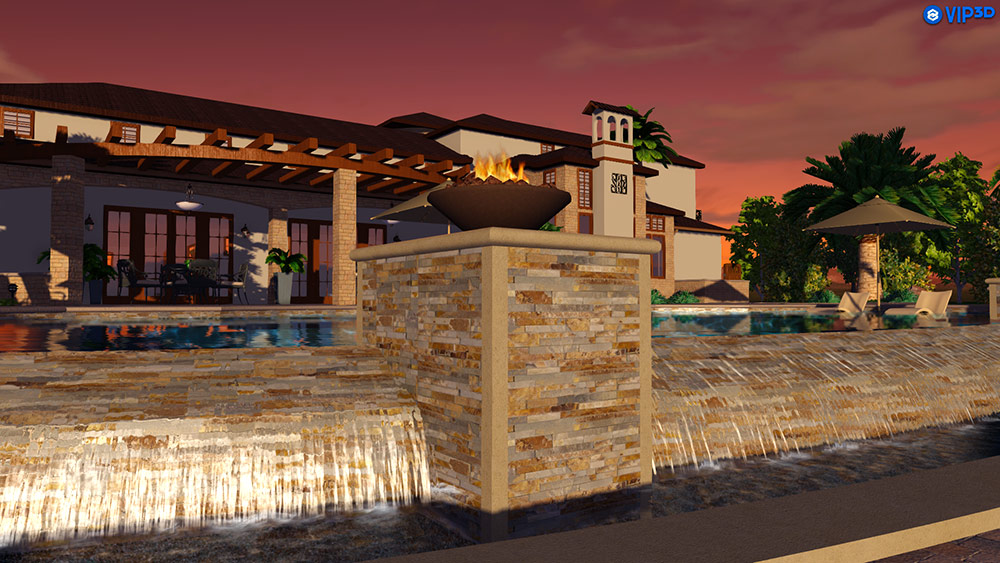 New settings are now available for Pools, Spas and Decks. You can now adjust the Lip Height value between 1 inch and 6 inches for both Pools and Spas and between 0 inches to 6 inches for decks. When the lip size of a Pool or Spa is adjusted, the water level and spillovers will move, as the tile will be higher or lower based on the new lip height.
You also now have the option to turn on Edge Trim for Decks. Edge Trim can be adjusted from 1 inch to 6 inches, and, in 3D, you'll see the trim added to the corners of the Decks. All of these settings will also effect the Smart Data calculations for Pools, Spas and Decks.
---
Virtual Reality: Oculus Rift Support (Vip3D Only)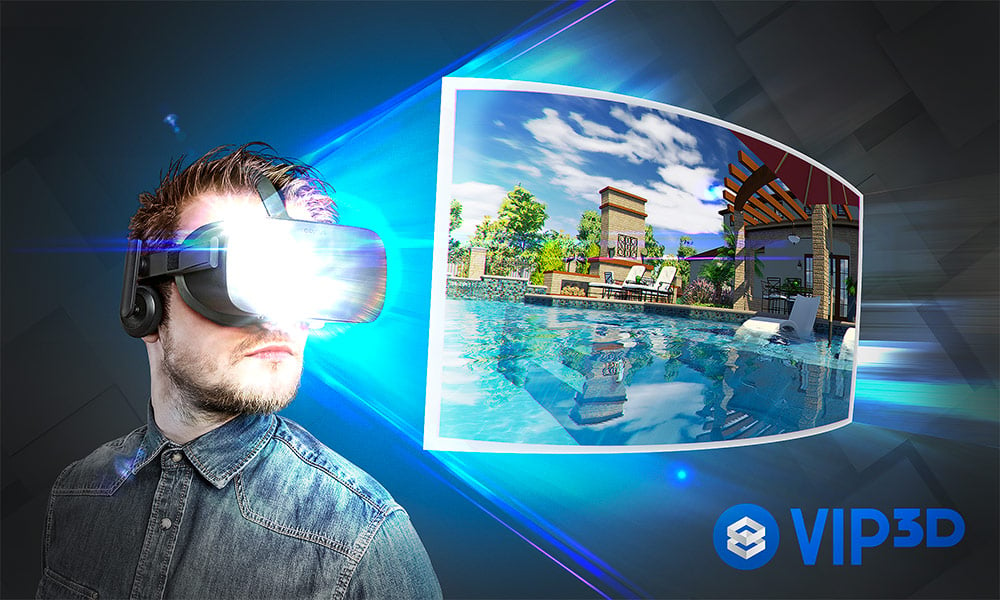 Vip3D Members now have access to the Oculus Rift Virtual Reality experience. The Oculus Rift uses state of the art displays and options to immerse your clients in the 3D project you've designed for them.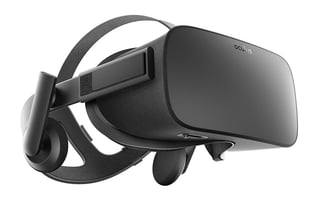 To share your design with your clients in virtual reality, check the new box in Create Presentation. Then, when you enter Presentation Mode while using Oculus Rift hardware, you and your clients will feel as though you're actually in the newly designed yard, in vivid virtual reality. Note: You will likley need a new computer to use VR. Visit our hardware blog for more information.
---
Property Line (Vip3D Only)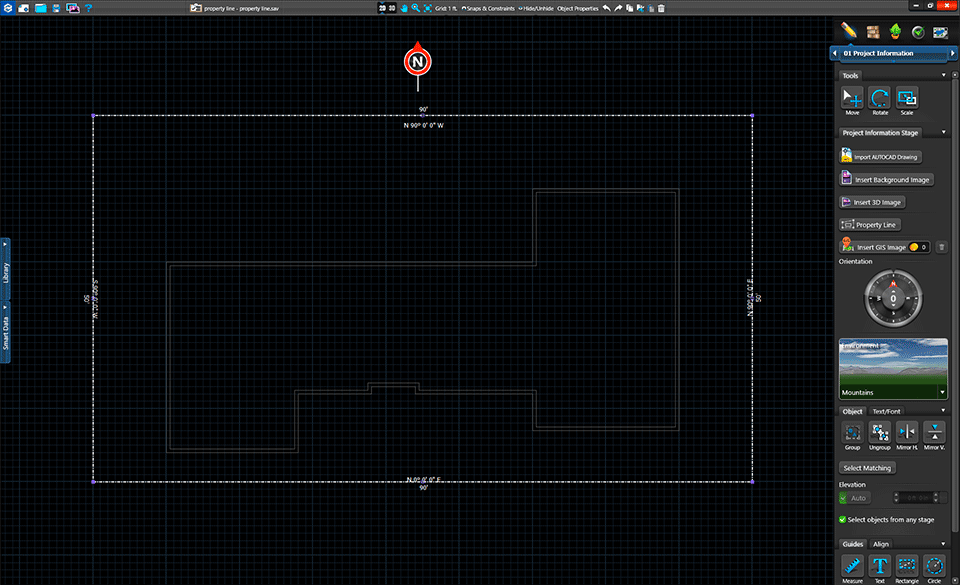 Draw a Property Line in Stage 1: Project Information. Click the Property Line button in the panel menu and you can start drawing right away. You'll see not only the measurements, but also the bearing. In Page Layout, you'll also see a Property Line option for Smart Data blocks.
---
New Smart Data Enhancements
Smart Data Materials for Spillovers, Raised Beams, Step Risers and Turn Down
You'll see several enhancements to Smart Data. First, you'll find new Material entries for spillovers, raised beams, step risers and turn down. You'll also find Interior Surface Area for Pools and Spas, which will include the interior surface and the raised areas.
Configuration Option for Concrete now includes Steps and Benches
In the Configuration menu, a new option to include Steps and Benches in the Pool and Spa concrete calculation is now available.
Vip3D Project Information Smart Data Block
Vip3D Members will see a new Project Information block in Page Layout. With this new option, information such as the client's name and address, and your designer and company information, will automatically load in Page Layout.
---
Construction
Title Blocks for Page Layout
In Page Layout, titles can now be added to construction objects. When adding or editing Page Layout objects, you'll now see an option for the box title. You can adjust the font and color, as well as the alignment, indentation, and background of the title bar. Once added to the object, simply double click to edit the text, and use Object Settings to adjust the font options.
Automatic North Symbol (Vip3D Only)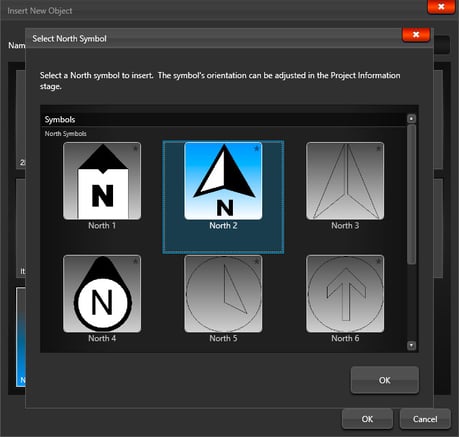 For Vip3D Members, the Page Layout has been updated so that the North Symbol will automatically match the Orientation set in Stage 1. You can even save your own symbol to the North Symbol category by creating one in Construction Markup.
New Fill Patterns
In the Library, new Fill Patterns are now available. Under the Basic category, you'll be able to choose 17 new options, including Concrete, Flagstone, and Mulch. The Fill Color wheel can be used to adjust their color.

VizTerra and Vip3D Members will see five new Artistic Fill Patterns, including dark green, new green spotted variations, and violet blue.

---
Refreshed Hide/Unhide Menu
Updated Hide/Unhide menu (Categories, Staging Lights)
The Hide/Unhide menu gets some new controls, including category controls that make it easy to quickly hide groups such as Guides or Landscaping. There are also new options to hide Fill Patterns when in the Construction Markup stage, and now you have the option to hide Staging Light symbols in 2D and 3D, leaving the light source active without the tile being visible.
---
New Materials and Objects
The Library grows with eight new plants, including new cacti and succulents, groundcover, shrubs, and a new tree.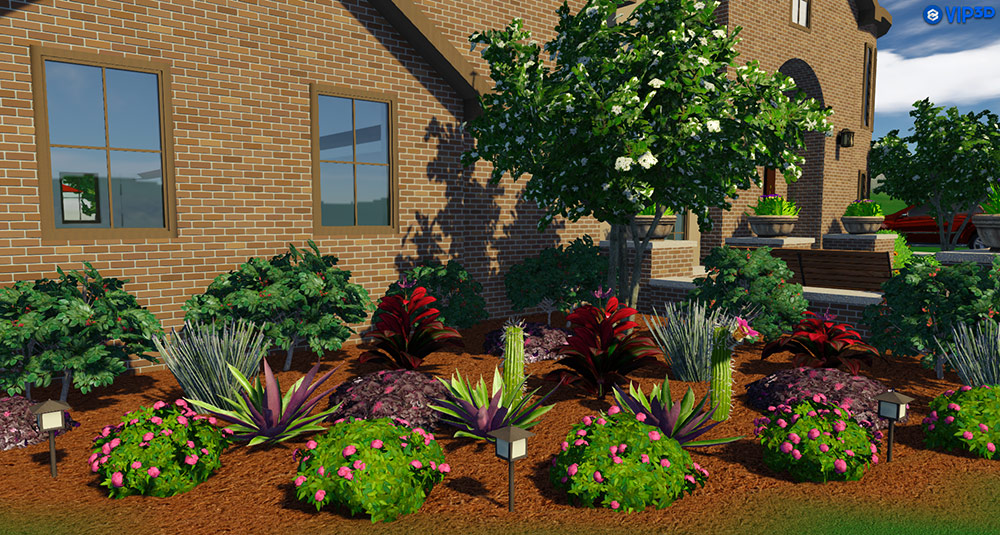 The new Wall Decor category contains an updated sun medallion and several new wall decorations.
Arbor and Trellis, and Awnings and Patio Covers see updated and new content available.
In the furniture category, there are new matching Bar Tables for Aluminum Sling and Cross Strap sets, and the Contemporary Wicker Set sees a fresh new look.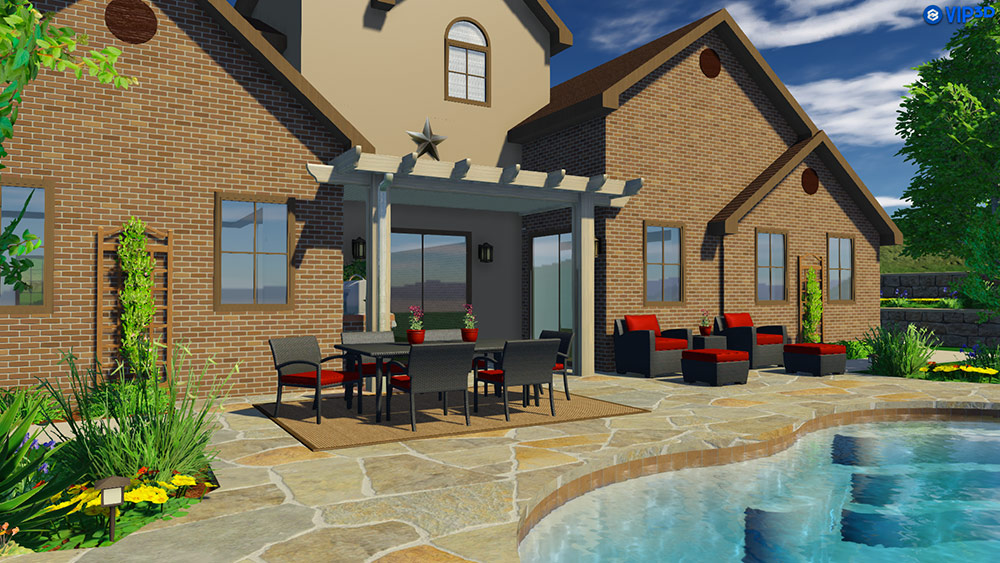 In the Materials stage, you'll now be able to use the New Fabric category on the furniture or other accessories to add variety to existing Library options.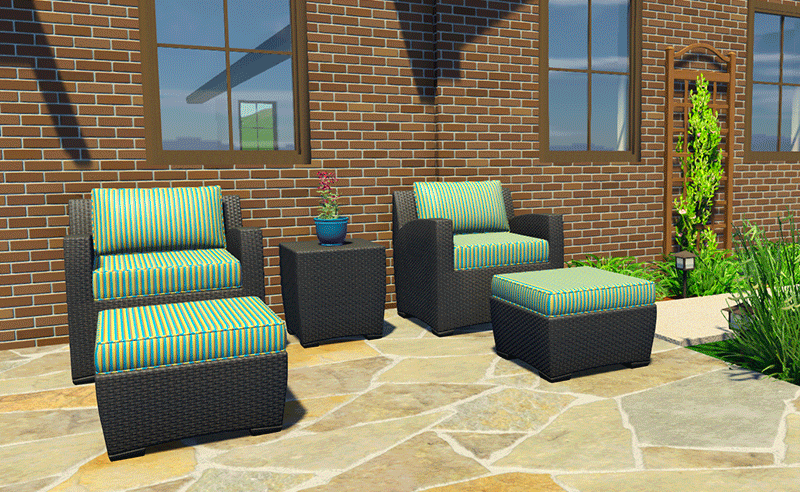 Materials also sees a New Ledge Rock under Stacked Stone, and the Brick category sees both updated and new materials, including eight new brick options.
Vendor Partner PebbleTec adds eight new Pebble Brilliance Finishes to their package.
Vendor Partner Compass Pools updates their package with new Pool Shapes and three new Interior Finishes.
---
What else is on the update list?
New Features
Freehand tool
Updated Hide/Unhide menu includes Categories, Staging Light symbols, and Fill Patterns
Adjustable Lip size for Pools, Spas, and Decks
Edge Trim for Decks
Fences and Railing now support the Arc tool
Improved Page Layout performance for 2D View (now cached as a bitmap)
Added Titles to objects in Page Layout
Improved load times for SAV files
Convert Staircase to Custom Shapes
Files save with custom materials
Smart Data Materials for Spillovers, Raised Beams, Step Risers, and Turn Down
Smart Data Interior Surface Area (includes tile line and raised beams)
Added Project Information Smart Data block for Vip3D
New North Symbol feature in Page Layout for Vip3D
New Property Line feature for Vip3D
Oculus Rift support for Vip3D
New Art
17 New Basic Fill Patterns and 5 Vip3D Exclusive Artistic Fill Patterns
8 new Plants and Trees
New Bar Tables for Aluminium Sling set and Cross Strap set
Updated Structures > Arbor & Trellis
Updated Structures > Awnings and Patio Covers
Updated Furniture > Contemporary Wicker Set
New Category and content Accessories > Wall Decor
New Stacked Stone > Ledge Rock
New Fabric Material category
Updated Brick > Wall and new brick options
Updated Lawn, Dark material
Updated Vendor PebbleTec with 8 new Pebble Brilliance

Finishes

Updated Vendor Compass Pools with new shapes and 3 new Interiors

Bug Fixes and minor changes
Last used settings for Walls, Fences and Railing remembered after program restarts
Smart Data Materials for Spillovers, Raised Beams, Step Risers and Turn Down
Configuration option for Concrete to include Steps and Benches
Improved Page Layout panel menu and Insert Object menu
Smart Data displays object name of a single object when selected
Display Measurements in Construction Markup remembers last used setting
Configuration option to disable 2D Anti-Aliasing
Application remembers which screen it was last on for multiple monitors
Can now collapse and uncollapse Blog on home page
SketchUp import button in panel menu in Yard Accessories in Vip3D
Spillovers now go over corners of Pools and Spas
Improved ground geometry, so no more triangles between Decks that are close to each other
Improved performance of Scale, Rotate and Outline tools
If program is minimized with undocked Library, restoring did not restore Library
Crash could occur in Terrain if slope is reset while Terrain lines active
In Page Layout, panel and top bar Pan tools could appear active at once
Library could load with overlapping thumbnails
OK button now Send button when emailing screenshots
Walls of a Spa inside a Pool could vanish if lower than Pool height
Volume slider would not display all digits if at 100%
In Photo Mode, you can now click on Photo Taken to access folder
Changing Materials would not show Smart Data needed to be refreshed
Visual Features not showing names in Smart Data
Changing between Wall and Fence could make them turn white
Saving to Library in certain stages would default to unusable category
Smart Data now shows Material categories
Groups in Construction Markup would display the rotate handle, but could not be used
Replace in Library did not work with Visual Features
Windows on House shapes would not mirror properly
Twitter, YouTube, and Vimeo now remember last entered description
Crash could occur when first opening a GIS file that had image removed
Page Layout content cuts off border
Measure Guide shows 0 if Grid off when program restarted
Sun would set in wrong direction when using True Shadows if North at certain angles
Using Alignment then undoing could cause crash
Improved performance in Page Layout when GIS Image is hidden
Adjusting Arc would cause a complete circle guide to appear
Crash could occur when using undo/redo/delete when typing in value with Smooth Tool
Saving Text to Library could make it appear pink in preview
Deleting while drawing in Page Layout could make future lines not appear until restart
Improved Coping calculations when multiple Spillovers present
Improved Smart Data for Walls, Fences and Railing on Selected Data
Improved Generate Railing on Staircase, now works with Custom Shapes
Broken version 1 templates no longer cause crash if inserted
Crash could occur if deleting callout arrow and other objects at the same time
Continued clicking of Staircase Autoheight would change height each click
Can now edit fill colors in Plant Edit menu in VizTerra and Vip3D
Callout button could be used in 3D
New default Line and Fill styles for Construction Markup
Staircase tool would reset if rotated and Skirts and Risers adjusted
Improved Rebar calculations for Pools on slopes
Fences grouped with other content would cause Smart Data to remain red
Gaps would appear between Boards and Post for Fences (Privacy fences now possible!)
Crash could occur when switching files after applying a custom material
---
What's Coming Next?
Stay in the loop and get first look at what's next on the update list. Hit subscribe and you'll get the latest software updates, straight to your inbox.