When we rounded up the shortlist of member-favorite tools in 2015, we promised that our next update would help you shave time off your design process. Today, we're following through. With new and improved features that will help you make your Vip3D, VizTerra, and Pool Studio designs absolutely spectacular — Update 2.2 includes faster tools, better controls, and smoother finishes.
What's ready for you to try out today?
Member-favorite Groups are better than ever, background controls are faster than ever, and new finishes and accessories are here for you to wow your customers. (Plus, we have an exciting surprise for our Canadian members!)
Let's put it all together: see what's new and check out the highlights in our video:
---
Nested Groups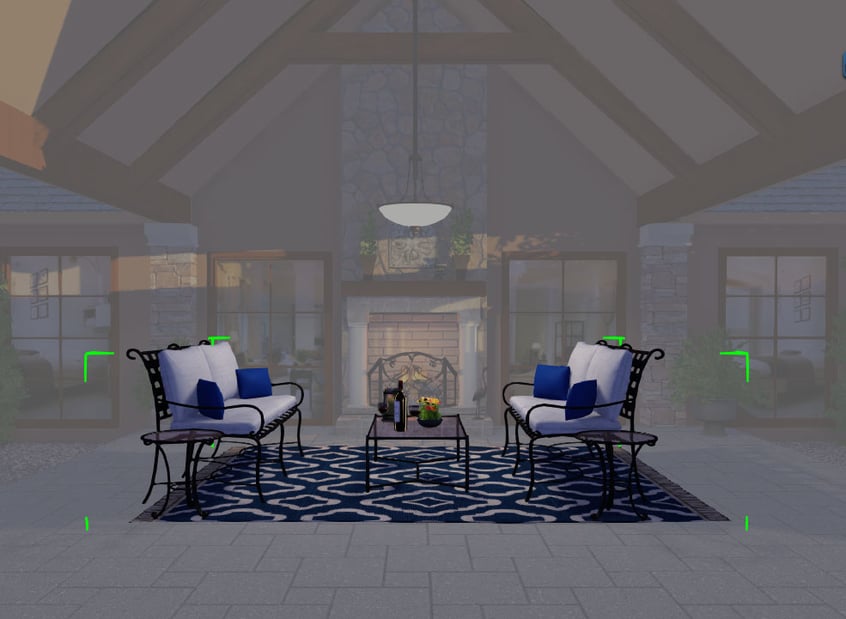 Nothing saves more time in the design process than using grouped items — and saving them to your library for future use. But what about when you need to customize the group? Before today, simply adding/removing an item, rotating an object, or changing a material could become a time-consuming process, making re-grouping a complex group tedious at best.
No longer: Now, with Update 2.2, you can edit a group WITHOUT ungrouping it!
Simply double left click on any group and enter Group Edit mode. Add or remove objects and rotate, scale, or change materials. When you're happy with your changes, simply click outside the group edit mode area and your group will be updated! Super easy, super fast.
---
Vaulted Ceilings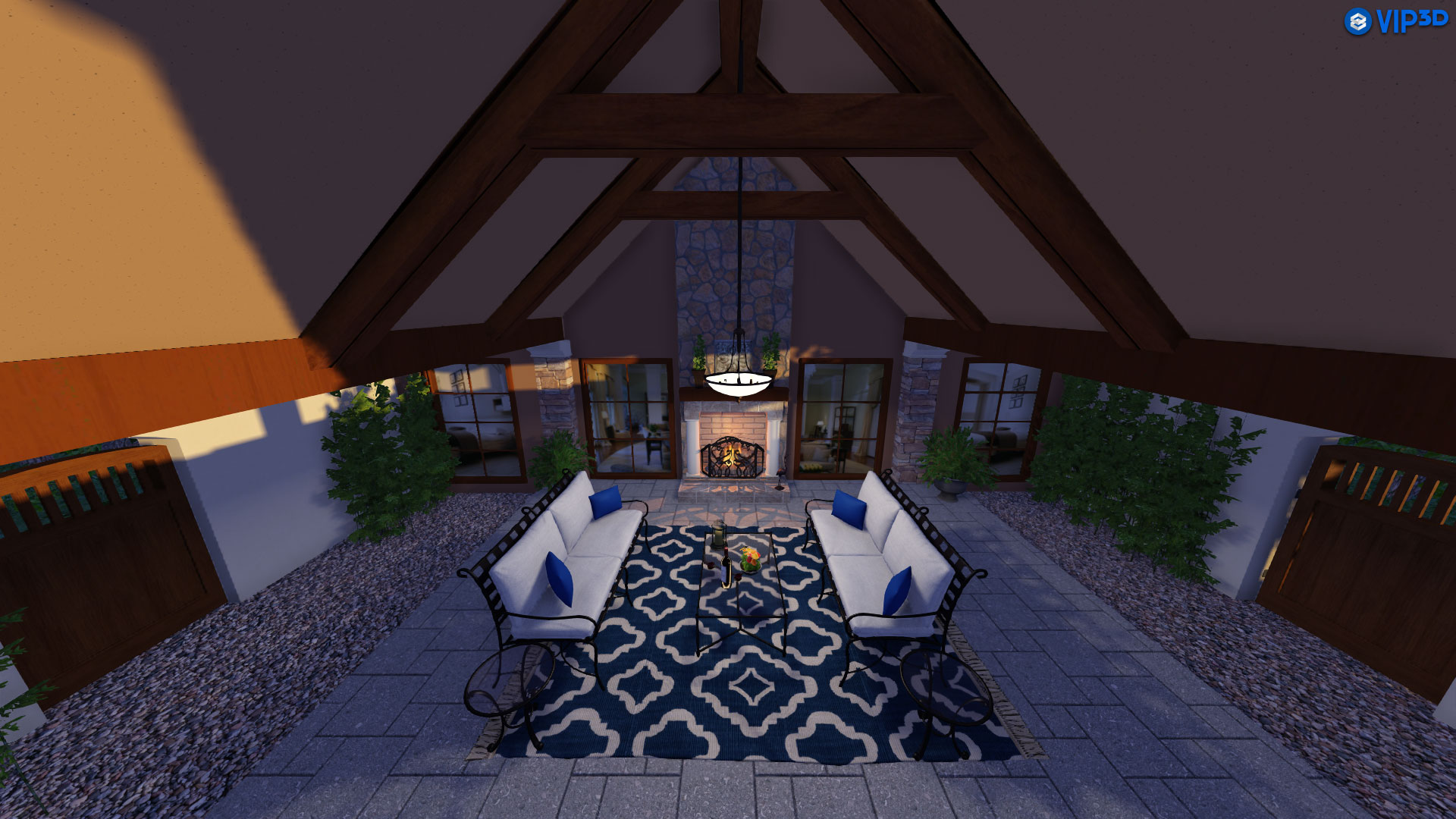 With the Roof Only button, you can create a roof with a vaulted ceiling on a house shape — perfect for outdoor patio covers!
---
Copy and Paste Fill Patterns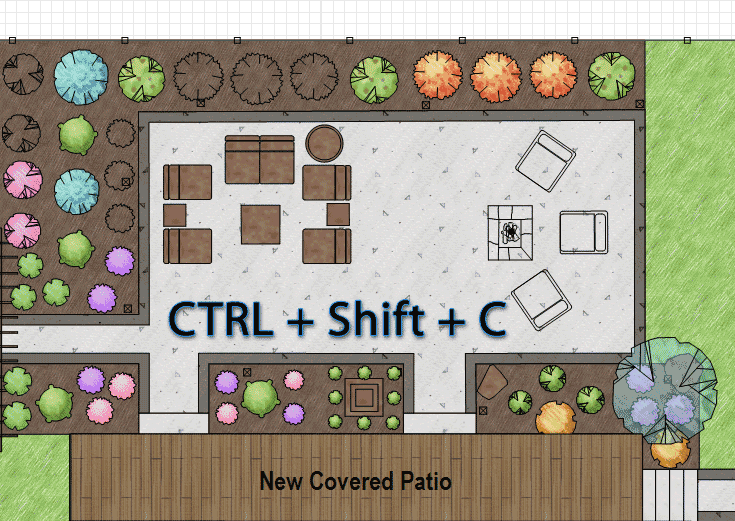 In Construction Markup, you can now copy and paste fill patterns. With the shape and fill selected, first press CTRL + Shift + C to copy the selected fill pattern, then CTRL + Shift + V to paste on another shape.
Object Properties also contains the Show Fill in Library button. With the shape and fill selected, clicking Show Fill in Library will select it in the Library, offering you another way to apply that fill pattern to other objects.
---
Updated Background Controls
Now you can use the standard Move, Rotate and Scale tools to adjust your background image. Once Adjust Image is clicked, you can make adjustments by using the border around the image or by using the Move, Scale and Rotate tools. Just click on Adjust Image again to leave this new mode.
---
GIS
Canadian Members: welcome to GIS images! Now the ultra-high-resolution aerial images are available in Canada as well as the US — we look forward to seeing what you'll create!
---
Updated Objects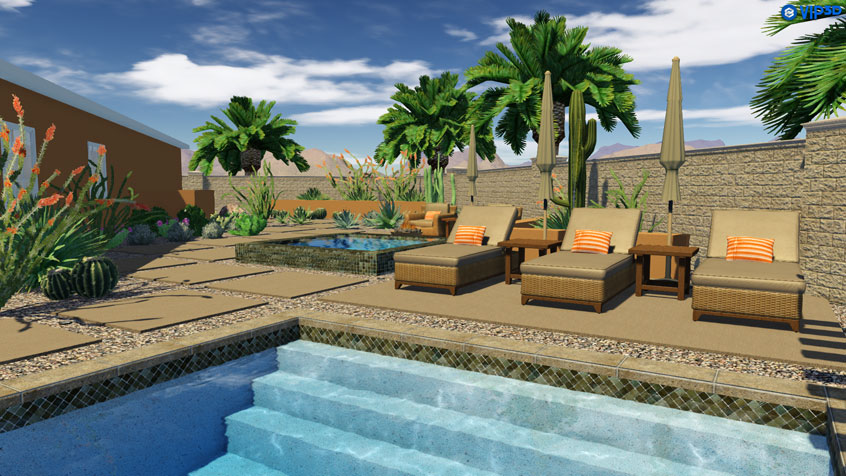 In the Furniture category, there are seven updated new sets: Aluminum Sling, Wicker, Black Wood, and Teak plus three different Wood Finish options.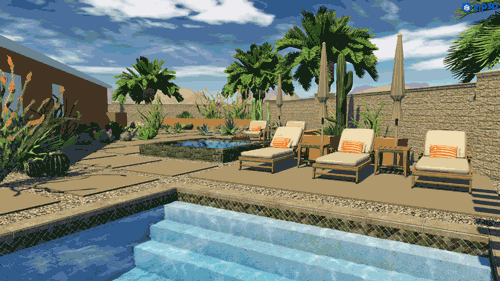 Umbrellas now can be included without a base, perfect for using on pool ledges and outdoor kitchens.
And while you're adding an umbrella to your next outdoor kitchen, you'll find that even more Outdoor Kitchen accessories have been updated.
---
Vendor Partners
PebbleTec adds four new finishes to their category.
San Juan Fiberglass Pools adds four new gel coats to their package.
Thursday Pools adds five new pool and spa shapes to their library.
Artistic Paver adds 15 new pavers to their category.
---
What else have we improved?
Improved performance in Page Layout when panning and zooming
Height label shows " instead of in
Bad YouTube account no longer crashes
Deleting content from Media Viewer no longer leaves menu empty
Can no longer draw on Design layer in Markup through stage switching shortcuts
Can now highlight text in Page Layout
Measure Guide number now follows cursor with Type-In Measurements
Groups now show correct name under Object Properties
2D Image margin no longer cut off in Page Layout
Scale slider can no longer be used on locked layer in Page Layout
Drawing tools no longer available on locked layer in Construction Markup
Drawing Tools no longer selectable in Single Slope mode
Extra unused Library buttons removed
Library can no longer load multiple overlapping categories at once
---
How many bugs have we squashed?
Fixed: Crash when broken template saved to Fill Patterns and Favorites
Fixed: Crash when templates package too big
Fixed: Cancelling loading project on Start Screen loads file anyway
Fixed: Page Layout PDFs crash if invalid block present
Fixed: New Variation would not prompt to save
Fixed: Cannot unhide Groups when in Construction Markup
Fixed: Explode shapes while in 3D
Fixed: Saving Design shapes to Construction Library creates unusable template
Fixed: Cannot rename Page Layout layer
Fixed: Popped out menus cover project overlay
Fixed: Copied content in Page Layout pastes incorrectly
Fixed: Bad group stack order after save/reload
Fixed: Media Viewer button opened, but did not close Media Viewer
Fixed: Hiding Background with CTRL+B stopped drawing tools
Fixed: Callout arrows don't attach to rotated text
Fixed: Default settings for Callout arrows not saving
Fixed: Outline Tool font size didn't match drawing font size
Fixed: Redo/CTRL+Y would move camera in 3D
Fixed: Searching good GIS but not purchasing would show different results on second search
Fixed: Staging Lights not hiding in 3D
Fixed: Unhidden overlapping measurements could not be adjusted
Fixed: GIS rotation ignores Angle Snap
Fixed: Custom Scale can be used on non-2D Views in Page Layout
Fixed: Step values under Object Properties
Fixed: Shift does not use World Angle for Measure Guide
---
Coming Soon
Keep ahead of what's coming: hit subscribe and you'll get first look at our next update — including great new tools, like in-depth project calculations!