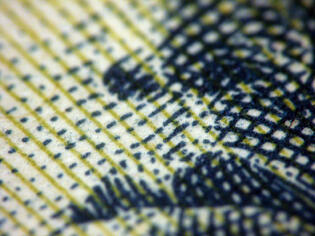 Considering the numerous landscaping business models that exist — with landscape design playing an important role in each — our customers often ask us, "What is the best way to charge for landscape design services?"
As your design software partners, we know how important the answer to this question is. We've worked with landscape designers at all levels of expertise, with businesses of many sizes, across the country.
But no matter who you are, the best landscape designs are the ones that make money in one way or another — so it's essential you have a firm grasp on the best fee structure for your business.
The Case For Charging A Fee — When Your Competition Doesn't
Many landscape designers also ask us, "Why should I charge customers for my design services when our competition isn't?" If you offer the same design services as your competition, after all, you may not be able to charge a fee and remain competitive.
If you want to justify charging landscape design fees, then your customers must perceive that you are providing a higher level of expertise, service and, ultimately, more value than your competitors who are offering free plans.
If your competition typically offers basic, two-dimensional landscape plans, consider offering design service above and beyond that, such as dynamic 3D landscape design renderings to elevate your business over your competitors.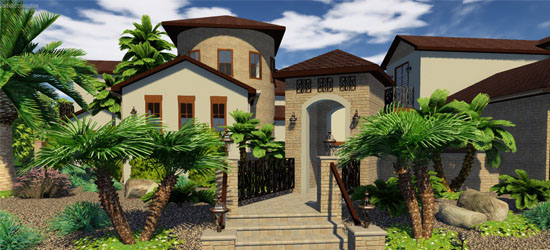 Let's take a look at three basic ways to structure your landscape design fees:
Free — you don't charge a fee!

You "credit" the design fee towards the cost of the project installation.

You charge a non-refundable design fee. The design and construction of the project are treated as separate projects.
A landscape contractor leveraging the landscape design process to gain profitable construction work is more likely to offer free design services or charge a small flat fee that can be credited towards the construction.
A landscape architect or landscape designer who does not directly profit from the project's construction will likely choose to sell their design services for a non-refundable fee, often based on an hourly rate. Their livelihood depends on it.
Each approach has its unique advantages and disadvantages. Let's explore each approach.
The Case For Offering Free Landscape Design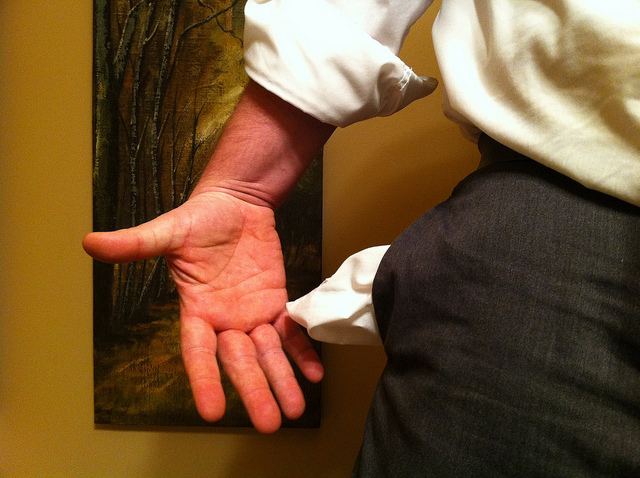 While offering your landscape design services pro bono can assist in closing more construction work, there are drawbacks. The biggest one: A customer may pass your design onto a competitor who ends up installing the project. Not only did you waste your time and money, but the business went to your competitor. Bottom line: Your customers may just be using you for your "free" ideas.
Another drawback to offering free landscape design is that some customers will see it as a sign that they can get more things from you for free.
Another consideration: If your competitors also offer free design, then you're not differentiating yourself from them.
Drawbacks aside, there are valid reasons for offering free landscape design, such as:
When you already have a relationship with your customer: Due to your existing relationship there is low risk that they will go with another contractor and the design can help push the sales process forward faster.

To close low-budget construction work: Perhaps you have a prospect who wants to renovate their home's front entry but has a budget of only $6,000. They won't want to put any of their budget towards design work. These smaller projects can be profitable and often times don't require highly detailed landscape plans. So don't let your design fee be a bottleneck to closing the sale.
Crediting The Design Fee To The Project Installation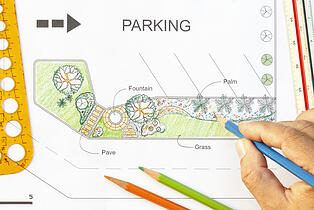 Much like offering free landscape design, charging a design fee and offering to credit the fee towards project work can be an excellent sales tool.
This method reduces the risk associated with a free design. For example, if a customer opts to go with another contractor, you've still been compensated for your time. This credit towards the installation project also provides strong motivation for customers to work with you beyond the design and hire you for the installation. It's almost like they are putting a small deposit down on the installation.
Charging for a design can also be used to qualify customers. If a customer has big ideas for their project but is unwilling to pay an up-front design fee, it should raise some red flags. It may be a sign that they don't value your expertise, plan on shopping around, or that they simply aren't that serious about moving ahead with the project.
Here are three situations in which charging for design services up front — but offering the fee as a credit toward project installation — may make sense:
Budget constraints: You have a new customer that is planning on spending a considerable amount on a new deck and patio but they don't want to spend part of their budget on the design. Charging them and offering to credit the amount towards the project is safe for you both, so long as they are serious about working with you and installing the project.

Competitive advantage: You have a customer that is comfortable paying a design fee but wants to make sure that they will get copies of the design so they can get bids from other contractors. Offering to refund the fee as a financial incentive may help you land the project work.

Getting serious: You have a demanding prospect claiming to have big dreams and an even bigger budget. They believe you should offer your design services for free – like your competitors – because "we're going to spend so much money". Offering to credit the design fee toward the project's installation cost invites them to put their money where their mouth is.
Charging Nonrefundable Landscape Design Fees
If you consider landscape design to be a valued service in and of itself for your business, then charging a non-refundable design fee may be a good practice. This fee structure helps market your design skills and reinforces the value of your expertise as a landscape designer.
Charging a nonrefundable design fee may actually add perceived value to your services in the qualified consumer's mind. Many will be more likely to respect your design choices simply by having paid for them up front.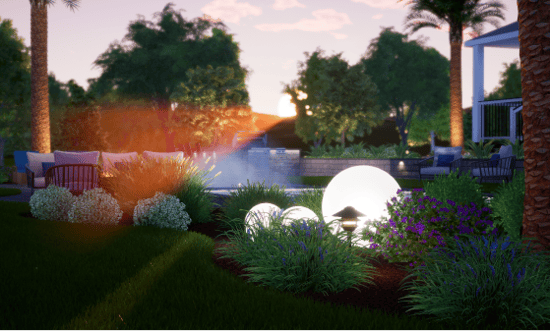 When you are charging for designs and others aren't, or they are crediting the fee back towards project work, you have to be confident in your ability to develop the customer relationship and close the sale without the financial incentives your competitors are offering.
Here are three examples of when it makes sense to charge for your design work:
Design is your bread and butter: You are an independent landscape designer that seeks to profit from selling your landscape design services.

Big-budget work: You are a company that employs landscape designers who develop complex designs, often including 3D renderings for customers with large budgets. You sell design as a way to establish a "premium" reputation in your market.

High-risk prospects: If your landscape design ideas are complex and the prospect seems indecisive or high maintenance, charging for design services ensures you don't lose money on the deal — and it can put needed pressure on the customer to provide feedback and make decisions.
What's The Best Way To Charge For A Landscape Design?
If you are using your landscape design services as a way to get your foot in the door and score profitable installation work, then giving the design away or crediting the design fee towards the project installation are the best methods to use.
If you are investing a considerable amount of time into your designs, offering premium design services like 3D renderings, or if your business's bottom line relies on fees from design work, then charging a non-refundable fee will make the most sense.
It's important to know what your competition is doing and how you want to be perceived in relation to them. It's also important to understand what services ultimately add dollars to your company's bottom line. Read more on how to actually calculate the fees you charge in our follow-up blog post.
Using VizTerra, our powerful 3D landscape design software, can set you apart from your competition while boosting your bottom line, no matter how you choose to charge for your design services. With tens of thousands of options — from plants and hardscape options to outdoor kitchens and structures — and an intuitive interface, you can create stunning 3D designs quickly, helping you win new customers and sell more work.