This year, we've been focusing on updates that save you time — easier imports, faster pdf exports, even easier ways to personalize your client's house, from indoor flooring to custom windows, rounded fence posts to wedding cake stairs. We've brought Augmented Reality to swimming pools, hardscapes, and outdoor kitchens with YARD and we've added tools to help your clients and your team understand the details, including text tables, new project information fields, and detailed new labels.
So, this update, we're focusing on new tools, updated features, and refreshed options that make it quick and easy to personalize your client's projects with even more of the immaculate details and delightful finishing touches that will truly immerse your clients in designs they'll love.
From hardscape that automatically follows the terrain to elegantly sloped pool coves, new posed characters to beautiful autumn trees — this update has it all.
So let's make this a September to remember! Check out the update video and see what's new:
---
Draw Hardscapes that Follow the Terrain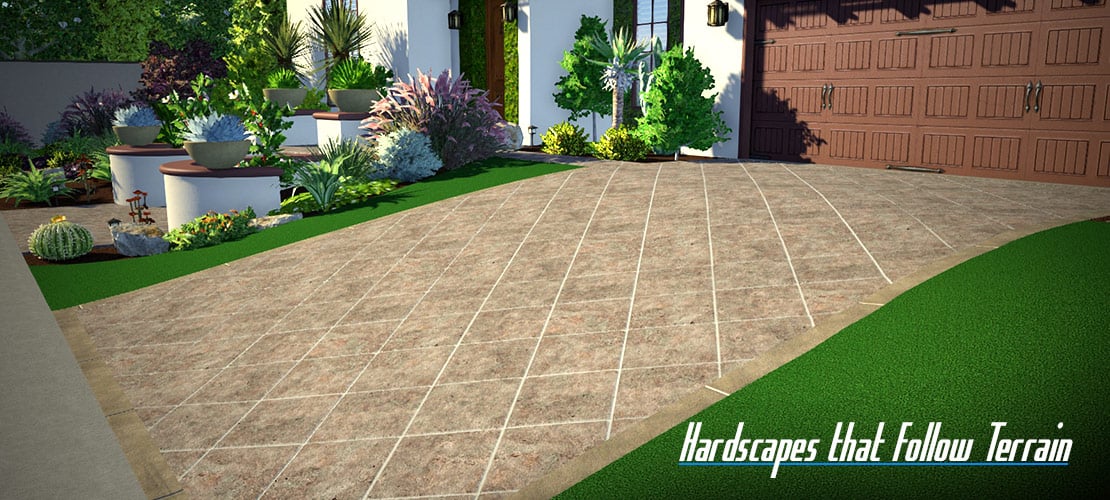 As autumn follows summer, as shadows change with the path of the sun — now hardscapes automatically follow the terrain!
The new hardscape drawing option is a fantastic way to shave a little bit more time off of each design. Now that hardscapes can automatically follow the terrain, there's no longer any need to create driveways in the Planters Stage. Instead simply draw the Hardscape you need and check the Follow Terrain box. It's easy, too, to add coping to show the border along the edge.
---
Cut, Carve, and Customize with the New Hole Cutting Tool
(Vip3D Exclusive)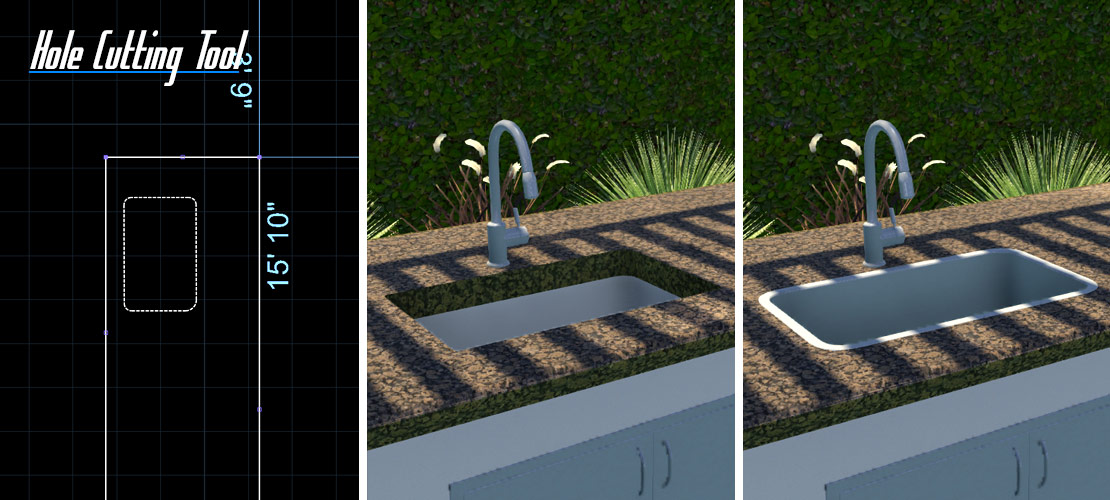 The custom details are often what truly transform a design and make it feel like it's already the homeowner's very own space.
With the brand new Carve Mode for Hardscapes, Planters, and Custom Shapes, it's easy to customize designs by creating, cutting, and carving holes exactly where you need them.
Whether you want to quickly create a hole in the hardscape to customize a sink in the outdoor kitchen or you want to make a fireplace vividly realistic with not just a place to put logs but also a chimney cap — Carve Mode makes that a breeze.
---
Create Custom Lip Styles for Pools, Spas and Hardscapes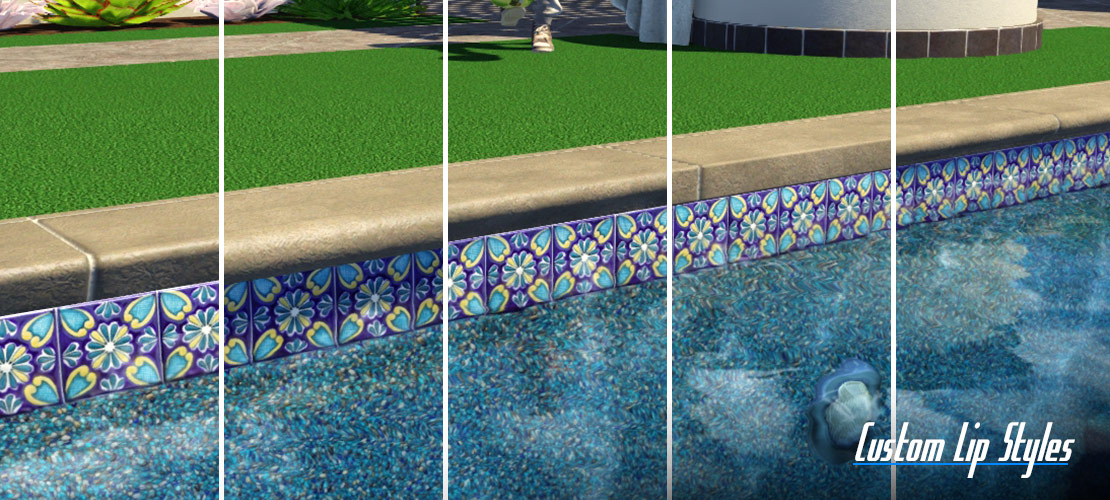 Beautiful custom pools often include far more details — and far more precise choices! — than clients often realize. What they see: an absolutely amazing new pool. What you've created: a richly layered design that takes into account their style — and their family's needs.
Even seemingly small details like the pool lip can be key to transforming a custom pool into exactly the right choice for a client. That's why, with this update, it's easy to create custom lip styles to apply to shapes.
They're very easy to create in your next project, whether your client would like to see a cantilever lip on their pool or a waterfall edge on their outdoor kitchen.
Simply draw the lip profile you need, keeping the flat side to the left, and save the new style to the Lip Style Category. Then, with the Shape selected, choose the Custom option from the drop down and apply the new style from the Library.
You'll save time — and your clients will be impressed!
---
Add Realistic Pool Coves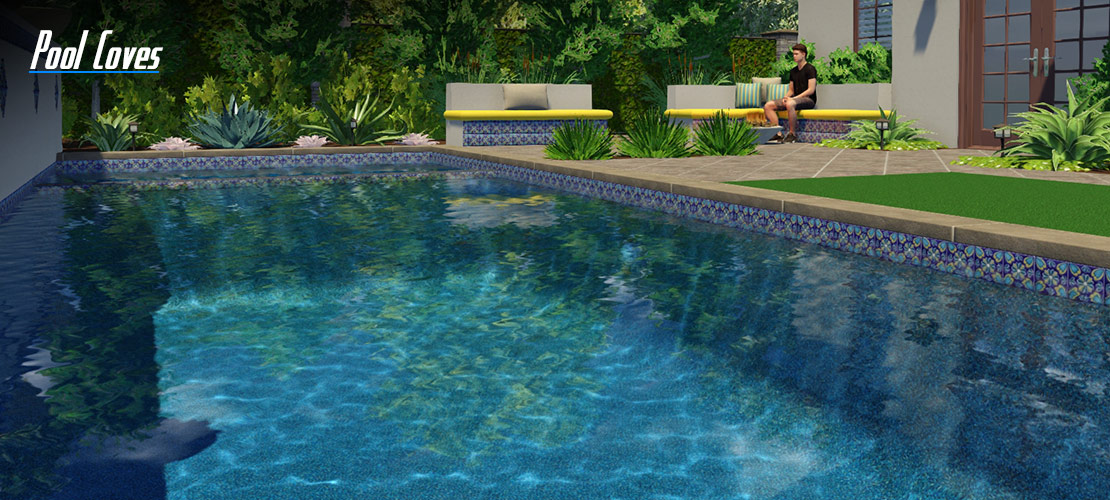 Surprising your client with extra-special details can make a big difference. Not only is it now easy to carve hardscapes into exactly the right shape and to draw pool lips to create the perfect finish. It's also simple to create Pool Coves!
The new Pool Cove option — found under Pool Slopes — gives you the option to create beautiful and inviting rounded coves where the pool wall meets the floor. The radius is easy to adjust, so it's effortless to slope the pool wall to meet the floor exactly where you want it.
---
How much more does this update offer?
Expand Max Coping and Add Coping Line

Pools, Spas, and Hardscapes are now even easier to customize, too! We received a few requests this year to expand the max coping width a couple of inches — so we expanded it by six! Now, instead of 18", the coping width around shapes easily extends all the way to 24"!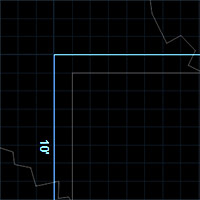 Also, the new Coping Line option gives you the choice to display your hardscape coping lines in 2D. Want to remove the coping lines on your construction plans? Easy! Simply click the new Hide/Unhide coping setting in MarkUp.
Manually Adjust Posts/Pillars
Whether creating a just quick boundary fence or a beautifully detailed custom option for your clients, customizing the finishing touches can make the difference between a great design and an absolutely spectacular one.
That's why this update makes it easy to customize the elevation of each post and pillar in Walls, Fences and Railing. If a fence appears on top of other shapes, such as the house, it's now easy to fix! Simply double click on the post or pillar to move it to the desired elevation.
Select Swatches with the Color Wheel

The right color options sometimes can be one of the most important parts of the design — even when just deciding whether to put red or white flowers on the patio! So we've now added a quick and easy way to access a palette of frequently used colors: Color Swatches in Materials and Construction.
The new Swatches tab offers a wide assortment of colors to apply to your designs. Simply click on a swatch to apply the color. Whether you're customizing the finishes in Materials or you're adjusting the line and fill colors in Markup — it's easy to use Swatches to select the perfect options.
Saving custom color swatches is easy, too: Right below the Color Wheel, there are now 14 swatches available for you to create your own palette. Simply create the color with the color wheel, click the edit icon, and select the swatch to save it. The color you've added will be readily available anytime you need it!
Show 2D Framing and More on Wood Decks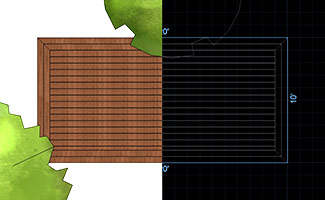 As beautiful and detailed as Wood Decks are in 3D — sometimes you need to see the details in 2D, as well. Now, with the new 2D setting under Hide/Unhide, it's effortlessly easy to display exactly what you want to see, including the wood deck framing and the surface boards.
Easily Adjust Legend Settings
Legends are such a great time-saving tool that we've decided to make them even easier to use. Now, instead of scaling and panning in Page Layout, simply adjust the text font size to resize your Legend. It's easy to adjust the settings to display multiple columns, to change the margins, and to update the gutter lines to create the perfect layout.
---
We've updated art, too!
Ready for fall? Our art team is, too! From new characters to new siding, exciting climbing vines to metals, this update includes beautiful new options that will help make it easier to personalize every detail for your clients — including beautiful Autumn versions of some popular trees!

22 New Posed Characters
Showing scale in your projects just got easier — we've added 22 new fully posed characters to the library. With more adults as well as children, it's now a snap to find and include exactly the right characters to add that extra personal touch to your project, whether you want to add Aaron grilling by the BBQ or Mira reading in a lounge chair.

New Plants and Trees
VizTerra and Vip3D now include 10 updated and 14 new plants and trees to make your landscapes even more precise, detailed, beautiful — and ready for fall weather!
Africa Baobab
Amur Corktree
Apple Tree, Autumn
Apple Tree, Summer
Bald Cypress
Barrel Cactus
Chinese Banyan
Dog Rose
Elderberry
French Marigold
Japanese Maple, Autumn
Japanese Maple, Summer
Meadow Grass
Norway Spruce
Quaking Aspen, Autumn
Quaking Aspen, Summer
River Birch, Autumn
River Birch, Summer
Southern Magnolia, Mature
Switch Cane
Wheat
Siding & Stucco
We haven't limited our updates to the outdoors! In the Materials category, both Siding and Stucco have been refreshed — giving you quick access to 60 new and improved options as well as 5 different siding profiles to achieve just the right look.
Earth, Rocks, and Vines
Continuing our theme of offering you ever more precise options that make your designs as realistic as imaginable, in this update we've also included several new rock and rock surface choices in the Earth category — along with new grass, mulch, and climbing vines.
Metal
Sharing beautiful metal options with your clients is equally easy now, too — we've added new brass, copper, and stainless steel options to the Metal category to make their design bright and beautiful.
---
Just how many bugs have we eliminated?
Minor Window improvements
Large arcs on fences will now display rails
Improved color accuracy when using color wheel and hex codes
Construction Markup defaults now work with Terrain and Contour Lines
Improved appearance in Hide/Unhide menu for Hardscapes
Starting a new file retains default Markup setting
Spillovers foam now matches than other water features
Rotated Custom Shapes no longer partially vanish when height adjusted in 2D
Measure guide is now following same constraints with grid snap
Autocomplete uses traced shape font vs last font setting
Sound objects now appear in Currently Used
Page templates from version 1 now load 2D view
Shape with 40'+ radius fixed lip
Undoing too far no longer breaks gizmo for Pergola
Fixed crash caused by invalid Video Mode scene
Some fills no longer blurry in Construction phase
Can now import exported CAD files with specific content
Fixed hover text for Select Matching in Materials
Files with SketchUp/FBX no longer load forever if model is too detailed
Move tool active when right clicking to fully undo shape
Page Layout redraws when selected for performance enhancments
Staircase width grab handles don't disappear when on a concave corner
Staircase will no longer make file slow to load if not attached properly
Auto Pool Step will now rotate/scale with parent shape correctly
Can now easily walk on complete Auto Pool Steps
Fixed crash with unattached staircase has other staircases attached
Scale Legend now present when Page first accessed in specific files
Wall and fences now show in Line Style Legend
Fences no longer have invisible boundary that causes lines to snap away from drawn line
Low Pillar Spacing no longer smears material on Wall
North Arrow/GIS now won't become unsynced
Metric Concrete setting in Smart Data value now updates automatically
Fixed crash with sharp edge between arcs in Pool shapes
Panel no longer moves when clicking Reset in materials
PDF no longer exports with errors if invalid objects are present on page
CTRL + A now works in Page Layout
Easier to see visual features and Designer Login page in High Contrast White theme
Lights added to Demo mode
Ready for More?
Want to get the first look at what we've got in the works for our next update? Subscribe and get the latest straight to your inbox.