Last year, we shared updates that covered every square inch of your clients' outdoor living spaces — the sky really was the limit, with tips on how to use your drone to map a client's property quickly. Calculators to make measuring layouts a snap, smart tools to speed up design time when make designing decks and pergolas, and new video options to make creating interactive 360 images and videos as easy as taking a screenshot.
So we're starting off 2018 with updates that will help you focus your client's attention on all of the precise details that make your design so perfect for them. New staircase options, new import options — even a faster new way to email your design to your client. All that, and much more, is available now in today's update.
Check out the update video to learn more about the new tools and features that will help you wow your clients:
---
Create Even Better Steps and Benches with Wedding Cakes and Corners Stairs
In our last update, we shared an easy new way to create even the most innovative steps and benches: the Auto Pool Step feature. Today, we're improving that already popular tool to make it even easier to create the unique steps and benches that your clients want.
Now, it's easy to create several new styles of staircase:
The new Arc/Corner step will snap to arcs and corners to create a straight staircase. The new Wedding Cake stairs offer both rounded and square options; they're named Wedding Cake stairs because they start with one small step, and then each additional step expands outwards like the tiers of a cake.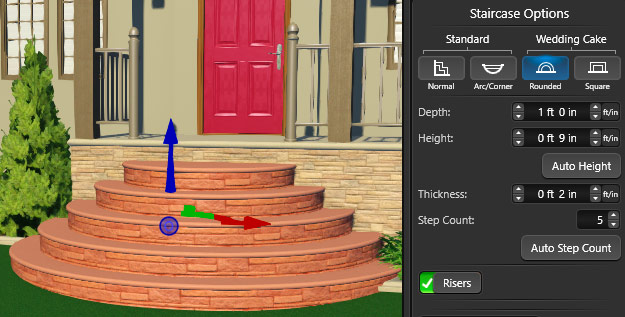 As soon as you click to insert your new staircase, you can select the new staircase style you want and then left click to place. The new staircases are easy to adjust to create the perfect new steps.
You can access these same settings in the Hardscape stage as well: just click Create Staircase, choose your staircase style, place it, and adjust your settings.
Plus, in Construction Markup, it's now easy to modify the line style for all styles of Staircases.
---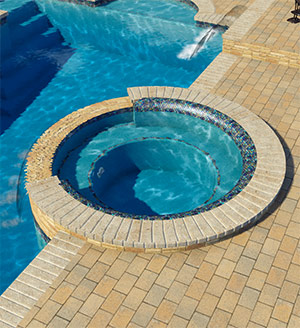 Create a Rolled Spa Beam
The new Auto Pool Step tool now makes it easy to create a rolled spa beam. It takes just a few simple steps: add the auto pool step, wrap around the shape, set the depth to zero, make it a few inches wide, and turn on the Rounded setting.
Once you've added the rolled spa beam, you can quickly apply just the right finish in the Materials stage to get exactly the right look.
---
Add Text to Tables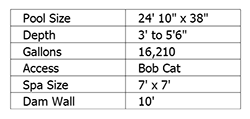 The new Text Table tool in Page Layout is a great way to now add a clean table of text to construction sheets. Whether you need just a couple of lines or a large table, you can easily choose exactly how many columns and rows to add to the new table. Then, just grab the corner handles to resize it to fit the page.
---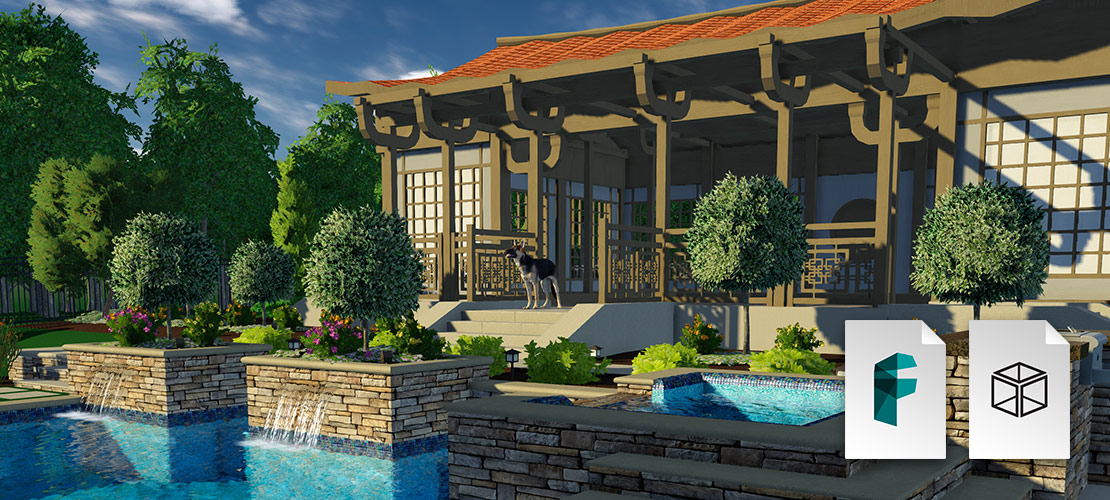 Import FBX and OBJ files (Vip3D Exclusive)
SketchUp models and 3D drone maps have proven to be two exciting, time-saving design tools — so we have now made it even easier to import 3D models and drone scans directly into Vip3D.
FBX and OBJ file support means it's now easy to import 3D models from any other modeling software! Plus, models imported as FBX files are as easy to update and edit as SketchUp files: just click the button in the panel or import menu and select the model you wish to load. Then, apply any materials from the Library to make the imported file match the existing content in your project. Once you're done, you can easily save your results to your Library.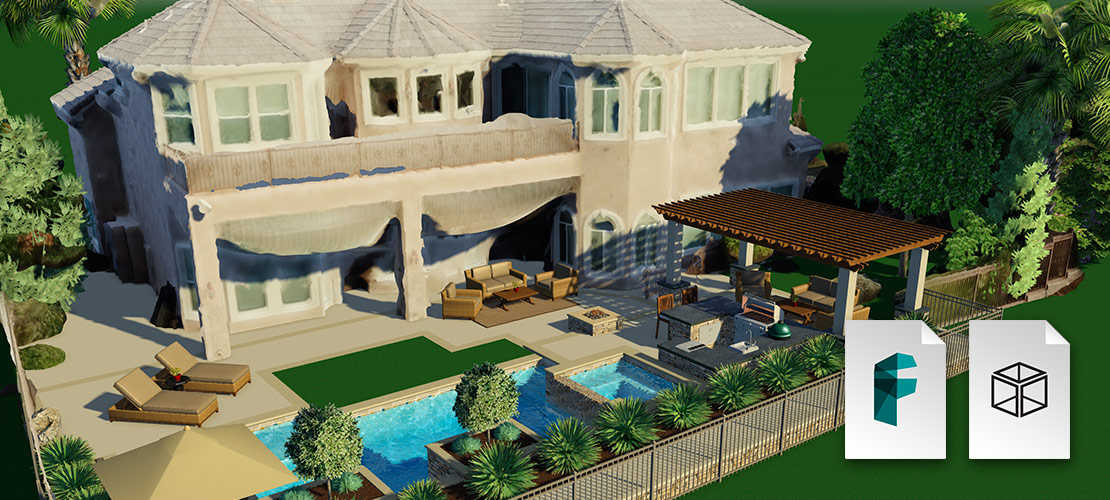 Because 3D drone scans can now be imported straight into Vip3D — instead of needing to be imported into SketchUp first — the results are even better than before. Simply download an FBX model from DroneDeploy or Pix4D and then import it directly into Vip3D. It's much easier and the results with FBX are higher quality.
---
How much more does this update offer?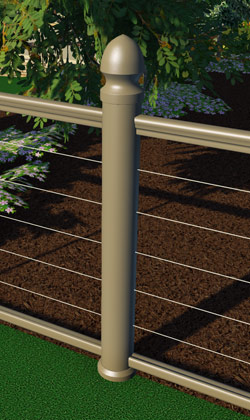 Create (and delete!) round posts for Walls, Fences & Railing
Giving your clients the exact look they want just got easier. With this update, you can instantly create round pillars and fence posts. Just check the box — you'll see the update right away! You can also visit the Library to see the new round caps and skirts.
Plus, saving time by deleting fence posts in 3D is now easy to do in the Walls, Fences & Railing stage. Just double click to select the post you want to remove and press delete: it's that easy.
Add new fields to the Project Information tab
Whether you want to add your client's email address or include their phone number — you can now instantly add that information and more to your projects. You can now add details when creating a new project or when accessing the Project Information tab. Plus, in Vip3D, the Smart Data tools mean that all of the information you add will automatically be included to the Page Layout.
Once you add your client's email address to your project, you'll now see a new advanced signature field that gives you greater control over what your client sees when you send screenshots. To make it even easier, the recipient field will be automatically filled in for you.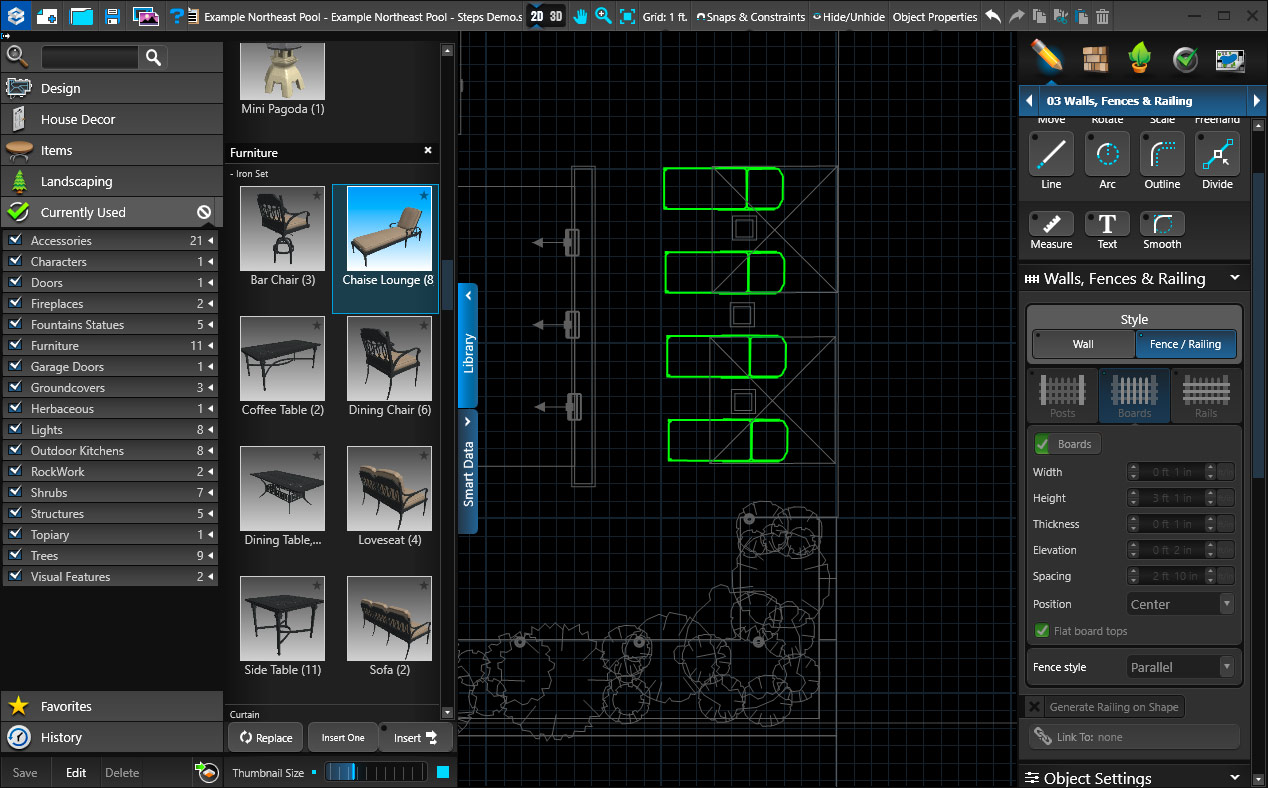 Show selected 2D scene content in the Currently Used Library
It's now easier than ever to locate exactly where you've placed your design elements. When you browse your project content on the Currently Used tab, you'll see a new highlight appear. It will help you can quickly and easily locate exactly where you've placed your design elements.
Export PDFs at a smaller size
When you're exporting your pages to PDF, you'll now find a new smaller file size — making PDFS even easier to save and share. Embedding custom fonts directly into your PDFs is now easy to do, too.
Share new sound effects with your clients
Offer your clients an even more immersive experience when you choose from the 5 updated songs and 5 new sounds in the Sound FX Music category to enhance your next design.
---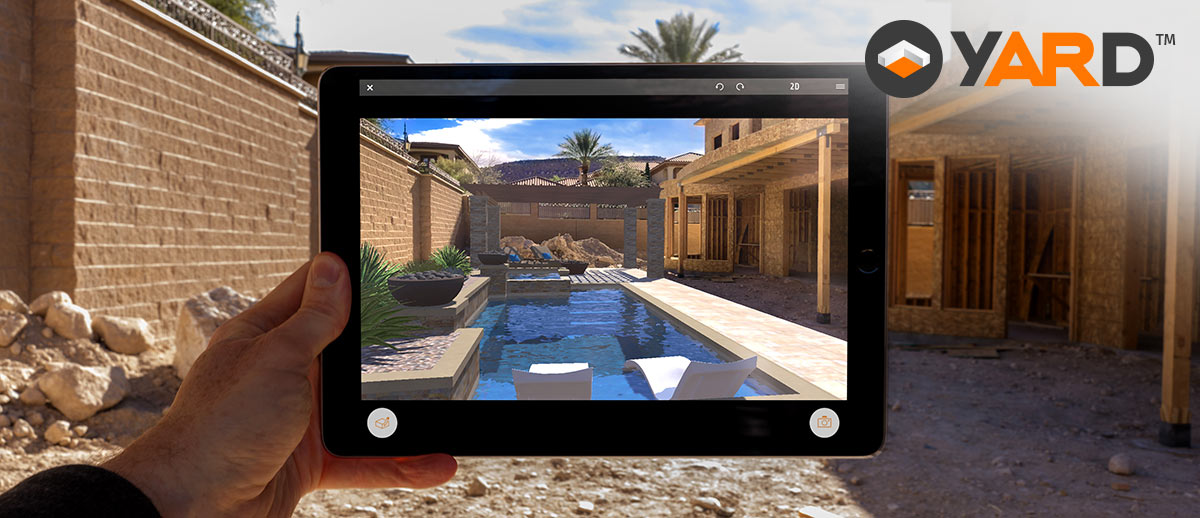 YARD
Structure Studios is also proud to introduce YARD: Your Augmented Reality Designer. Our first mobile app (available for the iPad Pro), YARD creates a portal to the future that gives your client a brand new, totally unprecedented view of their future swimming pool, hardscape, and outdoor kitchen.
Linked exclusively with Vip3D, YARD makes it easy to reveal your design ideas in Augmented Reality: just click the YARD button on any existing Library content you've saved or select design elements with Move and click the YARD button you'll find at the bottom of the Library.
You can also locate the YARD sharing options in the Export menu. To see any changes that you've made to your design while using YARD, visit the Import menu. There, you'll see a list of designs created in YARD that can be viewed in Vip3D.
Please note that, once a design has been uploaded to either YARD or Vip3D, changes to features cannot be made in the other application. Instead, simply edit the features before uploading to YARD from Vip3D, or from Vip3D to YARD.
Welcome your clients to their future: share with them the most groundbreaking new way of exploring outdoor living designs. Visit structurestudios.com/YARD to learn more.
---
New Vendor Options
Wet Edge
Visit the Materials stage to see the 47 new finishes from Vendor Partner Wet Edge.

Barrier Reef
Check out the new Coral Sea 31 Lounger shape that Barrier Reef has added to their package.
Pebble Tec
See the five new finishes that Pebble Tec has added to their selection.

---
Just how many bugs have we eliminated?
Unable to search for symbols you created
Turning off coping changes material
Drains and Mosaics do not display category name in Object Properties
Remove signature from the message box of email field if signature is turned on
Opening specific file causes font in library templates to change
Round Lip Steps Next to Auto Step with Rounded Lips Have Geometry Error
Material smeared on Round Lips
Hiding Guides & Measurements hides Markup
PDF Errors during export - Large Font Size
Sound & Text FX Bubbles Appear Up in Exported 2D Images and PDFs
Locked layers in Page Layout not locked on reload
Generate Railing button not always visible with Wood Deck selected
Material changes when spillover hidden
Issues when software resolution differs from PC resolution
Diana Rose of Sharon had missing textures
Lip missing when Staircase is next to Pool
Crash when adjusting stack order of content in markup
Outline tool uses outlined shapes font vs set font
Cannot draw below 1"
Lines do not snap to Guides as strongly as shapes
Prevent file names from containing special characters
Material smear with hardscapes along pool edge
Cannot use Shared GIS credits if no Personal Credits available
Spillover around multiple corners can cause material to smear
Dragged points snap to other points with Point snap off (say that 10 times fast)
Pool in a Planter in a Hardscape can cause pool interior material to flicker
Rounded edge on Steps & Benches cause some steps to not appear correctly in 3D
---
Ready to see what's coming up next?
Today's updates are just the start of what our team has planned for the rest of 2018. We think that everything can always get just a little bit better — even the most intuitive and user-friendly design software, and even the most visually stunning presentations.
So to get first crack at what's coming in our next update, click subscribe and we'll send it straight to your inbox.