A good design is more than a sketch or print out. You pour your blood, sweat and tears into crafting the perfect design for your customers — bringing their pool and landscape wish lists to life.
While it may sometimes seem like a simple process to homeowners, creating designs that sell takes valuable time and effort. And you want to make sure you're earning what the designs are worth.
For starters, we've listed three mistakes to avoid when calculating your fees:
Not charging for designs
Changing the way you calculate fees
Being unclear about revisions
To figure out the best method to charge for your skills, we've also included five ways to calculate your landscape design fee:
Hourly rate
Flat rate
By acre/square foot
By minimum project size
By percentage of the budget
Here are tips, techniques and advice from design experts.
3 Mistakes to Avoid When Calculating Your Landscape Design Fee

First, let's talk about the mistakes landscape designers frequently make when calculating how they'll charge for landscape designs.
Not Charging For Designs
One of the biggest mistakes a designer can make is not charging for their services at all.
"If you want to serve a part of the marketplace that values designs and understands what a beautifully built landscape can bring to the table, you have to charge for it," says Susan Cohan, APLD, principal of Susan Cohan Gardens. "If they aren't willing to pay for a design, it's because they don't value it. Then you have to question if you want to work with the client."
Changing The Way You Calculate Fees
Also, don't change the method you use to calculate fees depending on the project or what the client wants.
"I tell the customer why my process makes the most sense for them," says Jody Shilan, executive director of New Jersey Landscape Contractors Association and editor of fromdesign2build.com. "You're not going to win over every client, but have your process and stick to it. Don't bend every time a customer wants something different."
In a multiple-designer office, everyone should bill the same way, Cohan says.
Being Unclear About Revisions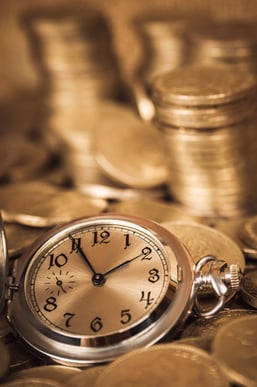 Another issue that can cause designers serious headaches are revisions. If you design by hand, revisions can be time consuming. That's why Shilan does not offer revisions as part of the package. If a client wants changes, he will make those at his hourly rate.
"Revisions can be the death of these kinds of things," Shilan says. "Customers keep making revisions, and that is when designers get stuck."
Designers using software can make those revisions more easily, so they could include those in the design contract. However, "revision" can be a broad term – meaning anything from rounding corners on a patio to completely redoing the design — so be sure to specify what you will and won't do.
Figure Out Your Hourly Rate
By charging hourly, you guarantee you'll be paid for all of the time you work.
Designers charge anywhere from $50 to $150 an hour, with the majority in the $50 to $75 range, Shilan says.
When you start to calculate your rate, base it off of all of your experience: training, certifications and years doing design work. For example, Shilan is not a registered landscape architect, but he does have decades of experience in the design/build industry. He charges $150 an hour for his services.
"Charge what you're worth," Cohan says. "Go online, and find out what the standards are. Don't undercharge just because you think someone isn't going to pay it."
However, sometimes customers aren't as comfortable with this approach because they might not be sure how much it will cost overall, Shilan says. "They don't want to keep it open ended," he says. "You have to give them some sort of number."
Once you add more projects to your wheelhouse, you'll be able to give clients a better idea of how many hours you'll need to work.
Cohan uses an hourly rate to calculate her fee, and she starts charging from the minute she gets into her truck to go visit a client. Keeping up with hours can be a little difficult when switching back and forth between clients, so consider using management software to keep track of your time.
"Although more cumbersome, charging hourly is probably the most accurate method for billing all the time you work on a project," Cohan says.
When and How To Offer a Flat Rate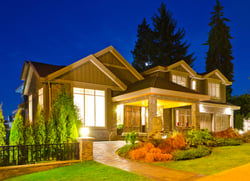 If you want to give clients an exact fee, use your hourly rate and design costs to create a flat rate. Shilan says he normally factors six to eight hours of design time into the rate. He uses this approach when he is creating a design for a landscape contractor.
You can also break up each part of the job, Shilan says. For example, you would charge for the first meeting and site analysis. Then, you would charge a flat fee for a concept plan and so on until you reach the final plan.
"This way, customers can stop at any phase if they don't like you or the ideas, and you get paid for what you did," Shilan explains.
Percent of Budget: Pros and Cons
Perhaps the riskiest option, design fees based off of a percentage of the client's budget can create a win-or-lose scenario.
"The designer could have a windfall because the project is expensive and doesn't require a lot of their time," Shilan says. "But most likely, it will be the other way because the designer gets hammered having to spend so much time on site making sure the contractor is doing what they should be doing."
If you go this route, Shilan suggests charging 10 to 20 percent of the budget. So, if the client pays $60,000 and you charge 10 percent, you would make $6,000.
You can include site visits in the contract, but be specific: Does a site visit mean five minutes or half of the day?
Charge by Acre or Square Foot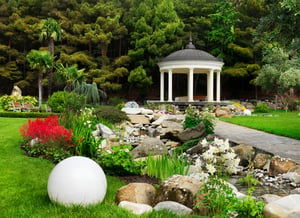 Similar to how taxi drivers charge passengers, Shilan uses an acreage rate to come up with his fee.
He breaks down his price points by acre: $1,150 for up to a quarter acre, $1,400 up to a half acre, $1,650 up to three-quarter of an acre and $1,900 up to an acre — and $350 per quarter acre after that. Shilan uses the same amounts per acre no matter the property type or location, which shows high-end clients he isn't marking up their price.
You'll need to use past experiences to figure out how much time and effort goes into each project size. You can also do it by square foot.
This approach helps because you can tell the client right away what the cost will be…instead of going back to the office, crunching numbers and possibly losing the client's interest. You can look at Zillow.com or another real estate website to see how many acres or square feet there are at a site.
Structure Studios' VizTerra and Pool Studio software also allow you to type in a property address and calculate square footage, dimensions. It gives perimeters with direct access to high-resolution GIS aerial imagery and elevation data.
Should You Have a Minimum Project Size?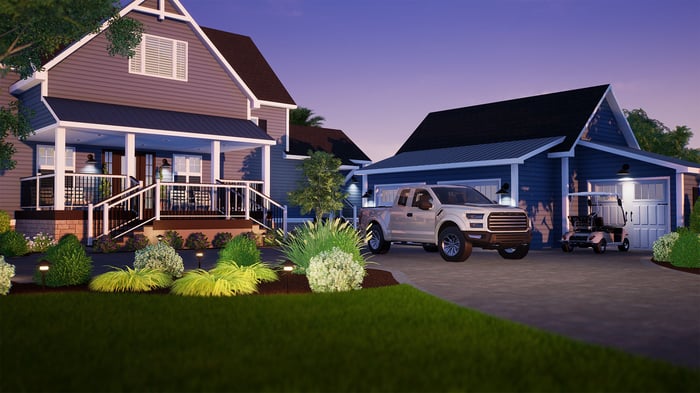 Sometimes a client will ask you to split up the project, designing either the front or backyard, instead of creating a master plan for both at one time. If that's the case, Shilan suggests charging 75 percent of the entire space's design fee.
"It's not a 50-percent proposition because the majority of the work is in the beginning," he says. You could start out by charging $300 to $400 for the backyard and $250 for the front.
If you take this approach, be sure to think about future plans the homeowner may have for his or her landscape. You wouldn't want to install a paver driveway in the front, only to tear it up later when a client decides they want a pool in the back.
Designs Need to Back Up Your Fee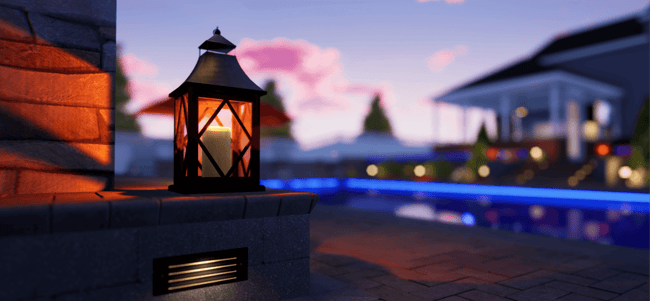 No matter which method you use to calculate your fees, you need to make sure you can create designs that will wow and sell customers.
Your landscape and pool clients want to see what their yards could look like, and Structure Studios's 3D swimming pool and landscape design software allows you to do that and more. You'll be able to create stunning designs, allowing you to charge more for your work. You can even share your designs with videos, setting you apart from your competitors.