Designer Shane LeBlanc has built a career that takes him both around the country and around the world to design the spectacular pools that have helped him grow from a once-small landscaping company into an award-winning outdoor living design company winning seven-figure contracts.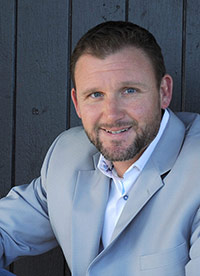 When LeBlanc started out in landscaping in the mid-90s, he started his own company, Selective Designs, where he established himself as a designer by working on small projects. But when an opportunity came to work at Delta Airlines, he temporarily left landscaping to work as a mechanic specializing in electronics, wiring, and pumps.
Those practical skills he honed at Delta sparked his interest in returning to landscaping in 2005.
However, successful as his re-entry into landscaping was, the recession that hit three years later meant LeBlanc needed to move quickly to expand his business enough to stay competitive.
In order to do that, LeBlanc looked for ways that he could inspire his clients to choose his designs — even during a recession.
---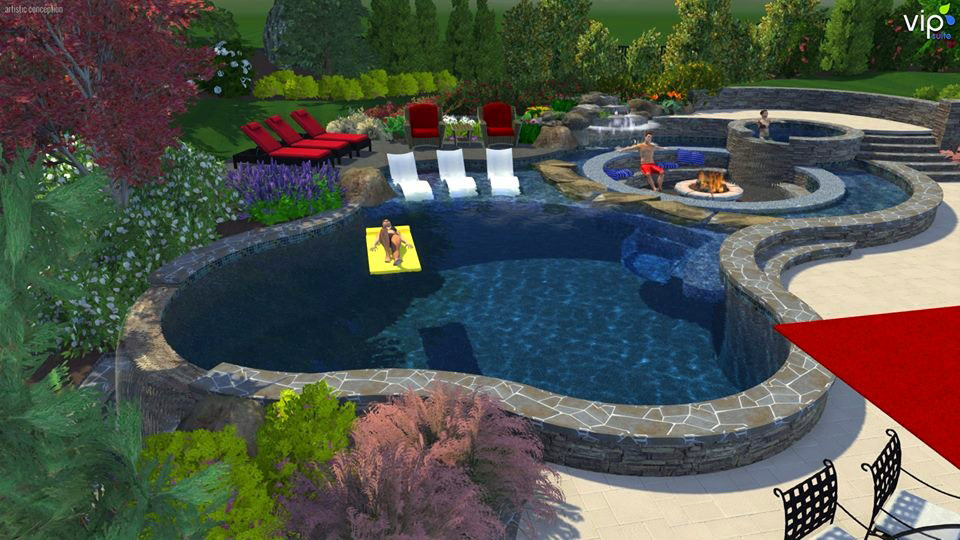 Looking for New Opportunities
One factor that LeBlanc felt was limiting his growth: hand drawings.
Whether he was designing landscapes or outdoor kitchens, drawing designs by hand was not giving him the results he wanted. He says, "my hands were always tied. I can draw by hand, but it's not that WOW moment or that WOW Factor."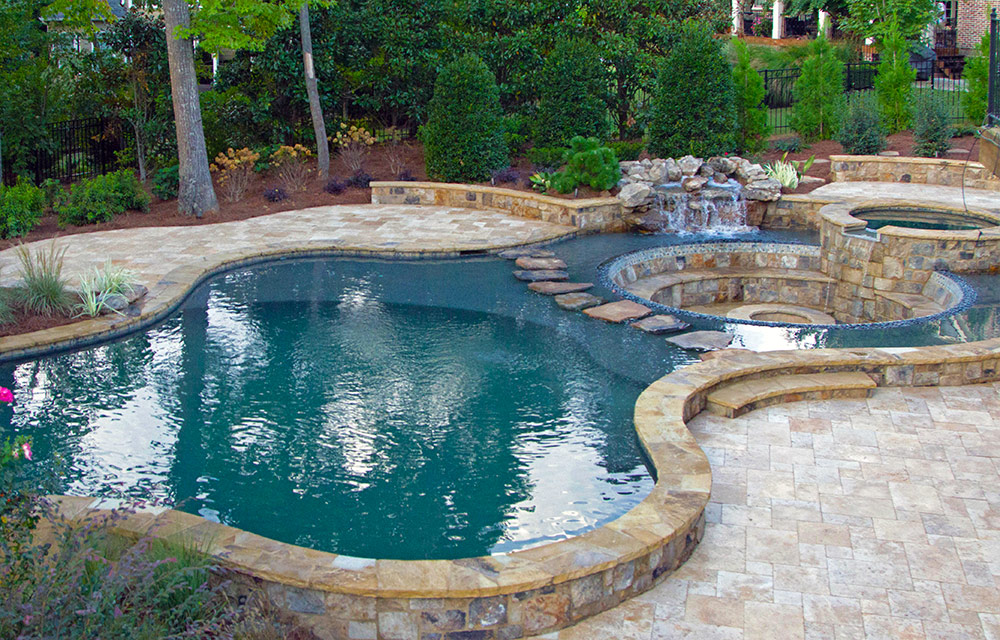 What LeBlanc wanted was a new way to communicate his vision to his clients — one that would not just amaze his clients but would also help him achieve for his clients the spectacular results he knew were possible.
"We took off like a rocket for about two or three years," LeBlanc says. "Then the recession hit and we had to scramble to do everything just to survive. I couldn't live on just landscaping so we started doing outdoor kitchens. I needed another avenue."
---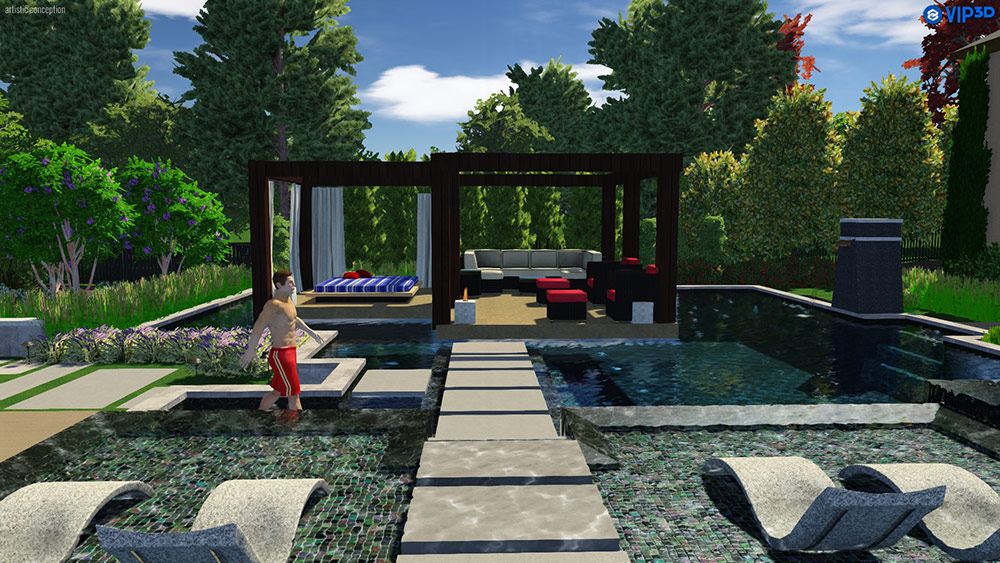 Discovering New Paths to Success
LeBlanc had found, in those first three years of his return to landscaping, that many clients really wanted complete outdoor living projects: kitchens as well as swimming pools. "I kept finding out more and more and more that if I wanted to do Outdoor Living, then I would need to add the aquatics side."
In order to offer his clients great pools, LeBlanc returned to school. He attended the Genesis school, and took the Waterscape program, where he studied with talented designers whose work inspired him to achieve the success they showed him was possible.
That education, following his schooling for Delta as a mechanic, and his business management schooling, as well as his childhood training growing up on a turf farm, was how LeBlanc prepared himself to succeed as an outdoor living designer: "I just kept going back to school," LeBlanc says, joking that he began to call himself "The Outdoor Doctor" because of how much schooling he pursued.
---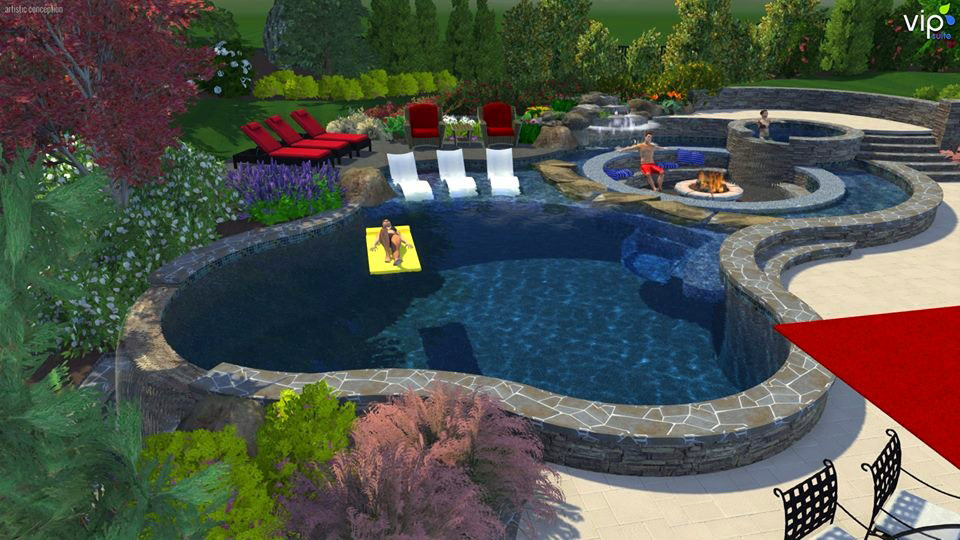 Finding Motivation
One important motivator for LeBlanc, as he continued his education and completed the rigorous Waterscape program, was the desire to earn for himself the success he saw his teachers enjoy.
"I had an instructor named Michael P. Johnson who did really beautiful work. He was actually a professor at Taliesin West, which is [part of the] Frank Lloyd Wright School in Arizona." After seeing how Johnson's beautiful pool designs earned him glowing reviews and positive attention online, LeBlanc set his sights on achieving the same for himself: "I said to myself right then, 'That will be me one day. I have to have that one day.'"
In order to reach that level of success, LeBlanc realized, he would need to differentiate himself. Initially, he said to himself, "'Well, I'm going to try these really unique pools just to build my portfolio.'" From there, LeBlanc began to achieve his goals: "My portfolio started growing and growing and, before you know it, it got to where it is now."
---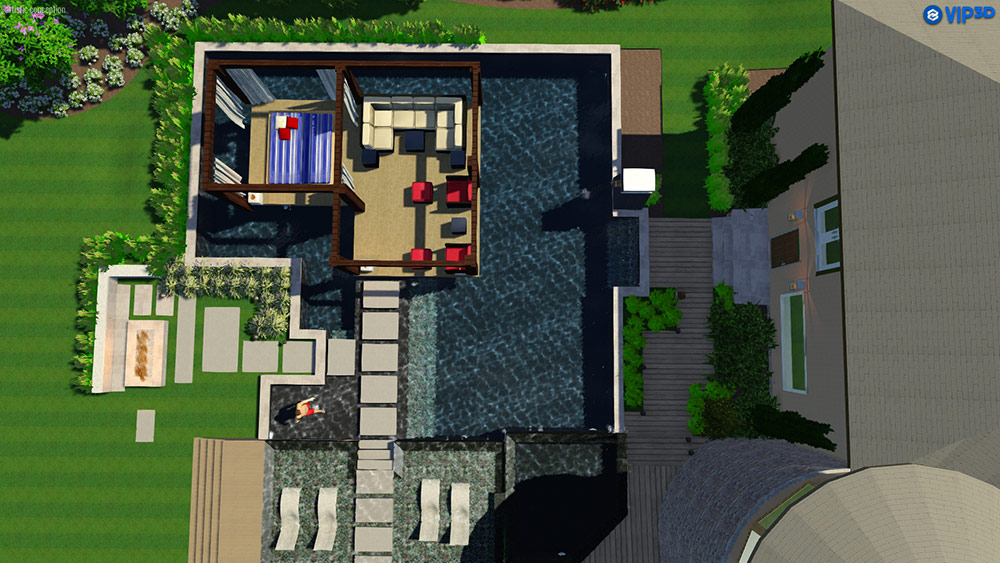 Building His Reputation
As he focused on his desire to achieve success, LeBlanc realized he needed to find a new approach that would help him create and share his impressive designs.
He was, initially, dubious of the merits of 3D design software.
After he bought a small pool company, he says, his new partner suggested that he give Pool Studio a try: "[he] kept telling me, 'Hey man, you got to try this.' Then I kept saying, 'Are you crazy, I'm not using that, I'm drawing by hand! That's how we've done it for years!"
However, LeBlanc also realized that drawing by hand was a lot harder than designing with software and he decided to try out Pool Studio.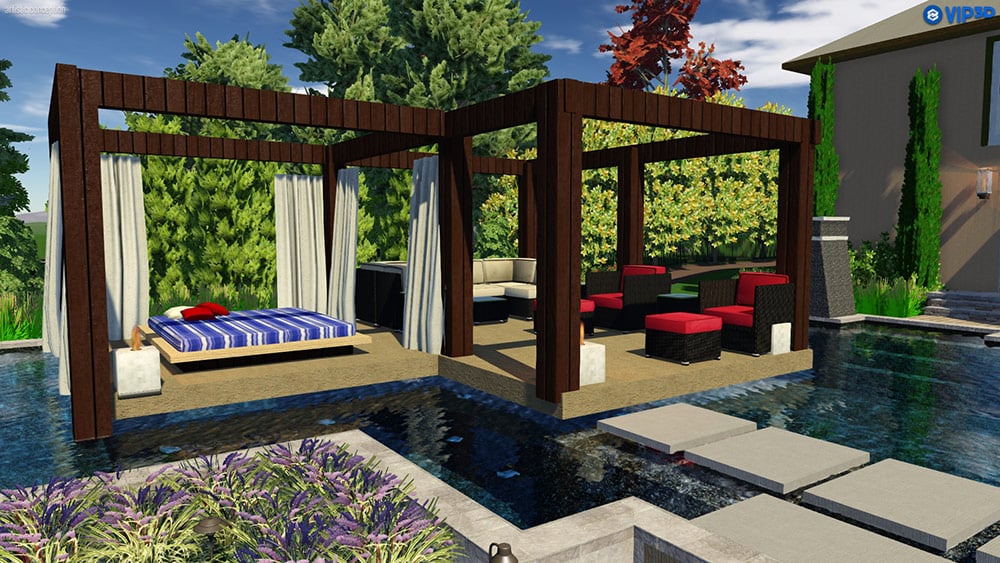 Pool Studio was not, in fact, LeBlanc's first introduction to design software. While studying at the Genesis School, the program required him to choose to study CAD, Pool Studio, or SketchUp — and LeBlanc, who initially tried only SketchUp, was not impressed.
Following his new business partner's advice, he turned to Pool Studio. "When I did," he says, "The sky was the limit from there on. It was everything I needed."
---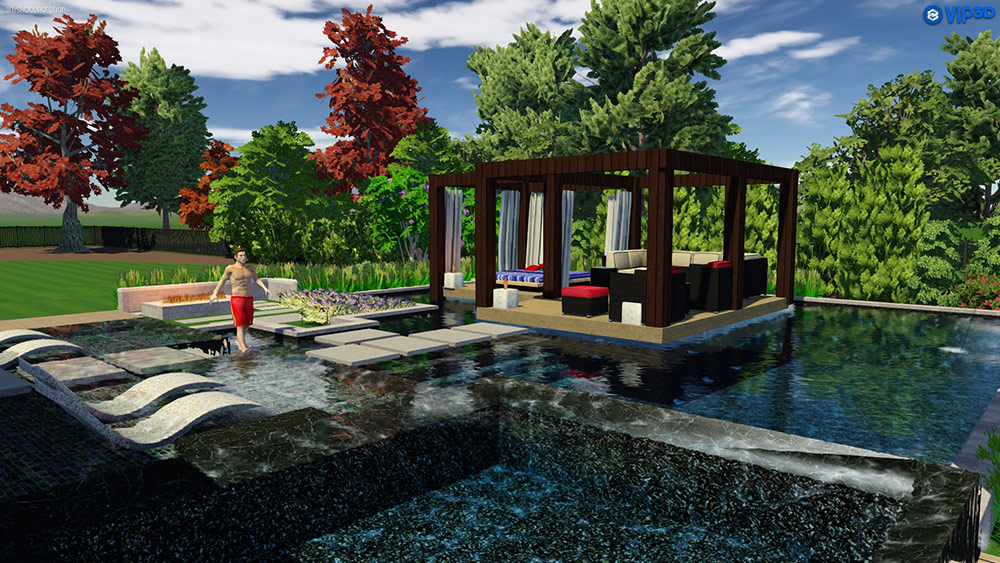 Seeing Immediate Results
The difference between drawing by hand and designing with Pool Studio and VizTerra was immediately evident to LeBlanc, who used both programs in order to design outdoor living projects for his clients.
When Vip3D was released, LeBlanc was very pleased. Vip3D, for LeBlanc, offered him everything he was looking for in one package: all of the landscaping tools and pool design tools he needed, plus extra outdoor living tools that he found to be "freaking awesome!"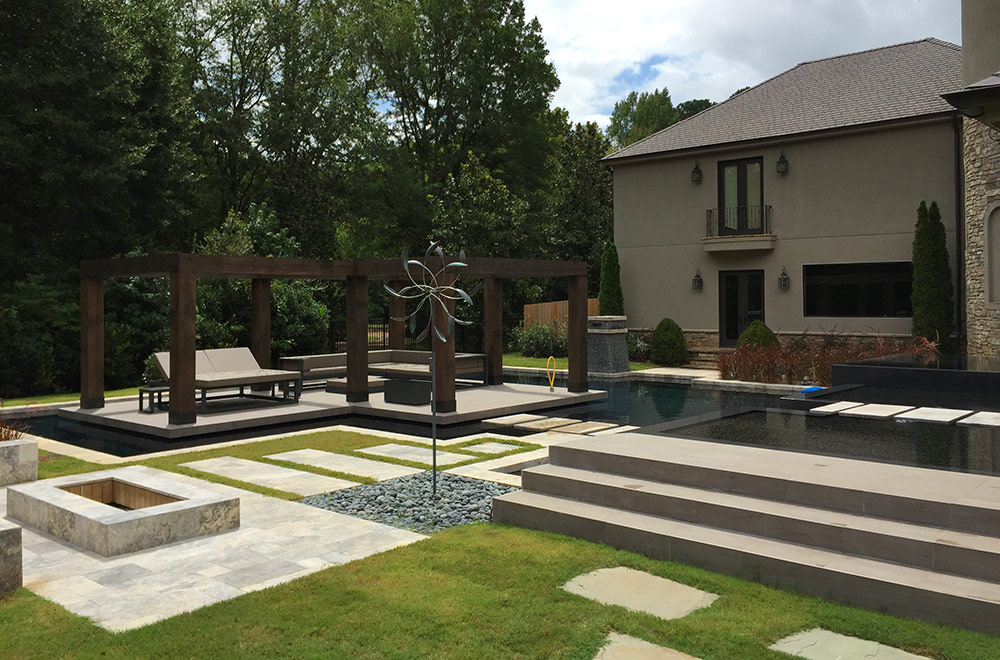 "As a matter of fact," he says, of Vip3D, "I got really into trying to find different things. For example, I'm importing chairs and stuff like that from SketchUp," in order to personalize his clients' designs with the special touches that help him create that "Wow Factor" he seeks.
"The speed of what Vip3D does is unbelievable. It's just unbelievable compared to what you have to do in a program like CAD or something like that. [Vip3D] allows me to put all my ideas on paper easily."
LeBlanc has been so pleased with his results, he says, that he is now at the point where he is "convincing a good bit of my buddies that are Landscape Architects to just try it," especially since "it's really easy for sharing files as well."
---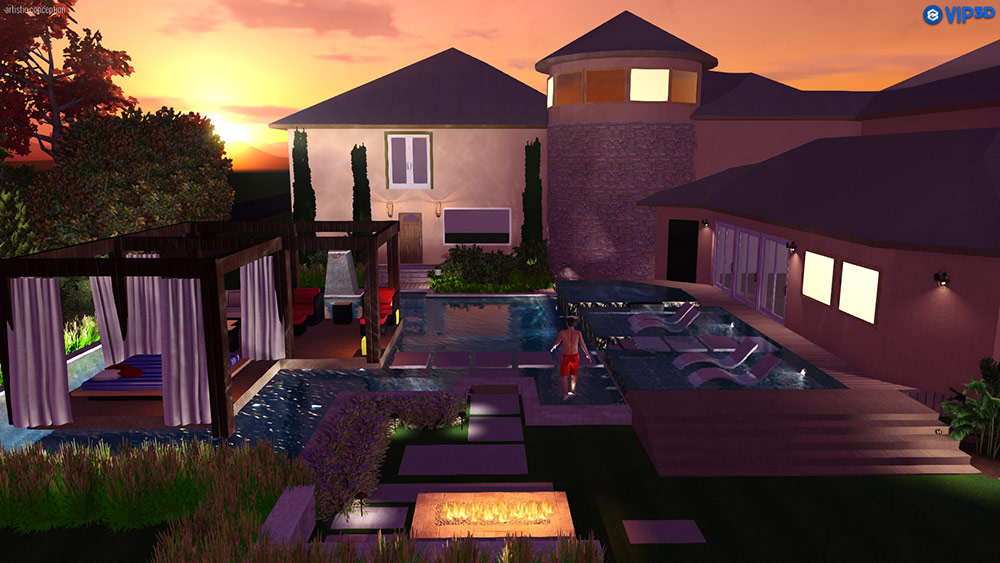 Reaching VIPs with Vip3D
As LeBlanc began to use Pool Studio, VizTerra, and then Vip3D, he realized that taking advantage of 3D design software was giving him a significant edge.
That edge meant that LeBlanc had expanded enough to take on interns, as well: "Any of my interns that come in were raised on 3D Max and some other stuff. I just tell them, 'This is the program you need to use.' And they love it. Now they're using it and I love it."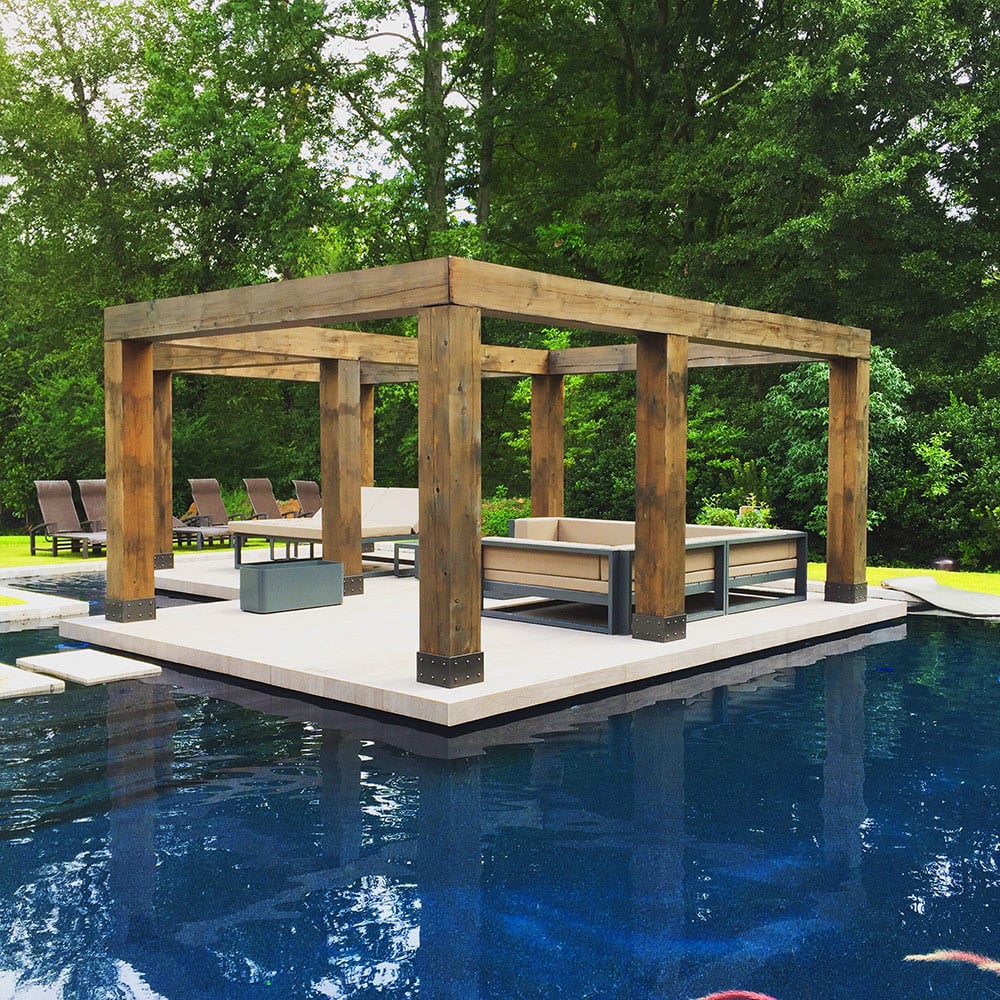 The speed with which LeBlanc picked up on the merits of Vip3D meant he quickly saw new opportunities: not only was he winning contracts to do high-end residential pools, but he also realized that he had what he needed to take on corporate clients, too. "I'm actually taking Vip3D and doing commercial facilities now. I have designed 3 or 4 commercial facilities that are finished and they look unbelievable," he says.
That speed, and that "Wow Factor," are what make it possible for him to work with both corporate clients and homeowners at the same time.
"One of my clients is ClubCorp, which is one of the largest owners of golf courses in the world. The program allowed me to get to the corporate level because of my speed. I could draw a preliminary plan quickly for them to be able to send to corporate. So it worked really, really fast and they were just amazed at it because, from anywhere else, it would take thousands of dollars to get [a design from] a landscape architect and have it done it in Revit or 3D Max or other programs, which would [also] take a lot more money and time."
With Vip3D, LeBlanc can cut the time — and the cost: "I, on the other hand, can finish something in a course of a weekend to give them what they need. That's neat!"
---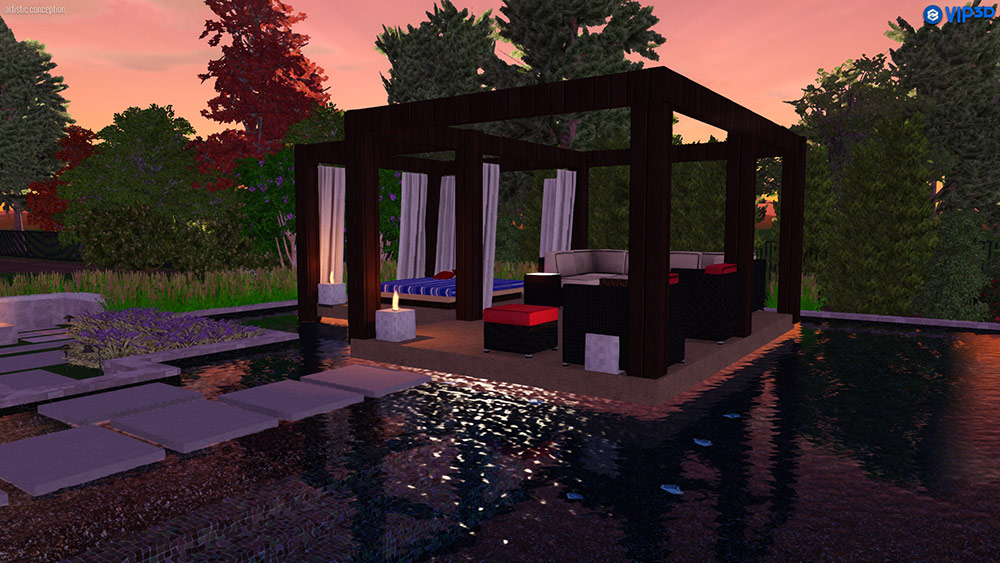 Communicating with Clients
The size of the projects LeBlanc undertakes mean he also seeks out new ways to make sure he and his clients stay on the same page.
"A lot of the time," he says, "people are hiring me based off my existing portfolio and they want that. Then I have to it change it little bit because I never design the same thing twice."
The wide variety of clients LeBlanc works with means that, often, just talking to the client about what they want is only part of his strategy.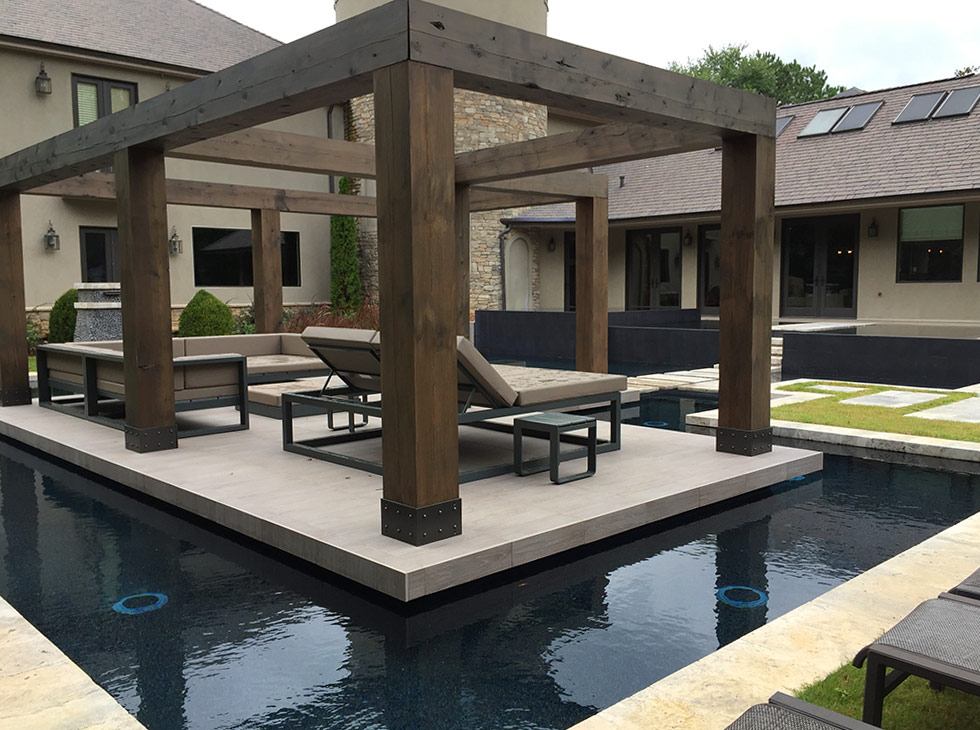 "If you notice my portfolio, I have a huge variety of styles and it comes from the client. It is from contemporary to Rustic to formal," LeBlanc notes. So when clients approach him because they like what they see — he then needs to narrow down what they like in order to find their personal style.
While using Vip3D means he can personalize every detail, LeBlanc also takes advantage of social media tools that help him discover and understand exactly which features, finishes, and details he should add to a client's design.
One way LeBlanc handles the practical details of learning what a client really likes is to use social networks, including Houzz, to get his clients discussing both what they like — and what they don't:
"I typically send them to Houzz and have them pick out 75 pictures of projects that they like and then have them send me 5 of them. That means they have to flip through all the ones that they don't like. I also get them to label inside each picture. For example I'll say, 'If you like the pillow cushions on that picture, fine. But tell me that it's pillow cushions that you like and not the shape of the pool because a lot of times they'll send me stuff that has nothing to do with the shape."
By encouraging his clients to interact with online portfolios, LeBlanc can discover both the large-scale features that his clients admire as well as the seemingly minor details — like pillow suctions — that help him discover "the wow factor" that make his projects so successful
---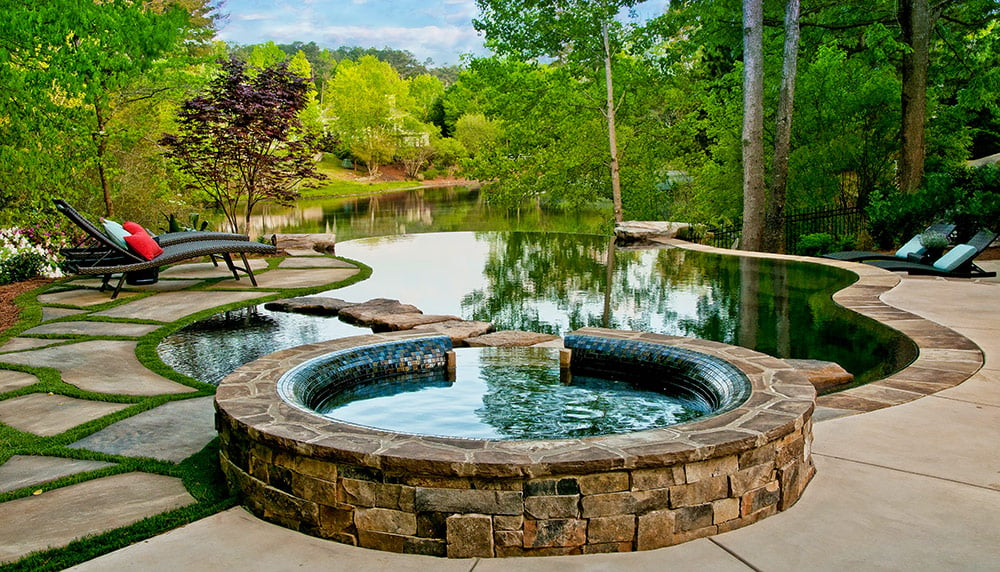 Achieving the "Wow Factor"
Creating that "wow factor" has helped him achieve the success he sought when he returned to school: "Lo and behold, that [decision to differentiate myself] was 5 years ago. Now if you Google my name as 'Shane LeBlanc designer,' I have more pictures than . . . my teachers that taught me."
The reputation he's built designing with Vip3D has helped LeBlanc achieve results he takes pride in: "I worked and I worked and I worked," because, he recognizes, "You're only as good as your portfolio."
"Imagine somebody giving you a quarter of a million dollars. You're an artist and everybody needs a canvas, but everybody can't get a canvas. Well, for somebody to give you the opportunity, to say, 'whatever you're thinking in your head, we will give you a quarter million dollars to put in my backyard'?"
As a designer, LeBlanc especially enjoys seeing the final results for his clients: "Christmas Day is when we get to turn the pumps on. For me, I get to see what I designed as far as water and transit, and that's my Christmas Day."
"Plus, I get to build it and get to [be] hands on, playing with my piece of art. So not only do I get to draw it, I get to get inside of it and see how it goes, the whole nine yards."
Imagine what your own "whole nine yards" might look like — try Vip3D for yourself and see what you can create.