With this Spring Update, we are sharing with you new timesaving tools and features that will help you design beautiful projects for your clients. Whether you are working from home this month and presenting projects remotely to clients or you're gearing up for summer and helping your team stay healthy and productive during uncertain times — this update offers the tools that will help you design projects quickly and easily.
Last year, as we marked the 20th anniversary of the very first swimming pool that Noah created, we focused on polishing and refining the tools that make it so rewarding for clients to be able to see and experience the beautiful pools and landscapes you design for them.
That included new drawing tools (like custom coping and scoring), new time-saving tools (like automatic Spell Check), and new Smart Data tools (for staircases, steps, and benches).
Now, we're continuing to develop and share more client-pleasing, timesaving tools. We're making it quick and easy to create incredible new shapes, we're expanding right-click menu options, and we're adding tools to construction markup.
Ready to see what's new? Check out the update video:


---
Quickly Draw Ellipses and Ovals

Tall and narrow, wide and short, nearly round, or just about any other shape you choose — ellipses and ovals are easy to create with this new tool. Simply push and pull — like magnets do! — to get the exact shape you need.


Need to create an oval spa? Now, it's easy. Start by selecting the circle tool. While holding down shift, click and hold your left mouse button to first set the length of your oval and then set the width.
Whether creating an oval spa, oval stepping stones or any other elliptical shape, changing the dimensions is easy with the move tool. Simply click the blue points to uniformly adjust your shape!
---
Design Specialty Windows

When you are personalizing every detail of a project, you need a quick way to create your client's beautiful custom windows.
With the new specialty window options, you can create triangles, trapezoids, and pentagons with ease.
Does your client have an angled window following the roofline of their house? Insert a Standard Window, add the arch top and choose Angle. If you need to mirror the window on the other side, copy the window and press Flip Arch/Angle.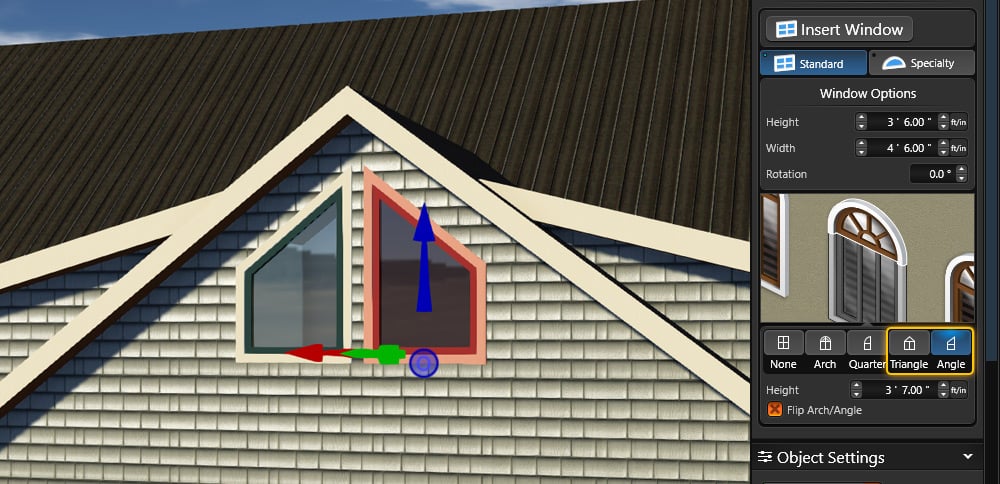 You can even add Triangle Windows. Insert a Specialty window select Triangle, and set the height and width you need.

This Spring Update is filled with tools and features to help you shape your projects and make it even easier to offer your clients personalized options that make their outdoor space feel like home.
---
New Fence and Railing Styles

One great timesaving tool: new Fence and Railing presets. There are 35 completely new presets that have been created to match the styles you need.
It's easy to quickly insert one of the new styles and even modify it to achieve just the right look. If you need to add an extra rail, Adding a Rail will now automatically match your shape.
When you generate a railing on your hardscape or deck, the program will remember the last used railing, making it easy to complete your design. Plus, if your railing continues down a staircase the post will now end on the last step instead of the ground.
---
Save Material Scale and Rotation

Until now, the software would automatically assign the default scale and rotation from the library every time you drew a shape.
With this update, if you need to scale a tile by 50% and rotate the lay pattern 45 degrees, the next shape you draw will use that same scale and rotation.
And as you customize your pergola finishes, you now have the option of applying a unique material to the top, bottom, and sides of the solid cover. It's a great way to match the roof of the house.
---
More Right Click Options
Find new ways to shape your design with the Right Click menu.
View in 3D from Design Stages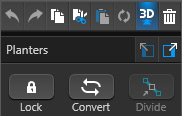 Do you want to quickly check how a shape you've drawn looks in 3D? With Right Click, choose View in 3D to take a peek.
The camera is automatically moved to view the shape and 3D mode is activated.
Quickly Add Object Settings in Construction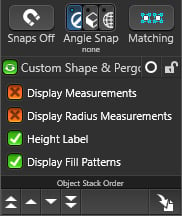 When creating your construction plans, you'll save time by using Right Click to add Height Labels, Measurements and Fill Patterns.
Need to show the Height of your Wood Deck? A quick right-click will add the measurement. Want to create a full color construction plan? Simply right-click the shape to add a fill.
---
Vip3D: Automatic Scale Bar

Now, when you layout your construction page in Vip3D, you can add the new scale bar. This automatic scale bar is easy to add along with the scale ratio on your page.
---
Button to Access Your Media Folder
When your project is complete and you're ready to share screenshots and videos, the new View Media Location button makes it easy to find them on your computer.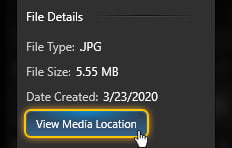 Found on your Media Viewer page this new button makes sharing media with your clients easier than before.
---
Enhancements and Bug Fixes:
Selected camera locations are sticking between projects
Camera spin when fence is selected when entering 3D
Scaling or rotating terrain material prevents reset
Imported materials in the jpeg format apply as checkerboard
Point heights should be cleared wen converting a custom shape to a house
Custom Shapes do not save to Library with custom point heights
Screenshots are renamed when emailed via Media Viewer
Moving or rotating text inside of a 3D text group resets after going back to 3D
Error using Microsoft YaHei or Microsoft YaHei UI font with 3D text
Windows saved to the Library insert with extra elevation
Windows that are copied and pasted do not retain their elevation
Moving property line measurements do not show in Page Layout
2D View Background Image does not become transparent until 0%
Text table GUI detaches with zoom
Highlighting multiple cells of a text table do not display correctly
Changing embedded text size on multiple construction lines does not edit all text
Resetting Fill does not reset scale, angle and opacity in Markup
Going to Mark Up from the Terrain Stage hides the terrain layer
Pool Depth Profile can be inserted for incomplete pool shapes
---
Planning Ahead for Summer
During this unprecedented time it's important to take time to focus on what matters most to you, your family, and your team.
As we continue to develop new tools and features, we hope you enjoy using all of the new tools in this Spring Update as you design the outdoor living spaces where your clients will create new memories with their families.
If you have any questions, we're here to help. You can reach us on the phone, Facebook or email.