Last year, we focused on updates that save you time. This year, we've been focusing on updates that save you time — and make it both faster and easier to personalize every detail to achieve incredible results for your clients.
New point heights make it easy to customize shapes, four new drawing tools help you save time, the lock button instantly locks shapes into place while the union tool combines multiple shapes into one, and a new keyboard shortcut gives you a new way to focus your camera view. From adding custom scoring lines to adjusting the scale of the pool by the perimeter — creating and customizing extraordinary designs for your clients has never been easier!
With this update, we're adding fast new ways to control your design — automatically! With totally automatic new tools, including new ways to customize pergolas and a new way to refresh terrain in 3D, this is the update that gives you incredible control over each and every detail.
Ready to see what's new? Check out the update video!
---
Customize Pergolas with New Controls and New Options

Whether freestanding or an extension of the house, pergolas are an ideal addition to your project. So this update offers you new controls that make it even easier to design perfect pergolas that make the most of your client's home's surroundings.
With just a click, it's easy to customize and control your designs.
First, the new Pitch control makes it easy to create a slanted pergola at any angle. The new controls offer you the ability to instantly customize the pitch — and the new Flip button gives you the option of quickly changing the direction of the pitch.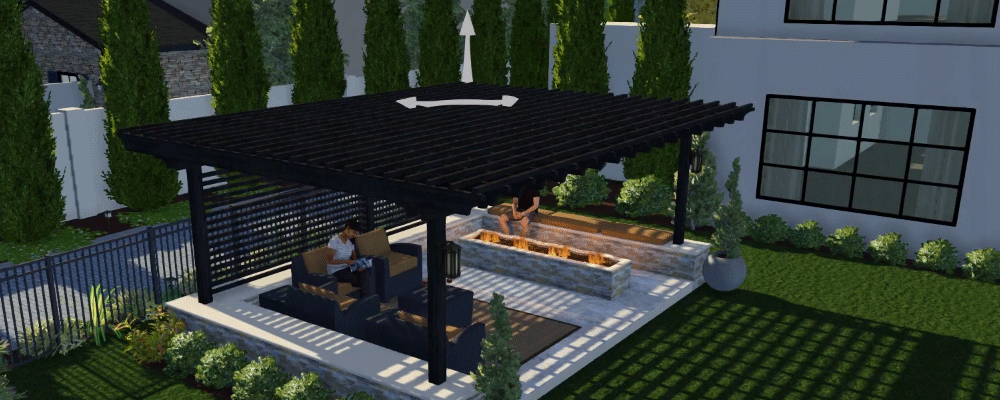 When the pergola is attached to the house, it will automatically angle away from the house — perfect for when you'd like your pergola to mirror the roof's pitch!
Once you've added a pitch to your pergola, you can choose to set the rafters to Plumb Cut to follow the slope.
You can even add a roof to your design when you select Solid under slats — giving your clients shade and protection from the elements.
Plus, pergolas now have a new look in 2D! This update now offers the option of displaying All, Framing, or Solid on plans.
---
Auto-Adjust Contour Lines and Add 2D Height Labels in Terrain

The new Adjust All Contours Mode in the Terrain Stage now gives you the ability to set one terrain line to your 0 level and have the software automatically adjust all other terrain lines.
This is perfect when using a GIS image to start your project. Simply import the GIS image and then head to Terrain. Select the line you would like to set to 0 and activate Adjust All Contours Mode.
Type in 0 for the contour height and watch all other terrain lines change relative to the currently selected line.
Establishing the zero level makes designing the project easier — no need for any tricky mental math!
Seeing the exact height of each line and grade is now easier, too — in 2D, the Terrain lines have a new look when in the Terrain stage.
---
Refresh 3D with the New 3D Refresh Button
Next up: the new 3D Refresh Button in All Stages!
This new button will save you time on every project, because you'll no longer go to 2D and then back to 3D to update the view.
The 3D Refresh Button makes it easy to edit right in 3D!
Designing a hardscape driveway in the Terrain stage? Simply refresh your terrain in 3D to see the changes. Adjusting your automatic pool and spa steps? Refresh in 3D to update the pool wall.
---
Add the Property Line in 3D

Adding the property line to Vip3D projects is a popular feature.
So now we've brought the property line to 3D, making it easy to align landscaping or other objects in 3D while maintaining the appropriate setback.
When you're done designing, you can easily turn off the 3D Property Line in the Hide/Unhide menu.
---
Select Custom Grid Size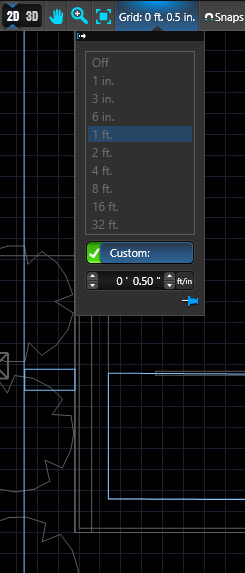 When you're designing innovative custom projects, you need precise, accurate measurements. That's why we've now made it even easier to get even more exact!
This update offers the ability to draw line segments in increments of less than 1 inch — in fact, it's now possible to choose a custom size as small as a quarter inch.
This is the perfect compliment to our Summer Update when we added the option in the panel for all height boxes to support less than 1 inch.
Need to draw a 14 ft 9 ½ inch Pergola?
No problem! The new drawing option is available in the Grid Dropdown.
For that 14 ft 9 ½ inch pergola, simply turn on Custom Grid and set your grid size to .50 — the new controls make it easy to draw the exact length you need.
---
See Your Work Being Saved with the Autosave Icon

If you want to be doubly certain you won't lose your work when the unexpected happens, then the new Autosave Icon is here for you!
The software has always backed-up your work every 5 minutes, the Autosave Icon now lets you know when it's happening.
Now, at just a glance, you'll be able to see exactly when your project is auto saving — and, because we know how important it is for you to have precise control over every aspect of your project, we've also added the option to start the save immediately or even cancel the autosave.
---
Eliminate Typos with Spell Check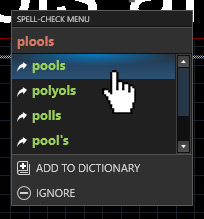 Have you ever submitted a plan — and then spotted a typo?
The new Spell Check Tool is here to help!
As you type, the software will alert you to any potential typos and spelling errors. Simply right click on the word to see recommended replacements, choose to ignore the word, or add it to your dictionary.
It's easy to add any industry- or company-specific terms to build your own custom dictionary. Under Configuration, you can quickly view, add, or remove words from your dictionary.
---
Try the New Customize Material GUI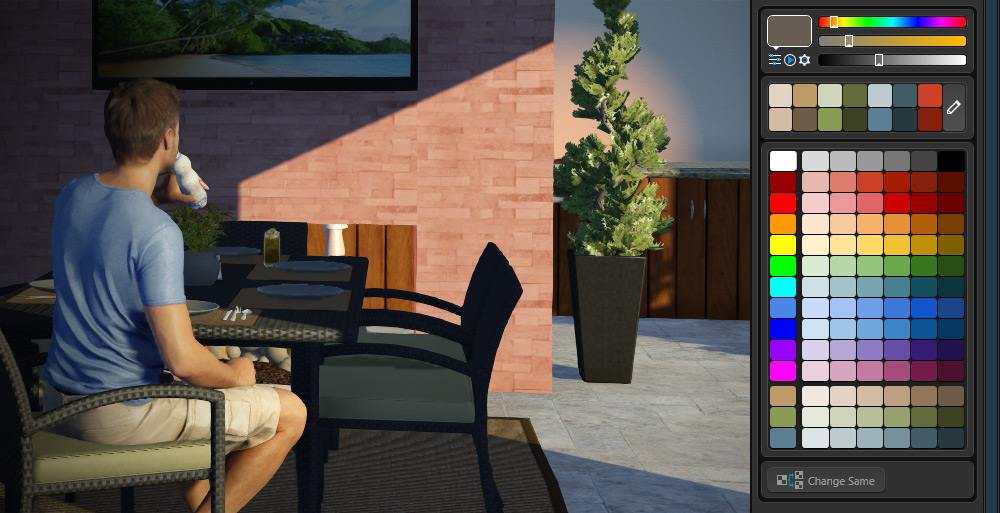 Want to add a splash of color to your project? Give the refreshed new Customize Material Controls a try!
Since Color Swatches were introduced in Fall 2018, our Members have been sharing amazing results. Many members also shared with us that they achieved those beautiful results by going first to the Swatches Tab and then using the HSV sliders to fine tune the color to perfectly match their project requirements.
So we've made it even easier to choose the perfect colors!
Now, there's no need to switch between tabs. The color controls are all in one place, making it quick and easy to customize colors to achieve the look you want!
---
Construction: Experience Significant Speed Improvements
Since Summer is a time to work on our core, we spent part of our summer refining the Construction Phase.
When you're ready to create your build-ready plans, you want the process to be seamless — so we're really excited to release significant speed improvements in Construction. The page now loads 3x faster when entering Layout!
With this update, you'll also notice speed improvements when you rotate, pan, or crop your 2D Views, images, and legends.
---
Construction: Enhanced Smart Data for Pools and Steps/Benches

We didn't stop with improving the speed — we also improved and enhanced Smart Data for Pools, Spas and Steps and Benches.
Right at your fingertips, you'll have all the right calculations to make pricing the project seamless.
Smart Data now includes Perimeter, Area, Surface Material, Step Linear Feet, and Tile Line Linear or Square Feet for Automatic Steps and Benches when placed in a pool or spa — giving you instant access to all the information you need to create your pricing and material spec sheet.
---
What other new controls have been added?
Set the font style, size, and color of 3D Measurements
Move Measurements vertically or inside vs outside of a shape
Set a default font style & size for each Construction Markup layer
Use Tab in the Panel to switch between feet and inches
Export content you create
---
Just how many bugs have we eliminated?
Import Image for Materials allowed PDFs
Text causing crash in PDF export
Photo mode thumbnails do not update materials on project
Photo mode camera gets stuck while moving mouse
Reloading Sketch Up model can cause a crash
Planters that are unioned need to preserve planter curbs and material changes
Colorized default material is not saved
Plant legend symbol does not update correctly
Custom coping arc over 71 feet causes geometry issues
Unable to hide Roof in 3D and hiding house does not refresh
Designer Name does not show until restarting program
Change label tool does not update font color box
Hitting another command while adjusting the sun with arrow keys breaks the sun
Unable to rotate framing on pergola when selecting in 2D
Metric construction page settings not saving
Saving custom material and marking as favorite does not mark as favorite
Saving a construction block with color border, re-inserts without color border
Auto house fill not printing correctly
Difficulty using the Outline Tool with Grid Snap On
Unable to exit text box
Drawing Coping around only a section of a Pool can cause Material issues
Second arrow added to plant callout is hard to manipulate
When replacing door, the elevation changed
---
Ready for what's coming up next?
Faster tools, automatic controls, and even more precise options — our team is already preparing the amazing new features we'll be sharing with you in the winter update!
Want the first look at what's coming up? Click subscribe to get the latest updates delivered straight to your inbox.