We promised to focus each and every update of 2018 on the tools, tips, and features that would make it easier to create and perfect the beautiful custom details that clients love most. With spectacular custom windows and floors, hardscapes that follow the terrain, new posed characters, realistic pool coves, custom hardscape coping, tiered spillovers, and so much more — we think we delivered!
We also asked our members to share with us the tools and features that they would love — and we've been checking quite a few items off of those wish lists!
This year, we're keeping our promise to deliver exciting (and time-saving!) new tools and features while continuing to fulfill those wishlists! We're starting the year off with tools that will help make your designs better than ever, like custom scoring lines, a new lock button, and some incredibly detailed new photo and video options!
Ready to see what we've packed into this year's first update?
Check out the update video and see what's new!
---
Add Scoring Lines with Custom Scoring Mode
Have you ever wanted a faster way to add expansion joints to your deck? An easier way to create a pattern in your concrete?
Today, the brand-new Custom Scoring tools makes creating those and so many more options incredibly easy. With Concrete Score Mode in the Hardscapes Stage, it's now effortless to add scoring lines exactly where you need them.
Creating scoring lines with Score Mode is just as easy as creating custom coping — simply use the drawing tools to create the lines you want.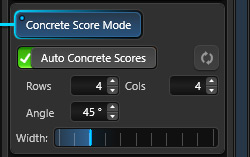 With the Auto Concrete Scores tool, it's also easy to add rows and columns of lines. Once the Automatic Scoring Grid is placed, it's easy to customize the number of columns and rows as well as the angle and line width — it takes no time at all to adjust the individual lines of the grid to create the exact pattern you need.
Plus, whether you've added deck expansion joints or custom concrete patterns, the scoring lines you add will appear on your Construction sheets!
Read our blog post about Custom Coping and Scoring to learn more.
---
Lock Shapes in Place

This update's Scoring Mode — much like Carve Mode introduced in the fall — offers incredibly precise control over even the most complex, innovative shapes in the most complex and innovative projects.
No matter how complex those shapes are in 2D, we want you to be able to feel confident that your shape will remain exactly right — no matter how many changes you make to your project around it and no matter how many shapes you click to select nearby!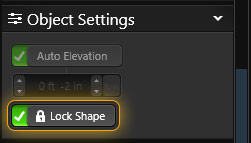 That's why we're introducing the new Lock Button.
With the Lock Button, it's easy to simply lock your shape in place. Whether you want to be sure your shape won't accidentally move when you are trying to select it or you want to be sure that your shape won't move when you're adjusting a nearby shape, the Lock button will keep your shape where you need it.
Once you've designed your hardscape exactly the way you want it, simply press the new Lock button: your shape will stay exactly where you have drawn it. Your shape will stay locked in 2D — preventing it from being accidentally moved, rotated, or scaled — until you click the button again to unlock it.
---
Scale by Perimeter
The ability to quickly and easily lock shapes in place is one more item that we've now checked off of our members' wish lists, but it's certainly not the last!
What's next on the list? The ability to adjust the pool by the perimeter measurement.
This new option now appears under Object Properties. To use it, simply select your pool, click on the calculator, and type in the perimeter length that you need. As soon as you enter the new value, the pool and even steps and benches will instantly scale to that exact size!
---
New Camera View in 3D with ALT Click
When you're making changes, sometimes you need to focus on a specific section of a large shape, like one area of the property wall.
Now, you can easily focus your view!
To focus on the wall next to the driveway, press and hold ALT, then double click. The camera will now focus on the specific location that you've chosen.
---
How much more does this update offer?
Rotate in any Direction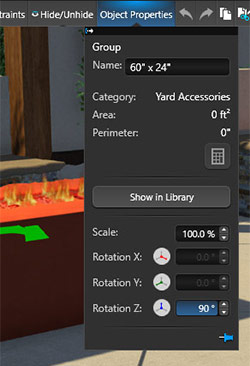 We didn't limit our Object Properties update to just the swimming pool perimeter! We've also added new controls that make it easy to rotate custom shapes and library items by a specific angle — just type in the angle that you need!
To rotate an item, first select the item, then type in the rotation you prefer. You can match the 3D gizmo controls by entering a value for all 3 axes in both 2D and 3D.
---
Adjust the Lip Setting for Standard Spillovers
Do your clients prefer stone on the spillover? If so, here's one more wish-list item: a new lip setting on pool and spa spillovers.
After we added Custom Lip Styles to the last update, we decided to expand beyond custom shapes and tiered spillovers so that the lip settings for pool and spa spillovers are just as easy to customize!

---
Explore New Photo and Video Sharing Tools
The new tools and features that make it easier than ever to create the perfect custom pool would not be complete without a few new ways to make sharing those beautiful pools just as easy!
With this update, we're sharing new photo mode and video mode tools that do just that!
Copy and Paste Photo and Video Locations
Want to share saved locations between photo and video mode? Now you can, with copy and paste!
First, set the best locations to highlight your design in Photo Mode. Then, after you have selected the angles, start your storyboard by simply copying and pasting the Locations right into Video Mode! It's just that easy.
If you prefer to create a great video sequence first, you can just as easily copy and paste the transition locations directly into Photo Mode.

Email Multiple People
The beautiful photos you create of your project deserve to be seen! This update makes it easy to instantly share your designs with multiple people at once — simply enter up to three email addresses in your message and click send!
Duplicate Vip3D Storyboards
Want to make location variations or test changes to your videos? With this update, that's easy to do — in Vip3D, Video Mode storyboards can now be duplicated!

---
Adjust Text Background Color
Photos, videos . . . we didn't stop there! Construction sheets have also been updated.
Now, it's even easier to show the exact details you need. In Page Layout, the new background fill setting for text offers you great new options — including white text on a artistic background!
To create the exact appearance that you want, simply apply a fill from the Library and adjust the appearance in the panel menu settings.

---
We've updated Characters, too!

Are your clients already looking forward to swim season? Our art team is here to help!
We've improved the performance as well as the appearance of our diverse group of posed characters — all 40 posed characters have been updated!
When you're looking to add those extra-special finishing touches to your design, take a look at the library — you'll find 19 new options, including:
6 new casual adults,
11 new adults in swimwear, and
2 new children!
The updated and new characters make it easy to find and add the perfect characters to each zone of your project.
---
Vendor Partners
Bobe: 22 New Products Plus 6 Updates
Our Vendor Partner Bobe had added products for you to feature in your designs. The 22 new products and 6 updates include beautiful water and fire bowls, unique scuppers, fire tables, cool modern Flight fire bowls, and many other options.
Dolphin: 10 New Slides
Our Vendor Partner Dolphin Water Slides has added 10 new pre-designed slides models to their package, making it easy for you to add a slide to your next project. These new options save you time if you haven't quite decided which slide will fit the area best — with just a simple click of the mouse, it's easy to try out all 10 new options!
Thursday Pools: 5 New Shapes
Trying out pool shapes is easy with the five new swimming pools that Thursday Pools has added to their Library! When you're looking for the perfect pool to add to your next design, check out their new options — it's easy to try all five!
---
Just how many bugs have we eliminated?
Improved rounded edge of Steps and Benches
Steps do not use material of Pool/Spa when inserted
Coping can smear on small sections of Pools/Spas
Custom coping smears on lips of round hardscapes
2D coping may not match 3D coping
Scaling arcs in 2D is slow to respond
Step Risers do not turn on in 3D
Staircase attached to another cause crash if converted together
Rotated Windows do not reflect this change in 2D
House with Foundation clips terrain when House hidden in 3D
Fences can show incorrectly in 3D when drawn with arc
Pergola Inset will reset back to 0 after reopening software
Covered Spillway toggle appears twice in menu
Water in pool can be checkered in some files
New Project does not focus on grid center
Closing from task bar saves file even if No is clicked
Dragging sun/moon flips icon in 2D
Storyboards break if over 50 characters in name
Could not select other rows in Photo/Video mode
360 Photos do not auto-level by default on some websites
Auto tour in 3D continues when switching between files
Errors when accessing Vimeo login
Markup Symbol Legend stales Smart Data
Drains do not appear in Item Legend
Auto House Fill can cover doors and windows and appear on hidden shapes
Importing from YARD on Start Screen does not create new project
---
Ready for what's coming up next?
Sunnier weather isn't the only reason we're looking forward to summer! Our summer update is packed full of even more time-saving, client-amazing tools and features that our team is excited to already be preparing for you!