We love it when our members share their wish lists with us — and, with this update, we're happily checking quite a few wished-for items off the list!
From custom hardscape coping to new tiered spillovers, easier keyboard shortcuts to friendly new characters — this update has it all.
That's because this year has been all about making it easier for you to create those gorgeous custom details your clients love. Grand custom windows, personalized flooring choices, adjustable water levels, rolled spa beams — all a breeze to customize with powerful tools and features, like the new color wheel, new labeling and layout options, dozens of new posed characters, and dozens more plants and trees.
Plus, YARD has brought Augmented Reality to outdoor living design and Vip3D's new file imports have made it effortless to import and design around your own drone maps!
What better way to bid adieu to 2018 than by rounding out the year with a winter update packed full of even more tools and features that will help make your custom designs even more spectacular?
Check out the update video and see what's new — perhaps you'll spot one (or more!) tools from your own wish list!
---
Customize Hardscape Coping
With this update, it's now easy to add coping exactly where you need it!
The new Coping Draw Mode in the Hardscapes Stage gives you the power to use the drawing tools to create exactly what you need — fast.
Perfect for pool or Landscape Design Software. Whether you want to add different coping at a beach entry, include decorative banding on the driveway, feature unique paver kits, or even create a custom basketball court — Coping Draw Mode makes it easy.
---
Add Lip Styles to Custom Shapes and Staircases

Last update, we added Custom Lip Styles to pools, spas and hardscapes.
Based on your feedback, we've extended this option to Custom Shapes and Staircases as well!
Now it's easy to customize your design by adding a lip profile to your custom shapes.
Simply select the shape, then select any lip style from the drop-down. You can even draw a unique lip style and save it to your Library!
This is a perfect way to show your customer a cantilever edge on the raised bar of the outdoor kitchen or to create a decorative stone cap for your fire wall.
---
Create Tiered Spillovers

We've heard you: creating tiered spillovers with custom shapes worked . . . It just took a little too much time.
So here's one more item very happily checked off on the wish list: easy tiered spillovers!
Now, with this update, it takes just one click of one easy button in the Pools and Spas Stages to create a Tiered Spillover!

Customizing your new Tiered Spillover is just as easy. Set the number of tiers, the height of each tier, the lip style, and more — and you'll instantly see the spillover with water trickling down in 3D!
How much more does this update offer?
---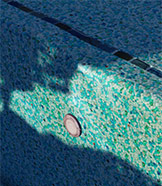 Snap Pool Lights to Steps & Benches
We didn't stop with easier tiered spillovers!
Now, lights will not only snap to the pool and spa wall. They'll also snap to your steps and benches!
---
Take Control of Configuration
This update doesn't just make things easier — it also gives you even finer control of many favorite tools. We've added new options under Configuration that give you even more control while you design.
Try the New 3D Snap Strength Slider

The new 3D Snap Strength Slider appears on the 3D Setting Tab — with it, it's easy to control the strength of the snap between library items and drawn shapes. The stronger the setting, the greater the distance away items like doors and windows will snap.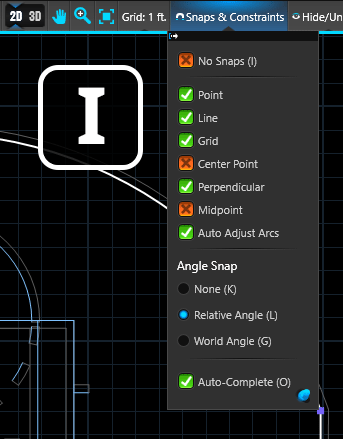 Use I as the Hotkey to Turn All Snaps Off/On
Sometimes, you just might need total freedom of movement when you're working on a section of your design! We understand — so we've created a new keyboard shortcut to make it easy to turn off all of your snaps. The letter I now serves as the hotkey to quickly turn all snaps off or back on.
Retain Original Stage with CTRL + ALT + V
Have you ever realized you needed to add another hardscape — after you've already moved on to the planter stage?
Or perhaps you've quickly pasted a shape — only to realize that you've pasted it after you moved to a different stage?
Well, this update is checking off another item on the wish list! Now, it's easy to paste shapes from one stage to another — without changing the shape type!
It's so easy, in fact, that we've assigned it a keyboard shortcut: CTRL + ALT + V.
Use CTRL + ALT + V to paste content between stages while retaining the shape type. No need to go back — simply copy your Hardscape, paste with CTRL + ALT + V, and the shape will remain a Hardscape.
---
Add Locations and Take Multiple Photos in Photo Mode
When you're sending photos to your clients, the last thing you want to worry about is which one you're going to send them.
So we've made it easier to send your clients photos of all the angles of your project.
In Photo Mode, you can now select multiple locations with CTRL + Click or CTRL + A and take a photo of each selected location with just one click of the Take Photo Button.
And if you'd like to change the order of your photo locations for your presentation, you can now simply drag and drop the location to just where you need it.
---
See New Construction Templates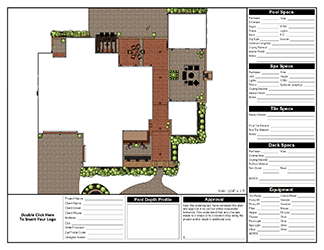 We've also added eight new Construction Page templates in Page Layout — ready for you to create build ready plans! You have the option of Standard or Smart Data pages in various sizes.
When you select Smart Data in Vip3D, you'll see a completed Construction Plan that will be automatically filled in with all of the Smart Data calculations. Once you verify the information, it's ready to print!
---
Embed Unsupported Fonts in PDFs
If you like to export your plans to PDF, we've made it even easier to do so! Now, construction plans will print with improved text spacing and additional supported fonts.
---
Check Out Updated Stock Files

Each and every update, we aim to include time-saving tools and features — are you taking advantage of them yet?
For this update, we turned our attention to our stock files to see if we could improve each project.
We're happy to report that we were able to create the same design in less time, with a cleaner file and a reduced number of shapes. The file runs better in presentation and loads faster in construction.
Take a look at the Example Landscape 2 file. We were able to reduce it by 386 custom shapes by using new features such as the carve tool, the custom window tool, and the pergola tool.
If you haven't had a chance to try all of those new tools out yet — we think you'll be pleasantly surprised by just how much they help you save time and make your designs more efficient.
---
YARD: Try Table Mode and More!

Have you shown your clients their beautiful new spaces in Augmented Reality? Now, it's even easier to show your designs with YARD — come rain or shine!
All-new Table Mode brings the great outdoors indoors — all the way to your client's kitchen table. No need to worry about the weather or the lighting, and no need to track before you present!
Just head on inside and reveal all of the incredible details of your design, right on your client's table, in stunning AR.
We've also added two more new features, ready for you in today's update:

Snap to Surface Button: The new Snap to Surface button available for YARD will snap your surface to the desired location in your client's yard.

Saved Tracking: After fully tracking a location, YARD will now remember the location the next time you load the file!

And we've taken care of two bugs:
Fixed bugs with bringing in larger files from Vip3D causing a crash.
Fixed bugs with the sunlight and shadows being displayed correctly.
---
We've updated art, too!
49 New Plants and Trees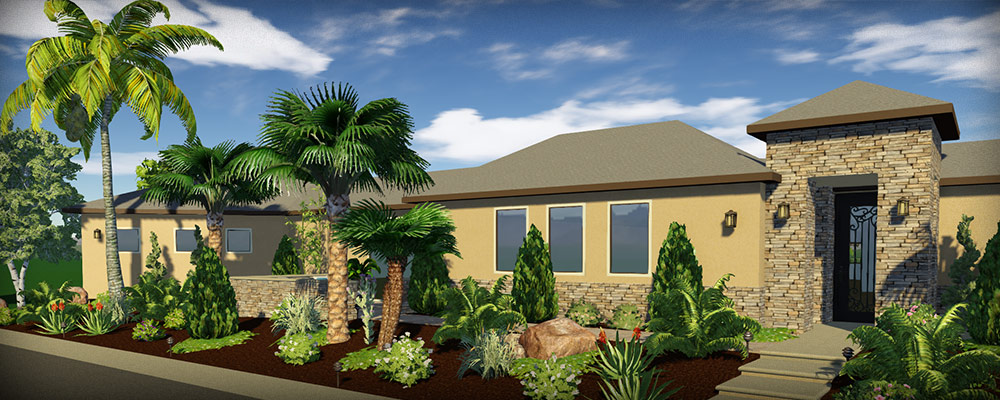 Gearing up for next season? The art team's here to help! We've added new plant options and updated some of our most popular trees. VizTerra and Vip3D Members will find 23 updated trees and 26 new plants and trees:
Alaska Cedar
Aloe Vera
Aloe Vera, Bloomed
American Elm, Autumn
American Elm, Summer
Azalea, Pink
Azalea, Unbloomed
Azalea, White
Bamboo, Cluster
Bamboo, Single
Banana, Mature
Banana, Young
Bird of Paradise
Broom Snakeweed
Broom Snakeweed, Flowering
Caranday Palm
Cattail, Bloomed
Cattail, Unbloomed
Chinese Fan Palm
Chinese Fan Palm, Curved
Clara Indian Hawthorn
Coconut Palm, Curved
Coconut Palm, Medium
Colorado Blue Spruce
Date Palm, Curved
Douglas Fir, Mature
Douglas Fir, Young
Dwarf Alberta Spruce
Dwarf Crape Myrtle, Pink
Dwarf Crape Myrtle, Purple
Dwarf Crape Myrtle, Red
European White Birch, Autumn
European White Birch, Spring
Hollywood Juniper
Hollywood Juniper Topiary
Kaleidoscope Abelia
Knapweed
London Plane, Autumn
London Plane, Mature
London Plane, Sapling
Red Maple, Autumn
Red Maple, Summer
Ribbon Palm
Rose Creek Abelia
Scots Pine
Taylor Juniper
Western Sword Fern
White Oak, Autumn
White Oak, Summer
---
Characters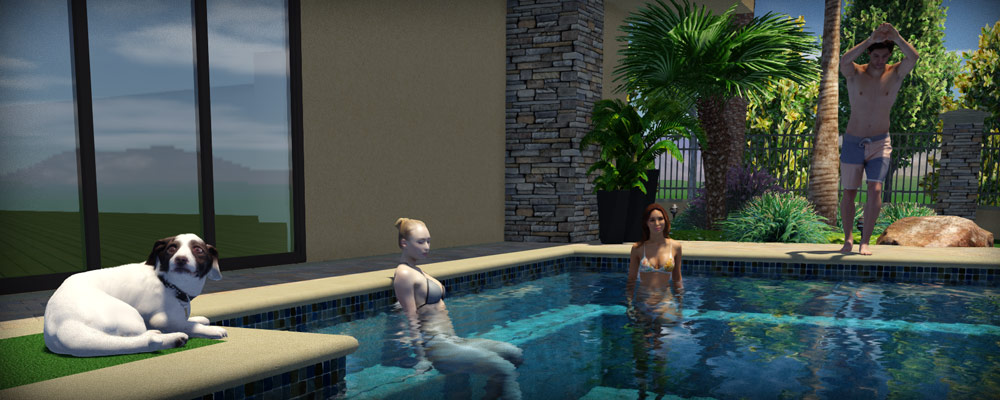 We also added five diverse characters, plus one new dog! The characters are in swimwear, so add Philip diving in the pool, show Sophia lounging poolside with the new dog, Lilly, and reveal to your clients just how much fun they'll have relaxing in their pool!
---

Vendor Partners
Products from our vendor partners S.R.Smith and Inter-Fab can now be found in one combined package. Better together, S.R.Smith and Inter-Fab have over 100 years of pool industry expertise.
---
Just how many bugs have we eliminated?
Faster load times for specific files
Overlapping carve holes create geometry errors
Carve holes can turn red after being rotated
Hole on edge of Custom Shape won't show depth
Displacement Smart Data showing incorrectly
Copy/paste of grouped Smart Data causes overlap
Group Header text clipped in Smart Data menu
Pool Cove geometry error next to Spa Spillover
Steps & Pools material not remembered on save/load
Some Steps/Benches do not auto link to Pool/Spa
Small steps can cause crash going to 3D
Library preview broken when pool/spa saved with lights and drains
Drains and Mosaics do not always follow slope
Drains floating in spa with auto pool step converted to steps
Staircases move after file is saved and reloaded
Walls and fences with Screen material vanish when shape is altered in 3D
Wall pillars appear when unhiding all
Turning coping off/on changed applied material
Interior House material has line through it
Wood Deck template missing material
Wood Decks load Surface Board setting on launch
Pergolas load with profiles, even when cleared
Hardscape lips bend at corner on some shapes in 3D
Shadow appears on thin custom shapes
Selecting shape adds extra step to Undo/Redo
Right Align text shows incorrectly
Opening any application un-minimizes app
Designer Profile slows when longer email address entered
Cannot close Configuration with X after changing theme
Hidden objects prevent 3D selection
Hidden House with Foundation still effects terrain in 3D
3D text wrong size when switching from Screen setting
Follow Terrain hover text
Crash manipulating grouped text
Music from videos does not start at beginning of video
Cannot reduce Text Table beyond a certain size with Font settings
Terrain lines do not appear in 3D if going to stage in 3D
New houses do not appear in 3D if stage category is hidden
Using Library Replace in 3D leaves original object behind at first
Show in Library button does not expand categories
Some Palm trees disappear when zoomed far out
New 2D Views in Page Layout focus on grid center vs project center
3D Text does not appear in Page Layout 3D View
Unviewed pages do not print in Page Layout
Grouped text in Page Layout has extra nonfunctional grab handle
Page Layout text template preview broken until save/reload
Call out arrows on text will not hold previously selected line color
Old Page templates can insert content into other stages
Replaced text still present when typing in Page Layout
---
Ready to See What's Coming in 2019?
Get ready — because we're not about to rest on our laurels! We're already working on the updates we're going to be sharing with you in 2019 — and we can't to share them with you.