Summer is a great season for kicking back and relaxing on the deck — for your clients, at least!
Today's update offers you awesome new options, incredible new features, and some of the most precise tools to help you create amazing wood decks (and much, much more) for your clients — no knocking on wood required!
This is the update that makes designing custom wood decks incredibly easy — with integrated 3D wood deck design software that will help you design those decks faster, and more impressively, than ever before.
Ready to see what's new today with the deck design software? Check out the update video and then read on for details!
---
Create Custom Wood Decks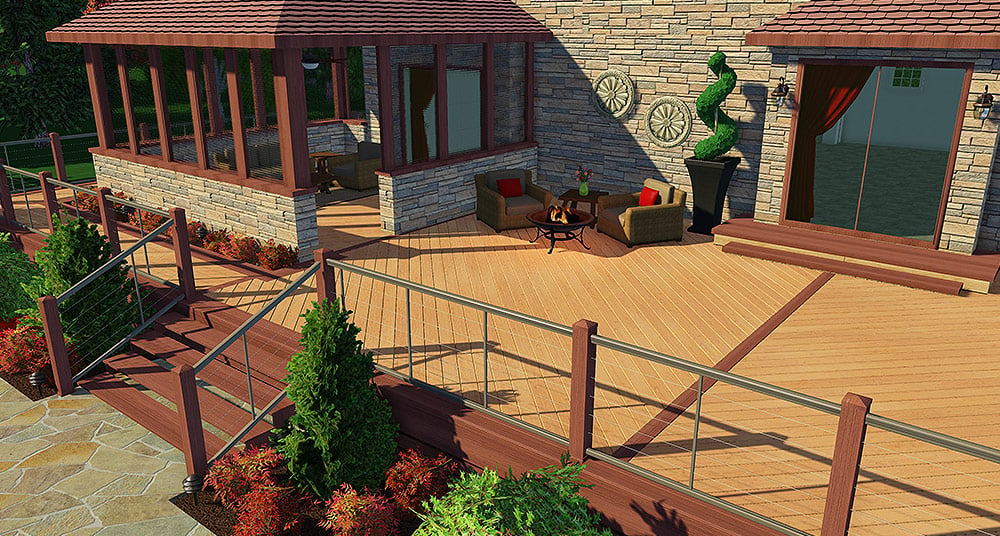 We're kicking off Summer 2017 with a completely new wood deck design software feature, part of the newly renamed the Hardscapes and Decks stage.
It's easy to use the new system to create the perfect decks your clients want: simply draw your shape in 2D and click the Wood Deck button.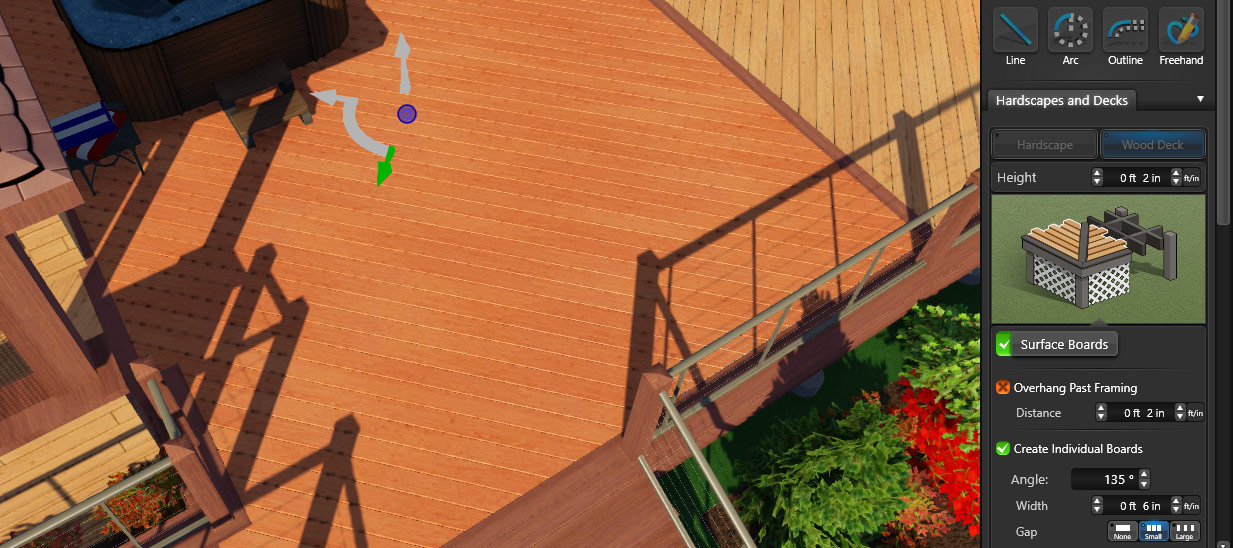 You'll see surface boards, miter boards, and divider boards on top. On the side, fascia and skirt. Underneath, joists, beams, and posts.
When you double click on each, the menu on the right will now update to show all available options. You can even click on the various sections in the panel menu switch as well with the deck planning software.
More powerful than dedicated deck design software, this integrated software means Pool Studio, Vip3D, and VizTerra users will be able to use the new wood decks system immediately — the majority of the settings will be available in Pool Studio, and all in VizTerra and Vip3D.
Want to know more about the new Wood Decks feature? Check out our video tutorial in the Wood Decks blog.
---
Add New Staircases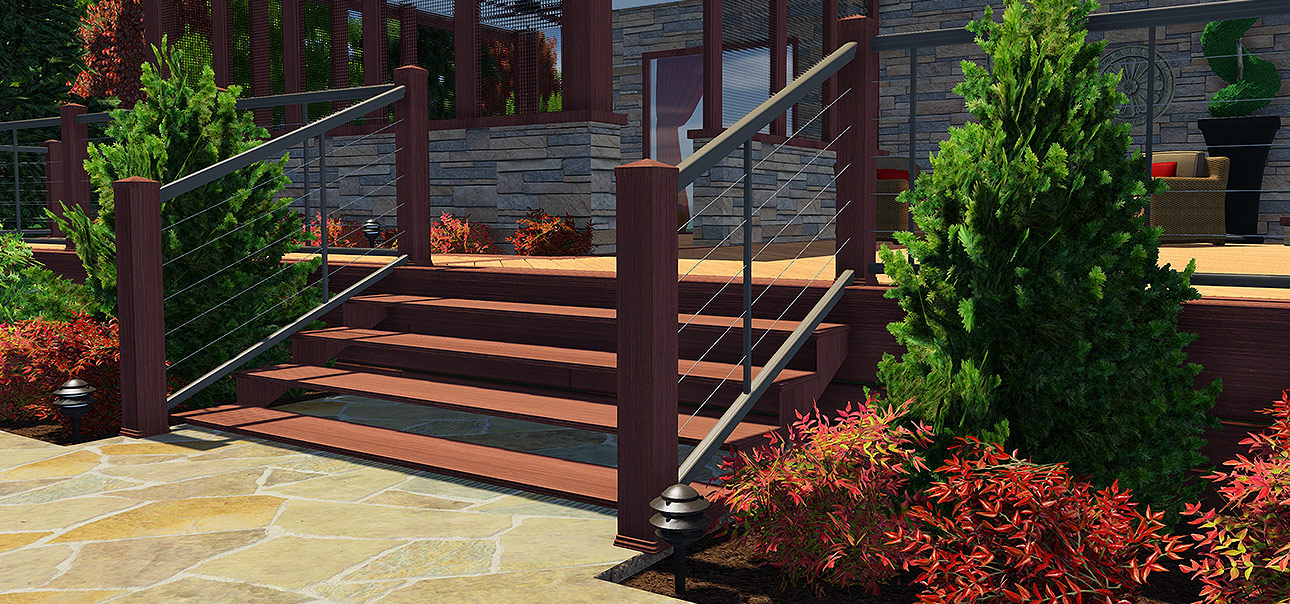 What better way to complete your new custom wood deck than with a custom wooden staircase?
With new settings, and a new Stringer option, staircases are now an even easier way to perfect your custom designs with deck planning software.
Plus, staircases will now stay a standard 4-feet wide when inserted (instead of expanding to cover the entire side of the shape).
---
Link Railing to Shape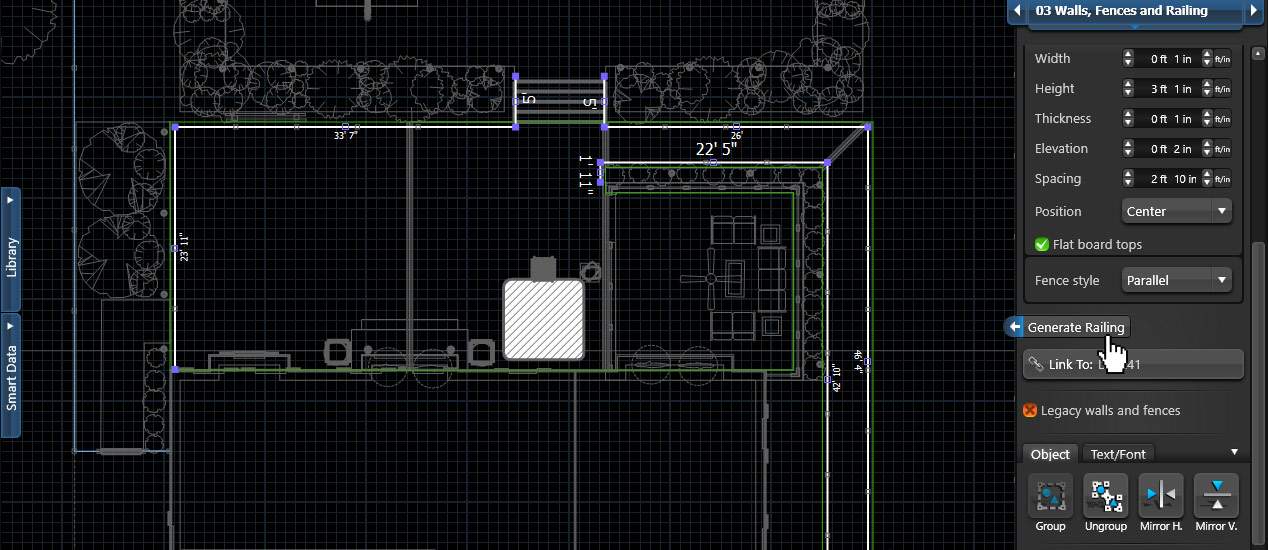 Do your new decks and stairs need railings? Create the perfect railing for your shapes — today's update makes it easy.
Now, when you select the wood deck design or hardscape, you can quickly generate railing that will even follow attached staircases with the deck planning software.
In the Walls, Fences, and Railing stage, you can also add railing to hardscapes, wood decks, and custom shapes. The shapes you create can easily be linked together, which means they'll now automatically appear on top and move when the base shape is moved.
---
Check Out All-New Wood Materials

We've updated Materials and renamed from Decks to Wood. This is much more than just a new name — we've added new options, included new categories, and updated and reorganized all wood textures to help you create the perfect custom look your clients want.
---
Access 3D Measurements
Creating the perfect custom decks with integrated 3D deck design software is just the beginning of what makes this Summer 2017 update so exciting.
We're also introducing a brand-new tool that will help you make certain that those custom decks — along with everything else you create — are as precise and accurate as possible.
That's why you can now measure distance and height — in 3D!

Now you can show your client and construction crews detailed height measurements, raised areas, and even details of raised areas (like the thickness of a hardscape lip). You can also measure outdoor kitchen equipment to communicate spacing and height to your installation teams.
How easy is it? Simply select the Measure Guide in the panel or press C on your keyboard.
Give 3D Measurements a try — visit our blog for a quick guide and to check out the video tutorial!
---
Auto Align Materials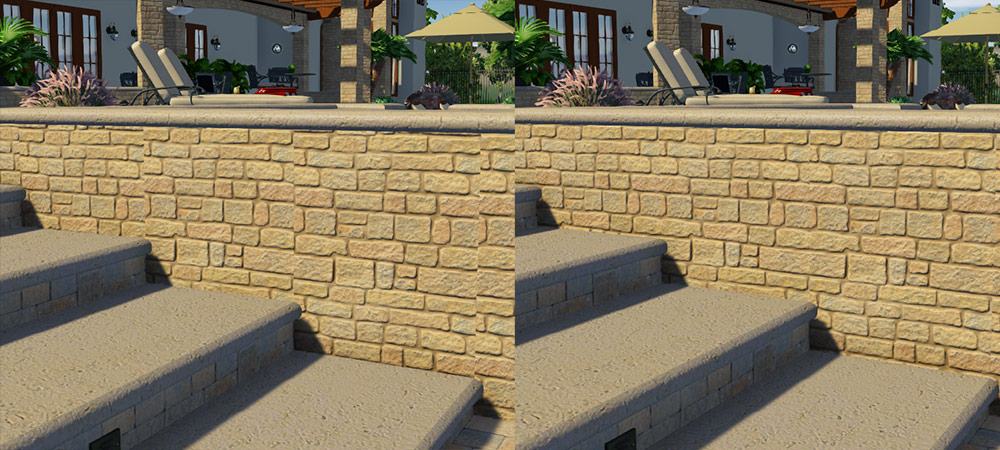 Matching up materials, like tiles on raised areas, can be time consuming. So let us do the hard work for you! You'll reap the benefit with finished results that are absolutely stunning and beautiful, automatically.
With the summer 2017 update, materials now automatically align themselves across the faces of your pools, spas, and hardscapes.
---
Choose New GIS Options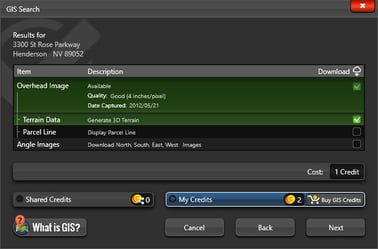 Every update, we want to give you the precise, accurate tools you need to create your best work.
So, this update, we also set out to improve one of our most popular tools — GIS images!
Now, when you search for an address, you can select the exact content you'd like to download. Simply check or uncheck options (such as Angle Images or Parcel Line) and download exactly what you need (including Overhead, Terrain, Parcel, and Angle Images).
---
Generate Terrain Data
GIS image options aren't the only way we're making GIS more precise for you. Today's update also helps make sure that your terrain data is accurate.
Now, if you rotate, pan, or adjust a GIS image after it has been inserted — the software will prompt you to regenerate the terrain, ensuring that it matches the image's new location.
---
How Else Have We Improved the Design Process?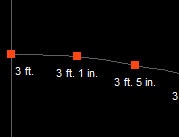 Adjust Single Pool Slope (by the inch!)
To help you create the most precise and accurate pools — we've updated the Single Pool Slope feature. Previously, adjustments could be made down to three inches. Now, it's one inch. Simply select the depth point, move it — and take advantage of the new one-inch setting.

Add Grab Handles to Spillovers
How precise do you like your spillovers to be? Very, we expect! That's why today's update makes it easier to adjust spillovers. Simply click and drag the points on Spillovers to adjust the size of the water feature in a single direction.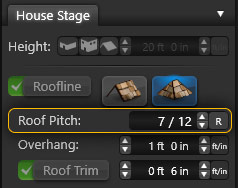 Change Roof Angle to Slope vs Degree
You can now easily adjust the pitch angle of house roofs with today's new slope setting. Choose standard values or click the R to use the previous angle setting.
Export Rotated Custom Shapes to CAD with Overhead View
Use AutoCAD? Now custom shapes rotated in 3D will be exported as their 2D overhead appearance when viewed in AutoCAD software.
Remember Location of Pinned and Undocked Menus on Startup
If you've pinned open menus (like the Library or Snaps and Constraints) or moved them to a new location, your screen will now remember the custom location you've chosen when the software is first opened.
---
What's New in Construction?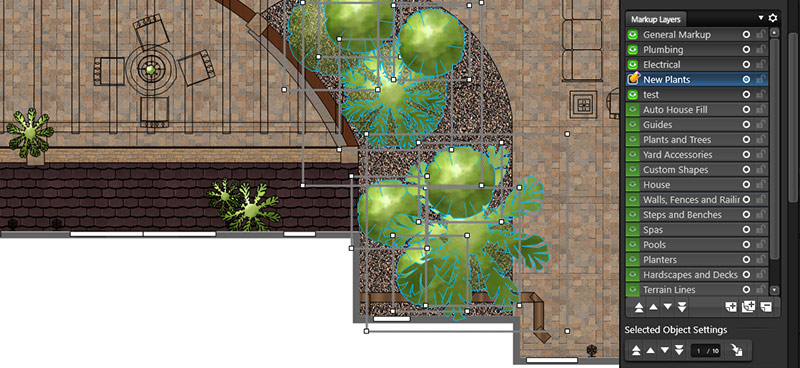 Move Anything to Custom Markup Layer
You can now move anything to a custom Markup Layer. Simply select the shapes or items you want and click the new Move To button in the panel menu. You can create a new layer, such as Existing Hardscapes, or select any existing custom layer you've added. You can also move content back to its original layer as well.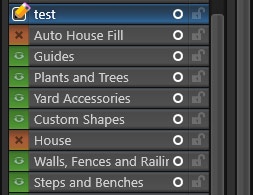 Hide Layers in Markup
With one click of the Eye/Paint bucket — you can now hide layers directly in the panel menu. Clicking the eye symbol will immediately hide or display the layer, which means you no longer need to use the Hide/Unhide menu.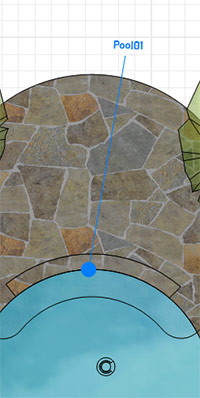 Display Measurements in New Style and Color
We've added the option to display measurements in a different line style and color than the Markup layer. For example, you can display your measurements in black instead of the shape's assigned line color. When you change the setting in the menu, all future measurements will also default to your new choice (e.g., black).
Rotate Callouts in Construction Markup
Want to rotate your callout arrows? Now you no longer need to return to the previous stages — you can rotate them directly in the Construction Markup stage.
Rename Callout/Legend Quickly
A fan of renaming callouts or content in the Legends? We're here to save you some time. Now, once you change a callout, the software will ask if you'd like to change all matching callouts and legends as well.
Hide/Unhide Legends
Want to keep hiding content that you've chosen to hide in earlier stages?
Now it's easy. A new option automatically hides content that you've hidden in earlier stages. Simply check the box to keep the content hidden — or uncheck it to display everything in the selected categories.
Add Logo Object to Page Layout
You can now quickly insert a logo in Page Layout. And if you don't already have a logo added — then adding a logo to the Page Layout will automatically add the logo to the Project Information as well.
Customize Font Settings for 2D View scale
In the spring, we introduced a new scale setting — and it was so popular, we kept going!
Now, you can choose from font options to customize the scale appearance.
Update Paper Size
Ready to print your project, with all the new updates? Now you can also choose standard printer paper sizes — they're available to you today in the Page Layout menus.
---
What's New in Art?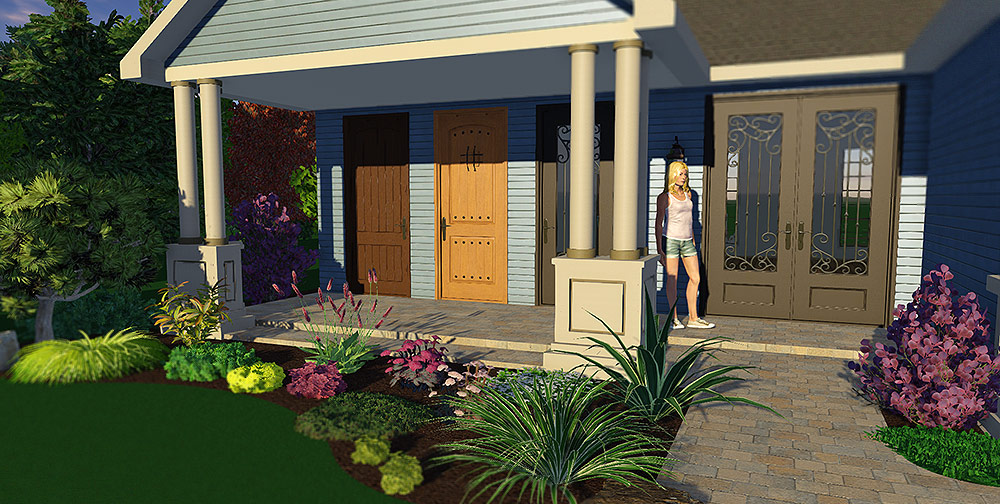 New Ornamental and Rustic Doors
Choose from 20 new doors in the House Decor Library, including new 80-inch and 96-inch Rustic doors and Ornamental doors.
New Standing Characters
In the Characters category, you can choose from six new standing adults, making it easy to show scale in your client's 3D world.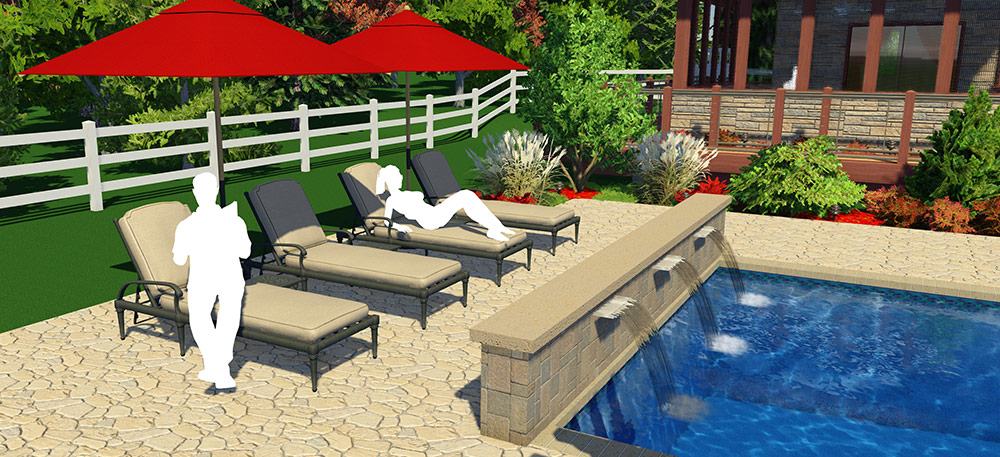 New Artistic Silhouette Characters
The Characters category has also been updated today with new Silhouettes — solid white character models that offer an artistic new way to show your clients how their space will feel once built.
New Scuppers and Updated Woks
There are now 16 new Scuppers and 12 updated Woks available in the Fountains and Statues category.
Animated Color-Changing Bubbler and Laminar
New animated color changing bubblers and laminars are now in the library. These new water features sync up automatically with the color changing pool and spa lights.
30 New Plants and Trees
Perfect your landscapes in VizTerra and Vip3D with 30 new plants and trees — including new topiary options!
Ice Dance Japanese Sedge
Golden Japanese Forest Grass
Ivory Tower Yucca
Green Carpet
Blue Star Creeper
Platt's Black Brass Buttons
Oregon Green Austrian Pine
Angel Jack Pine
Blue Dwarf Pine
American Arborvitae
Privet Hedge
Royal Purple Smoke Tree
Japanese Red Pine
Mountain Fleece 'Firetail'
Spruge
Bugleweed
Makino Stonecrop
Lemon Ball Stonecrop
Lime Twister Stonecrop
Stonecrop Autumn
Wildfire Stonecrop
Purple Emperor Stonecrop
Green Velvet Boxwood
Golden Leyland Cypress
---
New Vendor Options
Barrier Reef
In Pool Studio and Vip3D, the updated Barrier Reef Vendor package now includes 38 of their pools and spas.
---
What else have we updated?
New solid white fill pattern in Library
House Floor on by default
Construction Setup now moved to Configuration
Object Properties displays Common or Botanical name based on Configuration setting
Spa Envelope for Smart Data
Markup Layer setting to default measurements to black instead of Line Color
Rotated custom shapes export with overhead view to CADScroll wheel to zoom in 3D, CTRL+ scroll to adjust Terrain brush
Loading bar when using GIS Generate Terrain Data
Smart Data verify area now fully clickable
Generate Railing in Walls, Fences and Railing works by selecting shape first
Font settings for 2D View scale
Add grab handles to Spillovers
Changing name of Callout prompts user to change all and Legend
Changing name of Legend prompts user to change all and Callout
---
Just how many bugs have we eliminated?
Updated text in Page Layout for certain object types
Background Image could cause a border around pages
Fixed random crashes caused by old objects
Changing line color mid-draw doesn't effect line color
Auto complete target line in Construction was the wrong thickness
Editing text in Page Layout could display a ghost text box if box shrinks
Fixed crashes when various shapes overlap
Added keyboard shortcuts to main menu
Line/text color would export black from Markup
Improved scale printing from Markup
Black and White printer setting in Markup now functional
Fixed crash when a water feature attached to an incomplete shape
Hiding full layer sometimes shows yellow dot instead of red x
Line color won't update unless style also changed in setup menu
Fixed crash when swapping files after changing material
Grouped custom shapes don't elevation correctly when inserted from Library
Fixed crash and memory issue from terrain brush
Spillover options show in panel in Construction Markup
Smart Data doesn't stale when Coping Width adjusted
Image upside down in Video Mode preview
Coping won't appear in Markup if Deck at negative height above Terrain
Large shapes cause void in terrain
Presentation loads on wrong monitor if using different resolutions
CAD import gets lost when opening another file
Replace with Design shapes creates tiny shapes
Presentation Mode interface broken when software on 2 screens
Some plants have shadow cast on wrong side
Improved speed when typing in Markup Layer menu and Project Information
Object Properties won't display category of multiple objects
Fixed crash caused by bad Sketchup models in the Library
Could not move rails above max post height
True Shadows mode set to dark at specific times/dates/zips
Largest scale options would not export correctly due to font size
Staircase doesn't attach if cursor doesn't get close enough to shape
Some plants highlight in green when selected in Materials
Custom Materials do not save to Library properly
Fixed crash when very old plants were given custom colors
Page Divisions ignored when first accessing file, making snapping difficult
Could use border to move and snap objects in Page Layout
Smart Data/Legend do not follow cursor when inserted on 4K
Legend won't fill symbols if fills off for 2D View
Page Layout objects would not snap properly until placed on page
---
What's coming up?
Ready to see what's coming up next after 3D measurements and custom decks? Get first look at what's coming in our next update? Hit subscribe and get the update, right in your inbox — we have some exciting new tools in the works!