Since the arrival of Version 3 earlier this year, we've been amazed and delighted to see the spectacular projects our Members are creating using features like 3D Grass, Level Terrain, and Editing Shapes in 3D.

So much so, in fact, that when we shared enhancements to Version 2 earlier this summer, we promised that our next update for Version 3 would be filled with amazing new tools and features that would make your designs even more spectacular.

Now, with this summer update, we're building on those great features by sharing with you powerful new tools like Ray Tracing and Dynamic Water that make it faster and easier for you to create incredibly beautiful, accurate, and realistic designs for your clients.
Ready to see what's new? Check out the update video:


---
Ray Tracing (Beta)
Ray tracing in Vip3D enhances the realism of the environment and adds an incredible new level of detail to your designs. By taking the best advantage of the full power of your Nvidia RTX video card, ray tracing makes your designs even more breathtakingly immersive, enhancing your rendering quality in three areas: reflections, refractions, and shadows.


Reflections now show objects outside your view.

Refractions bounce light accurately through water and glass.
Shadows become dramatically more lifelike.

Just as when looking at a real body of water, you'll notice refraction most at low angles. As you invite your client to explore the pools and water features you've designed, they'll find them even more incredibly welcoming.

Plus, getting just the right shot at day, dusk, or night is now easier than ever because ray-traced shadows and reflections appear just as they would in the real world, maximizing realism.
You'll need to update your Nvidia video card drivers.

Install "GeForce Experience" to get the latest drivers.
Visit the Ray Tracing Help Page to learn more.
---
Dynamic Water
Watch the water move with this update! Dynamic Water Ripples are now available in Vip3D. Even control the intensity of the water surface to enhance the water ripples.
---
Wet Camera Effect
Add depth and emotion to the scene with the new wet camera effect. As you exit the water in Presentation, water droplets appear on the screen.
---
DLSS Anti-Aliasing Mode
Computers with an Nvidia RTX video card can now enable the new DLSS anti-aliasing mode to increase graphics performance and speed up 3D designs.
---
Type Distance Between Points

Now, it's even easier to set the exact distance. Save time when you type the distance between points for Single Slope in Terrain and Pool Depth. It's easy to do in 2D: simply type in the distance rather than sliding the points.
---
House Foundation and 3D Grass
Level Ground
House foundations will now cut away the terrain. No need to add a hardscape under the house—the foundation has you covered!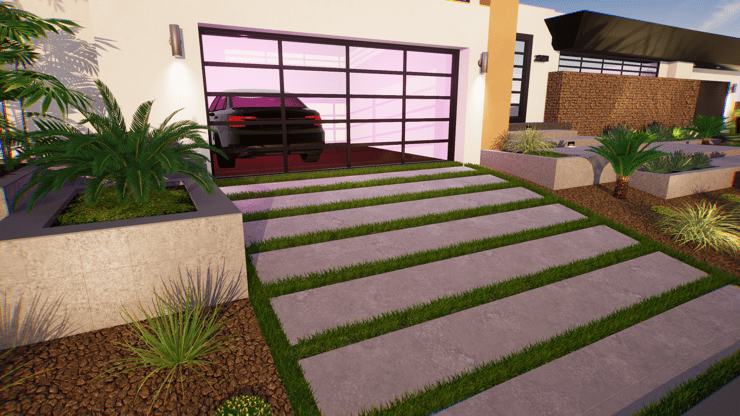 3D Grass on Coping
Version 3 introduced the game-changing 3D Grass—and it has been so popular that we've now added 3D Grass to coping and coping draw mode, making it easier than ever to create stepping stones or a contrast between hardscape pavers.
---
Material Library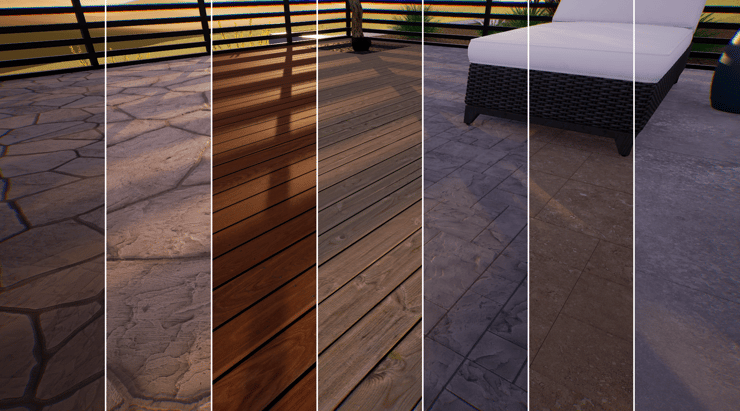 Open the library to explore the many new updated choices. Your designs will be even more accurate (and beautiful!) when you apply the new concrete, stone, and wood options to your projects.
---
Plant and Tree Library
We've updated more than 200 plant and tree models to make them even more realistic. From palms to mature trees, flowers to shrubs, these new models will add shade and visual interest to your pools, planters, and lawns as you create beautifully landscaped designs.
---
Accessory Library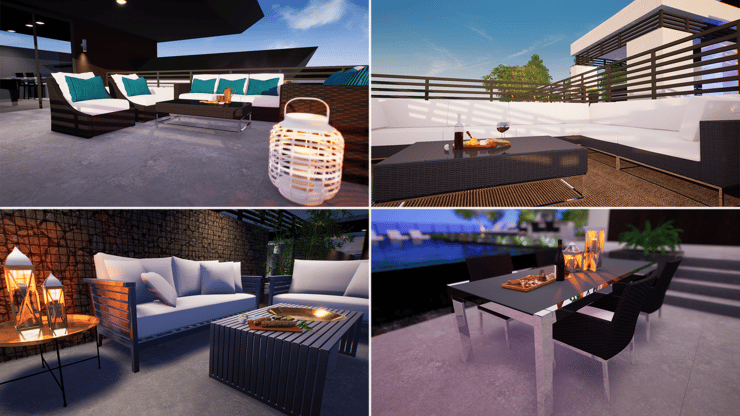 Make your client's outdoor space feel like home when you choose from amongst the 80 new furniture models to personalize their space.
Details like smoke in the fireplace or outdoor kitchen, jets in the spa, sprinklers on the lawn, and more are great ways to add the perfect finishing touches to your design.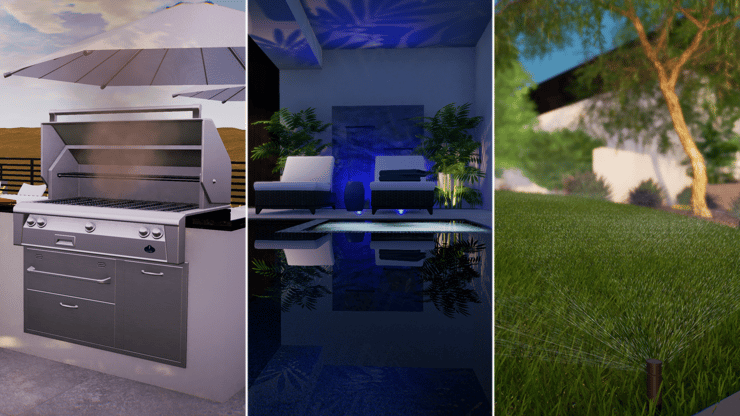 ---
Enhancements and Bug Fixes:
Vendor Partner: Barrier Reef adds 14 new templates
Carve Mode in 3D
Particle Effect Optimizations
Hovering Optimizations
Image Callouts Refinements
Improved SketchUp Import
Rotated callouts now export correctly
Fixed memory leak when loading FBX models
TOOLS: 0' 0" measurements are prevented
TOOLS: Type in Measurements register first digit
TOOLS: Auto Elevation will remain ON when Align to Slope is activated
HOUSE: Décor items will ignore Roof Only house shapes
HOUSE: Windows ignore Roof Only shapes for elevation
HOUSE: Window Covering no longer turns on when copying/pasting a window
HOUSE: Alignment tools work with house shapes and windows
RAILING: Generating a rail on a staircase follows the rail preset
STEPS: Initial placement of an auto pool step in a spa is 1
STEPS: Materials now follow the direction of the steps
CUSTOM SHAPES: Adjusting point heights in 3D no longer moves the camera
LIBRARY: Carved shapes now appear in the thumbnail image
LIBRARY: Stays the same size after detaching
MATERIALS: Rotated 3D two-tone grass now renders correctly
MATERIALS: Resetting paint brush material no longer changes terrain material
MATERIALS: Animated Characters and Waterfalls can now be customized
SMART DATA: Available in the Materials Stage on Selected Surfaces
PRESENTATION: Sound now fades out at the end of the video
PRESENTATION: Pegman now updates with photo locations
PRESENTATION: Add True Shadows Date/Time on screenshots and videos
MARKUP: Property lines for VizTerra and Pool Studio
MARKUP: When a shape is clicked the whole shape is selected on the first click
LAYOUT: Logo Transparency is now supported
LAYOUT: Pergolas can be printed as All, Framing, or Solid
And hundreds more
Minor Update 2021.2.1 Fixes:
TOOLS: Custom Shortcuts are remembered

PLANTS: New Variation button available for legacy plant models

PLANTS: Updated Plants Created with Save As now load with old files

PLANTS: Updated Plants remember Custom Plant Symbols

LIBRARY: 6 Panel and Arch Window Doors Thumbnails have been restored

LIBRARY: Pebble Tec Blue Surf corrected

POOLS: 3D Pool Slope corrected

WINDOWS:

Elevation is set by the last selected window

DISPLAY: Hidden 3D Property Lines stay hidden when the file is reopened

MARKUP: Measure Tool Grid Snap improved

LAYOUT: Custom symbols in Symbol Legends corrected

LAYOUT: PDF export corrected when Scale Bar/Scale Ratio Lock Rotation is ON

DYNAMIC WATER: Spillover Water Ripples updated

CRASH: Corrupt library data has been fixed

CRASH: Copying and pasting an edited material from one file to another has been fixed

RAY TRACING: 3D Grass Dandelions render correctly

RAY TRACING: Garage Doors are now visible when viewed through Glass
Minor Update 2021.2.2 Fixes:
TOOLS: Existing Measurements follow Angle Snap settings

TOOLS: Custom Shapes no longer snap to the center when pasted in 3D
MATERIALS: Copy/Paste no longer becomes disabled after editing the pool slope
MATERIALS:

Color Sliders can now go to the darkest setting in Low and Lowest Display Quality Settings

MATERIALS: Natural Wood Options (Structural & Flooring) now Follow Coping

FILES: Project Folder now detected after double-clicking a project thumbnail on the home screen

TERRAIN: Speed improved when editing the Terrain in 3D

PLANT LEGEND: Callout Names are remembered on reload

SMART DATA: Compatibility Mode now displays Pool Volume

MARKUP: Markup Legends include the Markup Layers

PERFORMANCE: Fixed memory leak with fences
PERFORMANCE: Loading of custom template thumbnails improved

CRASH: Custom plant models no longer cause crash when being loaded in Landscaping Library
---
Planning Ahead for Fall
Ready to start using these new tools in your next project? We have even more in the works! We're developing exciting, timesaving new tools and features that will help you design the outdoor living spaces where your clients will create wonderful memories with their families.
If you have any questions, we're always here to help. Just give us a call, send us an email, or connect with us on Facebook. We look forward to hearing from you.