Welcome to the Spring Update! Whether you're already enjoying sunny weather or you're waiting out a few more snow days, today's Spring Update brings you brand-new tools, features, and improvements that will get your clients excited to start their next projects!
When we sent off 2016, we also celebrated our 15th Anniversary — 15 years of 3D swimming pools and landscapes, 15 years of incredibly detailed presentations, and 15 years of making lives better through 3D experiences.
Let's start the next 15 years off right: with spectacular new ways for you to share your most incredible work with your clients! First on the list: 360-degree photos and videos for your clients to explore!
Ready to see what 2017 brings? Check out today's update video — we're sharing with you those new photos and videos, plus new ways of sharing on social media, and much, much more:
---
Create 360 Photos/Videos (Vip3D Exclusive)
Click to try the 360° Video
In Vip3D, you can now create an incredibly beautiful new way of sharing your designs with your clients: 360 degree photos and video.
The new 360-degree photos and videos are not just beautiful — they're also interactive! Using your mouse, tablet, or even your smartphone, you can invite your client to look around and explore your design in any direction.
For more information on 360 photos and videos, please check out our in-depth 360 Photo and Video guide.
---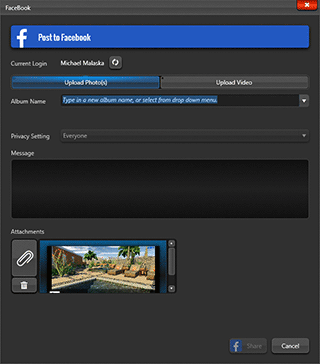 Upload to Facebook
Want to share your work with even more clients? With new social media options, you can now upload images and video directly to Facebook! That includes the all-new 360 images and videos, which you can upload to Youtube, Vimeo, and now also Facebook.
---
Select GIS Opacity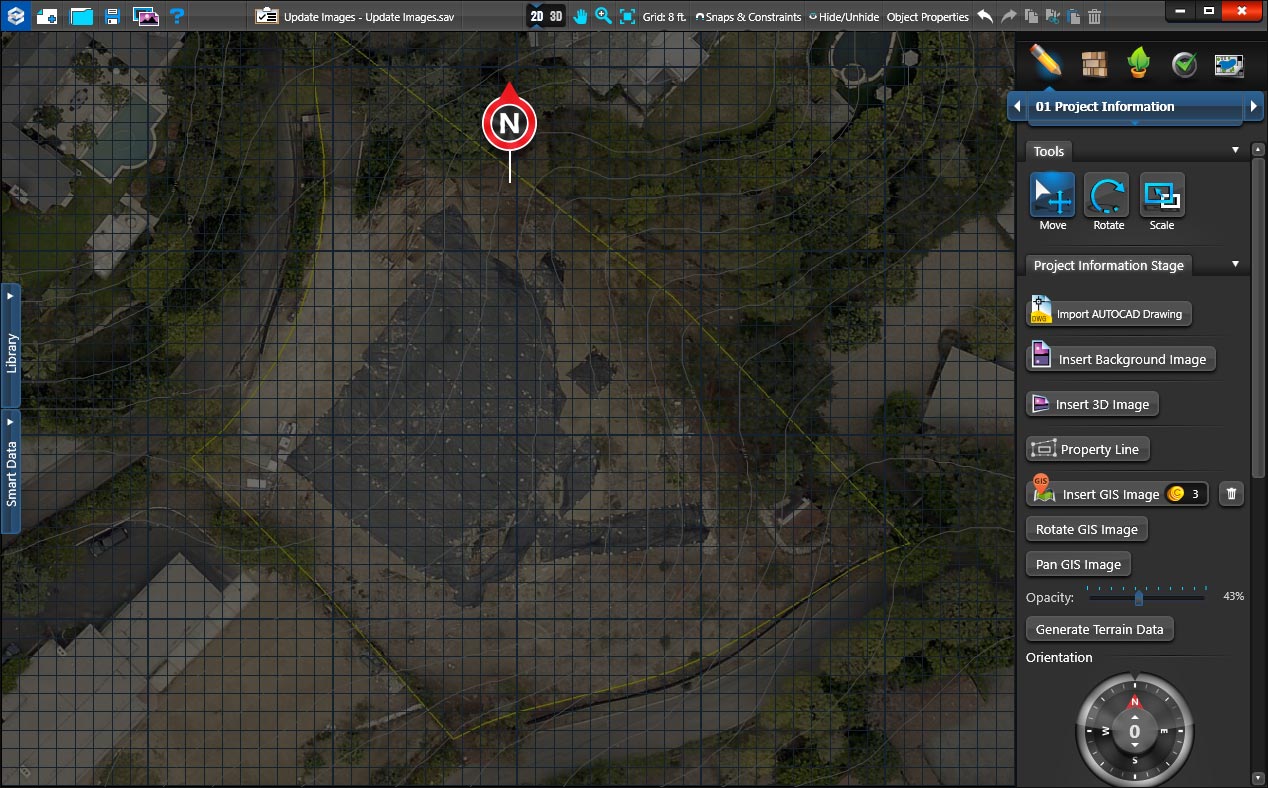 Now, you can adjust the opacity setting for GIS images. With the slider, just adjust the transparency for custom results. You can also adjust the opacity of Background Images to achieve the perfect look.
---
Add Floors to Houses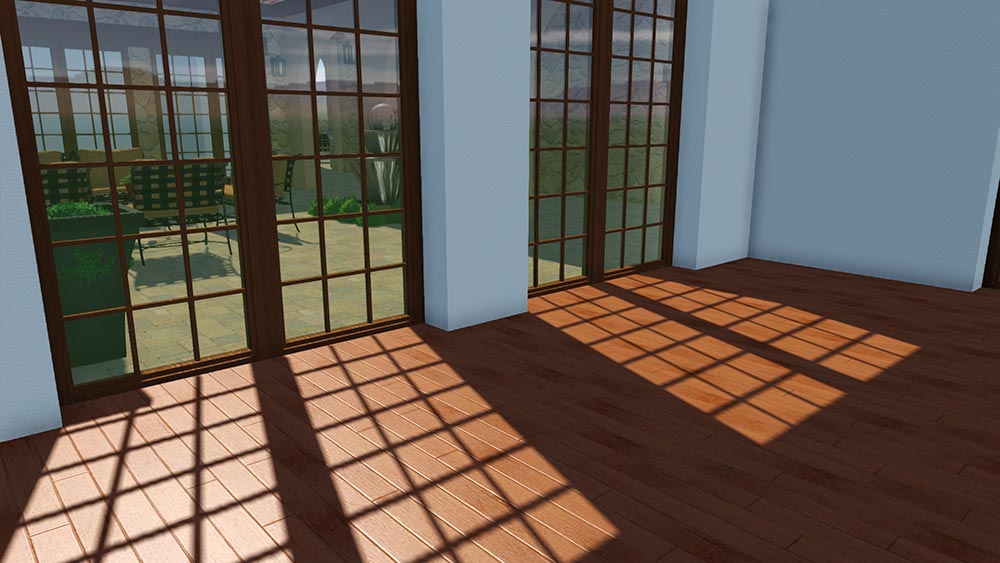 Want to add the finishing touch to your house? Now, in the House stage, you can add new Floor options. It's easy to do: simply turn on the new Floor option, and add it to any House shape. You can customize it as much or as little as you like by adding a unique material to your floor!
---
Try New Markup Options
Auto House Fill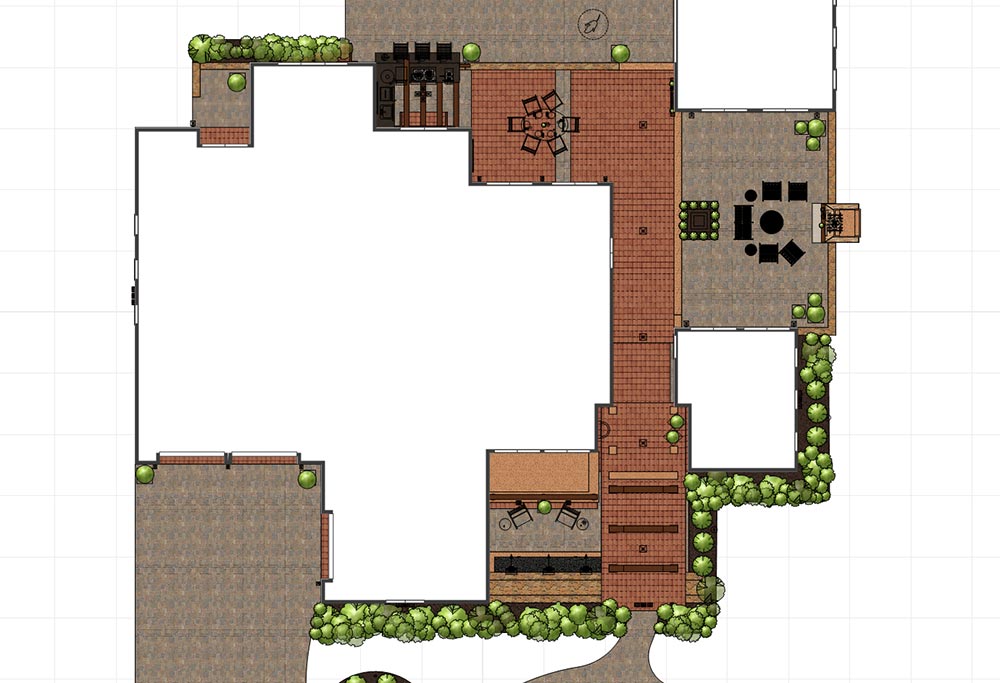 You'll now find a new Auto House Fill layer in Construction Markup. Shapes drawn in House will appear as a single structure, with doors and windows cut out automatically. You can adjust the Line and Fill settings of this layer, including the default styles. You can also hide the auto house layer at any time under the Hide/Unhide menu.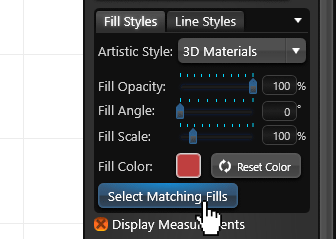 Select Matching Fill
With the new Select Matching Fill button in Construction Markup, it's now quick and easy to select all shapes with the currently selected fill and adjust their appearance. Give it a try!
---
Choose New Page Layout Options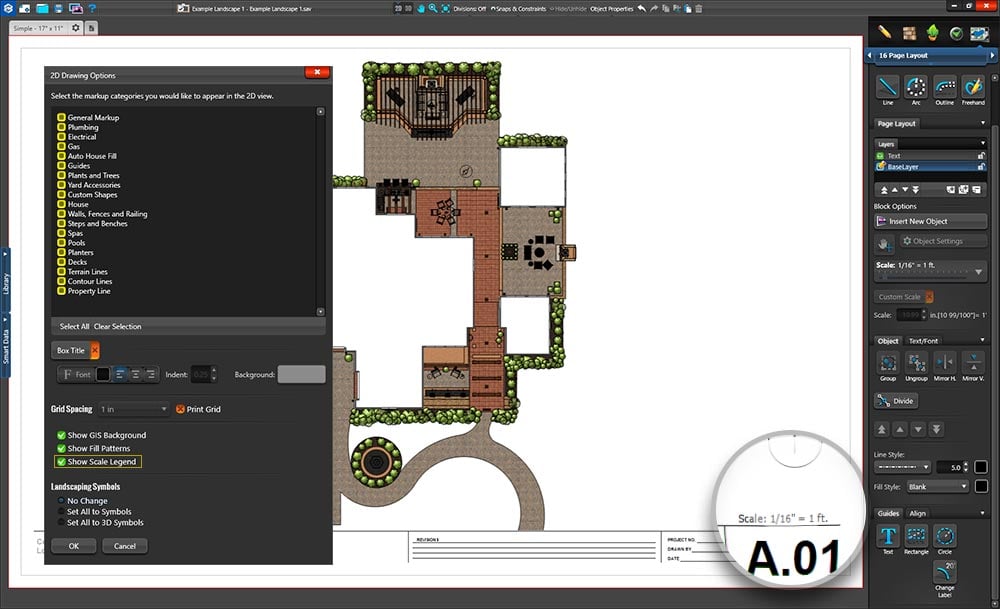 Pages Auto Zoom
Give your scroll wheel a well-deserved break! Now, when you move to Page Layout, pages will automatically zoom to fit your screen, so you'll need to zoom less than before.
Scale for 2D View
You can now give your 2D views an automatic scale. Just check the box for "Show Scale Legend" — you'll see the scale appear at the bottom right of your 2D View. It will automatically update as the scale is adjusted for the 2D View as well.
---
What else has been updated?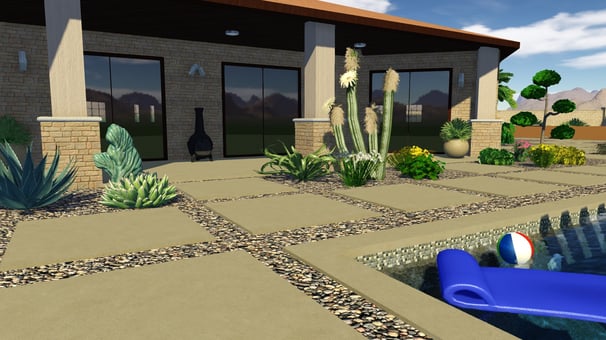 New Art Options
A new Modern Light Set, includes wall lights, a ceiling light and landscape option.
3 new Outdoor Kitchen Drawer configurations.
Updated toys in the Recreation category
Exclusive to Vip3D and VizTerra, 19 new plants and tree are now available in the Library.
VizTerra users also gain access to the Vip3D Callout Image feature.
New Plants and Trees
Crested Blue Candle
Dwarf White Pine Mugo
Gold Dust Croton
Narrowleaf goldenbush
Octopus Agave
Pink Fairy Duster
Queen Victoria Agave
Rain Lily
Scotch Pine 'Pom Pom'
Senita
Slipper Plant
Weeping Blue Atlas Cedar
Weeping Dwarf Norway Spruce
Weeping Nootka Cypress
Weeping Norway Spruce
Wild Coffee
Winter Gold Mugo Pine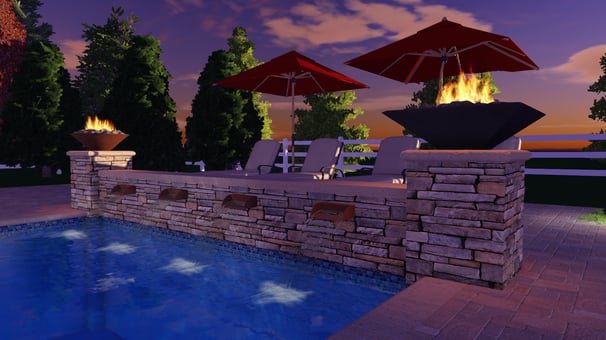 New Vendor Options
PebbleTec adds new Fire and Water Bowls and Copper Scuppers
Additional Updates
Updated Drains
Updated Outdoor Fireplace
Updated Earth category
Updated Tile category
---
How many bugs have we squashed? Many!
Printing is fixed after last weeks Windows update broke Printing
Panels no longer stay up when pinned and app minimized
GIS History only displays 4 of last 5 searches
Library overlap again
Prevent user from applying Materials to plants
New Variation breaks rockwork (disabled button)
Rotated content in Page Layout can crop other objects
3D Backgrounds at lower quality
Hiding Background in Page Layout requires zoom/pan to refresh
Elevation of mixed content groups
Copy/Paste cache cleared when using Open Recent
Undoing explode of house with windows doesn't bring back windows
Deck coping won't draw when at negative heights vs terrain
Crash placing house in 2D if inserted from library in 3D
Pasting coping between shapes
Imported materials stretched out
Lines do not have end points in Page Layout after being de-selected
Callout borders do not show colors
Roof doesn't go away when house becomes incomplete
Property Materials do not work with Object Properties
Pillar settings editable when Pillars off
Hidden content clips visible content in Construction
Adjusting Pool Height w Multiple Slope effects Volume
Window Covering in panel doesn't update with selection
Crash when undoing change on other page while object on cursor
Cannot use Import Material on prefab/SketchUp
Typing in non-hex value into color wheel hex code causes crash
CAD file stays open when using Open Recent
Group crash in Page Layout, specific files
PDFs do not support PNG transparency
While in Group Edit you cannot move Callout arrows
Light doesn't save with Pool/Spa template if snapped to Step/Bench
Hide/Unhide of background deselects current objects
Background Scale line doesn't follow angle snap
Fill pattern transparency breaks export
Pegman should be on first Photo Mode location
Going to 3D doesn't fill screen with 3D view
Screen material doesn't load on non-windows
Clicking X over Fills in Markup Category Settings freezes Library
Color wheel doesn't save when editing multiple Markup defaults
Fill Patterns appear on Line Styles tab in Markup Category Settings
Objects Save-As don't immediately show in Currently Used
Save As for objects does not work if no landscaping.dat present
Reset and New Variation do not work in Group Edit
Adding Material to Callout undoes custom text
Moving mouse back in Fly in Oculus makes you crouch
SketchUp models don't save with material change
Spillover and Curb buttons active in 3D
Hide/Unhide of selected layer doesn't change color in Markup
Grouped Pools can be saved/inserted in VizTerra
Generate Railing button disabled in 2D when going to stage in 3D
TOD bugs
Highlight for Pool Volume not aligned to shape in example
Crash going to 3D with incomplete shapes selected
Staircase cannot have Lip Style adjusted
---
What's Coming Up?
Get ready — we're gearing up for an even more exciting summer! How will we top today's 360 videos and easier-than-ever view options? Get the first look at the next update — hit subscribe, and we'll send you the next update the moment it's ready for you.