So what makes this update so exciting? We're showcasing great new features — plus some detailed refinements that will save you real time.
Perhaps you've heard us say that our goal is to give you the best pool and landscape design software. In keeping with that promise, today we've added more than 75 enhancements. We're making it easier than ever for you to get your designs done — and for your clients to sign on that dotted line.
Ready to see what's new since the last update? After learning about some of the fantastic ways designers are making use of the exceptionally high-resolution GIS images and the easy-to-use Soundscape Design features introduced in the spring, we can't wait to hear what you think of today's latest features. So take a look at the Update Video and download the free software update!
Want the full overview? Check out the Update Video. You'll see what's included when you download today's update — and learn how to make the most of the new features instantly:
Text FX
Now you can insert text into your outdoor living designs with the Text FX tool. This new way to showcase your design elements makes it easy to insert, edit, and display in floating 3D as much or as little text as you want in your project. It's a great way to highlight specific features, add custom watermarks, or even include a personalized message to your clients. (And, of course, you can easily customize the size, appearance, and placement of your new text.)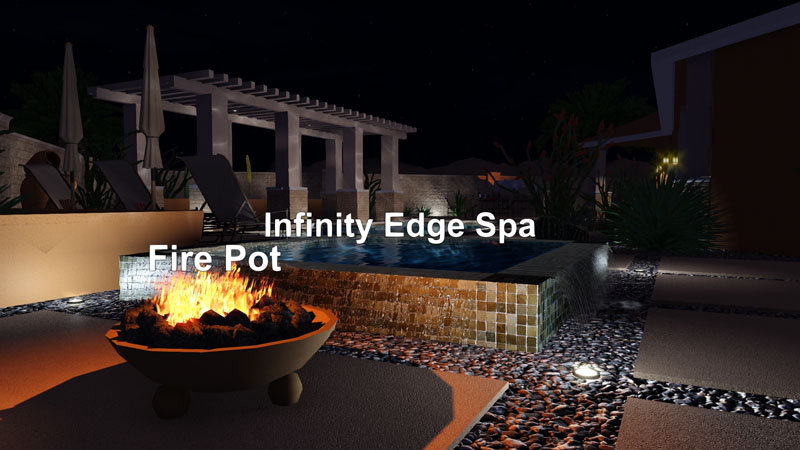 Media Viewer
Last update, we made it easy to share your projects on social media or via email. Now, with the new Media Viewer button, you can quickly access media from all of your projects, anywhere in Pool Studio or VizTerra — just click the new Media Viewer button. You can easily view both images and videos from any pool and landscape design software project, and then just as easily share your outdoor living designs with your clients or on your favorite social media network.

Pool Gallons
Pool design software has never been more powerful — or more accurate. Let your software do the calculations for you: gallons can now be calculated for pools under "Object Properties," with steps and benches automatically reduced from the total.
Improved GIS
We love seeing how designers are using the GIS feature — and if you're as obsessed with precision and accuracy as we are, we think you'll find the improvements in this update beneficial. Terrain data is now automatically adjusted to be closer to 0' in new projects, and Logitude/Latitude coordinates are now supported.
Rotate 3D Images
You can now rotate 3D images in all directions — making it easy to create fresh new details in your projects, such as tile mosaics on a swimming pool floor. And you can use our GIS images to show a neighborhood view.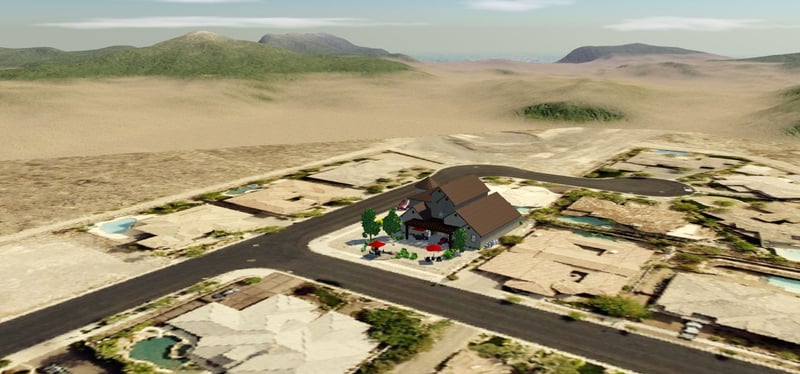 Page Layout improvements
The 2D View can now be rotated with — yep, you guessed it — the Rotate tool, so that you can show your project facing a new direction.
AutoCAD Import Now Remembers You
Your imported AutoCAD files will now remain linked to the project, even after Pool Studio or VizTerra is closed.
New Materials and Objects
You'll see twenty new Travertine options, two updated materials, four new decorative outdoor rugs, and lots of updated lights.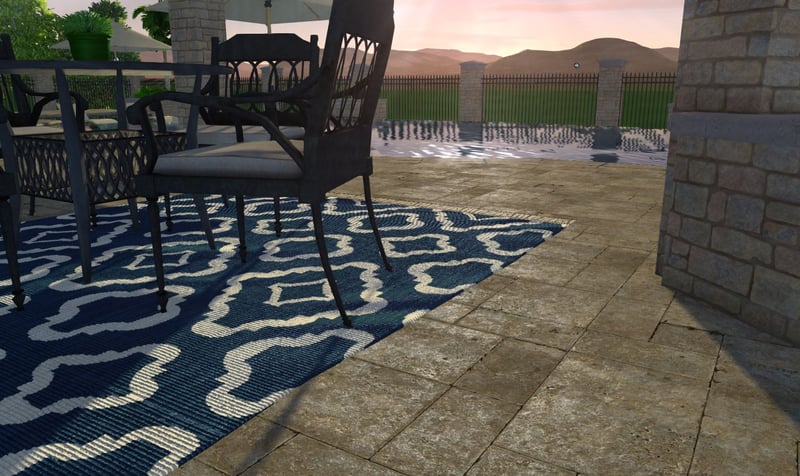 More Than 50 Time-Saving Improvements

Work smarter with new keyboard shortcuts:

Hold Shift while drawing to force the line straight, even if the grid is off

Hit CTRL+L to open and close the library quickly

Use CTRL+M to toggle measurements on and off

Print multiple pages in Page Layout

Set opacity for the Background Image

See Font/Object tabs now automatically activated when selected

Identify new items in the library at a glance (they'll have a green circle next to them!)

Enjoy the new now-loading graphic in the library

View and share your work from all projects with the new Media Viewer button

Type in custom values for the material scale

Check out the new 3D Text FX in the "Example Southwest" save file

Impress your clients with better-than-ever lights:

Updated Misc and String Lights

Updated Candle Lights and Canister Lights

Updated Deck, Flood and Garden Lights
Parcel Line is now on by default

"Insert Background Image" + "GIS" is now in the Import menu

GIS images are easier to rotate

GIS Address now appears in Project Information

Zero offset for GIS - Terrain set to simpler value

Ability to pan GIS image makes it much, much, much easier to measure

"Insert GIS Image" now works even if your computer clock is wrong

Everything will still work great, even if the GIS server is not working great
Even More Improvements:
Now the legend will tell you if there are more items than space in it (VizTerra and VIP Suite)

Fill Pattern save locked to Fill Patterns Category

Our business and marketing blog is available for you in the software, too!

The last 10 email addresses used will show up in the email tool

The measurement tool is no longer in the page layout stage

1x Page Templates no longer load with blank 2D View

Page Layout content is no longer moved if page resized

Double clicking spillover/neg edge in 3D no longer resets the camera

Inserting Drain when Legend present no longer causes crash

Changes to Stack Order made in markup now stay forever

Muted sounds now stay muted

Undo in Photo Mode now updates locations

Scrolling while using Label Text no longer clears the label

Using undo on 2D plan view in page layout works correctly now

Importing from AutoCAD to Markup Layers

Undo now works in Markup if Select Matching was used

A terrain crash when switching projects was fixed

Vimeo error for non-pro accounts was improved

Small font size when drawing was enhanced

Email error no longer appears twice when offline

Symbols in Markup show boxes around them when line style is changed

Generate Staircase no longer breaks the staircase if it touches stacked lines

Image Effect sliders now update between Photo Mode Locations

Legend Open Settings no longer checks unselected items

Moving Objects in Page Layout by border now properly moves content

The Big Green Grill looks better now

And a new Updater that you will see during the next update is coming!
What's Next?
Import from Sketchup into VIP
Many new construction tools and improvements
Surprises!
Stay ahead of the curve: