If you've been in the industry for awhile — or even if you've just been checking out some of the case studies we've shared — you've probably noticed just how many different routes to success there can be.
But what is it that really distinguishes the good from the great, the truly successful from those just chugging along?
We've seen some incredible ways the most successful pool and landscape designers and salespeople are using 3D design work to not just sell a project but also to keep clients happy and make sure builds go smoothly.
To get there, you don't need the artistic skills of Michelangelo, the likability of Dale Carnegie, or the ruthlessness of Gordon Gekko. You just need the drive to create something awesome for your clients — and the right tools that'll help you along the way.
Want to create (more) awesome work while improving your numbers, too? Here are seven ways designers are creating amazing results:
---
1. Start with a project baseline (like GIS)
How do you figure out what to offer your client? The most straightforward sales advice really does work: ask the right questions and listen attentively.
But sometimes, no matter how attentive you are, clients just don't know how to put what they want into words. And that's where your skills come into play.
One approach that works, whether or not your clients have articulated what they really want: assessing the location before you meet.
Being able to assess a location in advance means you'll start your meeting with a good feel for the property, the home, and the neighborhood. Chances are, there's a lot to be learned — everything from the style of their house to the challenges of their terrain. Scouting a location gives you the opportunity to note details that'll help you as you not just start to plan your proposal but also plan out good leading questions that'll encourage your client to open up about what they really want — and what problems they really need fixed.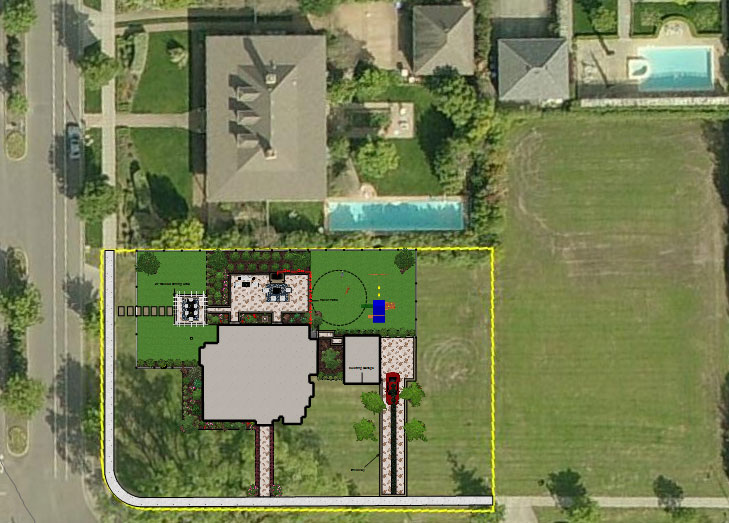 ---
2. Design on the Grid
Precision, accuracy. These aren't just keywords. Moving smoothly from planning your design to making your presentation to completing the build requires finished plans you can actually rely on.
One mistake we often see: designs where the designer either didn't use a grid or started designing with grid snap off.
By the end of such a project, the 3D design might look good (or not), but the 2D design will always looks bad. And a bad 2D design is one so sloppy that it can't be used for construction plans. With a sloppy 2D plan, changes to the project are difficult to make and any calculations of square footage, area, or perimeter just won't be accurate.
Great designers take advantage of precise design tools from the start so that they give their clients the results they want. They go beyond just showing a nice looking 3D design to a prospect — they use the grid to ensure a neat design that's easy to edit and accurate to build from.
Designing on the grid might take more time at the beginning of a project, but it more than makes up for that time spent by the end of a project.
---
3. Type in Measurements

Who doesn't love a good shortcut? Even better, a shortcut that produces results that are faster and more accurate?

Typing in measurements is a fast and easy way successful designers shave time off their designs — and get the most accurate, construction-ready results.

Just like designing on the grid helps successful designers ensure their finished results really are ready for the build, typing in measurements is another way designers make sure that the finished plans are as accurate as possible.
---
4. Furnish a property to make it feel ready to live in
People, lounge chairs, the family pet — they're not just there to give a sense of scale.
Adding human figures and pets can be a great way to help people understand the relative size of their pool or spa or gazebo. More importantly: the people and furniture you add to a design work help your client see a proposal as a space they want to enjoy. They want to lounge on that deck chair, or see their kids playing with the family dog on the lawn, or imagine themselves hosting a dinner party using their new outdoor kitchen.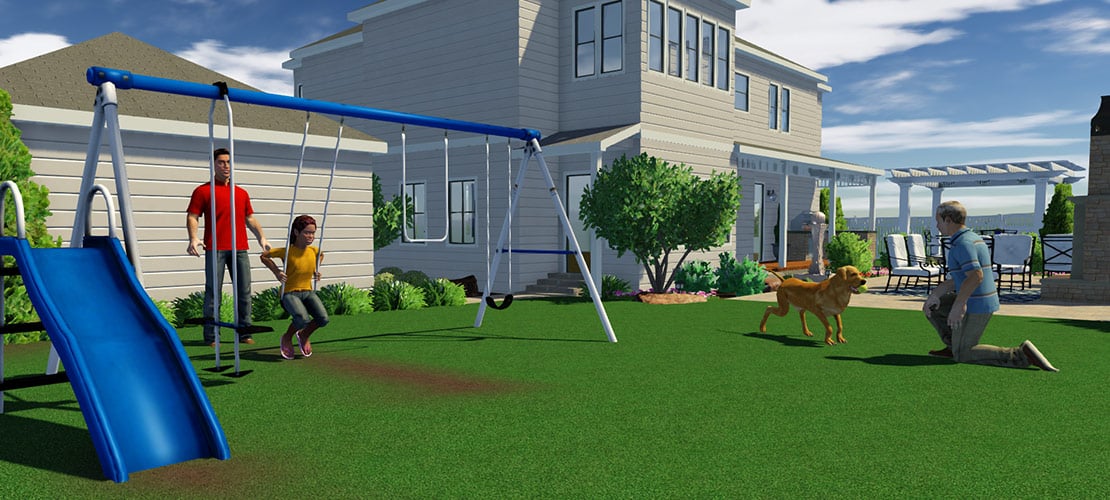 Great designers know a client must be able to picture themselves living in and using their design. An unfurnished house sells less than one staged with furnishings. An outdoor living space is no different: clients will pay more for a design properly staged with furnishings.
---
5. Randomize plants and trees
Once a design includes the family — the next step is to give that family a place where they really want to be.
We see projects all the time where designers simply copy and paste a tree. The results are totally unrealistic, with military-precise rows of identical trees and plants. It's a mistake that can totally break an otherwise great-looking design.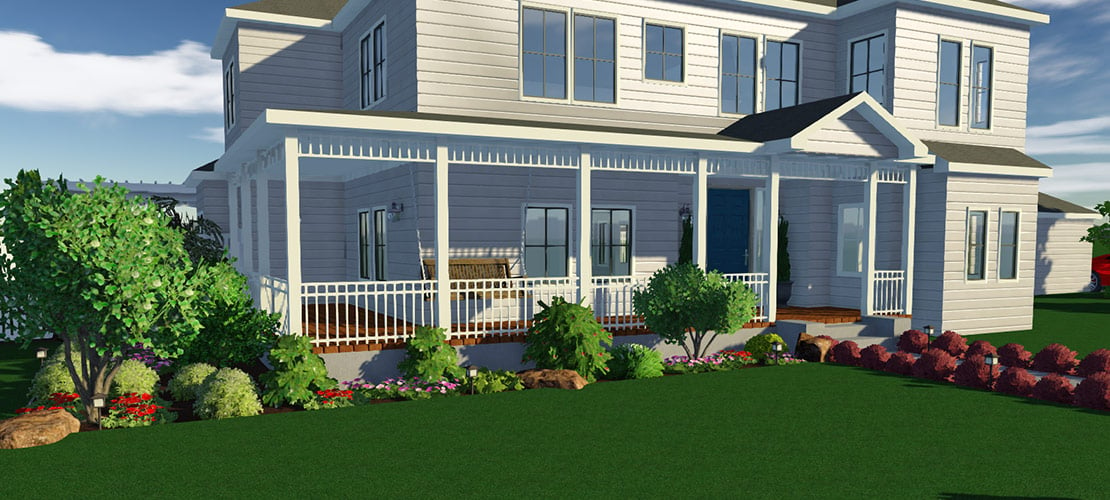 That's why 3D landscape design software offers so many varieties of plants and trees — all ready for you to use to populate your design, in pretty much every color, size, and shape imaginable.
Great designers know it only takes two steps to make all their plants and trees look natural. (It really is just that easy: select all plants and trees, then click "New Variation.")
---
6. Add sounds and music
Taking advantage of the wide variety of plants and trees will help make your design more visually appealing to your clients — and the most successful designers go a step beyond to make sure their proposal appeals to all of their client's senses.
Maybe smell-o-vision will one day be available to add to presentations (until then, including and mentioning favorite, familiar plants and flowers to trigger sense memories can help put your client in mind of a bright spring-green day or a soft summer breeze).
What is already possible: adding sounds and music. Great designers use sound not just to create a more enjoyable video or sales presentation. They also create "soundscapes" — using sound to add another layer of interest to the story they're sharing with clients.
---
7. Focus on creating an experience
Convincing a prospect takes more than a fantastic design vision. When presenting a project, don't just list features. Tell a story that reveals how the client will use, experience, and enjoy the features you're offering them.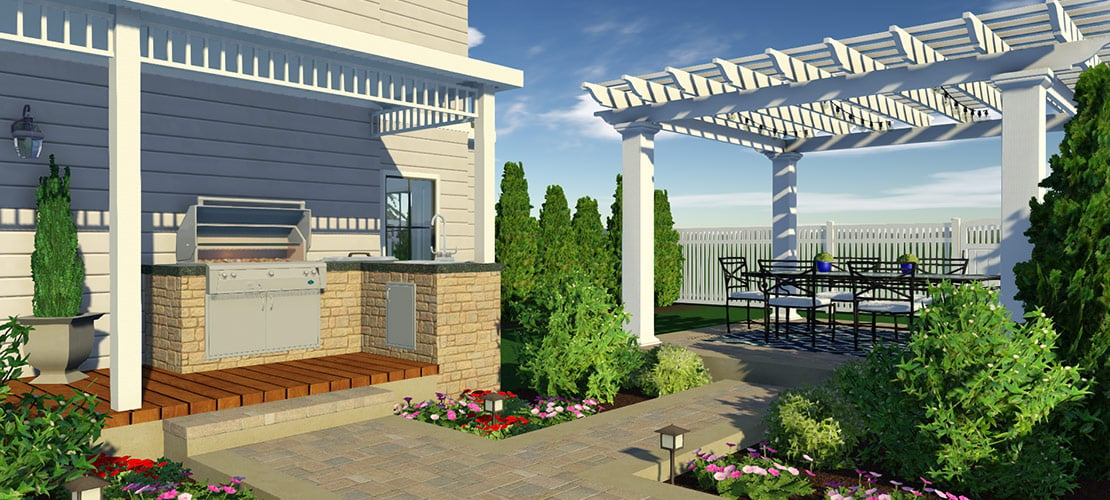 Often, what clients remember most are the unexpected details. Successful designers take advantage of that and incorporate elements that will surprise, amaze, and impress their clients. From lush plants and trees to a furnished deck to relaxing background music — offering your client an enjoyable experience that helps them focus on the benefits of your design is often an excellent step towards signing a contract.